Data Darbar, situated in Lahore, Punjab, is the largest Sufi mausoleum in South-Asia. It was constructed to house all remains of al-Hujwīrī, commonly recognized as 'Data Ganj Baksh,' the Sufi saint belonging to Ghazni. This site is known as the most sacred or holy place in the city and attracts more than one million tourists to its Urs festival held annually. The article has every information about it, including Data Darbar History.
| Title | Description |
| --- | --- |
| Information | |
| Location: | Lahore, Punjab, Pakistan |
| Nickname: | Data Ki Nagri |
| Type: | A Holy place |
| Local Language Name: | داتا دربار |
| Coordinates : | 31.57898°N 74.30474°E |
| Details | |
| Architectural style: | Modern |
| Architectural type : | Mosque and Sufi mausoleum |
| Dome(s) : | 1 |
| Minaret(s) : | 4 |
| | |
| Address: | Data Darbar Rd, Lahore |
| Designed by:: | Naqvi & Siddiqi |
| Status: | Completed |
| Construction Date: | 1981 |
| Building Type: | Shrine |
| Building Usage: | Mausoleum, Masjid, Madrassah, Sarai (Rest for travelers), Conference Hall, Library |
| Expansion : | 1978 |
| Floors Above Ground: | 1 |
| Floors Under Ground: | 2 |
| Parking Floors: | 1 |
| Affiliation : | Islam |
| Province : | Punjab |
| Country : | Pakistan |
| Social services: | In a custom that is 1,000 years old, up to 50,000 visitors per day are offered free food at the shrine |
| Provides for students: | The shrine also provides for students' education in nearby schools and helps fund local hospitals |

Data Darbar History
The tomb was established initially as a grave next to Masjid that Data Ganj Baksh had constructed in the eleventh century on Lahore's outskirts. By the thirteenth century, the belief that great spiritual powers of Sufi Saints are attached to their graves grew strong in Muslims.
Hence, a grand shrine was constructed to commemorate Data Ganj Baksh's burial site during the Mughal era. In the nineteenth century, the Shrine was expanded, and Hujwiri's masjid was rebuilt.
Expansion & Control
According to the 1960 Auqaf Ordinance, the Shrine's control was handed over to the Pakistani government with an official goal of preventing caretakers of Shrine throughout Pakistan from financial exploitation of devotees. In the 1980s, the Shrine was significantly expanded under the government of military ruler Zia-ul-Haq.
The mausoleum became the largest in South-Asia. N.G.O. offices, madrassa, library, car park, offices, and police station were included under his reign. Since its grand expansion, new markets or bazaars have emerged around this site.
Attacks by Terrorists
Two terrorists exploded a bomb at Shrine on 1st July 2010, killing at least fifty people and injuring about two-hundred. Another attack occurred on 8th May 2019, killing twelve people, including police staff Saddam Hussein, Head Constable Gulzar Ahmed, Shahid Nazeer, Mohammad Saleem, Mohammad Sohail, and a security guard Raffaqat Ali near the entrance of female visitors.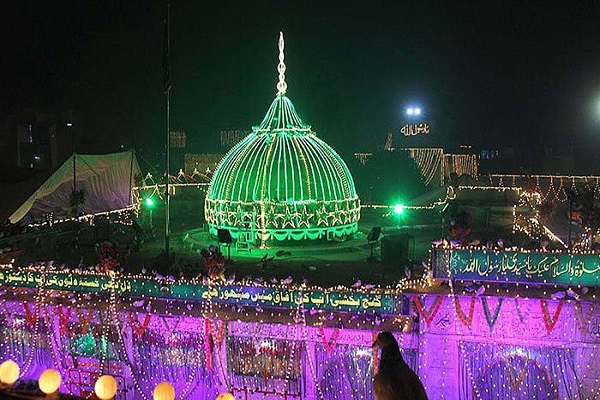 Data Darbar Importance
This Shrine is considered the holiest site in Lahore and has become a major social, political, and economic center. It is among those few places where extremely poor and extremely rich share the same space.
The Belief of Devotees
Devotees firmly believe that saint embedded at Shrine has supreme authority and power over all mystics in the Indian sub-continent. No new saint could enter into the sub-continent without acquiring permission from Hujwiri. After constructing a tomb dedicated to Data Ganj Baksh, non-Muslims and Muslims visit his grave searching for blessings.
Illustrious personalities such as Allama Iqbal, Dara Shikoh, Nizam-ud-Din Auliya, Moin-ud-Din Chishti, and Baba Fareed all paid respect and homage to Shrine. Ex-PM Nawaz Shareef frequently visited Shrine.
Activities at Shrine
Qawwali is regularly performed at Shrine, and on special and particular occasions, it is lighted for decoration purposes. Dinner is served to visitors who also dance when musicians sing Sufi music. At its boundary, Muslims recite Quran and also pay tribute to Holy Prophet (P.B.U.H.).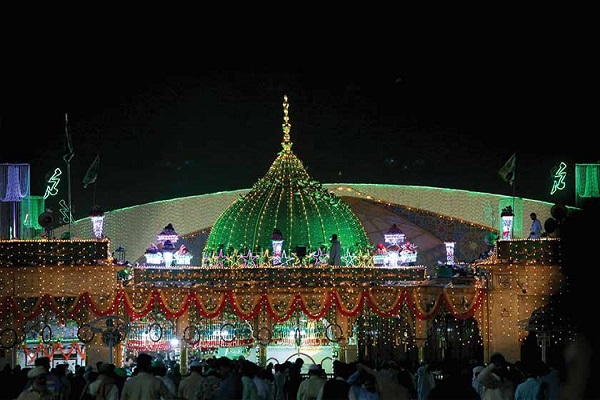 Services offered at Shrine
A wide range of social services is offered at the Shrine, making it a famous hub for financially low residents. According to a thousand-year-old custom, free food is being provided to more than fifty-thousand visitors at the Shrine.
Visitors facing difficulty in their matters donate labor or money to free kitchen funds of Shrine, fulfilling Islamic commands of feeding the needy and poor. The Shrine also provides for poor students' education in nearby schools and gives local hospitals funding.
Number of Shrine Visitors
Approximately thirty-thousand to sixty-thousand visitors visit the Shrine daily, and this number becomes double on Thursdays and religious holidays. During the annual Urs festivities, almost 1000000 devotees come to the Shrine.
Administration
The control of the Shrine was given to Auqaf Foundation under the 1960 Auqaf Ordinance. About two-hundred full-time caretakers manage Shrine, excluding security staff.
The Shrine generates the most revenue for the Auqaf board, more than all the four-hundred shrines under its authority in Punjab, and contributes almost 33 percent of its revenue. It collects four times more financial aid than is invested in its management and maintenance.
Criminal Activities at Darbar
A large number of devotees from all over Pakistan visit shrines, but they get robbed by mafias, contractors, and food sellers. In addition to fraudsters and fleecers, the Darbar is located in a criminally endangered area of the city. Criminal activities like child abuse, pick-pocketing, and robberies are most common in the Darbar area.
Runaway children prefer to stay at Darbar due to petty jobs and free food. People who want to distribute langar are deceived by food sellers as they sell substandard food and provide less quantity. While some food sellers receive the full amount for distributing food and after distributing only a small amount, they put the remaining large quantity of food at their counter for sale.