Wasi Shah is a well-known figure in the field of literature in Pakistan, and his poetry does not need any introduction, he is also the author of many popular dramas. He writes columns for the country's leading newspaper and Urdu Point. His column is published regularly in 'Naye Baat Lahore.' Apart from being a poet, he is also a journalist. He has a special place in the world of romantic poetry, which is very popular among the youth. This article has all the information about Wasi, including Wasi Shah Biography.  
| Title | Description |
| --- | --- |
| Personal | |
| Name: | Wasi Shah |
| In Urdu: | وصی شاہ |
| Famous As: | Urdu Poet |
| Nationality: | Pakistani |
| Residence: | Sargodha |
| Education: | B.Com |
| Religion: | Islam |
| Profession: | Actor and Poet |
| Website: | www.wasishah.pk |
| Awards : | Hum Award for Best Writer Drama Serial |
| Born | |
| Date: | 21st January 1973 |
| Place: | Sargodha |
| Family | |
| Spouse: | Zara wasi |
| Children: | 4 Children |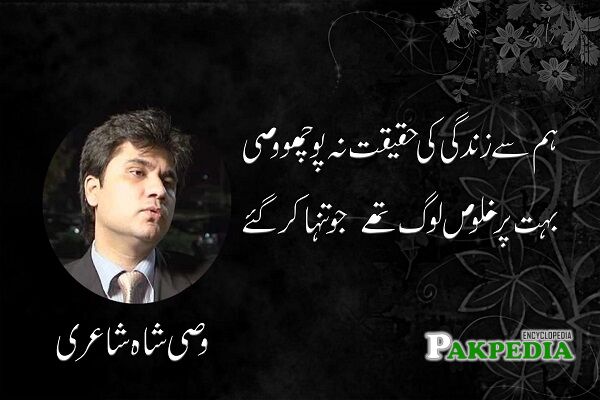 Wasi Shah Biography
There are depth and patience in his personality, and he is a man who loves and respects. In the modern era, when there are many TV channels, and the connection with the book is less visible, making poetry flourish in this era is an excellent favor to the Urdu language. Young people don't like poetry because the language is dense, but Wasi's poetry has given the Urdu language such a boost that people not only read his poetry books themselves but also give his books as gifts to friends. 
After Ahmad Faraz and Parveen Shakir, the poet who has expressed the feelings of sincerity, love, and loyalty in a modern way in poetry according to the sentiments of the youth, Wasi. In his script, dialogue and story are so lively that the viewers begin to imagine themselves as a character.
Wasi date of Birth
He was born on January 21, 1973, in Sargodha.
Education of Wasi
He holds a Bachelor of Commerce Degree. When he succeeded in B.Com with excellent marks, he decided that he will not do a job and adopted literature and poetry as a profession.
Wasi Shah Family
When he was seven, his father passed away. He tied the knot with Zara in 2001 and has four children.
Career
Initial Career
It was Abbas Tabish who first introduced Wasi Shah in literary circles. He had given him a draft of his first book, 'Ankhain Bheeg Jaate Hein.' Abbas planned to publish it after fixing its flaws. In his opinion, Shah's book will sell well among the youth, and thus the reputation of his organization will increase. In those days, Kawish Butt, along with the district administration, held a big poetic symposium in Gujarat. In this symposium, Abbas added the name of Wasi via Kawish for poetry recitation. It was probably the first time that Wasi recited poetry at a big poetic symposium.  
As an Actor
A very lively scripted drama on aired on PTV, which gave Urdu language poetry such a continuity that there is no precedent for it. The name of the drama was 'Ahan.'  He not only penned down its script but also acted in it. The highlight of the play was a poem written by him, and its story and dialogues were so lively that every young man had a poem 'Kangan' on his lips. 
This poem caused a stir everywhere. PTV was the only channel at that time. His poetry and drama writing soon brought him to the point where the Urdu language also became proud of his poetry. His poetry opened the door to the popularity of the Urdu language all over the world.
As a Writer
His meritorious scripts for dramas include 'Tmharay Siwaa,' 'Aik Tamanaa La Hasi Se,' 'Thori Se Jagaa Chahye,' and 'Baabul.' He was nominated in the category of best play writer for his scripts.
As An Anchor
He hosts TV talk shows 'Sayasi Theater,' and 'Rat Gae.'
Wasi Shah Poetry
Mere Mola
Abhe Kuch Bh Nahe Bdla
Adhi Rat Key Sanaatay Mein
Uske Ankhoon Mein Muhabbat Ka Sitaraa Ho Ga
Mujhe Har Kaam Sey Pehle
Tb Yad Bht Tm Ati Ho
Tmhain Janan Ijaazat Hei
Wasi Shah Dramas
Babul
Thori Se Jagaa Chahiye
Aik Tamanaa Lahaasil Se
Kanpur Sey Kataas Tk
Shikaan
Muhabbat Mein Tm
List of Poetry Books
Mujhe Sandal Kr Do
Mere Ho Kay Rahoo
Ankhain Bheeg Jati Hein
Social Media Handles
His social media accounts include