Carrefour is one of the world's largest supermarket and hypermarket chains. Majid Al Futtaim, the exclusive franchisee that operates Carrefour in thirty-eight countries, including the Middle East, Asia, and Africa, launched the brand in 1995 in the region.
It operates a number of supermarkets and hyper star locations to fulfill the expanding needs of its diverse customer base. This article has all the information, including Carrefour History.
| | |
| --- | --- |
|                Title |                Description |
| Name: | Carrefour |
| Founded: | 1995 |
| First Store: | United Arab Emirates |
| Total Outlets: | One-hundred and seventy-five market outlets |
| First Store in Pakistan: | 2009 |
| Products: | Electronics, Food, Cupboard, Appliances, etc |
| Stores in Pakistan: | Lahore, Islamabad, Faisalabad and Karachi |
| Social Media Handle: | https://www.facebook.com/OfficialCarrefourPakistan/ |
| | |

Carrefour History
It built 1st hypermarket in City Centre Deira, United Arab Emirates, in 1995, and has since grown to more than one-hundred and seventy-five market outlets in fifteen countries around the region, serving almost 200,000 consumers every day. It now offers an unmatched selection of over 100,000 non-food and food products.
Furthermore, it also has countless household items, in keeping with the brand's goal to provide the widest range of premium products and value for cash. In 2009 Carrefour first opened its doors in Pakistan. It currently operates seven hypermarkets and two supermarkets.
Mission
The market is committed to honor its regular customers and providing access to a pleasurable and unique shopping experience throughout the year via promotions and special offers. It is working hard to continue business expansion in convenient places in Asia, Middle East, and Africa, in order to create exceptional experiences for all, every day.
About Majid Al Futtaim
The brand Majid Al Futtaim is a legacy that reflects its founder's culture, heritage, vision and aspirations for a future where communities, families, and friends interact, experience and create wonderful moments, every day. Majid Al Futtaim has always been a mark of power, distinction, and focus has always set new standards for excellence and innovation.
This is reflected by the 'Majid Al Futtaim', which represents the inspiration, identity, and emblem that describes who we really are and what we're doing. Each brand, space, and destination offer countless chances for communities, families, and friends to create memories.
Conversion from Hyperstar to Carrefour
Since 2009 Majid Al Futtaim is present in Pakistan via the Hyperstar brand that introduced modern retail to this region. Hyperstar grown from a single store to -6hypermarkets in three major Pakistani cities: Islamabad, Karachi, and Lahore. The re-branding to 'Carrefour' would increase modern retail in country by providing its customers with the retailer's shopping experience.
Customer Service
All items on carrefour.pk are guaranteed to be original stock/goods from the manufacturer warehouse, or distributor and brand. They are accompanied by a limited original guarantee from the manufacturer or distributor, which secures them against any production defects.
The warranty period starts when the item is received and ends according to the brand's Terms & Conditions. Item(s) bought from carrefourpakistan.com and delivered by the market and its suppliers can be returned to every Carrefour hypermarket for repair.
Its after-sales services would assist customers regarding their inquiries but would not be held liable for the brand's commitments.
After-Sales Services
If the product is found to be damaged after being dispatched, the after-sales services will determine whether it should be repaired or replaced. Repairs, however, are not acceptable under these conditions:
The defect is the result of inappropriate use (inadequate voltage, liquid exposure, misuse or abuse, and so on).
The product's serial number is unknown.
The product has been fixed by a 3rd party.
Returns and Exchange
Articles to be refunded or exchanged must be returned in their original "as new" packaging, with all accessories packed.
Items may be refunded or exchanged only if returned within seven days of delivery date or purchase.
Laptop computers, mobile phones, electronic tablets, sanitary items (like hair care or beard items), consumables (like DVDs, tapes, and CDS), jewelry and watches, are not exchangeable or refundable unless proven damaged & returned within seven days of delivery or purchase date.
Refunds should be made in just the same manner in which the item was purchased. To minimize confusion, things purchased in cash will be returned in cash, whereas goods bought with a debit/credit card will be refunded to the same credit/debit card.
Home delivery goods would only be returned in the case of non-delivery.
Installed items aren't returnable or exchangeable.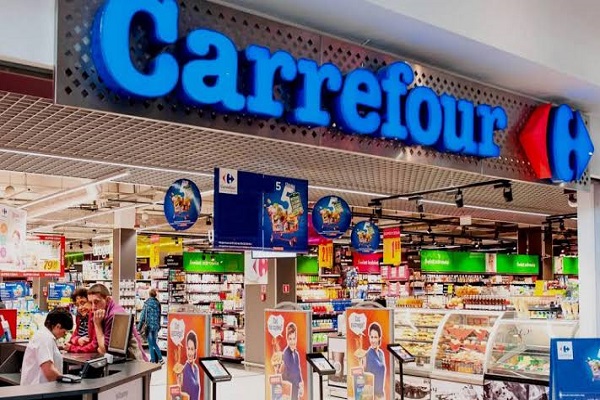 COD (Cash on Delivery)
It accepts cash on delivery (COD) for both food and non-food items.
COD payment will incur a fee of 250 rupees.
Customers can get free delivery on their orders worth more than three-thousand rupees.
The carrier would collect the dues for the total order, including handling charges upon delivery.
COD payments would only be allowed in the national currency (PKR).
COD payments, exchanges and refunds are only available at physical outlets.
Refunds will only be made in cash.
Carrefour Products
Fresh Food
Dairy and Eggs
Eggs
Butter & Margarine
Yogurt
Cheese & Labneh
Cream
Chilled Desserts
Milk & Laban
Vegetables and Fruits
Herbs
Fruits
Vegetables
Fresh Box
Poultry and Meat
Lamb
Chicken
Offal
Variety Meat
Turkey
Beef
Chilled Food Counter
Vegan
Tofu
Kimchi
Dressings
Spreads
Food Cupboard
Oil and Ghee
Spreadable
Powdered Milk
Canned Meat
Coconut Milk
Olives
Pickles
Oats
Puffs
Condensed Milk
Dried Fruits
Nuts
Pasta
Cereals
Rusk
Chocolates
Candy
Crackers
Granola
Canned Vegetables
Frozen Food
Ready Meals
Ice Cubes
Frozen Beef
Desserts
Sea Foods
Parathas
Samosas
Frozen Turkey
Frozen Chicken
Bread and Bagels
Electronics and Appliances
Cordless Phones
Batteries
Monitors
Laptops
Corded Phones
Games
Heaters
Coolers and Air Conditioners
Drones
Tripods
Binoculars
Beverages
Tea Sachets
Iced Tea
Still Water
Sparkling Water
Alkaline Water
Syrups
Tea Bags
Carbonated Drinks
Iced Coffee
Hot Chocolate
Powdered Juices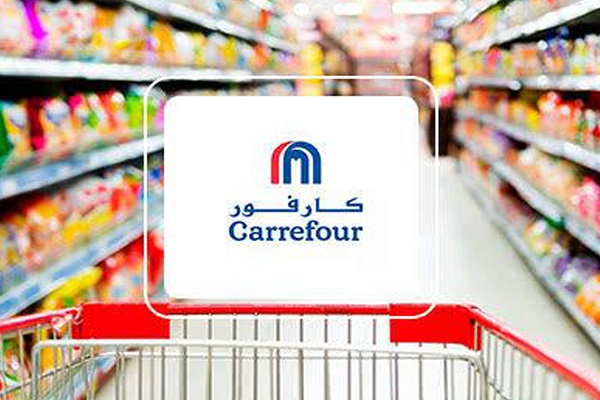 Carrefour Stores in Pakistan
Social Media Handles
https://www.facebook.com/OfficialCarrefourPakistan/
https://www.instagram.com/carrefourpak/
Contact Information
Page: www.carrefouruae.com
Phone Number: 800-732-32