Zara Kids Brand
Zara ranks among the world's biggest international fashion brands. The largest fashion group in the world, Inditex, owns Zara. The company has approximately 2,220 outlets and is operating in 88 countries. Zara is offering kids' clothing under the banner 'Zara Kids.'
It offers clothes, bathroom accessories, dining accessories, and loungewear for kids. The brand uses high-quality and comfortable fabric. Special attention is paid to the designs that captivate elders' attention.
Zara Brand History
Amanico Ortega founded Zara in 1975, which is a flagship store of the world's largest clothing brand 'Inditex Group.' The first outlet offered inexpensive, trendy outfits. Ortega expanded his retail network across Spain. Ortega modified the design, distribution, and manufacturing processes in the 1980s to shorten production time and respond to emerging trends more quickly.
Global Expansion
Before beginning the global expansion, Amancio established a parent firm for Zara in 1985. In 1988, the company began its global expansion via Porto, Portugal. It arrived in the US in 1989, followed by France in 1990. Zara entered Mexico in 1992 and Greece, Belgium, and Sweden in 1993.
In 2000 the brand opened its 1st store in Brazil; in 2002, it appeared in Singapore and Japan, and in 2003 Zara store was launched in Ireland, Malaysia, Russia, and Venezuela. Zara launched its stores in Morocco, China, Estonia, Romania, and Hungary in 2004; in 2005, it started its business in Costa Rica, Indonesia, and the Philippines.
In 2008 it appeared in South Korea, followed by India in 2010, Australia and South Africa in 2011, and Peru in 2012.
Launch of Online Boutique
Zara started its online fashion boutique in Sep 2010. The website was developed in Jordan. Five more countries were added to Zara's Online venture in November 2010: Luxembourg, Belgium, Netherlands, Ireland, and Austria. Online stores started operating in the USA in 2011, Canada and Russia in 2013, Mexico and South Korea in 2014, Romania in 2016, India in 2017, Brazil in 2019, and Peru in 2020.
Use of RFID Technology
In its stores, Zara began utilizing RFID technology in 2014. When the outfit is purchased, security tags are removed and can be reused. These tags contain RFID chips. The chip detects radio signals from the RFID tags, enabling the firm to take inventory swiftly. The stockroom is alerted immediately when an item sells so that it can be replaced. With the use of the RFID tag, a product that isn't on the rack can be quickly found.
Zara Brand Owner
Spanish businessman and billionaire Amancio Ortega Gaona is the owner of this brand. With a net worth of 48.1 billion dollars as of March 2022, Ortega is the 27th wealthiest person in the world and the 3rd wealthiest person in Europe. He briefly surpassed Bill Gates as the richest person in the world in 2015 when his net worth hit an all-time high of $80 billion.
Zara Kids Products
Men's, women's, and children's apparel are all available at Zara stores. Most of the clients are between the age of 18 to 35. After being manufactured, products take 10-15 days to reach the outlets. All of the clothes are processed via the distribution hub in Spain.
Before being loaded into trucks, new articles are examined, sorted, and tagged. The apparel is often delivered within 48 hours. Over 450 million items are produced by Zara annually. In addition to clothing, Zara offers swimsuits, perfumes, beauty, and accessories.
Zara Kids dresses
Zara Kids dresses are offered for:
Girls aged between 6 months to 5 years
Girls aged between 6 to 14 years
Boys aged between 6 months to 5 years
Boys aged between 6 years to 14 years
Babies aged between 0 to 12 months
Girls aged between 6 months to 5 years
Zara Kids Girls collection for girls aged between 6 months to 5 years includes:
Jumpsuits
Dresses
T-Shirts
Shirts
Sweatshirts
Skirts
Shorts
Leggings
Trousers
Jeans
Jackets
Pyjamas
Underwear
Backpacks
Bags
Shoes
Knitwear
Swimwear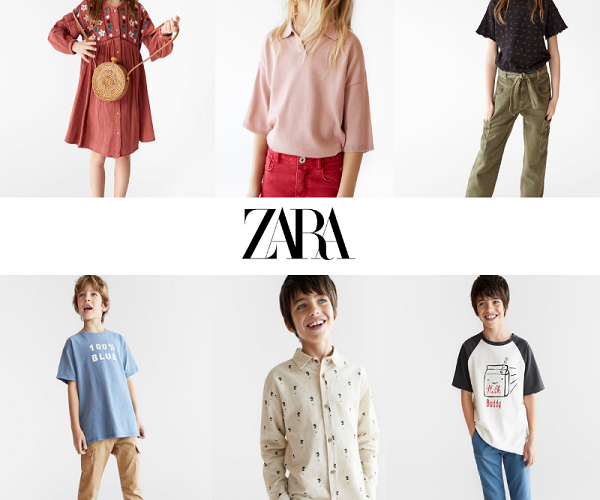 Girls aged between 6 to 14 years
Zara kids clothing for girls aged between 6 to 14 years includes:
Jumpsuits
Dresses
T-Shirts
Shirts
Sweatshirts
Skirts
Shorts
Leggings
Trousers
Jeans
Jackets
Pyjamas
Underwear
Backpacks
Bags
Shoes
Knitwear
Swimwear
Blouses
Boys aged between 6 months to 5 years
Zara Kids Boys collection for boys aged between 6 months to 5 years includes:
Dungarees
Jumpsuits
Dresses
T-Shirts
Shirts
Sweatshirts
Skirts
Shorts
Leggings
Trousers
Jeans
Jackets
Pyjamas
Underwear
Backpacks
Bags
Shoes
Knitwear
Swimwear
Boys aged between 6 years to 14 years
Zara Kids Boys collection for boys aged between 6 months to 5 years includes:
Trousers
Sports
Suits
Joggers
Jackets
Licenses
Sweatshirts
Shorts
T-Shirts
Shoes
Bags
Pyjamas
Underwear
Backpacks
Swimwear
Jeans
Babies aged between 0 to 12 months
Dresses
Romper Suits
Tops
Bodysuits
Trousers
Sets
Underwear
Pyjamas
Zara Home Kids
Zara Kids home has a wide range of products. The collection includes:
Decoration
Bath
Toys
Loungewear
Bedroom
Dining Room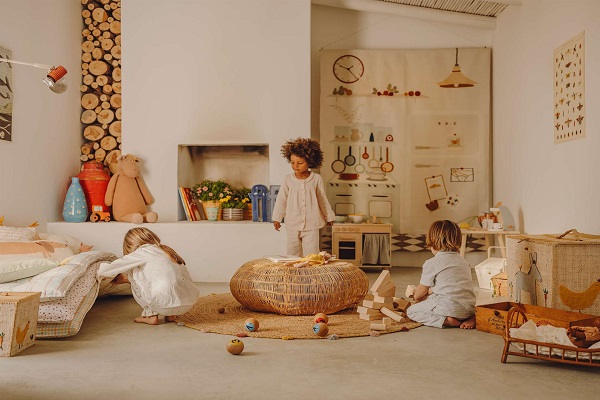 Decoration
This section sales night lamps, rugs, wall-supported growth charts, bags, ice-cream baskets, metal briefcases, money bank, adhesive tapes, door signs, pillow covers, chairs, drawer shelves, clothes racks, door knobs, lamp shades, silicone teether, wooden table, and photo albums.
Bath
The bath section offers a bathroom dispenser, poncho, towels, muslin clothes, brush & comb set, soap dish, and cologne.
Toys
Various toys are available for kids, including duck sets, sand molds, beach toy sets, beach mills, beach water can, rattles, plush toys, party hats, fishing sets, pencil cases, and stuff toys.
Loungewear
Backpacks, swimwear, sneakers, sandals, swim trunks, pool sandals, bikini sets, swim trunks, sports sandals, bloomers, sweaters, bonnets, cardigans, booties, hats, rompers, and hoodies for kids are sold in this section. Zara Kids size chart can be used to select the accurately sized products.
Bedroom
Different articles that are required in kids' bedrooms are offered, including blankets, pillow covers, bed covers, quilts, sleeping bags, makeup bags, diaper bags, baskets, wipe holders, hanging mats, cushions, toiletry bags, and wipe boxes.
Dining Room
Spoons, tableware, plates, lunchbox, bowl, bibs, table cloths, paper napkins, cutlery sets for kids, mugs, and mini towels are sold in this section.
Exchange and Return
You can replace your item within thirty days of the shipping date. The products must be in original condition with all the labels attached. You have the following alternatives for exchanging your goods:
Exchange of articles at a Zara Outlet
The colors or sizes of your item can be exchanged. The customer must bring the receipt for exchanging the article. Customers can bring receipts in print form, on their cellphone, or by displaying ZARA QR, which can be found in the Zara app's 'Purchases' category. Remember that you do not need to submit a request through the web or APP to make an exchange at the store.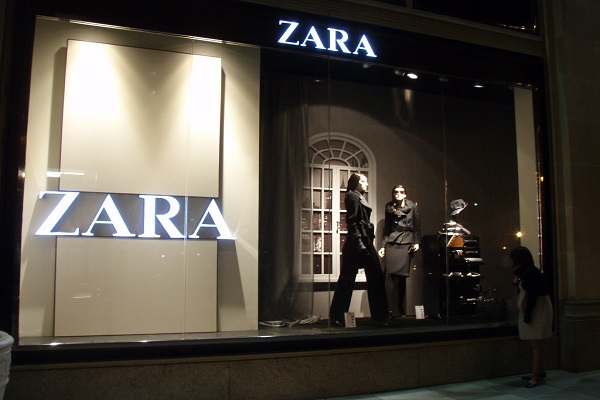 Online Exchange
By checking the details of your order, you can change the sizes of your articles. Simply choose the products you want to replace and the size you want to get. You have to return the articles that you don't want to keep. After making the exchange request, you have fourteen days to return the article. If you would not send the item to be exchanged within fourteen days, you have to pay the price of new articles.
Payment Methods
Following payment modes can be adopted:
Mastercard
Paypal
American Express
JCB
Diners Club
Discover
Apple Pay
Gift Card
Visa
Zara Contact Number
Phone # 1-855 635 9272
Frequently Asked Questions
Which store is similar to Zara kids?
Some stores like Zara Kids include The Tot, iloveplum, Mango, II Gufo, Stitch Fix Kids, Melijoe, and Farfetch.
 How adult can buy Zara kids size?
Zara Kids designs are very appealing; that's why sometimes adults also want to shop from the kids' section. Those articles should be selected whose fitting is in freestyle. Skirts, shorts, and dresses should be avoided, and tops can be bought.
 How to become Zara kids model?
You can use the online application form on the Zara website to register your kid as a potential model. You have to send three recent photos of your kid and their personal details. These three photos must be perfectly clear, ideally with a plain background.
 Is Zara good for Kids clothes?
Zara clothes are made of comfortable fabric and lovely designs. Zara Kids jeans, Zara Kids coats, Zara Kids swimwear, and many other articles in eye-catching designs are very popular among children.
Does Zara do large sizes?
Most of their designs come in sizes XXS to XXL; finding pieces that don't fall between S and L can be challenging.
Also, Check
Social Media Handle
https://www.zara.com/uk/en/kids-mkt1.html