Saad Hussain Rizvi Politician
Saad Hussain Rizvi is a young chief of his father's created party, Tehreek e Labbaik Pakistan. The party originated on 1st August 2015with an ideology of Blasphemy law and Islamism. Saad has been involved in different protests across the country for which he remained in imprisonment also. For the last few years, Sadd remained one of the active members of the party.
In 2020, PTI Government made an agreement with TLP Party to expel the French ambassador from Pakistan that unfortunately, PTI Government didn't fulfill. As a result, Saad announced a protest in Pakistan on 20th April 2021 for which the police arrested him on 12th April after Zuhr Prayer.
His leaders did a protest in the major cities of Pakistan for his release in Karachi, Lahore, and Islamabad. This article has all the information about him, including Saad Hussain Rizvi Biography.
| | |
| --- | --- |
|                  Title |          Description |
| Name: | Saad Hussain Rizvi |
| Religion: | Islam |
| Nationality: | Pakistani |
| Date of Birth: | 1994 |
| Residence: | Lahore |
| Education: | Islamic Education |
| Profession: | Politician and Islamic Scholar |
| Party: | Tehreek e Labaik Pakistan |
| Father: | Khadim Hussain Rizvi |

Saad Hussain Rizvi Biography
Saad is an enthusiastic and young Pakistani politician who is serving as a Chief of the newly created party, Tehreek e Labaik Pakistan. His father Khadim Hussain Rizvi was a notable Pakistani Scholar who founded this party with an aim of doing protest against every Blasphemy case. His son Saad Hussain has followed in his footsteps.
Furthermore, he has full knowledge of social media and he knows how to get facilitated with this platform. He has been raising his father's voice through this platform in the past many years. Despite not having any educational degree, he is a smart man who loves to read. Furthermore, he has made different accounts on social media knowing the importance of this platform.
Saad Hussain Rizvi Education
Saad Hussain has received an Islamic education and remained a student Dars-e-Nizami.
Saad Hussain Rizvi Family
He is the son of Khadim Hussain Rizvi who was known for being the biggest and the most significant Islamic Scholar. He founded the party and did many protests against different Blasphemy laws. In 2018, he also did a protest on the release of Asia Bibi. On 19th November 2020, he died due to a breathing problem and fever.
Career
Saad started his career a few years ago. He is serving as a Deputy Secretary-General of the party, Tehreek e Labaik Pakistan. Saad became the Chief of the party after the sudden death of his father. He is a Pakistani Islamic leader like his father Khadim Hussain Rizvi. Furthermore, he was one of the active members behind all the political affairs of his father including Management and coordination.
Besides being an Islamic Scholar, he knows the importance of Social Media and is very active there. He makes sure to remain active on Twitter and Facebook. He also taught the importance and use of Twitter to various Madrassa students.
Imprisonment
On 12th April 2021, news circulated on social media about Saad Rehaman's detention after Zuhr Prayer in Multan Road, Lahore. According to the news, his arrest is due to the protest he announced to take place on 20th April 2021 due to the PTI Government's disagreement. In 2020, PTI made an agreement with TLP to expel the French Ambassador from Pakistan after the blasphemy video went viral.
However, PTI didn't fulfill their agreement for which TLP members including Saad Hussain Rizvi announced a protest. After his arrest, his members did a protest by blocking the roads of different major cities of Pakistan including Karachi and Lahore.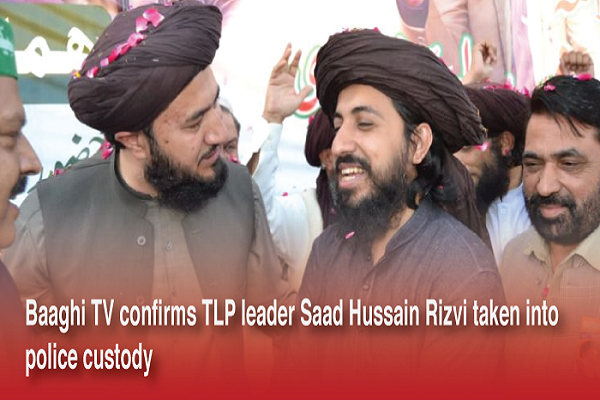 Social Media Handles
His social media account include
https://www.facebook.com/AllamaSaadHussainRizviOfficial/