Hammad Azhar Politician
Hammad Azhar is a young and competent Pakistani politician who affixed with Pakistan Tehreek e Insaf in 2011 and served his duties with dignity and diligence. He is serving as a member of the National Assembly after winning the 2018 General Elections. Furthermore, he is elected to many noted Ministries. Besides a politician, he is a barrister.
His interest in politics is obvious because of being a son of Mian Muhammad Azhar, a senior politician associated with PTI, and a founder of PMLQ. Furthermore, on 29th March 2021, he was given the portfolio of the Finance Federal Minister. This article comprises every detail about him, including Hammad Azhar Biography.
| | |
| --- | --- |
|           Title |         Description |
| Name: | Hammad Azhar |
| Nationality: | Pakistani |
| Residence: | Lahore |
| Education: | Diploma in Law |
| Date of Birth: | 1981 |
| Profession: | Politician |
| Political Party: | Pakistan Tehreek e Insaf |
| Serve As: | MNA |
| Social Media Handle: | https://www.facebook.com/HammadAzharPTI/ |

Hammad Azhar Biography
Hammad is one of the youngest and the most loyal members of Pakistan Tehreek e Insaf who is currently operating as a Finance Minister. He was given this portfolio after serving as Economic Affairs Minister. Moreover, Hammad Azhar is a young and enthusiastic Pakistani politician who known how to make his work done with excellence. Furthermore, he is the one who presented the Corona Budget in the National Assembly.
Abdul Hafeez Sheikh, the previous Finance Minister, had been replaced by Hammad on Imran Khan's order in March 2021. His father, Mian Muhammad Azhar, is a senior politician who has served in different Ministries since the 1990s. Hammad Azhar is inevitably one of the competent and sincere politicians PTI has ever generated.
Hammad Date of Birth
He was born in 1981 to an Arian family in Lahore.
Education of Hammad
He did his schooling at Aitcheson college. Later he went to London from where he enrolled in Wellington College. For his bachelor's degree, SOAS London University and completed his graduation in Economics. Afterward, he went to UK BPP University from where he did a diploma in law. He is also a barrister besides a politician.
Hammad Azhar Family
He opened his eyes to an Arian family. His father, Muhammad Azhar, is a politician who is attached to Pakistan Tehreek e Insaf. He also served as a Punjab governor in the past and remained the main politician of Lahore who founded PMLQ. Besides a politician, his father is also a landlord. He is happily married.
Political Career
Initial Career
Hammad entered the political field in 2011 and followed in his father's footsteps. Later, he became associated with Pakistan Tehreek e Insaf and joined hands with Imran Khan.
2013 General Elections
In 2013, he, for the first time, contested the General Elections on PTI ticket from NA-121 Constituency but unfortunately couldn't win big and lost from his opponent. His opponent Mehr Ishtiaq won the seat on the party ticket of PMLN.
2018 General Elections
In the 2018 elections, he once again tried his luck and won the majority of votes on the party ticket of PTI. He contested the elections from NA-126 Constituency Lahore. He was given many essential Ministries in Imran Khan's cabinet after taking an oath as an MNA.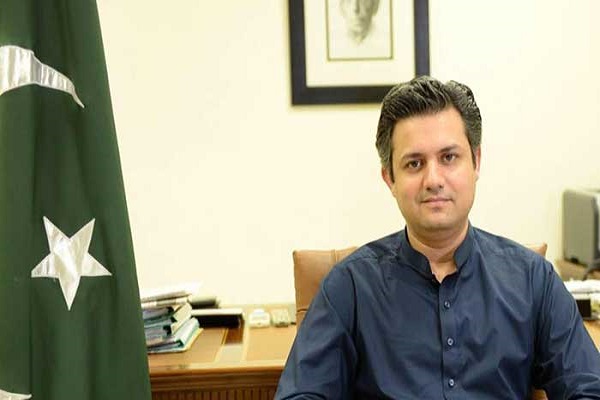 As a Minister of State Revenue
After taking an oath, he was appointed as a Minister of State Revenue in Imran Khan's Cabinet on 11th September 2018. On 11th June 2019, he conferred the annual budget in the Assembly. Till July 2019, he served on that post, after which he was given another Ministry.
As a Federal Minister
On 8th July 2019, Hammad Azhar was made the Federal Minister of Revenue. The next day he took an oath and was being appointed as Minister of Division and Economic Affairs. Later, on 6th April 2020, he was dismissed from the post of Economic Affairs Minister and was made the Minister for Production and industries. Afterward, on 12th June 2020, he granted Annual Corona budget in the assembly worth 7,294.9 billion.
As a Finance Minister
On 29th March 2021, he was granted another essential Ministry, the Ministry of Finance. Previous Finance Minister Hafeez Sheikh was being replaced by Hammad Azhar on the orders of Prime Minister Imran Khan. Hafeez Sheikh enjoyed this post of Ministry for only a few months. He served on this post till 16th April 2021.
As an Energy Minister
On 17th April 2021, Hammad was made the energy Minister that is said to be the most complicated ministry because of increasing circular debt.
Frequently Asked Questions
Q: What is the age of Hammad Azhar?
A: He was born in 1981
Q: Who is the Energy Minister of Pakistan?
A: Hammad Azhar has been appointed to this post in 2021.
Q: Who is father of Hammad Azhar?
A: Muhammad Ali Azhar
Social Media Handles
His social media account include
https://twitter.com/Hammad_Azhar
https://www.facebook.com/HammadAzharPTI/