Khadim Hussain Rizvi was a Pakistan-based Religious scholar who founded TLP (Tehreek-e-Labaik Pakistan) in 2015, a political-religious organization, to protest against amendments in blasphemy laws. He drew public attention when he arranged an extended sit-in at Faizabad Chowk in Islamabad's capital city against changes in the blasphemy law.
This sit-in terminated all primary functions of government and disturbed the capital badly. He also stood against the execution of Mumtaz Qadri, the murderer of Governor Salman Taseer, and was removed 'Punjab Endowment-Department' for raising his voice Qadri's favour.
In Sep 2017, he set-up the movement and surprised everyone by getting 7,000 votes in the by-election organized at NA-120 Lahore in Sep. In November 2020, he left the world. This article has all the information about him, including Khadim Hussain Rizvi Biography.
| Title | Description |
| --- | --- |
| Personal | |
| Name: | Khadim Hussain Rizvi |
| In Urdu: | علامہ خادم حسین رضوی |
| Famous As: | Islamic Scholar |
| Nationality: | Pakistani |
| Religion: | Islam |
| Profession: | Religious Scholar |
| | |
| Social Media Handle: | http://www.twitter.com/KhadimRizviReal |
| Email: | [email protected] |
| 9-November-2016: | Fatihah prayer at the Dr. Iqbal Mausoleum Lahore |
| Personal Interest: | اب تو زندگی کا ایک ہی مقصد ہے |
| Long March Khatmay Nabuwat: | 6 November 2017 Lahore To Islamabad |
| Death: | 19th November 2020 |

Khadim Hussain Rizvi Biography
Hussain Rizvi was well known for his eloquence. He delivered speeches mostly in Punjabi, in which he often used rigorous language. Videos of his speeches became very popular on social media. He supported Mumtaz Qadri, who assassinated Punjab Governor Salman Taseer, and staged a protest in Islamabad after his execution, after which he began to make headlines.
Despite using a wheelchair, he emerged as a significant supporter of the controversial blasphemy law in Pakistan. He used to call himself the 'watchmen' of the Prophet of Islam. He had millions of followers and always stood up against blasphemy cases via the support of his followers. In his Faizabad protest, he paralyzed the Pakistani government for four weeks. 
Rizvi Date of Birth
He was born on 2nd June 1966, in the Pindigheb area of ​​Attock.
Education of Rizvi
He studied in his village till the fourth grade. His father then enrolled him in a madrassa in Jhelum, where he memorized the Quran. In 1980, he moved to Lahore for further studies and began studying at Jamia Nizamiyah Rizviyah, where he graduated in 1988. He was fluent in Punjabi, Urdu, Arabic, and Persian.
Khadim Hussain Rizvi Family
His son Saad Hassan Rizvi is a religious preacher and is the current ameer of TLP (Tehreek-e-Labaik Pakistan).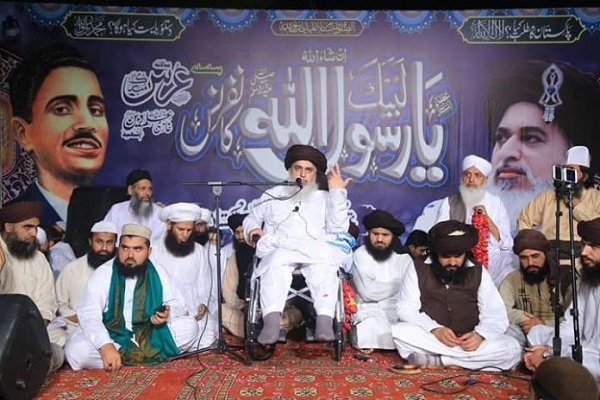 Career
He continued to serve as a Khatib at the Pir Maki Mosque near the Data Darbar, and in 1993 he was recruited to the Endowment Department. After completing his service at this department, he remained a Khatib at Rehmat-ul-Alameen Mosque in Yateem Khana Lahore.
Tehreek-e-Labaik 
His party, Tehreek-e-Labaik Pakistan, also contested the 2018 general elections and won two seats in the Sindh Assembly, garnering a total of 2.2 million votes from across the country.
Manifesto of Tehreek-e-Labaik
The Constitution of Pakistan, all laws, and the system of government would be moulded according to Shariat Muhammadiyah.

The interference of the enemy and his agents inside and outside the country would be stopped.

All the people's basic needs will be met through Zakat, Usher Kharaj, Jizyah, and other means.

A ministry will be set up with Amar Bil Maroof-o-Nahe-un-al-Munkar, which would work to promote Islam.

Higher religious and moral education and training will be established in the monasteries, and a separate education system will be introduced by abolishing the mixed education system.

The entire nation would be trained in industry and trade. 

The interest system would be eliminated.

Religious education and modern education will be made compulsory for military and civilian officials, and simple living rules will be made for officials.

The TPL would eliminate sources of crime within Islamic boundaries. 

Treatment would be provided at the doorstep. 

The accountability system would be established in the style of the Farooqi era. 

The media will be obliged to present solutions to religious and national problems and provide excellent intellectual, practical, and moral training.
Way of Addressing
He sharply criticized those in power and the late Abdul Sattar Edhi and used to address journalists and intelligence officials at his gathering harshly. He also made claims that it might be impossible to put into practice.
Khadim Rizvi made a similar statement in Karachi that 'if he had an atomic bomb, he would have destroyed the Netherlands before the cartoon competition was held.' A video of him circulated on social media in which he was saying take out the atomic bomb and use it.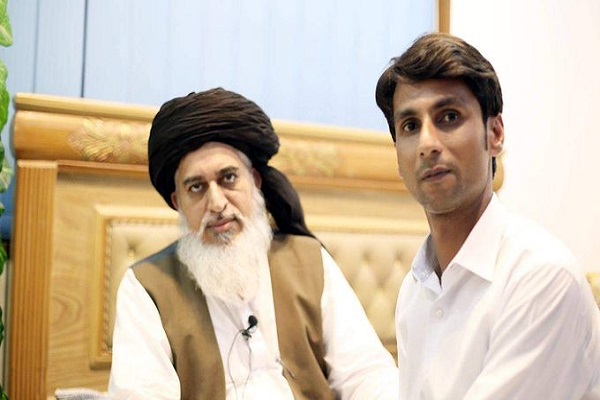 Faced a Severe Accident
He lost both his legs in a traffic accident and was confined to a wheelchair. He was on his way to Lahore from Rawalpindi in 2009 when his driver fell asleep, after which the accident took place.
Khadim Hussain Rizvi Protests
Faizabad Protest
On 6th Nov 2017, he arranged a long-march from the city of Lahore to Islamabad to pressure Law Minister Zahid Hamid for resignation as he was alleged for favouring Ahmadis in the 2017 bill of Election of Pakistan. Soon, he started receiving favour and support from other religious-political parties, the public, and some other sections of society, increasing the protests nationwide.
The public started demanding the resignation of Zaid. So complete shutdown started, and the Pakistani government eventually responded with the forceful closing of all Pakistani news channels and social media sites to stop information flow.
This situation created confusion in Lahore, Islamabad, Rawalpindi, and Karachi. Finally, in the evening army chief jumped into the situation and advised both sides to remain calm. 
Protests against Christian Woman Asia Bibi
On 31st Oct 2018, Asia Bibi, a Christian woman who had an allegation of blasphemy, was declared innocent by the Pakistan Supreme court after 8-years of conviction and detention. The final verdict said that an accuser of Bibi violated the Testament of Muhammad.
Justice Asif Khosa stated that two women who accused Asia were liars, and their claim was 'Concoction Incarnate.' The Pakistan Supreme Court ruling stated that 'inconsistent statement and material contradictions of witnesses' cast the shadow of a doubt on prosecution facts. Under Rizvi's leadership, this situation triggered TLP and initiated demonstrations in Multan, Peshawar, Lahore, and Karachi.
They started clashes with police officials. TLP leader Afzal Qadri stated that all judges of the Supreme Court should be killed. Police sealed the red zone area of Islamabad to protect Pakistan Supreme Court. He demanded that under Pakistan's panel code, maloona Asia should be punished for blasphemy in his public speeches.
He announced that he would continue his protest until the Pakistani government accepts his demands. Along with other party leaders, he was arrested on 23rd Nov 2018 and was freed on bail in 2018.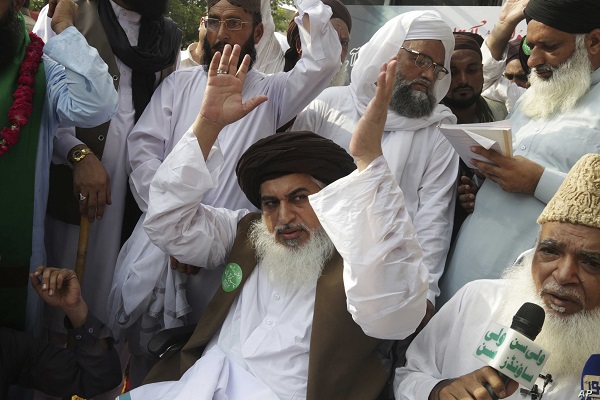 Protests against Lollywood Film 
Rizvi in 2020 initiated protests on the release of 'Zindagi Tamasha,' a Lollywood film. He alleged Sarmad Khoosat, the film-maker of blasphemy. 
Assassination of Professors 
In March 2019, Khateeb Hussein, a 3rd-year student of Bahawalpur Sadiq Egerton College, murdered Khalid Hameed, an associate professor. Khateeb was in contact with a senior member of TLP Zafar Gillani before the murder; he obtained approval for an act over Tinder. The probable reason behind this murder was insulting and blasphemous behaviour towards Islam.
A seventeen-year-old student assassinated the Islamia College's principal, Sareer Ahmad. That student accused his professor of involvement in blasphemy for admonishing him for bunking classes to go to rallies conducted by TLP. Both of these students said that Khadim influenced them.
Khadim Hussain Rizvi Death
On 19th Nov 2020, he was rushed to Farooq Hospital in Lahore's Allama Iqbal Town area after collapsing. Doctors announced him dead on his arrival at the hospital. Later he was taken to Sheikh Zaid Hospital and was pronounced dead at 8:48 pm.
His son Hafiz Saad Hussain stated that he started breathing again for almost five minutes and eventually died after his dying declaration. Saad led his funeral prayers at Minar-e-Pakistan Lahore. He was embedded inside Madrassa Abu-Zar Ghaffari, linked with Rehmat-ul-Alameen mosque.
According to a local report, almost two lac people attended his funeral. On 1st Nov, Saad was designated as the new TLP ameer.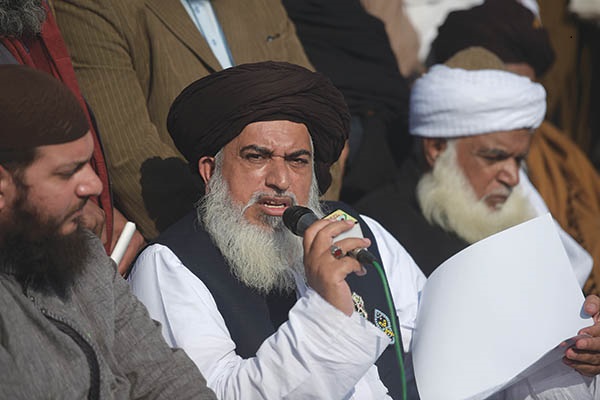 Khadim Hussain Rizvi Books
Tayaseer Abwab-ul-Surf

Fazail-e-Darood Sharif

Taliya-e-Khadmiya