PTI takes immense pride in its being the only party which does not function on dynastic politics and is Non family party. It has more than 10 millions members in Pakistan and abroad and is perhaps the largest Party by membership. The 2013 elections results depicted how PTI stormed to the third position as the the largest party and emerged as the second largest party in Punjab and Karachi. This was a serious blow for the PML N and MQM who have for years ruled Lahore and Karachi respectively. PTI was the winner Kyber Pakthunkhwa which had always been monopolized by the governments of Awami National Party. The 2013 elections clearly resulted in PTI emerging as the second most popular party in the country.[1]  PTI 
| Title | Description |
| --- | --- |
| Government Seats in 2014 Election | |
| National Assembly: | 34 / 342 |
| KPK Assembly : | 61 / 124 |
| Punjab Assembly : | 30 / 371 |
| Senate : | 7 / 104 |
| Sindh Assembly: | 4 / 168 |
| GB Assembly : | 1 / 33 |
| AJK Assembly : | 1 / 41 |
| Party Wing | |
| Membership (2013) : | 10 million (worldwide) |
| Women Wing: | Insaf Women Wing |
| Youth Wing: | Insaf Youth Wing |
| Student Wing: | Insaf Student Federation |
| Information | |
| Founded: | 25 April 1996 |
| Headquarters: | Sector G-6/4 Islamabad, Pakistan |
| Leader: | Imran Khan |
| Slogan: | Self Esteem, Justice and Humanity |
| Colors: | Green, Red |
| Political Position : | Centre |
| Ideology : | Welfarism Populism Islamic democracy |
| Website: | http://www.insaf.pk/ |
| Vice Chairman: | Shah Mehmood Qureshi |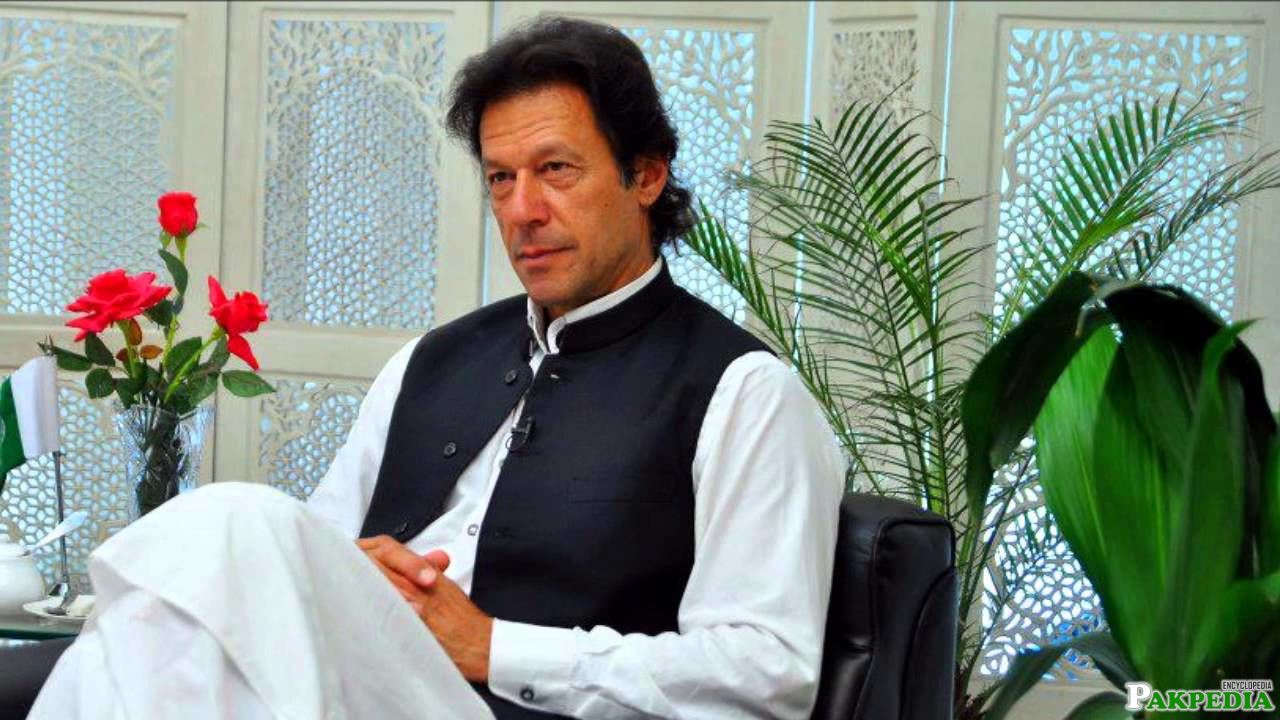 History

PTI was founded by Imran Khan on 25th April in 1996 in Lahore. It was founded initially as a source Political movement. Its first central executive committee was formed under the control of Imran Khan and Naeemul Haque, Ahsan Rasheed, Hafeez Khan etc. PTI began to grow at a very slow pace and did not Achieve immediate popularity. In 1999, the constitution of PTI was approved by the Central Executive Committee and in 2002, October, Imran Khan ran for the office of National Elections.
Member of the Parliament
He became the Member of the Parliament for Mianwali which is also his hometown. Imran and his party has been Deeply critical of the entire political system of Pakistan. The PTI rejects political order as corrupt, Inefficient and against the basic principles of Pakistan. In protest to the corrupt regimes, PTI began its Grassroots campaigns to increase the awareness about his political party and also politicize the forlorn Masses.
2008 Elections
The 2008 elections were boycotted by PTI and during the rule of PPP and Zardari the popularity of Khan And his political party PTI heightened to new heights. PTI promised to create a Pakistan which is the self Reliant and sovereign, free from debt and truly independent and also free from the tyrannical rule of the Elites and feudal lords.[2]  History 
Mission
Pakistan Tehreek e Insaf agenda is built upon the visions of Iqbal and Jinnah. It seeks for a modern Islamic republic that the advocate's individual's welfare. PTI major aims are political, economical and social Stability for all religious, ethnic communities residing within Pakistan. The rule of Law is the most sought Principle in the mission of PTI. Establishment of a strong accountability and anti-corruption structure is also a very important part of PTI's agenda.[3]  Mission 
Chairman Imran Khan

In April 1996, Pakistan Tehreek-e-Insaf ("Movement for Justice") political party was established and Khan became its chairman. He represented Mianwali as a member of the National Assembly from November 2002 to October 2007, he was again elected on 11 May 2013, while his party gained 35 seats in the National Assembly. Global Post mentioned him third in a list of nine world leaders of 2012 and recognized Khan as the face of the anti-drone movement in Pakistan. According to Asia Society, Khan was voted as Asia's Person of the Year 2012. As the Pew Research Center, in 2012 a majority of Pakistani respondents offered a favorable opinion of Khan. The survey also revealed Khan's fame among youth. On 31 December 2014, news reports floated saying Khan has married British-Pakistani journalist Reham Khan.[4]  Chairman Imran Khan 
Vice Chairman Shah Mehmood Qureshi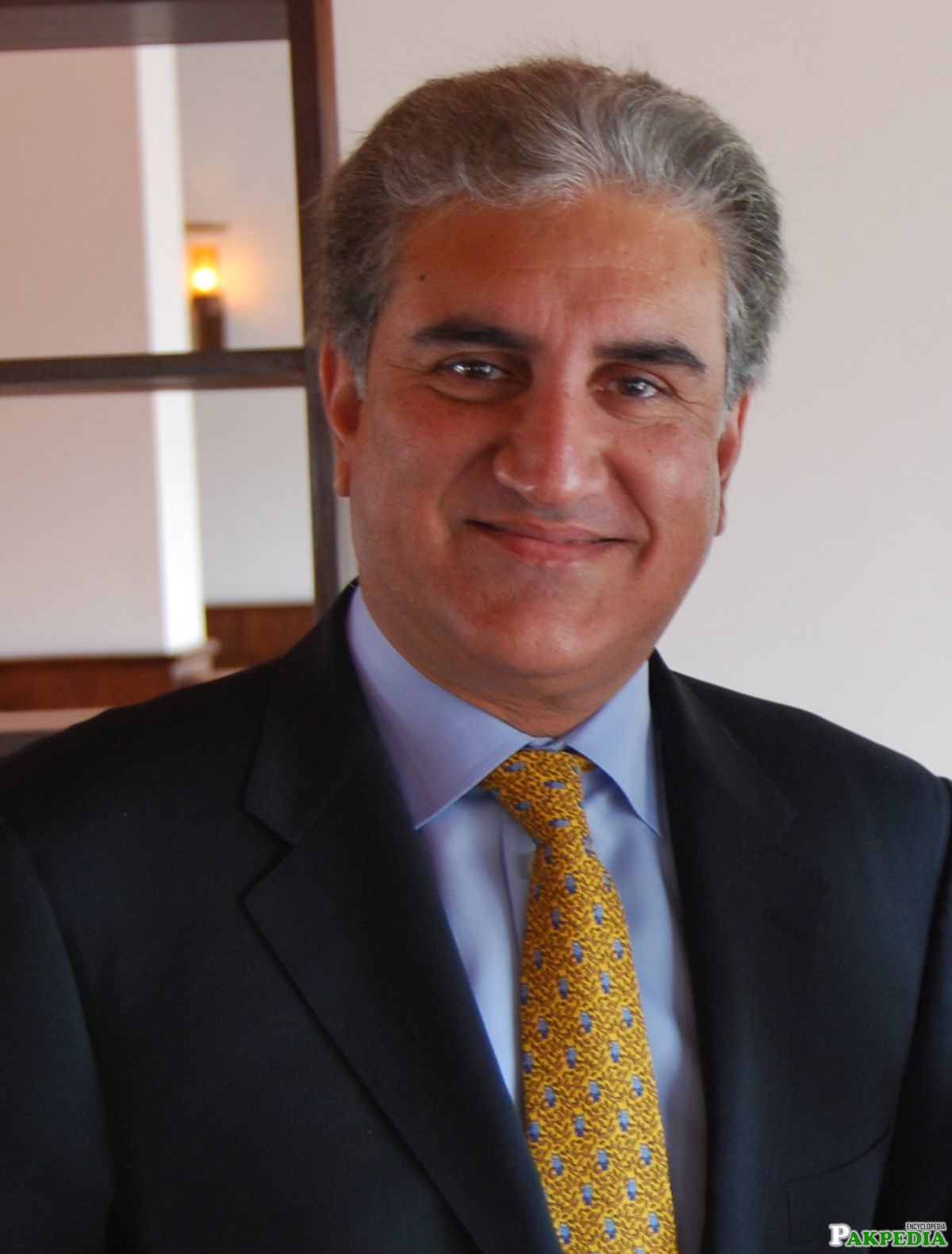 He was appointed Vice-Chairman of Pakistan Tehreek-e-Insaf and member of the political strategy committee. He stated that the cause behind joining PTI was to bring about a revolution in Pakistan. He is currently serving as National Organizer of Pakistan Tehreek-e-Insaf. Qureshi was elected an MP from NA-150 ( Multan-III) and was the runner up from NA-228 (Mirpur Khas-III) and NA-148 (Multan-I) on 11 May 2013 on the ticket of Pakistan Tehreek-e-Insaf.[5]  Vice Chairman 
Bond of Trust
The PTI is determined to provide a credible new leadership that can restore Pakistan's political and economic sovereignty through building a new bond of trust between the government and the people. Only through the active participation of the people can we collectively mobilize our human and material resources to forge ahead on the road to a confident and self-reliant nation.[6]  Bond of Trust 
Broad Based Movement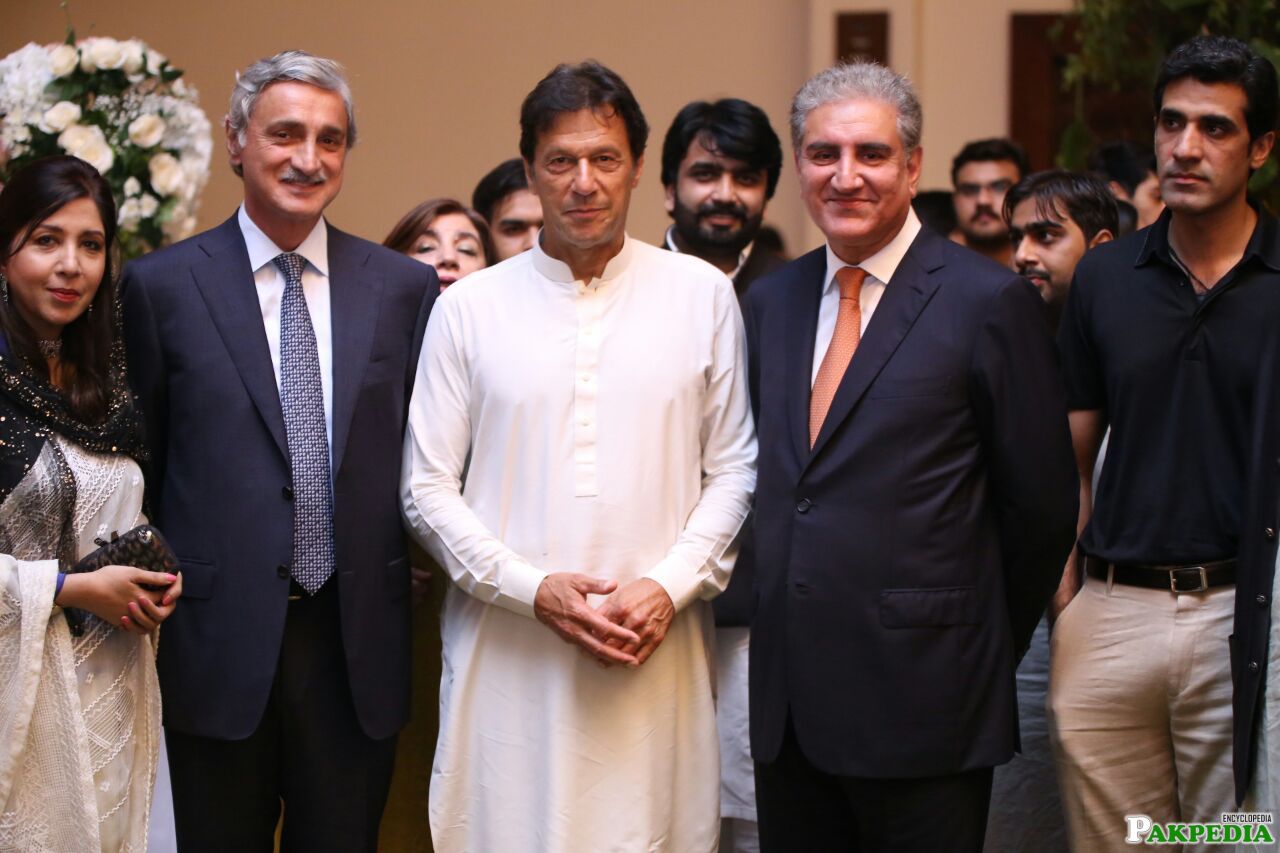 The PTI is not merely a political party; it is a broad based movement that embraces the interests of all Pakistanis. A people whose cultural and ethnic diversities blend into common goals and aspirations for a just society based on a democratic culture and the rule of law.[7] Broad Based Movement 
Ideology
The ideology of the party is Welfaris, Islamic Democracy, and Communitarianism. Insaf Student Federation, Insaf Youth Wing, and Insaf Women Wing are the student wing, youth wing, and women with of this party.The headquarters of PTI is located in Islamabad.[8] ideology
Seats Distributions
| Seat Type | No. of Seats |
| --- | --- |
| General | 26 |
| Reserved | 6 |
| Minority | 1 |
| Total: | 33 |
General Seats 26
Constituency
Name
Party
Address (Permanent/Local)
Phone
NA-2
Peshawar-II
Engr. Hamid-ul-Haq Khalil
PTI
Mohallah Akazai, Tehkal Bala,Tehsil & District Peshawar  J-03, Parliament Lodges, Islamabad
+92 321 9128662
NA-3
Peshawar-III
Mr Sajid Nawaz Khan
PTI
Garhi Ameer Khan, Patwar Payan, Tehsil & District Peshawar DG-II/802, Babar Colony, Dhok Gangal, Near KRL, Rawalpindi.
+92 315 9944205,+92 314 9019500
NA-4
Peshawar-IV
Mr. Arbab Amir Ayub
PTI
Arbab Bunglow, Maira Kachori, Urmar Payan, Tehsil & Distt. Peshawar, Cantt. 
+92 300 8580888
NA-5
Nowshera-I
Dr. Imran Khattak
PTI
Moh: Badrashi Khel Manki Sharif, Nowshera  H.No. 16, Street No. 64, Sector G-13/2, Islamabad
+92 300 5779367-+92 300 5779370
NA-6
Nowshera-II
Mr Siraj Muhammad Khan
PTI
Misri Banda, Tehsil & District Nowshera  Suite No.34, Govt. Hostel, Islamabad
+92 300 8551586,+92 51 9206916
NA-10
Mardan-II
Mr Ali Muhammad Khan
PTI
Pir Muhammad Khan Killi, Hathian, Tehsil Takht Bhai, District Mardan.  J-06, Parliament Lodges, Islamabad.
+92 343 9151109
NA-11
Mardan-III
Mr Mujahid Ali
PTI
Saifoor Abad, Par Hoti,District Mardan  J-04, Parliament Lodges, Islamabad.
+92 300 5739968
NA-13
Swabi-II
Mr. Aqibullah
PTI
Aka Khel, Marghuz District Swabi. A-01, Parliament Lodges, Islamabad
+92 302 5680500-+92 346 9243790
NA-14
Kohat
Mr Shehryar Afridi
PTI
Mohallah Garhi Risaldar, Hangu Road, Kohat  G-408, Parliament Lodges, Islamabad.
+92 300 5275258
NA-15
Karak
Mr Nasir Khan Khattak
PTI
Mughal House, Mohalla Arbab Avenue, Tehkal Payan, Peshawar F-201, Parliament Lodges, Islamabad.
+92 345 9200014
NA-16
Hangu
Mr Khial Zaman Orakzai
PTI
Shna Warri, Tehsil Thall, District Hangu  G-306, Parliament Lodges, Islamabad.
+92 332 9555555
NA-17
Abbottabad-I
Dr. Muhammad Azhar Khan Jadoon
PTI
Hawa Lodge, Ilyasi Masjid Road, Narrian, Nawansher, Abbotabad 28 Government Hostel, Islamabad
+92 321 9842007
NA-25
D.I.Khan-cum-Tank
Engineer Dawar Khan Kundi
PTI
R/O Ranwal Tehsil & District Tank 
+92 300 5799500-+92 333 5799500
NA-27
Lakki Marwat
Col. (Retd) Amirullah Marwat
PTI
Mohallah Mian Khan Khel, Village Dallo Khel, Tehsil & District Lakki marwat  House#559, St No.21, Sector A-14 Adiala Road Rawalpindi
+92 300 3152315, +92 51 9207017
NA-29
Swat-I
Mr Murad Saeed
PTI
Mohallah Sher Muhammad Sher,Kabal,District Swat  G-308, Parliament Lodges, Islamabad.
+92 345 9118976
NA-30
Swat-II
Mr Salim Rehman
PTI
Village Farhat Abad, Kotanai, Tehsil Khawazakhela, District Swat  H-406, Parliament Lodges, Islamabad.
+92 333 9279679
NA-35
MALAKAND PROTECTED AREA
Mr Junaid Akbar
PTI
Thana, Malakand  A-01, Parliament Lodges, Islamabad.
+92 300 5845411
NA-47
Tribal Area-XII
Mr Qaisar Jamal
PTI
Zarghon Khel, Meri Khel, Rahim Killa P.O Darra Adam Khel, FR Kohat  J-411, Parliament Lodges, Islamabad.
+92 333 9292492
NA-48
Islamabad-I
Mr. Asad Umar
PTI
 
N/A
NA-53
Rawalpindi-IV
Mr Ghulam Sarwar Khan
PTI
Pind Noshehri Post Office Jhumer Taxilla  Pind Noshehri Post Office Jhumer Taxilla
+92 333 5551777
NA-56
Rawalpindi-VII
Mr Imran Khan
PTI
Khan House, Bani Gala, Mohra Noor, Islamabad  House No. 2, St. 84, G-6/4, Embassay Road, Islamabad
+92 51 2270744
NA-72
Mianwali-II
Mr Amjid Ali Khan
PTI
Sher Afghan Khan Wandhi Ghund Wali Tehsil & District Mianwali 108-G, Parliament Lodges, Islamabad.
+92 301 8607030
NA-126
Lahore-IX
Shafqat Mahmood
PTI
53-J, DHA Phase-1, Lahore.  C-302, Parliament Lodges, Islamabad
+92 300 8448444, shafqatmd@gmail.com
NA-150
Multan-III
Makhdoom Shah Mahmood Hussain Qureshi
PTI
Bab E Alquresh, Doulat Gate, Circular Road, House No. 445/W- 6M, Multan  208-A, Parliament Lodges, Islamabad.
+92 300 8507199
NA-154
Lodhran-I
Mr. Jahangir Khan Tareen
PTI
House No.99-A, Model Town, Lahore  H.No.6, St. No.16, F-6/3, Islamabad
+92 51 9213509, +92 300 9509820, +92 343 4006464
NA-250 
Karachi-XII
Dr. Arif Alvi
PTI
House C-31, Muhammad Ali Housing Society, Karachi  A-110, Parliament Lodges, Islamabad.
+92 300 8221626, drarifalvi@gmail.com
Reserved Seats for Women
Khyber Pukhtunkhwa 4
| Constituency | Name | Party | Address (Permanent/Local) | Phone |
| --- | --- | --- | --- | --- |
| 1 | Nafeesa Inayatullah Khan Khattak | PTI | Badrashi Khel, Manki Sharif, Tehsil and District Nowshera  House No. 64, Main Margalla Road, F-6/3, Islamabad. | N/A |
| 2 | Mussarat Ahmadzeb | PTI | Bar Kalay, Saidu Sharif, Swat  Suite No.F-111, Parliament Lodges, Islamabad | N/A |
| 3 | Sajida Begum | PTI | House No.203, Street No.1, E-1, Hayatabad, Peshawar  | N/A |
| 4 | Aaisha Gulalai | PTI | Fata Colony, Warsak Road, Peshawar  | N/A |
Punjab
| | | | | |
| --- | --- | --- | --- | --- |
| 1 | Dr. Shireen Mehrunnisa Mazari | PTI | Mazari Farms, Rajanpur  | +92 324 5193648 |
| 2 | Munaza Hassan | PTI | Dera Taj Shah, Bedan Road, Lahore.  | N/A |
Reserved Seats Minority
| Constituency | Name | Party | Address (Permanent/Local) | Phone |
| --- | --- | --- | --- | --- |
| 1 | Lal Chand Malhi | PTI | Ward No.312, Malhi Para, Umerkot, Sindh  Parliament Lodges, Islamabad | +92 300 3302662 |
PTI Demands Resignation of Nawaz Sharif
10 April 2017 – Pakistan Tehreek-e-Insaf (PTI) Chairman Imran Khan on Sunday demanded of Prime Minister Nawaz Sharif to tender his resignation after 'loosing moral authority' to keep the post amid Panama Papers' revelations.In an 'address to the nation' from his Islamabad residence Bani Gala, Khan also demanded that the government should form an inquiry commission led by the serving chief justice of Pakistan. "The commission should also include white-collar crime experts and an audit firm that follows the trail of money to determine where it leads," he added.[9]  Resignation 
Dharna
The PTI chairman gave the government time till April 24 to take an appropriate action over the issue, after which he added he will announce a future course of action.The PTI chief said they will march on Prime Minister Sharif's residence in Raiwind instead of Red Zone in Islamabad."Dharna had to be abandoned because of an incident, but I promise you all that I will not back down this time around." Imran Khan said Pakistan was heading towards disaster but 'by the grace of Almighty, the nation has got an opportunity to turn the country's course'.[10] Dharna
Panama Leaks
He said Panama Leaks was not a conspiracy hatched by his PTI party but it was an international affair in which several key diplomats, politicians and government officials had been named. Many democratic countries launched probes immediately after the release of Panama Papers, he added.Khan said people need to stand against oppression and injustice as it was every Pakistani's responsibility to protect the country. "Nations head towards disasters when they don't stand for justice," he added.[11]  Panama Leaks 
Head Office Address
Pakistan Tehreek-e-Insaf Office Address: 1st Floor, 72 East, Fortune Plaza Jinnah Avenue, Blue Area Islamabad
Pakistan Tehreek-e-Insaf Office Phone Numbers: +92 51 2803378-81
Pakistan Tehreek-e-Insaf Office Fax Number: +92 51 2803382 / +92 51 2803383
Pakistan Tehreek-e-Insaf Official Email Id: sg@insaf.pk (Office of Secretary General)
sm.core@insaf.pk
social.media@insaf.pk
General Elections 2018
Pakistan Tehreek e Insaf which was founded in 1996 by Imran Khan who always claimed to work for the betterment of the country by giving the people of Pakistan a 'Naya Pakistan' has finally won the General Elections 2018 after the hard work of day and Night and after the continuous struggle of 22 years. But unfortunately, they couldn't win with a majority of seats so they collaborated with MQM in order to have a majority of seats. Tehreek e Insaf will start their government officially on 10th or 14th of August 2018 where a number of people will gather from outside the country also in the oath-taking ceremony of its leader Imran Khan.