Muhammad Hanif Abbasi, commonly known as Hanif Abbasi, is a Pakistani politician who has worked as a National Assembly member for 2 consecutive terms. He belongs to Rawalpindi, where he spent his entire life. In 2018, he was arrested by the court in a drug case and was given life imprisonment.
However, in 2019, the same court announced his bail due to not having proper evidence. Abbasi started his career with Jamat-e-Islami Pakistan but instantly switched to Pakistan Muslim League N and is still attached with the same party.
After losing the 2013 elections, he lodges a request against Imran Khan and Jahangir Tareen for corruption that was dismissed after 2 years. This article contains all the information about him, including Muhammad Hanif Abbasi Biography.
| Title | Description |
| --- | --- |
| Personal | |
| Name: | Muhammad Hanif Abbasi |
| In Urdu: | محمد حنیف عباسی |
| Nationality: | Pakistani |
| Residence: | Lahore |
| Education: | Bachelors |
| Alma Mater: | University of Punjab |
| Religion: | Islam |
| Profession: | Politician |
| Born | |
| Date: | 4th January 1966 |
| Place: | Rawalpindi, Pakistan |
| Family | |
| Spouse: | Mehnaz Abbasi |
| Children: | Areeba Abbasi, Zoha Khalil Abbasi, and Hamas Ullah Abbasi, |
| Parents: | Muhammad Khalil Abbasi |
| Siblings : | Muhammad Basit Abbasi |
| Career | |
| Political Party: | Pakistan Muslim League (N) |
| Serve As: | MNA |
| Time Period : | 2008-2013 |
| Old Political Affiliations: | Jamaat-e-Islami Pakistan |

Muhammad Hanif Abbasi Biography
Hanif Abbasi is a notable name in politics who started his career with 2002 by-Elections. In 2012 a case was registered against him for using 500 kg of drugs, for which he remained behind bars for few months. The case remained into consideration for many years, and in 2018, he was finally found guilty. He was given life imprisonment, but in 2019, the case was withdrawn, and he was released from jail.
Abbasi has been associated with Pakistan Muslim League N for a long time. He is one of the committed members of the Nawaz Family. During his National Assembly tenure, he works on different noted Ministries. In 2018, after his imprisonment, he was added to the list of Google's most-searched personalities.
Abbasi Date of Birth
He was born on 4th January 1966 in Rawalpindi.
Education of Abbasi
He has a bachelor's degree that he acquired from Punjab University and Forman Christian College.
Muhammad Hanif Abbasi Family
He is the son of Muhammad Khalil Abbasi. Hanif is married to Mehnaz Abbasi and blessed with 3 children Areeba Abbasi, Zoha Khalil Abbasi, and Hamas Ullah Abbasi. Areeba Abbasi served as BBH Medical Officer and resigned due to political victimization in 2018.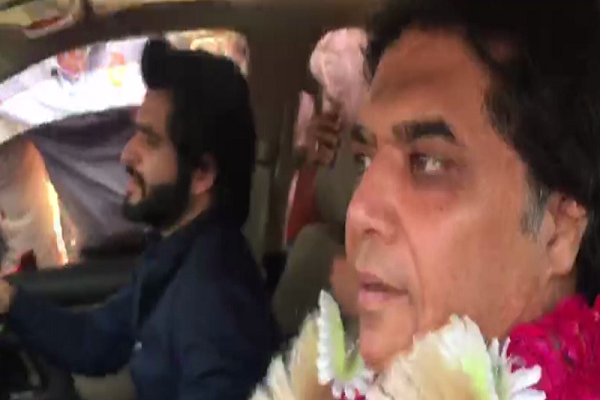 Political Career
2002 By-Elections
He contested the National Assembly elections for the first time in 2002 when he ran for the by-election seat. Muttahida Majlis-e-Amal gave him a party ticket against the nephew of Sheikh Rasheed. After completing the tenure, he parted his ways from the party and affixed with PMLN.
2008 General Elections
Hanif Abbasi contested the 2008 Pakistan General Elections from NA-56 Constituency. Pakistan Muslim League N allotted him a ticket. Fortunately, he won the majority votes and lead the chart. He served as an MNA till 2013.
2013 General Elections
He faced tough competition in the 2013 General elections as he was elected opposite Imran Khan. He obtained 13000 fewer votes as compared to Imran Khan and lost the seat with the majority. However, he filed a case against Imran and Jahangir Tareen for corruption. His case was submitted to the Supreme Court and went into consideration. After 2 years, the court found Imran Khan innocent while Jahangir Tareen was disqualified for not declaring his assets properly.
2018 General Elections
He was once again was nominated for the 2018 General Elections from NA-60 Rawalpindi Constituency. However, just before the elections, he was imprisoned in a drug case and was disqualified from contesting the elections.
Muhammad Hanif Abbasi Drug Case
In 2012, an FIR was filed against Abbasi for misemploy 500kg of drugs from his company Pharmaceutical. After few months, he was released from jail. However, the case didn't close there as in 2018 before General Elections 2018, he was again found guilty in the same court and was sent to jail from the court.
On 22nd September 2018, a picture circulated on social media where Abbasi was seen wearing a formal dress instead of a jail dress for which he was shifted to another jail.
After a few months, he complained about kidney pain for which he was shifted to the hospital. In March 2019, his health went down for which he was admitted to Zayed Hospital. However, in April 2019, he was released on bail for not having proper evidence against him.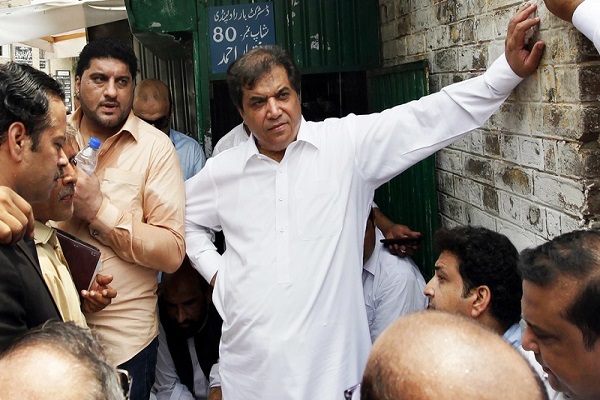 Social Media Handles
His social media account include
https://www.facebook.com/hanifabbasiNA56/