Imran Khan, known as the Kaptaan, Skipper, is the 22nd Prime Minister of Pakistan. He is not only a politician but has remained a cricket star, Chancellor of the University of Bradford, philanthropist, motivational speaker, and an Author. He has been in the public eye since his cricket debut in 1971.  Khan got acknowledged after winning the trophy of World cup in 1994. He has married thrice and has two sons from his first wife. This article has all the information about Khan, including Imran Khan Biography and Imran Khan Family.
| Title | Description |
| --- | --- |
| Personal | |
| Name: | Imran Khan |
| In Urdu: | عمران خان نیازی |
| Famous As: | Prime Minister of Pakistan |
| Nationality: | Pakistani |
| Residence: | Islamabad |
| Education: | Graduation |
| Alma Mater: | Keble College, Oxford |
| Religion: | Islam |
| Profession: | Former Cricketer and Politician |
| Height: | 6′ 1′ |
| Website: | https://twitter.com/ImranKhanPTI |
| Awards : | He Bagged Various Awards |
| Born | |
| Date: | 5th October 1952 |
| Place: | Lahore |
| Family | |
| Spouse: | Bushra Khan |
| Children: | 2 (Qasim Khan, Sulaiman Isa Khan) |
| Parents: | Shaukat Khanum and Ikramullah Khan Niazi |
| Siblings : | Aleema Khanum, Uzma Khanum, Rani Khanum, Rubina Khanum |
| Relatives: | Javed Burki and Majid Khan (Cousins) |
| Career | |
| Political Party: | Pakistan Tehreek-e-Insaf |
| Serve As: | Prime Minister of Pakistan |
| Proceeded by: | Nawaz Sharif |
| Time Period : | 2018-present |
| Old Political Affiliations: | Pakistan Tehreek e Insaf |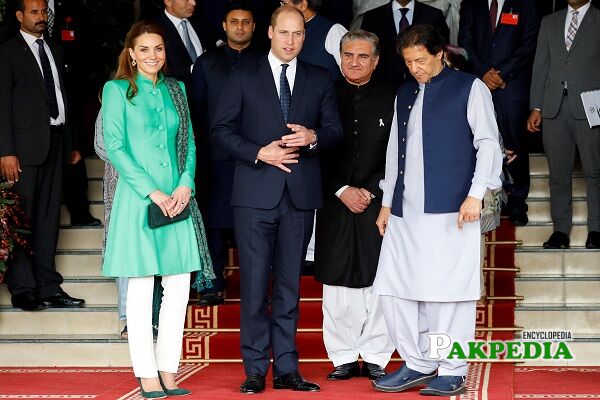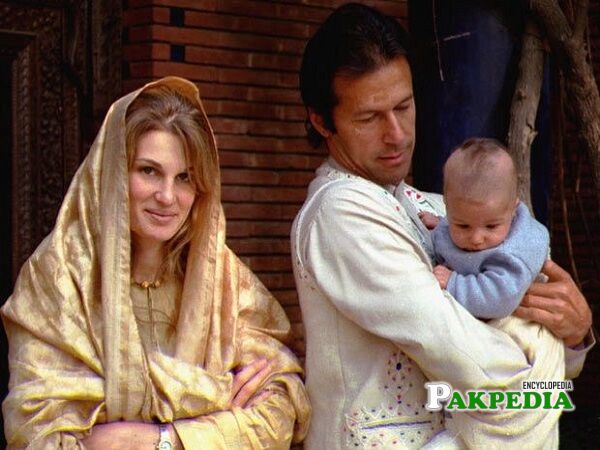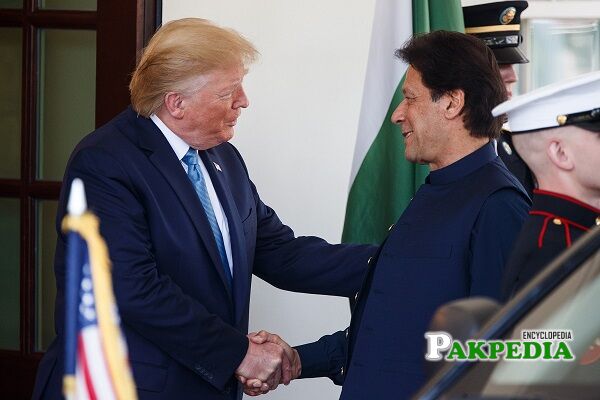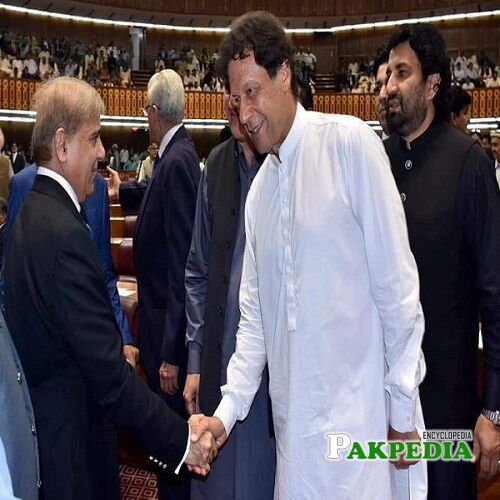 Imran Khan Biography
Imran Khan Niazi is considered as one of the few undisputed national heroes of the country. After having a successful cricket career of two decades, Imran joined politics and formed his political party named as Pakistan Tahreek Insaf. Along with politics, he continued his charity works as he had already constructed a state of the art cancer treatment hospital Shoukat Khanum Cancer Memorial Hospital.
Later, He constructed Namal College that is the first step towards the construction of Knowledge city. His political life started when the political scenario of the country demanded a selfless political leader who would later steer the nation through an economic and moral crisis. As he hailed from a non-political background with a straight forward and honest nature, he was discouraged for more than ten years to be never fit in the political structure of the country that favored only the clever and the cunning.
When he found a rise in 2011, it was expected that he would be the next elected Prime Minister but could not win the election. Though it was upset for him yet he continued his struggle and became the 22nd Prime Minister of Pakistan in 2018. His views are highly commended and respected, and his fan following has reached across the globe.
Imran date of Birth
He was born on 5 October 1952 in Lahore, Pakistan. Currently, Imran resides in Bani Galla, situated in Islamabad.
Education of Khan
Imran has an exceptional educational background. He studied his early education in Cathedral School Lahore and completed his intermediate from Aitcheson College Lahore. Before going to England for Professional Cricket, he was allowed by his mother only if he continued his education in England. He first studied in Royal Grammar School Worcester and later studied philosophy, politics, and economics at Keble College, Oxford, from where he obtained his degree of Bachelors.
Imran Khan Family
Khan belonged to a Pushtun family that belongs to the Niazi tribe in Mianwali. He was the only son of a civil Engineer, Ikram Ullah Khan Niazi and Shoukat Khanum. One of his ancestors is said to be the general of Sher Shah Suri and governor of Punjab in the 16th century. His mother, Shoukat Khanum, belonged to the Burki tribe, who was the descendant of Sufi-worrier poet Pir Rokhan. He was also the first to invent the Pushto Alphabits.
His maternal family belongs to Waziristan and later migrated to India. He is also the cousin of some of the famous cricketers, including Majid Khan, who was also his ideal and Javed Burki. Imran has four sisters, including Aleema Khan or Aleema Khanum, who is an entrepreneur and remained in the limelight for hiding her Dubai properties. Uzma Khanum is a surgeon by profession while Rani Khanum, who is also into the charity work. Rubina Khanum received her Economic education from the London School of Economics and currently works at a senior post with the United States.
Imran Khan Marriage
Imran has married thrice. He first got married to Jemima Khan in 1995. Jemima is the daughter of billionaire Sir James Goldsmith. Both blessed with 2 sons Sulaiman Isa Khan and Qasim Khan. However, the marriage only survived for 9 years, and both parted their ways. Jemima also lived in Pakistan following her husband but returned to Britain after divorce with her boys. 
His 2nd marriage with Pakistani British Journalist Reham Khan only lasts for nine months. Reham made many allegations after divorce against Imran, yet it didn't affect his popularity. 
He is currently living with Bushra Bibi, who is his 3rd wife. Both got married on 18th Feb 2018 in a private ceremony. Khan's 3rd wedding created considerable controversy. Bushra Bibi was known for her Sufism connections with Imran Khan before marriage. Bushra already had 2 Sons and 3 Daughters.
Cricket Career
Initial Career
When Imran was 11, he saw his cousin score a century in an international test match. That was the time when he decided to be a test cricketer in the future. Though he had lesser talent as compared to his cousins, he did not accept any hurdle in his way and made his debut against England in 1974. He was dropped after his first match, and a newspaper called him Imran Can't instead of Imran Khan.
As a Captian
Soon, he made his comeback in the team, and with his splendid performance, he became the team's key player. After becoming a successful fast bowler, he was made the captain of the Pakistani Cricket Team in 1982. His career never saw any limit and developed continuously. He started cricket as a medium bowler and transformed himself into a genuine fast bowler after a change in his bowling action that took him six years. Soon, he decided to be the best all-rounder and became an all-rounder.
Victory
Under his leadership, Pakistan won against England for the first time in 28 years and against India in India for the first time. He was on his peak when he decided to retire, but he was convinced by Zia Ul Haq to think beyond the self and continue. He desperately wanted to win the 1992 world cup despite the constant challenges. Till then, he emerged as an inspirational personality and a leader with a worrier's mindset.
During the world cup, the team started the journey with failures and was about to leave for the country from Australia but won a point due to rain that Imran called a chance to win the world cup. It seemed very unrealistic as the team lost miserably, but he had already pictured a world cup. This victory was also crucial for his fundraising campaign for Shoukat Khanum. He won the World Cup against England and retired.
In his career, he scored 3807 runs and 362 wickets in test and 3709 runs and 182 wickets in ODI. He is the only captain in the 148 years history of cricket who has declared the innings with his score in the nineties.
As a Philanthropist
Khan's mother died of cancer. He found his mother and his family in great pain, which made him realize the suffering of others. He built 'Shaukat Khanum Memorial Trust' in 1991 named after his mother. The hospital was the only private cancer hospital in Pakistan. He collected funds from all over the world to construct the hospital that was called impossible by 19 doctors out of 20. The hospital treats 75% of cancer patients with the best facilities for free.
It helped to build the trust of the people on him, and he emerged as an undisputed national hero. He also constructed Namal College at Mianwali in 2008. It is associated with the University of Bradford. His foundation 'Imran Khan Foundation' serves in most of the areas that are hit by natural disasters like floods. It also associated with the Buksh Foundation to light up villages in Dera Ghazi Khan, Dera Ismail Khan, and Mianwali.
Political career
Initial Career
According to Khan, he was impressed by the sincerity of the people towards his fundraising campaign. It was what made him think of the people and those who ruled the country and destabilized Pakistan in every aspect. He was advised by his close circle not to join politics as he was then famous for charitable works. After he formed his party PTI, he was severely criticized by the people and was rejected in the 1997 general election.
His party could not even secure a single seat. Later, he won his position in the 2002 general election in Mianwali from NA-71. He suffered miserably as he could not get the rise that he had expected. It was mainly due to his political ideas that were incomprehensible to the people. He was impressed by Allama Iqbal and Ali Shariati. He firmly believes in the Islamic values and dreamed for a welfare state like Medina. His voice against corruption was accepted after a decade when he started to rise as a national leader.
Criticism
During his first term as a member of parliament, Imran faced severe financial problems and could not support his party. He made his flat as the party office and started working as a commentator and columnist. In 2005, he was appointed as the chancellor of the University of Bradford and continued it until 2014. He quit it due to his commitment to politics. In 2007, he became very active and resigned from the parliament along with other 85 members to put pressure on Musharraf.
He was the only politician who was house arrested, which he escaped and joined a student protest in Punjab University. He was mistreated by the students and later detained by the police and jailed for a few days. He also boycotted and did not contest the election in 2008.
Growth in Political Career
In 2011, he saw a sudden rise in his popularity when he addressed a rally of 100000 people in Lahore. It was the turning point in his political career. He started to address huge political gatherings that spread his message that was not communicated since long. He emerged as one of the most popular leaders in the history of the country and was expected to be the next prime minister. His stance at national and international issues was widely appreciated.
He visited Waziristan despite a life threat to protest against the drone attacks in Pakistan. He also asked for dialogue with the Taliban that earned him a name Taliban Khan and opposed every military operation. According to him, there was only one solution to the issue; peace talks. Khan started his campaign of the 2013 election with the slogan New Pakistan. He promised the reform the society morally, politically, and economically.
Government in Khyber Pakhtunkhwa
His campaign also stated the country's equal education and health system and criticized the previous governments for their suspected role in War on terror. Before the election, he fell from the stage and was immediately taken to the hospital for treatment. He was on the bed when the election was contested.
His party secured 30 seats in the national assembly and became the 2nd largest party in the country. His party made government in Khyber Pakhtunkhwa and was successfully re-elected in the 2018 election. It was the only time that the Khyber Pakhtunkhwa re-elected a party consecutively.  
Imran Khan Niazi Sit-In
One year after the election, he launched a protest against the government, stating that the elections were rigged and called the election fraud. He demanded the resignation of Nawaz Sharif but could not succeed after the protest of more than four months in Islamabad. The rally ended after the APS attack in Peshawar. 
It was decided that a commission would investigate the election, and the result would be acceptable to both parties. This protest completely changed the political situation in the country. During the protest, he continued to talk about his ideas about Pakistan and asked them to stand against the oppression.
Panama Leaks
His opponent, Nawaz Sharif, faced Panama Leaks, which disclosed his assets outside the country that were not declared in his documents. Khan took it to the streets and called for the lockdown of Islamabad. As the date of lockdown came nearer, the Supreme Court took notice and started the trial. It ended in the disqualification of Nawaz Sharif and yet again proved him corrupt in the court. Since then, his future as a prime minister was rarely doubted. Khan was also taken to court by Nawaz League. He showed all the documents to the court to prove his legitimate income and was called honest.
2018 General election
In the 2018 general election, Khan contested the election on 5 constituencies that include NA-131 Lahore, NA-35 Bannu, NA-95 Mianwali, NA-53 Islamabad, and NA-243 from Karachi against the heavyweights of politics and won against all of them. He surpassed Zulfiqar Ali Bhutto, who had won from three constituencies in 1970. His party secured 110 seats in the center and formed government in Khyber Pukhtunkhwa, Punjab, and Center. On August 17, 2018, Khan was elected as the 22nd Prime Minister of Pakistan.
As a Prime Minister
Right from the start of his government, khan faced economic crises that forced him to visit several countries for assistance. A sudden rise in the prices brought disappointment to the people, but he kept addressing the nation to provide the economy's exact realities. He also revisited Pakistan's foreign policy and asked for the creation of equal relations with America. The statistics grow slowly predicting, and prosperous economic future as Khan's administration specifically worked on the economic reforms.
He also tackled the warmongering of India maturely. He immediately returned the captured pilot after the Indian jet was struck by Pakistan and gave a gesture of peace. It emerged Khan as an international leader. Currently, Khan's Administration faces rising Corona cases in the country. While the whole world relied on lockdown, Khan prefers smart lockdown to continue the businesses and let the people survive the hunger that was a new threat to the third world countries.
Khan Niazi Awards
His awards include
Oxford university Hall of Fame Keble College, Oxford Honorary fellow
Life Time Achievement Award London
Royal College of Physicians of Edinburgh, honorary fellowship
Wisden Cricketer of the Year
The Cricket Society Award
Hilal-e- Imtiaz
And many more
Imran Khan Books
Khan has written six books. They include:
West and East
The Autobiography of Imran Khan
Imran Khan's Cricket Skills
A personal view of Pakistan
Warrior Race: A Journey Through the Land of the Tribal Pathans
Pakistan: A Personal History
Social Media Accounts
His social media accounts include