Sheikh Rasheed Ahmad is one of the most celebrated and prominent Pakistani Politicians. He is considered as a media sensation due to his style and selection of common words for political ideas. He is also known for his witty remarks and political prophecies. Sheikh Rasheed is equally famous in the elite as well as common people. He has worked as a minister for several ministries. This article has all the information about Sheikh, incorporating Sheikh Rasheed Ahmad Biography.
| Title | Description |
| --- | --- |
| Personal | |
| Name: | Sheikh Rasheed Ahmad |
| In Urdu : | شیخ رشید احمد |
| Famous As: | Politician |
| Nationality: | Pakistan |
| Residence: | Rawalpindi |
| Education: | LLB |
| Alma Mater: | University of Punjab |
| Religion: | Islam |
| Profession: | Politician |
| Height: | 5 ft 9 in |
| Website: | https://www.facebook.com/Sheikh.Rashed.Official/ |
| Born | |
| Date: | 6th November 1950 |
| Place: | Rawalpindi |
| Family | |
| Ethnicity: | Asian |
| Spouse: | Unmarried |
| Parents: | Sheikh Ahmad |
| Career | |
| Political Party: | Pakistan Tehreek-e-Insaf |
| Serve As: | MNA |
| Time Period : | 2018-present |
| Old Political Affiliations: | Awami Muslim League |
| Member of the National Assembly | |
| Constituency: | NA-62 (Rawalpindi-VI) |
| Assumed office: | 20th August 2018 |
| Ministry : | Federal Minister for Railways |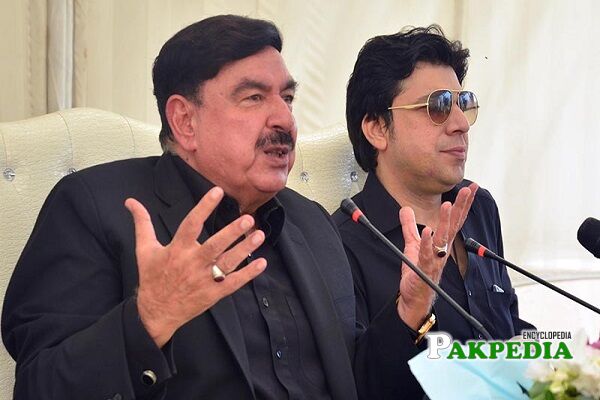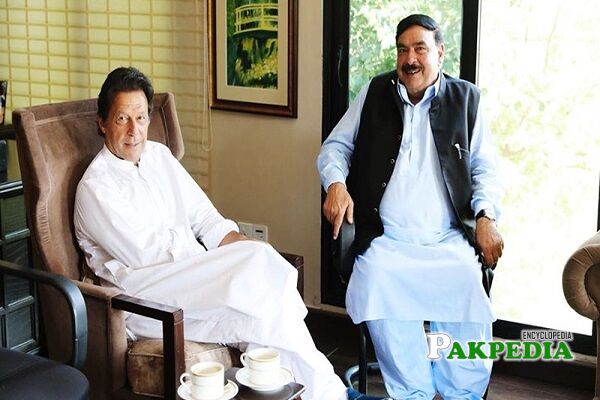 Sheikh Rasheed Ahmad Biography
Sheikh Rasheed is a renowned and senior Pakistani politician who is currently a part of Pakistan Tehreek e Insaf. He remained associated with various political parties and every time elected as a member of the National Assembly. Sheikh involved in multiple controversies throughout his political career for all the wrong reasons. He was being arrested at the Airport for having links with Lashkar e Taiba; however the allegations proved to be fake after 5 hours of inquiry.
Sheikh date of birth
Sheikh Rasheed was born on 6 November 1950 in Rawalpindi. Currently, he is living in the same city.
Education of Rasheed
He achieved his primary education in his hometown in Rawalpindi. After he completed his high school from Christian High School, he went to government Polytechnic Collage and then to Gordon College to study law. Just after a semester, Rasheed Ahmad went to Punjab University, where he completed LLB Degree in 1973. After working as an executive of Gulmarg Mills, he enrolled himself in a Post-Graduate college of Punjab University to pursue a Masters degree in Political Science. In 1982, he submitted his thesis to Punjab University and obtained a Masters Degree.
Sheikh Rasheed Family
Shiekh is Kashmiri by origin. His father's name is late Shiekh Ahmad. One of his relatives, Rashid Shafique, is likewise a Pakistani Politician. He was the youngest of his brothers. Despite several years, he is still unmarried.
Political Career
Initial Career
Sheikh Rasheed was very political from his school times.  He was actively involved in political activities in the government of Ayub Khan. As a student leader, he was the only one who turned around the political gathering of Zulfiqar Ali Bhutto. His career as a member of the National assembly started in 1985. He was elected in the general elections held on a non-party basis from Rawalpindi. Again in the General Elections of 1988, he was re-elected as a member of the National assembly. This time he contested from the seat of Islamic Democratic alliance. He continued to secure his seat in 1990 as well from the ticket of the Islamic Democratic Alliance (IDA). It was the first time when he became the Minister of sports.  He remained the Minister of sports for almost three years. 
Sheikh Rashid and PMLN
In 1993, Sheikh contested the General Election from the ticket of PMLN. It was the first time that he associated himself with a party. He remained its member and contested the General election of 1997 from the ticket of PMLN as well.  He was elected for 5th times as a member of the National Assembly. He could not continue his political life with PMLN. In 2001, the party did not give him the ticket for the general election but they could not stop him from his sixth consecutive victory as a member of the National assembly as an independent candidate.
Sheikh Rasheed and PMLQ
In 2002, he contested the election as an Independent candidate from NA-55 (Rawalpindi) and later joined PMLQ. Sheikh had close relations with Musharraf. As he was outspoken and clear in his narrative, he became the spokesperson of the Musharraf Government. He became the federal minister for information and Broadcasting in 2002. In 2006, he appointed as the Minister of Railways. His political Image deteriorated due to the Laal masjid Operation. As he was a member of PMLQ and close to Pervez Musharraf, his public image turned negative as the operation was publically considered oppressive and immoral. It cost him much in the shape of a loss in the 2008 general elections. 
Awami Muslim League
The general elections of 2008 were the first time that he could not secure his seat in the national assembly. Looking at his public image after the defeat, he left PMLQ and started his political Party Awami Muslim League in 2008. He is the President of the Party. The ideology of the party is Mass Politics and its symbol is pen and Inkpot. Its headquarter is in Laal Haveli, Rawalpindi.
Politics for Change
In 2013, he allied with PTI. According to him, for a real change in the country, changes in the faces of political leaders were necessary. In the new scenario of change, he emerged again as a true face in 2013 and won his seat for the 7th time. In 2017, Prime Minister Nawaz Sharif resigned after the Panama case decision. Sheikh being a part of the opposition was chosen as a candidate for the post of Prime Minister but he got only 33 votes. After the victory in 2018 elections from the Constituency NA-62 (Rawalpindi-VI) with an agenda of change, he was re-elected for 8th time and became the Minister of the Railway. 
Life Threat
In 2010, he was attacked by an unknown gunman while he was busy in a campaign of a by-election in Rawalpindi. Three of his guards were killed while he received few injuries. He was already on the hit list of the militants mainly due to The Laal Masjid Operation and military operation in Tribal areas.  
Sheikh Rasheed Ahmad Ministries
Throughout his political career, Shiekh Rasheed has been assigned 7 Ministries. These include:
Ministry of information and Broadcasting
Ministry of games and culture
Ministry of work and labor
Ministry of Industry and Ministry of Railways
Sheikh Rasheed Book
He has written 'Farzand e Pakistan' which means the Son of Pakistan. It has sold like a hot cake. So far, 17 versions of this book have been sold. It is about his political journey and Pakistan. He is also writing his 2nd book "Sab Acha Hai" which means everything is fine. It is in the last phase and expected to be published soon.
Social Media Handles