At METRO Cash & Carry, we take our inspiration from the entrepreneurial spirit and the limitless energy of independent businesspeople. From the very beginning, the stores of METRO and MAKRO Cash & Carry have focused on creating a tight bond between their local staff and the most important aspect of their business operations: our 21 million customers in 25 countries around the world. [1] 21 million customers – in 25 countries around the world 
| Title | Description |
| --- | --- |
| Details | |
| Location: | Faisalabad |
| Phone: | (041) 8749100 |
| Address: | Sargodha Road, Faisalabad 38000 |
| Hours Open: | 9AM–11PM |
| Website: | [email protected] |
| Head count of employees: | 2300 approx |
| Wholesale centers: | 09 |
| Market Entry: | 2007 |
| Bussiness Headings: | Fruits Dried . Department Stores . Home Stores |
| Owned By: | Metro Group AG |
| Business Type: | Wholesalers |
| Parking Facility: | In house Parking is available |
| Credit Cards Accepted: | VISA CARD & MASTER CARD |
| Y.O.E: | 2007 |
| Payment Options: | Cash & Cheque |
| Business Hours: | 7 Days a Week [24 Hours] |
| METRO Cash & Carry: | the international leader in self-service wholesale. |
| the stores: | METRO and MAKRO Cash & Carry have focused |
| wholesale center: | Pakistan in 2007 & expanded to 5 wholesale centers |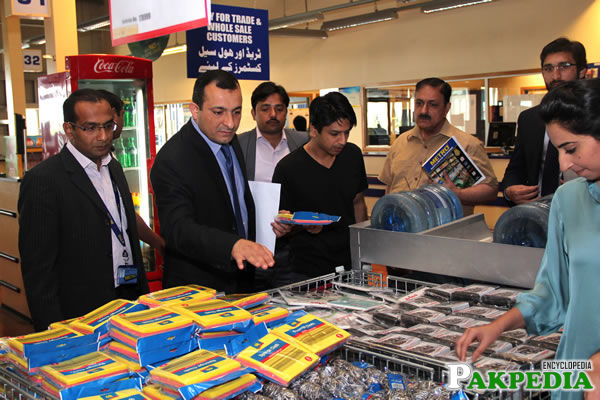 About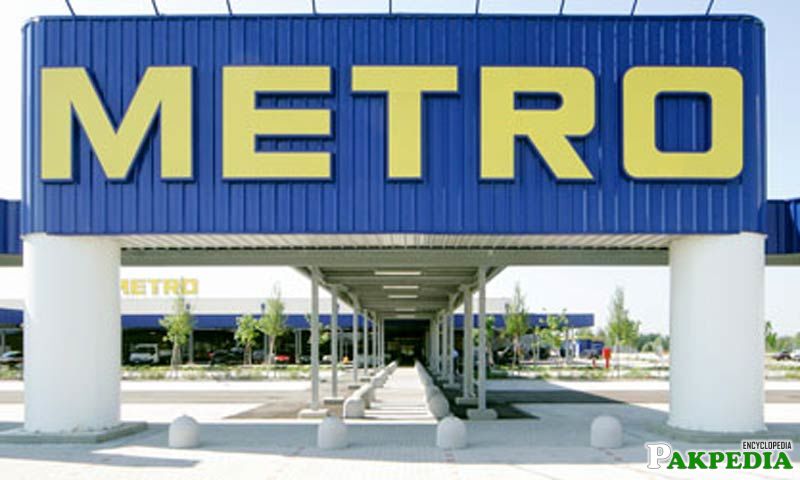 History
METRO opened its first cash & carry wholesale center in Pakistan in 2007 & expanded to 5 wholesale centers in a short span of 18 months. In July 2012 METRO and Makro-Habib combined their wholesale business in Pakistan marking the beginning of a long-term partnership to the mutual benefit of both companies. The merger allowed METRO and Makro-Habib to combine resources and gain the financial strength to lead and grow in a challenging environment and to gain synergies targeted to generate value for our customers and suppliers alike. Today the company is operating 9 wholesale centers in Lahore, Karachi, Islamabad & Faisalabad. [2] The merger allowed  –  METRO and Makro-Habib METRO-Habib Cash & Carry Pakistan is part of METRO GROUP's sales division METRO Cash & Carry, the international leader in self-service wholesale. The company operates more than 700 stores in 29 countries in Europe, Asia and Africa and has a workforce of over 100,000 employees. Sales in 2011 were approximately 31 billion Euro. – See more at: http://www.everything.pk/directory-detail-28-37-metro-cash-and-carry-in-faisalabad.html#sthash.aG0vG940.dpuf[3] METRO opened its –  first cash & carry wholesale center in Pakistan
Metro Categories
   watches
   Wood Molding Service
   Electronics
   courier services
   Hospitals/Health
   cosmetics shops
   Travel Agencies
   Pipes Stores
   Recruitment Agency
   hotels and restauran
   Book Shops
   Sports Goods
   Chip Boards Stores
   Online Payments
   Bakeries
   crockery stores
   Sanitary Material
   banks
   Furnitures
   Building Material
   Photographers
   Timber Stores
   Dawakhana
   Fashion
   Optical Shops
   Gift Shops
   Petrol & Diesel Pump
   Hardware Accessories
   Cutlery Stores
   Cargo Services
   Filling Stations
   CNG Station
   fast foods
   Multimedia
   Paint Shops
   Garments
   Chemical Industries
   Boutiques
   businesses
   Information Technolo
   Jewellery Shops
   Pallywood Stores
   vetreniary hospital
Bakery
METRO has a unique in-store live baking facility, which produces one of the finest quality products in the country. Our Bakery is HACCP International Quality Standards certified, and operates on the ISO 22,000 Food Safety System.
METRO simply does not compromise on quality and standards, so be ensured that the product you buy shall not disappoint you! Working with the slogan of You & METRO, we know what our customers demand. Therefore, we make sure that we not only provide you with the best of the products but also take care of the health and hygiene matters.[4] METRO has a unique –  in-store live baking facility
Our Bakery has a vast product range of about 140 articles, ranging from buns, bread, croissants, cookies, pizzas and other snacks. Our chefs specialize in creating delicious treats for all occasions, be they celebration cakes or tasty treats for day to day indulgence.[5] Bakery has a vast –  product range of about 140 articles
Delivery Services
Providing utmost convenience to its customers has always been the pulse of METRO Cash & Carry. We understand that our customers are loyal to us and, therefore, we need to facilitate our customers to the best of our possibilities.
The Delivery Services at METRO are one step ahead for customer convenience. Our Delivery service is yet another service that sets METRO apart. To make it more convenient for our customers, METRO Cash & Carry provides delivery to Professional Customer's door step with a minimum purchase value. Be it your shop or your restaurant, you can simply avail METRO's delivery service to save your precious time.[6]  METRO's delivery –  service to save your precious time
One Stop Solution
METRO Cash & Carry offers a wide range of products under one roof covering a large spectrum of your personal/business needs ranging from grocery, confectionery, fresh meat & poultry, fruits & vegetables, household, stationery, electronics & appliances to IT & Technology.
This is the reason why we have dedicated customer segments and sections for our customers. Our staff is trained to provide tailored guidance to all our customers. No matter if you are a restaurant owner, if you run a grocery store, or your merely shop for your household, our assortment meets all your requirements.
We at METRO, truly believe in making METRO Cash & Carry the ultimate choice for shopping experience. We are a universe for all.[7] METRO Cash & Carry –  offers a wide range of products
Parking Deck
METRO has a dedicated parking space for its customers. A facility that can accommodate up to 100 – 150 cars at a time. The sole purpose behind this humungous parking space is facilitating the customers.[8] METRO has a dedicated –  parking space for its customers
Contact
Address : Thokar Niaz Baig, Mohlanwal Road, Off Multan Road, Lahore. Landmarks : Mohlanwal Road City : Lahore Phone : +92-42-37508001Fax : +92-42-37508094UAN : +92-42-111878878 View Map
Address : Main Air Port Road, DHA, Near Divine Garden Scheme, Lahore Landmarks : Airport Road, Divine Garden Scheme City : Lahore Phone : +92-42-35609000, 35702100UAN : +92-42-111786622
Address : G-Block, Link Road, Model Town, Lahore. Landmarks : Faisal Town, Link Road Model Town City : Lahore Phone : +92-42-35916841, 35916842, 35916843, 35916844, 35916845, 35916846, 35916847, 35916848, 35916849, 35916850, 35916903, 35916948
Address : Main Sargodha Road, Adj. FDA City, Faisalabad. Landmarks : FDA City, Main Sargodha Road City : Faisalabad Phone : +92-41-8749100Fax : +92-41-8810948, 8810963UAN : +92-41-111786622
Address : Near Railway Carriage Factory, IJP Road, I-11/4, Islamabad. Landmarks : CDA Colony, IJP Road, Railway Carriage Factory City : Islamabad Phone : +92-51-4020006, 4864011Fax : +92-51-4864011
Address : NA-Class 190-219, OKEWARI Near Safari Park, University Road, Gulshan Iqbal, Karachi Landmarks : Safari park, University Road City : Karachi Phone : +92-21-34031000Fax : +92-21-34660226UAN : +92-21-111786622
Address : MAKRO MANGHOPIR CENTRE – D-22, Manghopir Road, SITE, Karachi. Landmarks : Habib Chowrangi, Manghopir Road, Valika Chowragi City : Karachi Phone : +92-21-32593755, 32594014, 32594015, 32594020
Address : MAKRO SADDAR CENTRE – 148/1, Mubarak Shaheed Road, Karachi. Landmarks : FTC Flyover, Mubarak Shaheed Road, PSO Pump City : Karachi Phone : +92-21-32795000
Address : Main Shahrah-e-Faisal, Adj. Star Gate, Karachi Landmarks : Shahrah-e-Faisal, Star Gate City : Karachi Phone : +92-21-34604704, 34604714
Quality Originality
METRO Cash & Carry sells high quality and original products that renders reliability and durability to its customers.[9] METRO Cash & Carry –  Quality & Originality
Attractive Prices
METRO Cash & Carry provides products at attractive prices so you experience the difference that we bring in optimizing your supplies budget.[10] provides products –  attractive prices so you experience
Concept
The company has a simple and efficient business concept: cash & carry wholesale,[11] The company has a simple –  efficient business concept which is defined through its customer base: only professional customers are allowed to purchase at METRO-Habib Cash & Carry, all of them duly registered and provided with a customer card. It is not a super- or hypermarket chain for private consumption, but a modern form of wholesale exclusively tailored to the needs of businesses and companies. The core customers are small and medium-sized retailers as well as hotels, restaurants and caterers. The company offers business customers a comprehensive product range both in food and non-food and efficient business solutions to enhance the customer's competitiveness in their own markets.[12] the customer's –  competitiveness in their own markets
Head count of employees: 2300 approx
Wholesale centers: 09
Market Entry: 2007