Cup'15, where his performance is considered, not perfect but powerful enough to blow the mind of opponent batsman. Rahat Ali has a bright future in Pakistan cricket, which hopefully will be oozing the team spirit with his fast bowling skills.   [1] Rahat Ali 
| Title | Description |
| --- | --- |
| Personal | |
| Name: | Rahat Ali |
| Nationality: | Pakistan |
| Current age:: | 28 years 253 day(s) |
| Residence: | Multan, Punjab Pakistan |
| Religion: | Islam |
| Profession: | Cricketer |
| Height: | 6 ft 3 in (1.91 m) |
| Born | |
| Date: | 12 September 1988 |
| Place: | Multan, Punjab Pakistan |
| Career | |
| National Side: | Pakistan |
| Team Role: | Bowling |
| Bowling Style: | Right handed |
| Batting Style: | Left Arm Fast Medium |
| Matches: | Test 10, ODI 4 |
| Wickets : | Test 52, ODI 5 |
| Bowling Average: | 37.43 |
| Batting Average: | 7.56 |
| 5 wickets in Innings : | Test 2, ODI N/A |
| 10 wickets in Match: | Test N/A, ODI N/A |
| Best Bowling: | Test 6/127,ODI 3/40 |
| Catches/Stumpings: | Test 2/– |
| Balls Bowled: | Test 6/127, ODI 3/40 |
| Runs Scored: | Test 94. ODI 0 |
| Test Debut: | vs South Africa at The Wanderers Stadium, Feb 01, 2013 |
| Test Last: | vs Australia at The Gabba, Dec 15, 2016 |
| ODI Debut: | vs Sri Lanka at Pallekele International Cricket Stadium, Jun 09, 2012 |
| ODI Last: | vs New Zealand at Eden Park, Jan 31, 2016 |
| ODI Shirt Number: | 90 |
| T20 Debut : | Multan Tigers v Quetta Bears at Lahore, Dec 1, 2012 scorecard |
| T20 Last: | Karachi Blues v Lahore Blues at Rawalpindi, Aug 31, 2016 scorecard |
| 100s / 50s: | N/A |
| Domestic team: | 2001/02 Punjab cricket team KRL cricket team, 2007– Multan Tigers |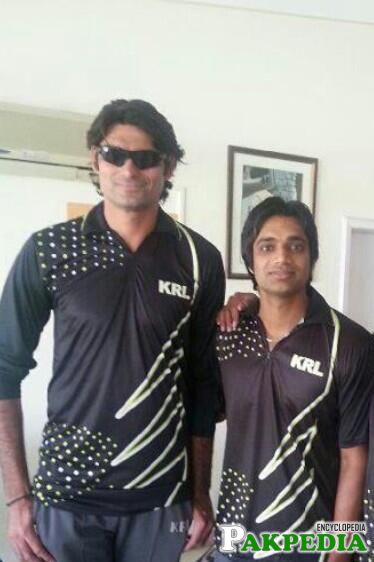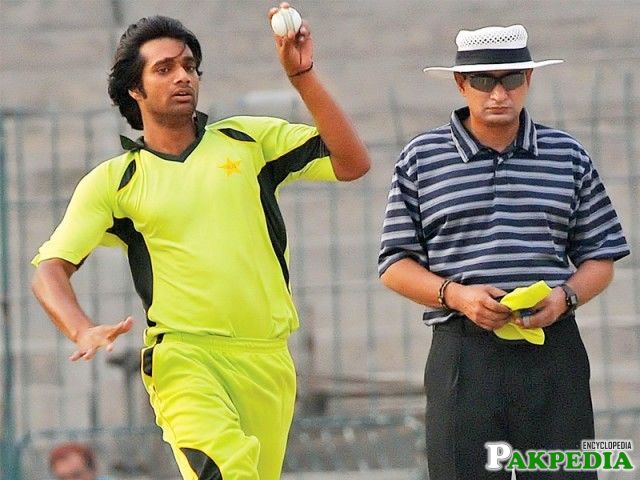 PROFILE

 
A fast pace bowler and a new shining star of Pakistan cricket, Rahat Ali is an international cricketer who has represented Pakistan cricket team in World Cup'15, is a Left-arm fast-medium bowler and right handed batsman. Rahat belongs to a PCB registered club of Multan, PCC (Pioneers Cricket Club). He has played from various other platforms includes Multan Tigers, Khan Research Laboratories and Sui Northern Gas Pipelines Limited. Rahat Ali made his test debut against South Africa in 2013. Rahat Ali bowls with a side-on action and is capable of maintaining speeds around the 140 Kph mark, but he insists his focus is more on swing. A left-arm fast bowler, he took to serious cricket during his first year of college, playing for Multan Cricket Club. He made his debut in 2007-08 for Multan, and after that he shifted to Sui Northern Gas Pipelines Limited the next season. He was in sparking form for Khan Research Laboratories and Baluchistan in 2011-12, taking a total of 61 first-class wickets. It earned him a call-up to the 
Find Rahat Ali profile and stats of batting, bowling and fielding including latest updated news of Rahat Ali, videos and images at Hamariweb.com. Also find detail Player profile and career statistics of Rahat Ali of Pakistan. Find Rahat Ali profile and stats of batting, bowling and fielding including latest updated news of Rahat Ali, videos and images at Hamariweb.com. Also find detail Player profile and career statistics of Rahat Ali of Pakistan.Pakistan ODI squad for the tour of Sri Lanka in 2012, but couldn't play the series. Seeing his performance Pakistan Cricket Board selected him for World Cup'15, where his performance is considered, not perfect but powerful enough to blow the mind of opponent batsman. Rahat Ali has a bright future in Pakistan cricket, which hopefully will be oozing the team spirit with his fast bowling skills. [2] Rahat Ali 
Quest To Prove Himself
Rahat Ali is in a happy place now. He has all but cemented his place in Pakistan's successful Test side as a reliable backup seamer, capable of holding one end up. In an exclusive interview with Cricbuzz, the left-arm pacer talks in detail about his role in the side, his limited-overs aspirations and the experience of playing in his first World Cup, among other things.
How difficult is it to bowl in the UAE, even with the commonly held belief that this is similar to conditions back home?
There's a big difference between the wickets here and those back home, especially the ones used for domestic cricket; it's like chalk and cheese. In domestic cricket, the wickets have a lot of grass on them. There you can rely on seam and just use the conditions on offer. But people think conditions here are like back in Pakistan because our international wickets are similar to the ones here.
If international cricket was happening in Pakistan, I am sure these are the sort of wickets we would be playing on. But these wickets aren't similar to the ones used in domestic cricket at all where the curators leave an inch or two of grass on the surface. The spinners though, get a lot more support in the UAE.
So your aim as a fast bowler is to control the runs, that way your captain is happy and others can attack around you. As a pacer, you can only truly attack when the ball starts to reverse. Otherwise my target is to control runs from one end. [3] Rahat Ali Very Happy 
Batting and fielding averages
| | | | | | | | | | | | | | | |
| --- | --- | --- | --- | --- | --- | --- | --- | --- | --- | --- | --- | --- | --- | --- |
|   |  Mat |  Inns |  No |  Runs |  HS |  Ave |  BF |  SR | 100  | 50 | 4S | 6S | Ct |  St |
|  Test | 20 |  30 |  12 |  136 |  35* |  7.55 |  366 |  37.15 |  0 | 0  | 19  | 3 |  9 |  0 |
|  ODI |  14 |  7 |  4 |  8 |  6* |  2.66 |  37 |  21.62 |  0 | 0 | 0 | 0 |  1 |  0 |
|  First-class |  69 |  85 |  34 |  332 |  35* |  6.50 |  874 |  37.98 |  0 | 0 | 37  | 6 |  22 |  0 |
|  List A | 43  |  21 |  12 |  52 |  12* |  5.77 |  92 |  56.52 |  0 | 0 |  3 | 1 |  5 |  0 |
|  Twenty20 |  36 |  6 |  4 |  6 |  2* |  3.00 |  12 |  5.00 |  0 | 0 |  0 | 0 |  8 |  0 |
Bowling Averages
| | | | | | | | | | | | | | |
| --- | --- | --- | --- | --- | --- | --- | --- | --- | --- | --- | --- | --- | --- |
|   |  Mat |  Inns |  Balls |  Runs |  Wkts |  BBI |  BBM |  Ave |  Econ |  SR |  4w |  5w |  10 |
|  Test | 20 |  37 |  4047 | 2171 |  58 |  6/127 |  7/100 |  37.43 |  3.21 |  69.7 |  3 | 2 | 0 |
|  ODI | 14 |  14 |  679 |  658 |  18 |  3/40 |  3/40 |  36.55 |  5.81 |  37.7 |  0 | 0 | 0 |
|  First-class | 69 |  122 |  11941 |  5955 |  244 |  6/40 |  9/78 |  24.40 |  2.99 |  48.9 |  14 | 10 | 0  |
|  List A | 43   |  43 |  1979 |  1772 |  52 |  4/30 |  4/30 |  34.07  |  5.37   |  38.0 |  3 | 0 | 0  |
|  Twenty20 | 36 |  36 |  817 |  1012 |  36 |  4/15 |  4/15 |  28.11 |  7.43 | 22.6   |  1 | 0 | 0 |
[5] Rahat Bowling Averages