Saif ul Mulook, a mountainous lake, is situated at the Northern-end of Kaghan Valley in the proximity of Naran town in 'Saiful Muluk National Park.' It is situated above timber-line at an altitude of 10,578 feet above sea level and is Pakistan's elevated lake.
Lake Saif al-Muluk is famous for its beauty and the romantic story born in its clear waters. According to the storytellers, poets, and locals, this is the lake where the love of Saif-ul-Muluk and the fairy named Badi-ul-Jamal grew and then reached its end. The article has all the information including Saif ul Malook Location.
| Title | Description |
| --- | --- |
| Information | |
| Location: | Mansehra district of Khyber Pakhtunkhwa, about eight kilometers north of Naran |
| Type: | Alpine/Glacial lake |
| Local Language Name: | جھیل سیف الملوک |
| Coordinates : | 34.876957°N 73.694485°E |
| Details | |
| Primary inflows : | Glaciers water |
| Primary outflows : | river Ravi |
| Basin countries : | Pakistan |
| Surface area : | 2.75 km2 (1.06 sq mi) |
| Max. depth : | 50 ft (15 m) |
| Surface elevation : | 3,224 metres (10,577 ft) |
| Settlements : | Naran |
| Around the Peaks: | Malika Parbat, the highest peak in the valley is near the lake |
| Formed by: | Glacial moraines |
| Fishes: | Large brown trout are found in the lake, up to about seven kilograms |
| Other species: | Ranunculaceae, Compositae, Cruciferae, Gramineae, Apiaceae, Leguminosae, Scrophulariaceae, and Polygonaceae |
| In Winter: | the lake is completely frozen during winters due to heavy snowfall |
| Centigrade Day Time: | (about 15-20 degree centigrade) |
| Centigrade Night Time: | Drops to three degrees centigrade |

Saif ul Malook Location
It is situated in the Mansehra district of KPK, almost nine km North of Naran in Kaghan Valley's Northern part. Tourists could access the lake during summer from Naran, but during winter, it is difficult to access the valley as landslides and hefty snowfall cut-offs this lake from other areas.
Features of the Lake
This lake was created by glacial moraines (glacial till) that blocked stream water passing via this valley. The formation of Kaghan Valley happened in the greater ice age dating back to almost three lac years when ice covered the region.
Ecology
There is an abundant eco-diversity in the lake, and many blue-green algae species are present. Lake trout of above seven kg are also found in this lake. Almost twenty-six species of Tracheophytes are present in this area, with Compositae most common. Other species found are Polygonaceae, Scrophulariaceae, Leguminosae, Apiaceae, Gramineae, Cruciferae, Compositae, Ranunculaceae.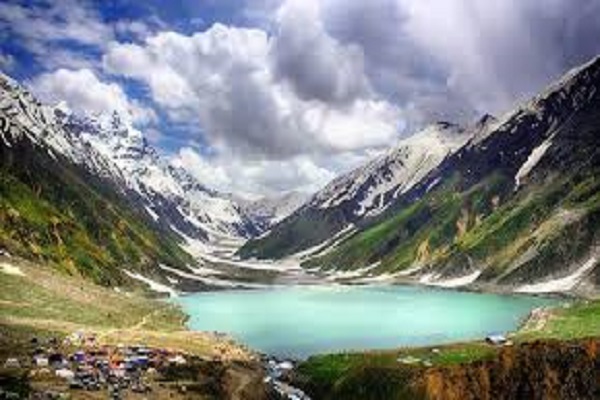 Folklore
The Lake Saiful Mulook is named after a prince. The Sufi poet Muhammad Baksh wrote a fairy tale entitled 'Saif-ul-Muluk.' It narrates an Egyptian Prince Saiful Muluk who loved a fairy princess 'Badri-ul-Jamala.'
Magical Lake
The lake is also named 'Magical Lake' as minimum temperature freezes the water inside, and in summers, the water returns to its original form and flows rapidly. The summer season is the best period to visit the lake as the weather is blooming and pleasant in the daytime.
Way to Saiful Muluk
To reach the magical lake, the travelers have to reach Islamabad, and from there, local transport can be used to travel on a low budget. By starting traveling on Hazara Motorway, one would arrive at Abbottabad.
From Mansehra on Karakoram Highway, take 'Naran Babusra Top' road leading towards Naran Kaghan valley through Balakot. From Naran valley, visitors could visit the lake by jeeps and hikes.
Activities to be Enjoyed at Saiful Muluk
There are many enjoyable activities to have a pleasant time at the lake. Some exciting activities include camping adventure, pony or horse riding, water sports, walk around this magical lake, food adventures, and snow sliding on ice glaciers. Tourists could also enjoy boating on the lake's crystal-clear water.
To enjoy different views of this lake camping adventure is the best option. For food lovers, many restaurants and visitors could enjoy food and a splendid view of Saiful Muluk.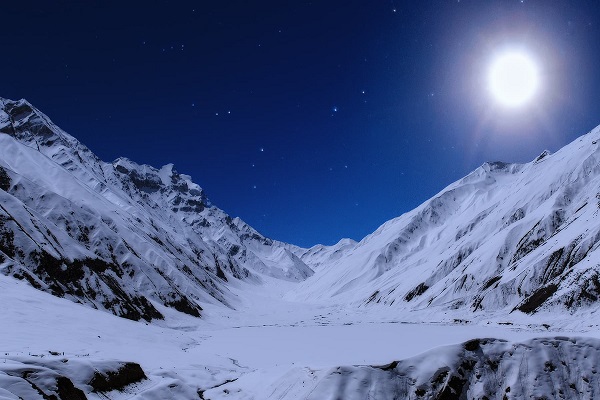 Saif ul Malook Story
The main character of the romance story attributed to Lake Saif ul Muluk, Prince Saif al-Muluk, is said to be the son of the ruling Egyptian king about 866 years before the birth of Jesus. Some have also written him as Prince of Delhi. In a dream, he is shown a beautiful fairy, and he falls in love with her.
When he finds out the whereabouts of this lovely fairy from all the astrologers of his kingdom, he is told that this fairy can be found on a lake's shores in the Naran area of ​​present Kagan.
The arrival of Prince
The astrologers also told the prince that he would have to do twelve years of devotedness to get the fairy. The prince arrives on the shores of what is now saif ul Malook lake after a dangerous and challenging journey. One day, after twelve years of devotedness, he was sitting with his eyes closed in the imagination of a fairy and hears the fluttering of her wings.
Opening his eyes, the prince sees the fairy queen Badi-ul-Jamal descending on the lake for bathing with 360 fairies. Unaware of a human being's presence, the fairies fold their clothes, lay them on the lake's shore, and go down into the water to bathe themselves.
Safar-ul-Ishq
Dozens of poets have compiled this story, but the fame of Mian Muhammad Bakhsh's story has not been shared by anyone else. The name of this work of Mian Muhammad Bakhsh is Safar-ul-Ishq, known as the story of Saif-ul-Muluk and Badi-ul-Jamal, which consists of 9248 verses written in Hindi. Locals believe Saif al-Muluk and Badi al-Jamal are still alive in the cave.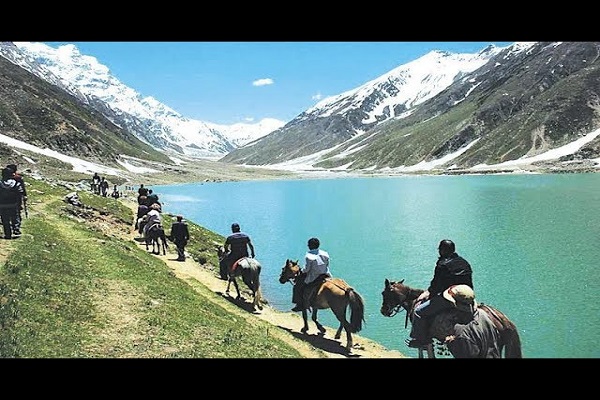 Saif ul Malook Hotels
Arcadian Sprucewoods
Pine Park Hotels & Resorts
Tourist Inn Hotel
Arcadian Riverside
River Ranch Hotel Kaghan
Balakot Shelton Hotel
Walnut Cottage
Pine View Hotel & Restaurant
Kashmir Cottage