Hakim Said was a Pakistan-based scholar, medical researcher, and philanthropist. From 1993 to 1994, he served as Sindh Governor. He was a most competent medical researcher in Eastern medicines.  In 1948 he 1Foundation before settling in West of Pakistan.
He wrote and compiled almost two-hundred books in travelogues, social, literary, natural medicine, religion, health, science, philosophy, and medicine. In 1981 he became one of the founders of WCC (World Cultural Council), a Mexico-based non-profit organization.
Unknown assailants assassinated him on 17th Oct 1998 when he was traveling to Hamdard Laboratories. The article comprises every detail about him, including Hakim Said Biography.
| Title | Description |
| --- | --- |
| Personal | |
| Name: | Hakim Said |
| In Urdu: | حکیم محمد سعید |
| Famous As: | Medical researcher, scholar, philanthropist |
| Nationality: | Pakistan |
| Residence: | Karachi, |
| Education: | The University of Delhi Ankara University |
| Religion: | Islam |
| Profession: | Medical researcher, scholar, philanthropist |
| Website: | hakim-said.com.pk |
| Awards : | Nishan-e-Imtiaz Award in (2002) & Sitara-i-Imtiaz Award in 1966 |
| Citizenship : | United Kingdom British subject (1920–1948) |
| Born | |
| Date: | 9 January 1920 |
| Place: | New Delhi, British Indian Empire |
| Family | |
| Children: | Sadia Rashid (daughter) |
| Died | |
| Date: | 17 October 1998 |
| Rest Place: | Madinat-Al-Hikmah, Karachi |
| Career | |
| Political Party: | Independent |
| Serve As: | 20th Governor of Sindh Province |
| Proceeded by: | Mahmoud Haroon |
| Time Period : | 19 July 1993 – 23 January 1994 |
| President of the Hamdard Foundation: | 23 October 1969 – 17 October 1998 |
| Proceeded by: | Office created |
| Succeeded by: | Sadia Rashid (daughter) |
| Director of the Hamdard Laboratories: | 14 August 1948 – 17 October 1998 |
| Preceded by : | Office created |
| Succeeded by : | Dr. Ahsan Qadir Shafiq |
| Vice-Chancellor of Hamdard University: | 14 August 1948 – 17 October 1998 |
| Succeeded by : | Dr. Nasim Ahmad Khan |
| In-Office | |
| Role: | Governor of Sindh |
| Political Party: | Independent |

Hakim Said Biography
Hakim Muhammad Saeed was a writer, true scholar, innovator, intellectual, philanthropist, and entrepreneur and is still alive as a competent and unmatched person in the memories of Pakistani people even after several years of his tragic assassination in 1998.
He founded 'Hamdard Dawakhana' that primarily concentrated on traditional medication. His efforts in restoring conventional medicines are known as pioneering in recent times as he founded on a contemporary basis and recognized by WHO (World Health Organization). He was always enthusiastic and optimistic about his country Pakistan.
He founded 'Medina-tul-Hikmat' in Karachi that houses various institutes of higher education like Hamdard University. Hakim Said was fond of communicating with children o youngsters and remained a famous personality among them via his writings. He is the recipient of prestigious awards including Nishan-e-Imtiaz, and Sitara-e-Imtiaz.
Hakim Date of Birth
He opened his eyes on 9th Jan 1920 in New Delhi, British India.
Education of Hakim
He attended a local school and learned English, Urdu, Persian, and Arabic, and he also studied the Holy Quran. At the age of eighteen, he got enrolled at DU (Delhi University) in 1938. He then secured a B.Pharma degree. In 1942 he secured a B.Sc. degree in pharmaceutical chemistry.
After completing his undergraduate studies, he started working as a researcher at Hamdard Waqf Laboratories and formulated medicines. Hakim Said took admission at post-graduate diploma completing Masters in Pharmacy/Medicine from that same institute.
He moved to Turkey and got enrolled at Ankara University, & secured a doctorate in Pharmacy. He then came back to his homeland to work in the field of medicinal research.
Hakim Said Family
His ancestors moved from Kashi to India in Mughal ruler Shah Alam's reign. At first, they resided in Peshawar for almost 18-years, then shifted to the city of saints 'Multan' and finally settled in Delhi. Saeed's forefathers remained associated with herbal medicine and established 'Hamdard (Wakf) Laboratories' in the subcontinent.
Today this laboratory has gained the status of the largest manufacturer of Yunani medicines. In 1945 he tied the knot with his cousin Nemat Begum and was blessed with one daughter Sadia Rasheed. Sadia is an educationist and serves as chancellor of 'Hamdard University' and President of 'Hamdard 'Pakistan' and PJCA (Pak-Japan Cultural Association).  
Career
Established Hamdard Laboratories
He was a part of Tehreek-e-Pakistan before 1947. After partition in 1947, he moved to Karachi along with his spouse and daughter. He founded 'Hamdard Labs' and was appointed its 1st director, and worked as director until his demise in 1998.
Academic Services
After settling in Pakistan, he started working on medicine and researched Eastern medicine. After receiving a Ph.D. degree, he joined the University of Sindh as an associate professor to teach Pharmacy and delivered lectures on organic chemistry. Due to the opinion issues with the government, he submitted his resignation in 1963.
Criticism on Wajid Ali
In 1964 he came to the limelight when after passing a criticism to Lt Gen Wajid Ali, Surgeon General of Medical Corps, leading then Health Ministry in Ayub Khan's government credibility. He criticized Wajid Khan, stating that 'General frequently said that homeopathy and Eastern medicine were quackery.'
Advocated Eastern Medicine
He started writing articles, arrange conferences, and strongly advocated Eastern medicine. President Ayub Khan feared that his government would lose its trust among the public, so he passed a law legitimating Eastern medicine.
Established Hamdard University
He established Hamdard University in 1985 and worked as its professor and 1st Vice-Chancellor. His life's crowning activity is the foundation of the campus of the 'Madinat-ul-Hikmah' in the city of Karachi. It consists of 'Hamdard Institute' with institutes like Hamdard Public School & Hamdard Village School, Faculty of Engineering Science.
Furthermore, Hamdard Educational Institute, Hamdard Law School, Hamdard Institute of IT (Information Technology), Hafiz Mohammad Ilyas Institution of Herbal Sciences, Hamdard Institute of Management Sciences, and Social Sciences, Hamdard Al-Majeed College of Eastern Medicine, and Hamdard College of Medicine & Dentistry. Bait-ul-Hikmah is a part of the 'Madinat-ul-Hikmah,' the best-stocked and biggest library of Pakistan.
Author of Books and Journals
He authored, edited, and compiled more than two hundred journals and books in English and Urdu on Health, Medicine, Science, Pakistan, Education, and Islam. Hakim wrote all the travelogues of places or countries he toured and also authored books for children and youth.
He edited few journals like Hamdard Naunehaal, Hamdard Sehat, Hamdard Medicus, Hamdard Islamicus. He also served as Payami's editor, an Urdu version of the journal Courier of UNESCO.
Attended Conferences
He participated in several international seminars in culture, education, and medicine, traveled to several countries, and organized many national and international conferences on important topics. Hakim founded two national forums: Naunehaal Assembly and Hamdard Shura.
He held memberships and offices in several international and national organizations relevant to healthcare and education.
Launched Journals and Magazines
He launched journals Hamdard Islamicus and Hamdard Medicus. He introduced his magazine for youngsters, 'Hamdard Naunehaal,' and set up a division, 'Naunehaal Adab,' to create books for young readers.
Hakim Said Books
On Islamic Topics
1.     Road to Pakistan
2.     Personalities Noble
3.     Man, The World, Peace,
4.     Al-Biruni, His Time-Life & Works
5.     Voice of Morality
6.     Essays on Islam
7.     Islamic Concept of State
8.     The Employer & the Employee
9.     Nuristan
Medicine and Its History
1.     Cardiovascular Diseases-Greco Arab Concepts
2.     Oral Health
3.     Diseases of Liver-Greco Arab Concepts
4.     Pharmacy & Medicine Thru Ages
Literature for Children
1.     Love & Peace
2.     Let us Talk about health.
3.     Dostaan
4.     The best of Goodness
5.     A World Without Polio
6.     The Greatest Man
7.     Peace Primer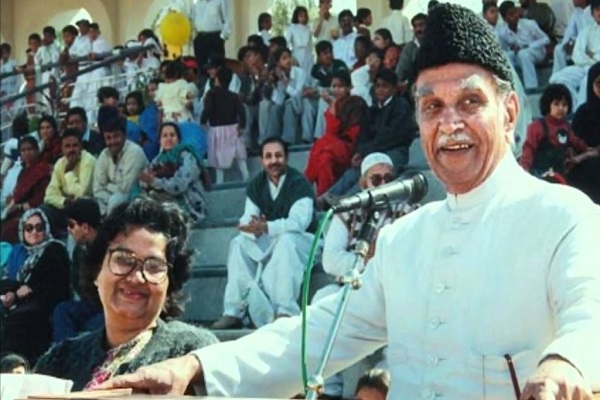 Hakim Said Death
He was assassinated on 17th Oct 1998 in Aram Bagh, Karachi. DIG Farooq Ameen CCPO Karachi caught his murderers. In 2001 ATC (Anti-Terrorism Court) appellate bench of Pakistan Supreme Court acquitted all the people charged with Saeed's murder. Then provincial government challenged this verdict.