Lahore Zoo, built in 1872 in Lahore, Punjab, Pakistan, is among the largest Pakistani zoos. Presently it is controlled by the Government of Pakistan's Forest, Wildlife, & Fisheries Department. Today, the zoo is home to over 1378 animals of one-hundred and thirty-five different species. Zoo has many facilities for visitors including mosques, umbrella benches, water coolers, and many more. This article comprises all the information including Lahore Zoo History.
| Title | Description |
| --- | --- |
| Information | |
| Location: | Mall Road, Lahore, Punjab, Pakistan |
| Name: | Lahore Zoo |
| In Urdu: | چڑیا گھر |
| | |
| No. of species: | ~140 |
| Annual visitors: | 3 million |
| Memberships: | South Asian Zoo Association for Regional Cooperation |
| Major exhibits: | Elephant House, Giraffe House, Tiger House |
| Established: | 1872 |
| Land area: | 25 acres (10 ha) (0.1 km²) |
| No. of animals: | ~1400 |
| Nickname: | Chirya ghar |
| Lahore Zoo Currently Managed: | Wildlife and Parks department of the Government of Pakistan. |
| Today the zoo houses a collection: | About 1380 animals of 136 species |
| Lahore Zoo was the host: | Fifth annual conference of SAZARC in 2004. |
| Elephant house is modeled : | Pattern of elephant house at London zoo featuring elephants, rhinoceroses, and hippopotamuses |
| Most Attractive: | Monkey house comprising of two blocks with three and four cages and also the Leopard house in the conventional design, as seen in many zoos. |
| | |
| Lahore Zoo timings : | From 9 AM in the morning till 7 PM in the evening |
| Type: | Zoo |
| Local Language Name: | Urdu, Punjabi |
| Coordinates : | 31.556006°N 74.325959°E |
| Website: | www.lahorezoo.com.pk |

Lahore Zoo History
Lahore Zoo got its start with a tiny aviary granted to the Lahore Municipal Corporation by Lal Mahundra Ram in 1872. The zoo's animal collection expanded throughout time, as wee as its size. It later became interested in conservation, research, and education, in addition to offering recreation to the public. In 2004, this zoo hosted SAZARC's 5th annual conference.
It is considered to be the world's 3rd or 4th oldest zoo. By 2010, the zoo housed over 1280 trees of seventy-one species and 1380 animals of one-hundred and thirty-six species, including 996 birds of eighty-two species, forty-nine reptiles of eight species, and 336 mammals of forty-five species.
Management
From 1872 to 1923, the zoo was managed by the Lahore Municipal Corporation, after which the management was handed over to Deputy Commissioner Lahore. In 1962, management was assigned to the Livestock & Dairy Development department, and in 1982, it was transferred to the Wildlife & Parks department.
The zoo had little development from its construction in 1872 and its transfer to the Wildlife & Parks department in 1982. It has renovated its exhibits, landscaping, and layout since 1982 and became a self-sustaining entity. On 25th July 2005, eighteen months, improvement, development, and master planning project were approved.
Zoo Maintenance Committee carried out this project and was funded by the Punjab Government's Planning & Development Department. The project, which costs nearly 202.830 million Pakistani rupees, aims to upgrade and expand amenities.
Lahore Zoo Attractions
Fancy Birds Aviary
This is the zoo's oldest area, located immediately east of the main gate, as initially in 1872 the zoo was an aviary. It houses the majority of the zoo's parrots and gamebirds. The area is made up of 4-rows of double-sided cages for birds that house peafowl, partridges, pheasants, western capped pigeons, and numerous parrot species such as macaws, conures, and grey parrots among others.
Situated on the eastern side of this area is a row of cages that house Asiatic jackals, Asian Houbara, and juvenile tortoises. Nearby there is a small case, that once housed smooth-coated otters, and now houses red-eared sliders and Indian flap shell turtles, this enclosure is also a temporary holding cage for juvenile mugger crocodiles.
Lion House
The current Lion House complex, which covers an area of 24,500 sq. ft was built in 1987 at an expense of 5.1 million rupees, and in 2012 it was renovated. It consists of three concrete buildings having indoor cages and two neighboring outdoor enclosures. The 1st of these structures house the zoo's pumas and Bengal tigers. Lahore Zoo now houses three pumas and fifteen tigers, the majority of which were born there.
The lions are housed in the 2nd structure, which has three indoor chambers and two outdoor cages. Thirteen lion cubs were born from 2015 to 2016, and the zoo now has more than twenty lions. The zoo's black bear family lives in the 3rd building. The resident black bear pair gave birth to 2-litters of 2-cubs in 2009 & 2011 and all of these are still alive and well in the zoo. It's the only compartment in Lion House that does not allow guests to view it from inside.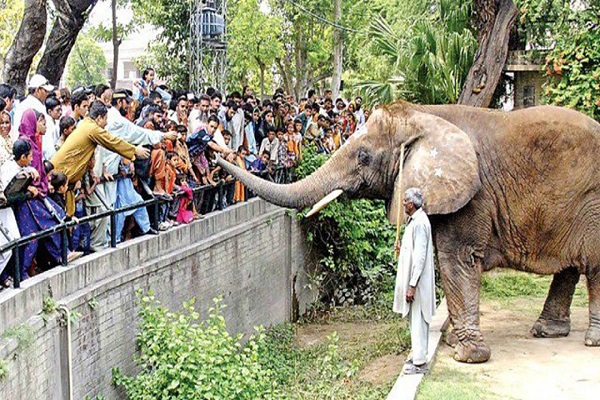 Elephant House
It is the most visited location, that was built in 1972 at an expense of 500,000 rupees. It is made up of three huge interior rooms, each with its own outdoor paddock. Originally home to three threatened pachyderm species, hippopotamus, Southern white rhinoceros, African bush elephant, it now keeps a female hippo 'Rani' who arrived at the zoo in 2006, as well as a male white rhinoceros.
Suzi is the only elephant in the zoo which had been living here since 1988, expired in 2017 from a variety of ailments, and left the zoo with no elephant. In 1974 Raja, the male hippo was introduced to the zoo and died in Oct 2015. He was the zoo's oldest resident, at 51. The zoo administration made attempts to breed hippos, but unfortunately, these attempts failed due to the age of Raja. Kawo, the female white rhino, died of old age in 2014.
Monkey House
These four new shelters, built in 2012 over the zoo's older monkey house, are located directly west of the main entrance of the zoo. The olive baboon family, which now numbers around nine individuals, is housed in the 1st enclosure. The following two enclosures are home to tufted capuchins and mantled guerezas. A vervet monkey's family lives in the final enclosure.
Chimpanzee House
This structure is home to chimps, as well as wolves, rhesus macaques, and swamp cats. The 1st chimps, female Julie and male Romeo were introduced in 1994. Tinku, a male chimp born to this pair in 2000, died of illness in Sep 2004. Julie delivered two female chimpanzees named Honey and Pinky in Aug 2001. Romeo died in 2008 due to pneumonia.
Juliet died of hepatitis in 2012 while Pinky passed away in 2014, and left Honey as the zoo's sole chimp. This house also serves as a temporary area for numerous species of cats, including lions, pumas, and leopards. Baboons and Cheetahs were previously housed here.
Waterfowl Lake
This lake, situated south of Fancy Aviary, is home to a variety of wading birds and waterfowl. It is made up of four islands that house some of the zoo's oldest trees. A banyan tree that is said to be over four hundred years old is located next to the enclosure. This section of the zoo houses Dalmatian pelicans, black swans, lesser flamingos, and Muscovy ducks. A small enclosure harboring a wild boar's pair is located in the adjacent area.
Reptiles House
The majority of the zoo's reptiles, including Sindh kraits, Indian pythons, Indian cobras, and saw-scaled vipers, are housed in this structure. The Reptile Homes were refurbished in 2006, allowing for improved air-conditioning for all the animals. Guinea pigs are among the other animals housed. There is also a tiny taxidermy museum in the structure, which displays numerous animal species that used to reside at the zoo.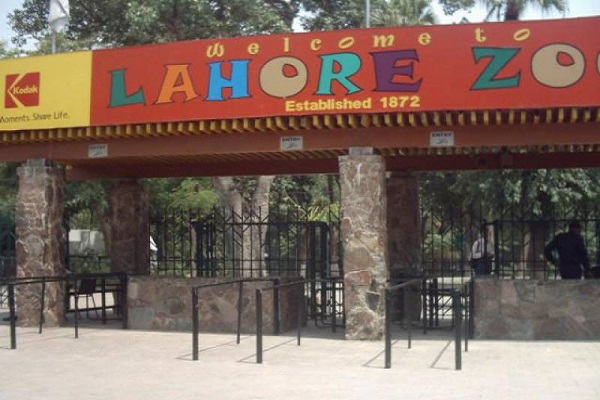 Walk-through Aviary
It is sitting immediately east of the zoo's Reptile House and is a new addition. The aviary is not included in the zoo's general entrance ticket. This enclosure is home to a variety of pheasant species, demoiselle cranes, and Indian peafowl. This Walk-through Aviary wasn't open to visitors as of 2015.
Chimpanzee Island
This is a vast moated enclosure situated in the south of waterfowl lake and was initially built to accommodate the zoo's chimpanzees, but due to the deaths of these chimpanzees, the enclosure has a pair of Himalayan brown bears.
Urial Hillock
A tiny naturally formed hill situated west of and directly in front of the Reptile House's entrance houses mouflons and urials in two different enclosures.
Plant Species in Zoo
The zoo houses 1280 trees of seventy-one species. Some are listed below:
Ditabark
Silk Cotton Tree
Bottle Brush
Shisham
Gulmohar
Banyan
Coral
Pipal
Sausage
Bobari
Bottle Palm
Aam
Jamu
Indian Beech
Jujube
Molsery
Safari Park
Lahore Zoo 'Safari' inaugurated on 21st Jan 2009, as a refurbishment of the Lahore Wildlife Park established in 1982. This Safari Park is roughly thirty kilometers from the Zoo, along Raiwind Road. Among the species housed here are Indian peafowl, common pheasant, Bengal tiger, emu, mute swan, lion, nilgai, silver pheasant, and ostrich.
This wildlife park is regarded as Zoo's extension. The Pakistani government delegated control of the wildlife park to the Maintenance Committee of the zoo, which is chaired by the chairperson of the Wildlife and Parks department.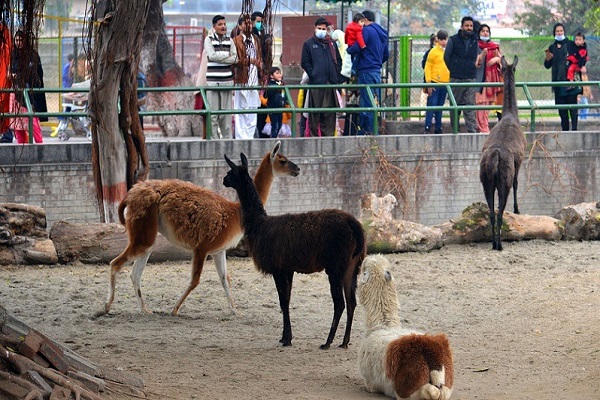 Facilities for Public
Signboards, maps, and instruction boards are displayed in the zoo for education and guidance. For Muslim visitors, the mosque facility has been provided. Cafeteria, public washrooms, and walkways were renovated in 2008 along with the addition of drinking water coolers, waste bins, and umbrella benches.
Recreational Points
Children can enjoy electronic kiddy rides and camel rides. There are also plenty of picnic places at the Lahore Zoo. A waterfall was built for tourists, and statues of numerous animals were placed within the zoo's limits.
Education
Kiran Saleem is the Lahore Zoo's education officer. The zoo provides guided tours for all school groups and places information boards about plants and animals throughout the zoo. A touch table is placed to allow children to touch parts of animals such as horns, skins, eggs, and feathers that they would not normally be able to feel or see.
The zoo has also created posters and broachers on endangered animals in Pakistan, such as the Indus and Ganges river dolphins.
Research Facilities
The zoo with the support of its education office offers research facilities. Hundreds of students from the Punjab University and UVAS (the University of Veterinary and Animal Sciences) collaborate with this Zoo for the completion of their internships and research projects. As an example, with the permission of the Director-General of the Wildlife & Parks Department of Punjab, the zoo provided direct help to a research project.
Lahore Zoo Controversies
Safety Concerns
A black bear killed an eighteen-month-old kid Abdullah in the zoo on 21st November 1999. The boy, who was accompanied by his parents, attempted to hold hands with the confined animal. The bear dragged the youngster into its cage and cut him apart. An enraged throng attempted to shoot the animal, but authorities intervened to calm the crowd.
Zookeepers blamed the boy's parents for allowing him to contact the animal. On 8th January 2004, a zoo attendant was bitten by a red fox whose cage had been left open, generating panic among tourists.
The killing of Indian Peafowl
On 9th April 2007, two wandering dogs came into an Indian peafowl cage through a broken part of a fence and killed approximately twenty-eight peafowl. This drew criticism because Indian peafowl is revered throughout the Indian subcontinent. A newly born macaw got stolen on 10th May 2009. According to the zoo director, the zoo's employees must've been responsible.
Criticism on Zoo Administration
The zoo administration has been strongly criticized for lacking the medical services expected in such a big zoo. According to zoo officials, female black-footed langurs died owing to cold weather in 2005.  A male puma and mandrill passed away at the zoo in Nov 2005. In mid-Feb 2006, a female black bear died.
Some animal species at the zoo were tested positive for tuberculosis in Sep 2006, which can also be spread to humans, but accurate and early treatment and diagnosis avoided an outbreak. A female giraffe got assaulted by a plains zebra in Jan 2009 and died shortly as a result of her injuries.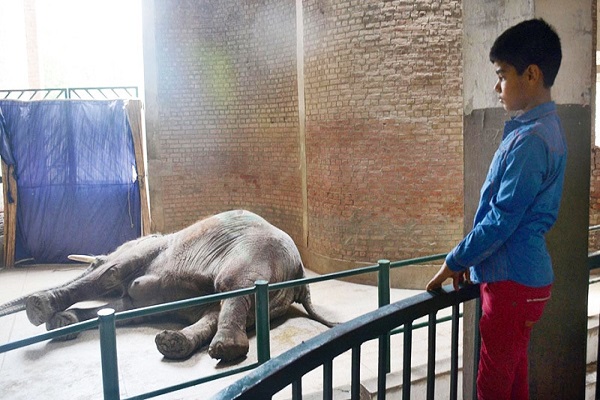 Death of Various Species
The Wildlife Department informed the Daily Times in Oct 2004 that a 4-year-old male chimp died in early Aug from pneumonia, however, zoo management did not immediately make this information public. Another male chimp died in Sep 2008 at the age of twenty-one from an unknown illness.
Lahore Zoo obtained a duo of Bengal tigers in 1992 from Belgium to begin their captive breeding.  Six Bengal tigers passed away from Trypanosomiasis in 1997, and four more died in 2006.
Smuggling Controversy
Two white Bengal tigers were imported into Pakistan from Indonesia on 27th March 2009 without the proper import permits and marketed to Lahore Zoo. According to the sources, CITES regulates transboundary movements of endangered and rare species, and a certificate of approval from CITES as well as approval from the Islamabad-based NCCW (National Council for Conservation of Wildlife) were both necessary before the animals could be imported.
Lahore Zoo lacked both. Yusuf Paul, the zoo's director, stated that the zoo paid 7.6 million Pakistani rupees for two female Bengal tigers to supplier Muhammad Afzal of the Lahore-based firm Animal World.
Social Media Handle
https://www.facebook.com/LahoreZooOfficial/