Karimabad, previously called 'Baltit,' is the Hunza District's capital in the province Gilgit-Baltistan. The British newspaper 'The Guardian' has ranked Karimabad among Pakistan's best five tourist spots; Karimabad is surrounded by snow-capped mountains like Rakaposhi, deep gorges, and Ulter glaciers.
Roses, cosmos, zinnias, pansies, lilies, poplar, fir, and willow trees grow in the region. Markhors, Marco Polo sheep, snow leopards, yaks, ibexes, ducks, red-stripped foxes also inhabit this area. The inhabitants depend on crops like fruits, vegetables, corn, rice, and maize to earn their livelihood. This article comprises all the information including, Karimabad History.
| Title | Description |
| --- | --- |
| Information | |
| Location: | On the west bank of the Hunza River, is in the Northern Areas of Pakistan |
| Old Name: | Baltit |
| Nickname: | Baltit |
| Type: | Valley |
| Local Language Name: | كريم آباد |
| Coordinates : | 36.333°N 74.666°E |
| Named after: | Prince Karim Aga Khan |
| World Award of Tourism: | In 2000 when Indonesia, Australia, India and Britain and other countries competed |
| Capital : | Karimabad |
| Political entity : | Gilgit-Baltistan |
| Region: | Gilgit-Baltistan |
| Elevation: | 8,200 feet (2,500 m) |
| Language | |
| Official Language: | Urdu |
| Native Language: | English |
| Other Languages: | Urdu, English |
| Government | |
| Type: | Government of Pakistan |
| Population | |
| Population : | (5,000 in 1992, 16,000 in 1996) |
| Total Population: | 16,000 |
| Time zone | |
| Time zone: | PKT (UTC+5) |
| Codes | |
| Postal code: | PK-GB |
| Dialling code: | 3166 |
| Vehicle registration: | Three letters beginning with K and random four numbers |

Karimabad History
Mir of Hunza used to rule Baltit, and Baltit Fort was constructed to be used as Mir's palace. For more than seven hundred and fifty years, Baltit remained Hunza Valley's capital. In 1947 when Pakistan emerged as an independent state, the province of Hunza joined Pakistan voluntarily.
The new Karimabad has been transformed into a tourist spot, after the construction of National Highway-35, with several shopping centres dealing in travel agencies, restaurants, hotels, and handicrafts. In 2000, Karimabad village and Baltit Fort secured the 'World Award of Tourism' when Britain, India, Australia, Indonesia, and several other countries contested.
Named on a Prince
Karimabad is named in honour of a prince Shāh Karim al-Husayni, the present spiritual chief of Shia Ismaili Nizaris; however, the local inhabitants still call Karmiabad by its previous name 'Baltit.'
Geography 
The town is situated on the west bank of River Hunza, in the Northern regions of Pakistan in an eighty-two thousand feet elevated valley. This town was a resting place for individuals travelling via mountains of Hindu Kush to Kashmir Valley.
Flora & Fauna 
The flora of town consists of cosmos, zinnias, lilies, pansies, and roses and trees like poplar, fir, willow, mulberry, walnut, apricot, and apple. The fauna consists of duck, ibex, red-striped fox, markhor, snow leopard, yak, and Marco Polo sheep.
Demographics
In 1992 the town's population was up to five-thousand. In 1995 the population was sixteen-thousand, and most of the population was Shiite Ismaili Muslims. The literacy rate is high as ninety per cent, inhabitants of the town claim that all individuals below thirty are literate.
Karimabad Hunza Weather
In winters, heavy snowfall occurs in this city while in summers, the weather is usually warm. However, the nights are pleasant.
Educational Institutes
In 1986 there was a high-school in Karimabad when the populace of Hunza valley was thirty-thousand. The AKF (Agha Khan Foundation), a charitable organization involved in establishing educational institutes and infrastructure projects like water supply, and roads have substantially supported the town.
The schools for girls are also founded like 'Agha Khan Higher Secondary School,' and 'Hasegawa Memorial Public School' owned by Japan are for girls.
Economy
The majority of people of Karimabad earn their bread and butter through crops like vegetables, fruits, corn, and rice.
Landmarks of the Town
The town's landmarks are Ulter Nala glaciers, Rakaposhi mountains, Channel Walk, Baltit Fort, and Queen Victoria's Monument.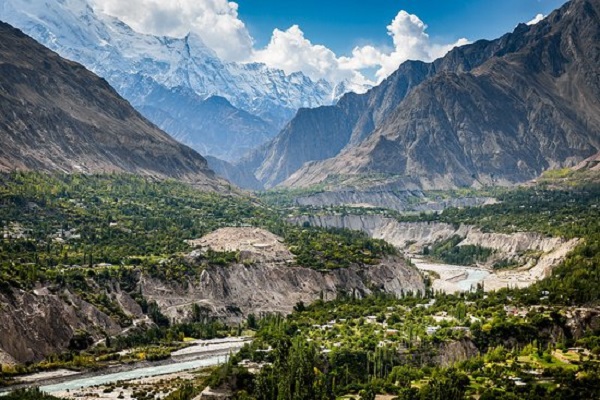 Fort Baltit
In the 13th century, the Baltit was established. In the seventeenth century, a fort was established in the back-drop of snow-capped mountains when Mir Ayesho's wife came to reside in Hunza. She hired the artisans who built the fort in Balti style.
During the rule of Ayesho's son, the regiment was refurbished. Mir Nazim directed to furnish it with curtains, balconies, fireplaces, windows, and wallpaper. Fort's exterior was white-washed. He also constructed a platform on the terrace for council meetings.
When the capital moved to the town of Karimabad, the fort was deprived of its decorations and interior furnishings. In 1945 Nazim's son moved to the town of Karimabad. In 1984 it was a neglected structure, but from 1990 to 1996, the fort got completely reconstructed with structural elements of the previous fort to the original plan.
Queen Victoria Monument
At Karimabad's rear end, the Monument of Queen Victoria is positioned on a rock. It could be viewed by trekking for an hour walking via irrigation channels, an old-watch tower, and a polo ground. Nazim Khan constructed this monument, and in the Burushaski language, it is called 'Malikamu Shikari.'
Best Time to Explore Karimabad
The tourists are advised to visit Hunza Valley and Karimabad from April-October and avoid crowds, and one shouldn't go there in June-August. The valley gets exceptionally crowded during the mid-summer season as both Chinese tourists and locals flock to the spot when the temperature is warm and pleasant. There are many Karimabad Bazaar that you can visit during your visit.
Things to be Packed for Tour
Hiking/Walking Shoes
Breathable Shoes
Outer Shell Jacket
Microfiber Towel
Camera
Fleece Jacket
Power Bank
Universal Adapter
Water Bottles
Daypack
Packing Cubes
Large Backpack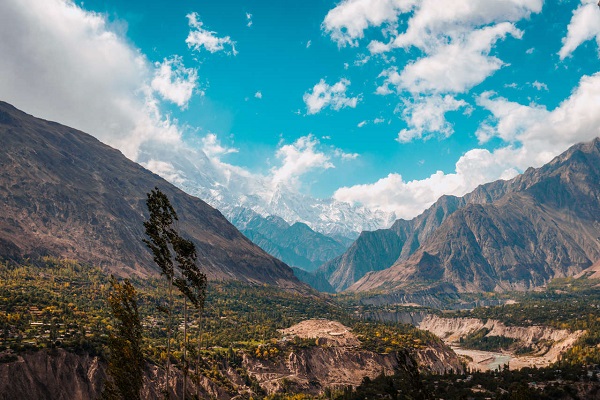 Activities to be Enjoyed
Tour to Altit Fort
Climbing up the Baltit Fort
Hiking to Ultar Base Camp
Tour Ganish Village
Lunch at Café De Hunza
Karimabad Hunza Hotels
Cafe De Hunza
Rainbow Hotel & Restaurant
Hunza Food Pavilion
Hunza Cuisine Hunza
Hidden Paradise Hunza