Aamir Liaquat, also known as Aamir Liaquat Hussain, is a Pakistani politician, broadcaster, poet, and religious figure. He hosted the TV show, Aalam and Aalim, on ARY Digital after hosting his first show Alam Online on Geo News on August 6, 2010.
He participated in the national elections in 2002 and won a seat in the National Assembly with the affiliation of the Muttahida Qaumi Movement. Later he resigned from the National Assembly in 2007 and from the Ministry of Religious Affairs. This article has all the detail about him, including Aamir Liaquat Biography.
| Title | Description |
| --- | --- |
| Personal | |
| Name: | Aamir Liaquat |
| Local Language Name: | عامر لیاقت |
| Famous As: | Politician & TV Anchor |
| Nationality: | Pakistan |
| Residence: | Karachi |
| Education: | Bachelor's of Arts (BA) degree in Islamic Studies & (Phd) in Islamic Studies & Master of Arts in Islamic Studies |
| Religion: | Islam |
| Profession: | TV show host & Politician |
| Website: | AamirLiaquat.com |
| Born | |
| Date: | 5th July 1971 |
| Place: | Karachi |
| Family | |
| Spouse: | Bushra Aamir and Syeda Tuba Aamir |
| Parents: | Sheikh Liaquat Hussain, Ghousia Mehmooda Sultana |
| Siblings : | Imran Liaquat |
| Member of the National Assembly | |
| Constituency: | NA-249 (Karachi-XI) |
| Member of: | Member of the National Assembly of Pakistan |
| In office: | 21 November 2002 – 5 July 2007 |
| Assumed office: | 5 September 2004 – 5 July 2007 |
| Ministry : | Minister of State for Religious Affairs |
| President : | Pervez Musharraf |
| Prime Minister : | Shaukat Aziz |

Aamir Liaquat Biography
He is a man with multiple talents. Be it hosting of Ramzan shows, or political talk shows he performs brilliantly. His jaw breaking replies and controversial statements keep him the part of the news and social media. He has God gifted speech power and could speak on any matter fluently.
Aamir handles criticism skillfully and never gives up on his goals. His famous dialogue 'Aam Khae Ga Aam ' immediately made him the meme material. His 2nd marriage also created much hype on social media.
Aamir date of Birth
He was born on July 5, 1971, in Karachi. Currently, he is still living there with his 2nd wife.
Education of Liaquat
He claims to have a bachelor's degree in Islamic Studies and a Masters and PhD degree in Islamic Studies from Bronte International University, which is now recognized as a diploma mill.
Aamir Liaquat Family
He belongs to a well-educated family, his father, Sheikh Liaquat Hussain was a politician, and mother Mehmooda Sultana was a columnist. He hitched the knot twice, with the PhD scholar, researcher and lawyer Bushra from whom he has a son and a daughter.
In 2018 he again tied the knot with his Bol channel's team member Syeda Tooba that became the biggest controversy.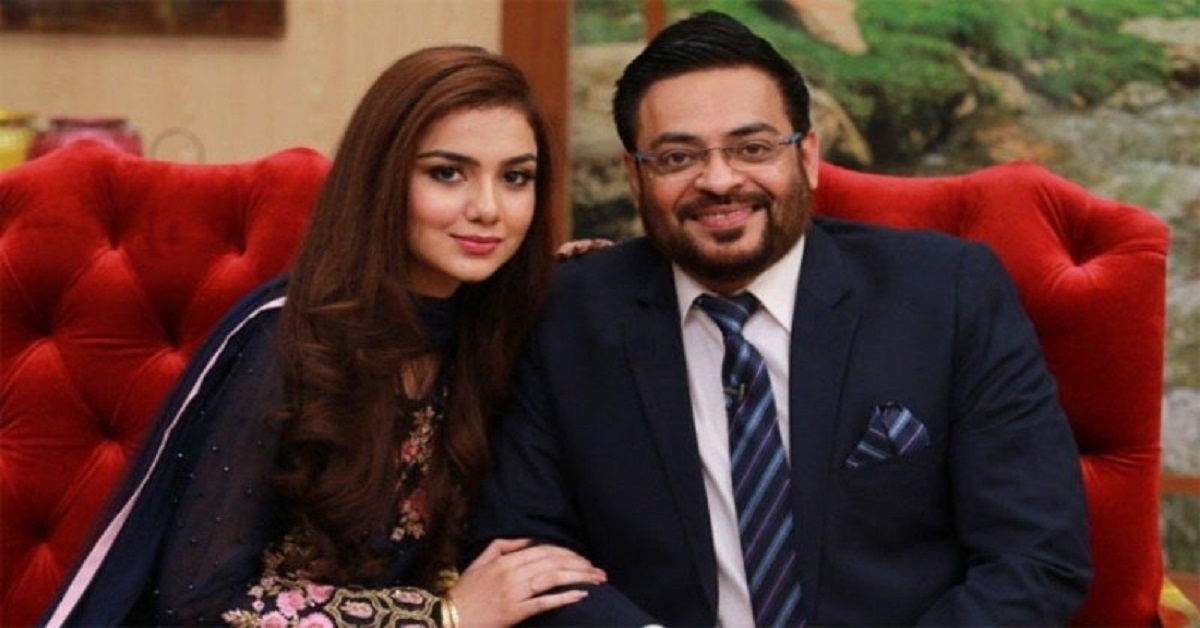 Political Career
He started his career with MQM representative newspaper 'Parcham.' In 2002 he became a member of the National Assembly and a minister on a party ticket. However, he was expelled first from ministry and the National Assembly membership and then from membership of the party for not following the party's policies.
In 2005 angry youth attacked him when he was on a visit to Jamia Binoria. Police denied the incident of attack and stated that masses only raised slogans. In 2016 MQM workers attacked the media houses for which Sindh rangers arrested Hussain along with the leaders.
In 2017 he accused of hate speeches, and Pakistan's Anti-Terrorism Court notified the authorities to include his name in ECL (Exit Control List). Still, the police didn't succeed in presenting him in court's hearings.
In 2018 he joined PTI ( Pakistan Tehreek E Insaf). In the Pakistani general election of 2018, he appeared as a candidate for National Assembly from NA-245 on PTI's ticket.
Founder of Charitable Organization
He established a non-profit organization 'Mehmooda Sultana Foundation' in the memory of his mother and is running this foundation successfully.
Recognition at International Level
From 2013-2015 the research center 'Royal Islamic Strategic Studies Centre' in Jordan included him in the list of  'The 500 Most Influential Muslims.'
Objections on Education Degrees
In 2006 HEC Pakistan disapproved of his Bachelor in Arts degree in Islamic Studies as it was secured from Trinity college. In 2003 it was reported that this university issues degree within twenty-eight days after paying £150. He submitted his BA degree to ECP (Election Commission of Pakistan) for 2002 general elections.
It was promulgated that to be eligible for elections, and he purchased degrees from Trinity College and University. In 2002 candidates needed to have a bachelor's degree in elections of National and Provincial Assembly. His claim to have an MBBS (Bachelor of Medicine and Bachelor of Surgery) degree from Jamshoro's Liaquat Medical College in 1995 was rejected.
This disapproval was done on the fact that anyone having an MBBS degree doesn't need Bachelors's and Masters's degrees for elections, and it's impossible to pursue degrees in two faculties at a time as he claims to have his BA and MBBS degrees in the same year 1995.
In 2012 it was disclosed that Amir got enrolled in the University of Karachi and graduated in 2008. In 2010 he took admission to 'Federal Urdu University of Arts, Science, and Technology' and received his master's degree, but officials at university stated that he neither came to class nor gave exams.
Officials also claimed that there was a picture of another person on the admission form at the time of admission, and later that picture was replaced by the picture of Hussain. In 2015 Federal Investigation Agency reported that he received a false degree from 'Ashwood University.'
Later he admitted about his false degree that he received it from Ashwood University by paying $1136.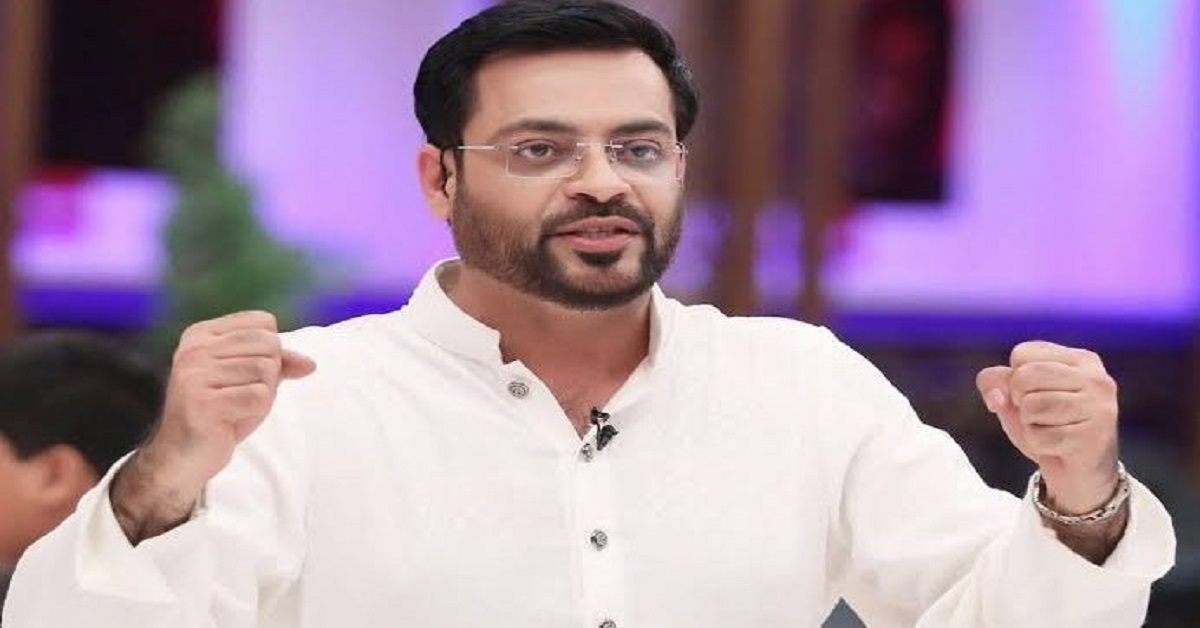 TV Career
He began his TV career from PTV but was expelled after a short period. In 2001 after becoming Geo TV's founding member, he started hosting a religious show 'Aalim Online.' In 2010 he left Geo Television and became part of the ARY as an Executive Director of ARY Digital and Managing Director of ARY QTV and hosted a religious show 'Aalim Aur Aalim.'
He again joined the Geo TV in 2012 and hosted Ramzan shows 'Amaan Ramzan' and Pehchan Ramzan. In 2014 Geo TV made him president of the channel, and he hosted a reality game show 'Inam Ghar.'
Later in 2014, he became president of Express Media Group and also served as a group editor of religious material of newspaper 'Daily Express' and hosted Ramzan show. In November 2014, he again moved to Geo TV and hosted the morning show 'Subh E Pakistan.
Afterward, in 2015 channel made him the president of 'Geo Entertainment.' while in 2016 he joined Bol channel and hosted a talk show 'Aise Nahin Chalay Ga.' He also hosted Ramzan show 'Ramzan Mein Bol,' In 2017, he left this channel and joined PTV in 2019.
In 2019 Ayub Khosa announced that he would cast Amir in the role of Burhan Wani in his film made on Kashmir issue.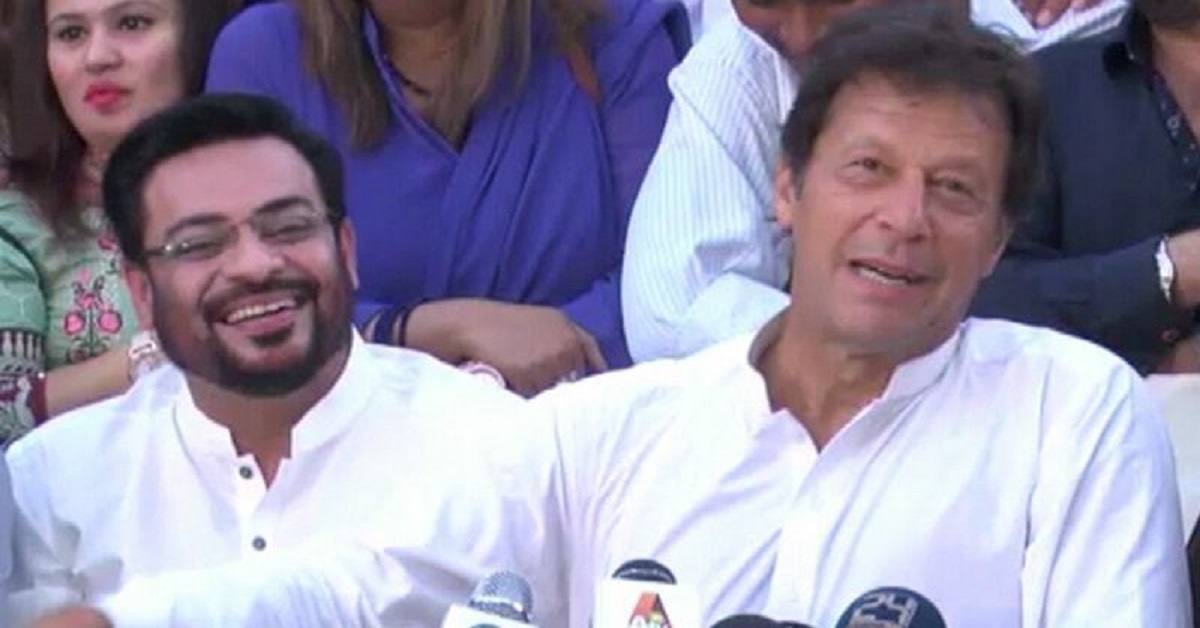 Aamir Liaquat Controversies
Marriage Proposal
Leading Pakistani television actress Fiza Ali told at a private channel Amir offered her marriage. The actress said that when he proposed to me, his wife was also with him. When I went to Karachi, he spoke to me directly on this topic. However, I was worried at the time, so I was ignoring everything.
Criticism on Mehwish Hayat
He criticized the photoshoot of medal-winning actress Mehwish Hayat and shared her photo. Sharing a photo of her, he wrote poetry on the caption. On his post, social media users started criticizing him and calling him a hypocrite.
Issue of Arousing Aggressiveness Against Ahmadis
In 2008, during his Television program, guests of the show criticized  Mirza Ghulam, the Ahmadi Community founder, and said people associated with Ahmadi Community deserve to be murdered. After this program, two Ahmadis were killed, one being a physician, and the other was the leader of his community.
Statement About Failure of Cricketers
In 2010 Aamir remained a part of the news by his statement about the failure of Pakistani cricketers. He stated that the green color shoe sole is why the Pakistani cricket team loses matches as green is a respectful color; it is the color of the tomb's dome of our Prophet (PBUH). Viewers of the show criticized him for this approach and thoughts.
Leakage of BTS
In 2011 BTS (behind the scenes) of his show were leaked, and he was seen singing the Indian songs, talking about rape in a funny tone, and doing fun with his guest scholars. After the video leakage, he stated that this video is dubbed and fake, and Geo TV has compiled and edited it with the help of synchronization masters.
But the stance of 'New York Times' was that he himself had admitted that it was his funnier side.
Handing Over of Children
In 2013 during Ramzan's show 'Amaan Ramzan,' he handed the abandoned or orphaned babies to childless families. He selected parents after a considerable investigation by the Chhipa team.
Advocates of child welfare expressed their views about this act that on-screen handing over children to selected parents can bring problems for children and their families in the future.
Promoting Criticism Against Ahmadis
In 2014 Ahmadis were again criticized in his  TV show by a religious scholar on which Liaquat clapped and appreciated that scholar cursing and using deprecatory language against Ahmadis. After his show, an Ahmadi  Luqman Ahmad from Gujranwala was killed, and it was 2nd time that an Ahmadi got killed after his show.
Disrespectful Comments About Indian Celebrities
In 2020 he created another mega controversy in his show on Bol channel by commenting on deaths of renowned Indian celebrities  Irfan khan and Sridevi. He accused his guest Adnan Siddique in a funny tone that with whom he works, he/she dies.
Adnan Siddique tweeted after the show that he regretted being part of such a show and apologized from his fans and viewers. Aamir also apologized to the audience via a video and stated that it was just a slip of words from the tongue.
Ban by PEMRA
In 2016 PEMRA banned his hosting of Ramadan program 'Inam Ghar' as he reenacted suicide of a girl.
In 2017 lawyer and social activist Jibran Nasir complained against him to PEMRA, stating that Amir runs defamatory and malicious campaigns against him. He then made another controversy by claiming the murder of an Indian actor Om Puri for which PEMRA banned him, and his talk show 'Aise Nahin Chalay Ga' on Bol channel to stop him from spreading hate.
In 2017 a non- profit organization Amnesty International criticized the Pakistani Government for not stopping Hussain from risking the lives of bloggers, journalists, and social activists and asked Nisar Ali the Pakistani Interior Minister to take steep steps. PEMRA notified him to excuse his audience for his hate speech.
On December 12, 2017, it was declared that he would join 24 News HD, but due to hatred speech assertions on him, PEMRA banned him from all the media platforms. The Supreme Court lifted this ban on February 7, 2018.
In 2018 PEMRA banned him for controversial statements regarding Zakir Naik and Jamiat Ahle Hadith.
Aamir Liaquat Naat
Amir Liaquat Hussain is not a regular Naat reciter. But in hosting his TV shows, he also recited some naats which became very popular.
Famous Naat
Allah ne Pohnchaya
Bhar Do Jhooli
Dar E Mustafa
Hazoor (S.A.W) Jantay Hein
Maa Payaari Maa
Lab Pay Naat E Nabi
Mein Tu Panjatan
Madinay Ka Safar
Mehman Ramzan
Pakistan Ramzan
Pehchan Ramzan
Mehboob Ke Mehfil Ko
Ramzan Assalam
Sar E La Makaan Se Talab hue
Qaseeda Burda Shareef
Mun Nachat Hai
Mjh Ko Tayyaba Mein Bula Lo
Nazeer O Kafi
Ya Taiba
Ya Rasool Allah
Yaa Rab Hei Bus Ye He Dua Ab Key Baras Bh
Ya Nabi Nuskha E Taskheer Ko
Ya Khuda Ilteja Hei
Tanam Farsooda Jan
Subh E Millad Un Nabi
Sarkaar Madinay Mein
Payara Payara Hei Madina
Mjh Ko Bs Apke Aik Nazar
List of  Naat Albums
Amaan Ramzan
Qaseeda Burda Shareef
Momino Khushyaan Manao
Man Nachat Hai Man Gawat Hai
Ya Taiba
List of TV Shows
Amaan Ramzan
Pehchan Ramzan
Aalim Aur Aalam
Subh E Pakistan
Inam Ghar
Payara Ramzan
Ramzan Mein Bol
Social Media Handles
His social media accounts include
https://twitter.com/AamirLiaquat
https://www.facebook.com/IamAamirLiaquat/