Jinnah International Airport which is previously called Drigh Road Airstrip is located in Karachi and considered to be the busiest international airport in Pakistan. It was named after the founder of Pakistan, Quaid -e- Azam Mohammad Ali Jinnah. It provides many national and international traveling services through many airlines including PIA and Airblue.
Jinnah International Airport Karachi is also serving as a hub for PIA (Pakistan International Airlines) and Airblue. It is administered by the CAA (Civil Aviation Authority) and has a capacity of twelve million passengers per annum. Furthermore, the airport contains Isphahani Hangar which is used mostly for inspection and maintenance of Pakistan International Airlines and other aircraft.
The name of the Hangar is named after Mirza Ahmad Ispahani who served as a chairman of PIA from 1954 till 1962. This article comprises all the details including Jinnah International Airport History.
| Title | Description |
| --- | --- |
| Information | |
| Location: | Karachi, Sindh, Pakistan |
| Province: | Sindh |
| Name: | Jinnah International Airport |
| In Urdu: | جناح بین الاقوامی ہوائی اڈا |
| Nickname: | Jinnah Airport |
| Type: | Public |
| Address: | Airport Road، Karachi |
| Serves: | Karachi |
| Operator: | Pakistan Civil Aviation Authority |
| Owner: | Manager: Afsar Malik |
| Local Language Name: | Sindhi, English, Urdu |
| Airport Completed: | 1992 |
| completion Cost: | The US $100 million |
| Coordinates : | 24°54?24?N 67°09?39?E |
| Latitude: | N 24° 54′ 30.81 |
| Longitude: | E 67° 09′ 45.94 |
| Elevation: | 100′ |
| Longest Runway: | 11100′ |
| Magnetic Variance: | E 0.0° |
| Fuel Type: | JET A-1 fuel is available |
| Oxygen: | Unspecified oxygen facilities are available. |
| Repair Facility: | Major airframe repairs are available. Major engine repairs are available. |
| Landing Fee: | There is a landing fee. |
| Jet Start Unit: | A starting unit is not available at the airport. |
| Precision Approach: | Available. |
| Beacon Light: | Available. |
| Customs Facilities: | Customs are available without restriction |
| Usage Type: | Airport/Heliport is open to the public. |
| Time Zone Conversion: | -5:00=UTC |
| Daylight Savings: | Airport observes daylight savings time |
| Website: | karachiairport.com.pk |

Jinnah International Airport History
The history of the airport goes back to British Rulers who made the 1st flight to Karachi through Imperial Airlines in 1932. From 1920 and onwards, a huge airship hangar was constructed by for British fleet in Karachi which was demolished in 1960 by the president of Pakistan, Ayub Khan.
The airport was used by America as a transshipment base for their army and air force during World War 2. A number of Jets and Bombers flew from Karachi to the targeted places. Moreover, the airport is used for cargo services by British Air Transport Command to the Middle East, China, and the subcontinent.
There was only one terminal in the airport but in 1980, the facilities of the airport were further increased by constructing Terminal One and Terminal Two. Terminal (I) is now used as headquarter of the Pakistan Civil Aviation Authority while Terminal (II) is selected for operations related to Hajj and Umrah.
Terminal (III) is used by commercial offices. Furthermore, in 1994 an expansion program was carried out which resulted in the quality infrastructure of Jinnah International Complex.
Structure
The airport has a capacity of twelve million passengers per annum. It serves as a primary hub of Pakistan International Airlines. Many other airlines including Serene Airlines and Airblue also used the airport as a primary hub for international traveling.
In 2018, there were fifty million passengers recorded who used Karachi airport for their traveling services, and a total of fifty thousand airplanes were registered that flew to different destinations all over the world. The airport is linked with two satellites that handle domestic and international operations.
Traveling Services
The airport provides traveling services through many national and internal airlines to destinations all over the world. The destinations where the airport provides traveling services are given below.
UAE
Kuwait
Muscat
Turkey
Saudi Arab
Sri Lanka
China
Iran
UK
Indonesia
Malaysia
USA
Canada
Australia
Africa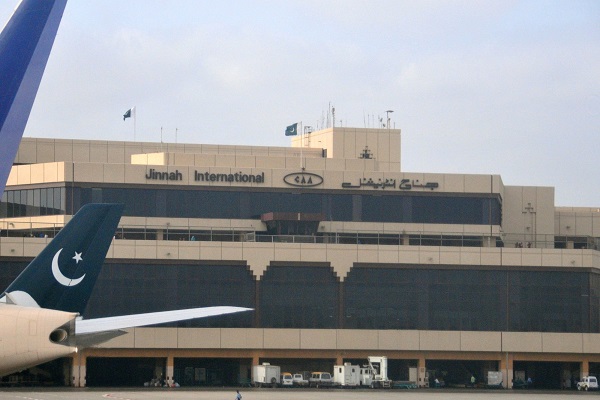 Jinnah International Airport Booking
The ticketing office of the airport provides ticket booking services for many national and international airlines including PIA, Airblue, Qatar Airway, Ethihad Airways, Gulf Airlines, Air China, Air Arabia, Air Indus, Oman Air, Turkish Airlines, and Iran Air. Passengers can book their traveling tickets through the following contacts.
Helpline # +92 – 21 – 345 – 92324
Flight Operations # +92 – 21 – 9907 – 342
Website : http://karachiairport.com.pk/
Cargo Services
The airport is used for cargo services by many aircraft and carriers including TCS Courier, DHL Aviation, Turkish Cargo, MNG Airlines, YTO Cargo Airlines, and Qatar Airways Cargo. These carriers provide cargo services to a number of international destinations which include the following.
Bahrain
Abu Dhabi
Doha
Bagram
Dubai
Colombo
Kashgar
Istanbul
Kunming
Singapore
Runways
The airport has two major runways under the names of 25L/07R and 25R/07L. The widths of both runways are 147 and 150 feet and a total length of 3400 and 3200 meters. It can handle Airbus and Boeing aircraft and has the capability of handling fifteen flights per hour.
Both of the terminals are equipped with ILS CAT-I which assists aircraft during conditions of low visibility and poor weather. Furthermore, it has a total parking area of 26580 square meters and is capable of accommodating forty-two aircraft at a time.
Jinnah International Airport Facilities
The airport provides many facilities to their passengers and visitors which include fifty international, 29 national, and four executive counters with a fast track facility. Furthermore, it contains mosques, shops, shopping malls, cookshops, and counters for snacks and beverages. Furthermore, it has the facility of a banking ATM for passengers and visitors who can easily access it.
Other facilities of the airport include an On-call doctor, internet, mobile recharge points, and a medium of transportation. Moreover, it also contains car parking which has the capacity of 3 thousand vehicles.
Hangar
There a number of hangars in the airport among which Ispahani Hangar is the largest one which is named after the first and long-serving chairman of PIA, Mirza Ahmad Ispahani. The hangar was commissioned and completed in 1868 and almost all of the aircraft of Pakistan International Airlines (PIA) is checked and regulated at the hangar.
Other aircraft also use the hangar for checking and regulation services which include:
Philippine Airlines
Turkish Airlines
Yemenia
Terminals
The main terminal of the airport is named Jinnah Terminal which was established at a cost of one hundred million American dollars. The terminal is separated into 2 concourses which include:
1- Jinnah West Satellite Concourse
Jinnah West Satellite Concourse handles operations of domestic flights.
2- Jinnah East Satellite Concourse
Jinnah West Satellite Concourse handles operations of international flights.
Jinnah International Airport Incidents
In 2014, ten militants attacked Jinnah International Airport who was armed with suicide vests, automatic weapons, grenades, and rocket launchers which resulted in the killing of 26 people including passengers and staff. Furthermore, 18 persons were injured.
All of the attackers were killed by the armed forces of Pakistan. The attackers damaged two aircraft of PIA and an Air Indus plane which made it non – operational.
Social Media Handle
https://www.facebook.com/JinnahInternationalAirportKarachi/