Chaudhry Shujaat Hussain might be a new name to the recently politicized youth but he is a senior politician from Gujarat and the former Prime Minister of Pakistan. He is the president of PMLQ since 2003. Chaudhry Shujaat came into the politics after the assassination of his father. He is likewise a successful businessman. This article has all the information about Shujaat Hussain, including Chaudhry Shujaat Hussain Biography.
| Title | Description |
| --- | --- |
| Personal | |
| Name: | Chaudhry Shujaat Hussain |
| In Urdu: | چودہری شجاعت حسین |
| Famous As: | Politician |
| Nationality: | Pakistani |
| Residence: | Lahore |
| Education: | Graduation |
| Alma Mater: | University of Punjab |
| Religion: | Islam |
| Profession: | Politician and Businessman |
| Website: | https://twitter.com/chshujat_pmlq |
| Born | |
| Date: | 27th January 1946 |
| Place: | Gujarat, Punjab, British India |
| Family | |
| Spouse: | Married |
| Children: | 1 daughter and 2 Sons |
| Parents: | Chaudhry Zahoor Elahi, Shahzada Begum |
| Siblings : | Chaudhry Shafaat Hussain, Chaudhry Wajahat Hussain |
| Relatives: | Pervaiz Illahi (Cousin) |
| Career | |
| Political Party: | Pakistan Muslim League Q |
| Serve As: | President of PMLQ |
| Time Period : | 2003-present |
| Old Political Affiliations: | Pakistan Muslim League Q |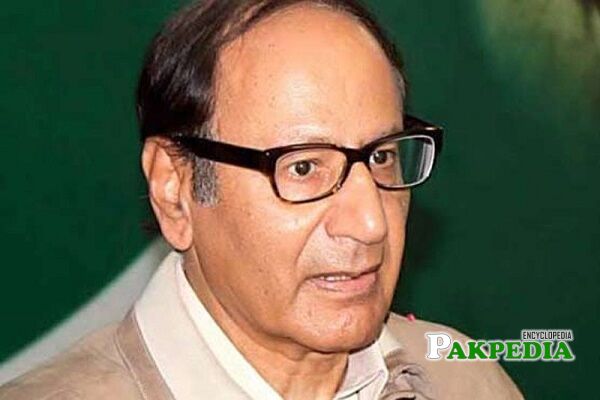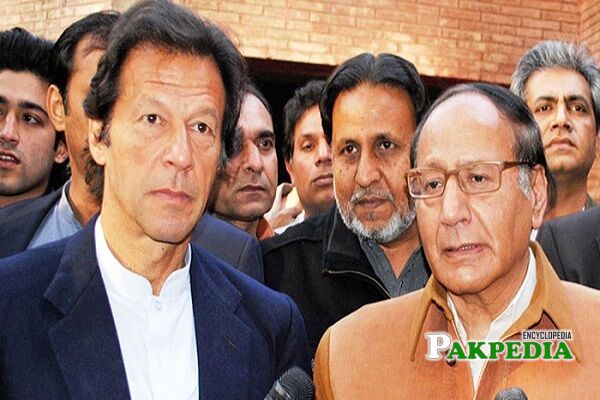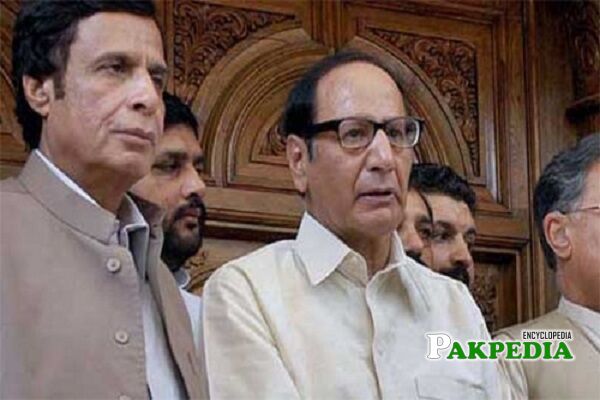 Chaudhry Shujaat Hussain Biography
Shujaat has contested elections in nonpartisan elections, democracy and dictatorship. After completion of his education abroad, he came back to Pakistan to join his family business of textile, agriculture, sugar and floor millings. After his father was assassinated, he joined politics. He has served as the Prime Minister in the past. During his career, several ministries were assigned to him that he successfully served. 
At one stage of his career, Ch Shujaat was associated with PMLN but he left it due to his disagreement with Nawaz Sharif over the Kargil war and the economic emergency that was imposed in 1998. His party has remained an ally of Musharraf and PPP.
Shujaat date of Birth
He was born on 27 January 1946 in Gujarat, Punjab, British India. Currently, he is residing in Lahore.
Ch Shujaat Hussain Family
Shujaat was born in a Jatt family. He was born to Zahoor Ilahi who was a constable in British India. After he (Zahoor Illahi) resigned from his service, he started a cotton mill that was lost in the partition. He re-established it in Pakistan in 1947. His father was also a politician and a Union Counselor of Gujarat. The family had a good connection with General Ayub and General Yahya. His younger cousin, Pervez Ilahi has served as Chief Minister of Punjab. His younger brother is Chaudhary Wajahat Hussain and sons are Hussain Elahi and Salik Hussain
Education of Hussain
After his matriculation, he joined Forman Christian Collage where he graduated. He did his Bachelors in Business administration and went to UK in 1965 to pursue a Masters degree in Industrial management.
Political career
Initial Career
Shujaat Hussain joined politics in 1981 and became a member of the parliament from the ticket of Pakistan Muslim League. Later, he became a member of the Punjab government Financial Department. In 1985, he contested for both national and provincial seats in a non-partisan election. After his victory, he vacated the provincial seat and took the National Assembly seat. The Prime Minister, Junejo appointed him the Minister of Industry. It was mainly due to his specialization in Industrial management. 
He also had the Ministry of Information and Mass Media Broadcasting and The Ministry of Defence production. After joining the Islamic Democratic Alliance, his importance increased. After winning the elections, Shujaat presided the Parliamentary party of joint opposition till 1990. Till his tenure, he greatly took advantage of his ministries and developed his industries. The next part of his career started with PMLN.  
Pakistan Muslim League N
His series of victories continued and he served as an Interior Minister from NA-81, 1990 to 1993, and then from 1997 to 1999 on NA-81. In 1994, he was imprisoned by the Benazir government after the investigations of FIA. The cases were reported to be politically motivated. He was also appointed as the President of PMLN by Nawaz Sharif but the hostile relations were not saved by this post. They could not maintain their relationship mainly due to the Kargil war which according to Shujaat, Musharraf had reported him 6 times but Nawaz Sharif claiming of no knowledge. He was also against the economic emergency imposed by the government.
Pakistan Muslim League Q
Shujaat Hussain started his further career from the platform of PMLQ. First he became the parliamentary leader in the assembly after winning from NA-105 as a candidate of PMLQ and then became the president of the party after Muhammad Azhar, the party president resigned. He openly supported the military regime of Musharraf and remained his ally until the end of his government.
Zafar Ullah Khan Jamali, who was the first Baloch Prime Minister, was fully supported by Shujaat. After the resignation of Jamali, he temporarily became the Prime Minister and nominated Shaukat Aziz as the Prime Minister who could not immediately become Prime Minister as he was a senator. He told the media that his nomination as the Prime Minister was just to avoid the technicalities in the constitution. In 2004, he became the 14th Prime Minister that lasted only for two months.
In 2008, he lost from NA-105 to PPP's Ahmad Mukhtar. After the disqualification of Nawaz Sharif, he vibrantly started a campaign to bring together all the members of Muslim under his leadership but failed. 
Stance
Throughout his career, he has supported the construction of Kalabagh Dam and calling it imperative for the country. He has also supported the independence of Kashmir
Chaudhry Shujaat Awards
 He has been awarded with highest diplomatic award Ueung-in-metal by South Korea for promoting the cultural relations. He was in strong favor of the South Korean economic model ad brought Korean investment to the country
Chaudhry Shujaat Hussain Book
 He has written "Sach tho Ye Hai". It is an autobiography. The book got acknowledged since its release.
Social Media Handles
His social media accounts include