Baloki Headworks is located on  River Ravi near Phoolnagar, Bhai phero, 65 KM (42 Miles) from Lahore. Headworks named with the nearest village name "Balloki". According to Punjab Irrigation Department, Lower Bari Doab Canal network consists of 66 number major distributaries and 259 number Minors having total length of 1656.20 miles. Baloki Headwork's to Sulemanki Headwork's Link Canal is just being used to link up both Headworks.. This is one of the famous fishing and hunting outdoors adventure place. it is a great spot for fishing in winter season
| Title | Description |
| --- | --- |
| Information | |
| Location: | On river Ravi near Phoolnagar, Bhai phero, 65 KM (42 Miles) from Lahore in the south west direction |
| Type: | A Small Dam |
| Local Language Name: | ہیڈ |
| Coordinates : | 31°11′25″N 73°52′40″E |
| Latitude: | 31.2194° |
| Longitude: | 73.8597° |
| Timezone: | Asia/Karachi Sunrise at 05:00 and Sunset at 19:07. It's light |
| Weather Report from: | Lahore Airport, 80.5km |
| Weather Temperature: | 32°C / 90°F |
| Wind: | 5.8km/h South |
| Cloud: | Scattered at 10000ft Scattered at 20000ft |
| Irrigation Canal: | Lower Bari Doab Canal (1km), Niaz Beg (5.4km), Thattiutar Minor (6.5km), Jaja Minor (7.2km), Jalleki Minor (7.7km), Katar Mal Minor (8.2km), Dolu Guruki Minor (8.3km), Ghuman Kalan Minor (9.6km) |
| Dam: | Balloki Headworks (0km) |
| Canal: | Balloki Sulaimānki Link (0.3km) |
| Shallow part: | Gagga Pattan (10.8km) |
| Named with: | Nearest village name "Balloki" |
| Constructed by: | British Govt. in 1913 |
| Construction started: | 1906 |
| Construction completed: | 1913 |
| Details | |
| Became Operational: | 1917 |
| Main Purpose: | Provide 6900 cusecs |
| Irrigate: | Agricultural land of Kasur, Okara, Sahiwal, Pakpattan, Vehari and Khanewal districts |
| Balloki Sulemanki Link: | Constructed 1954 |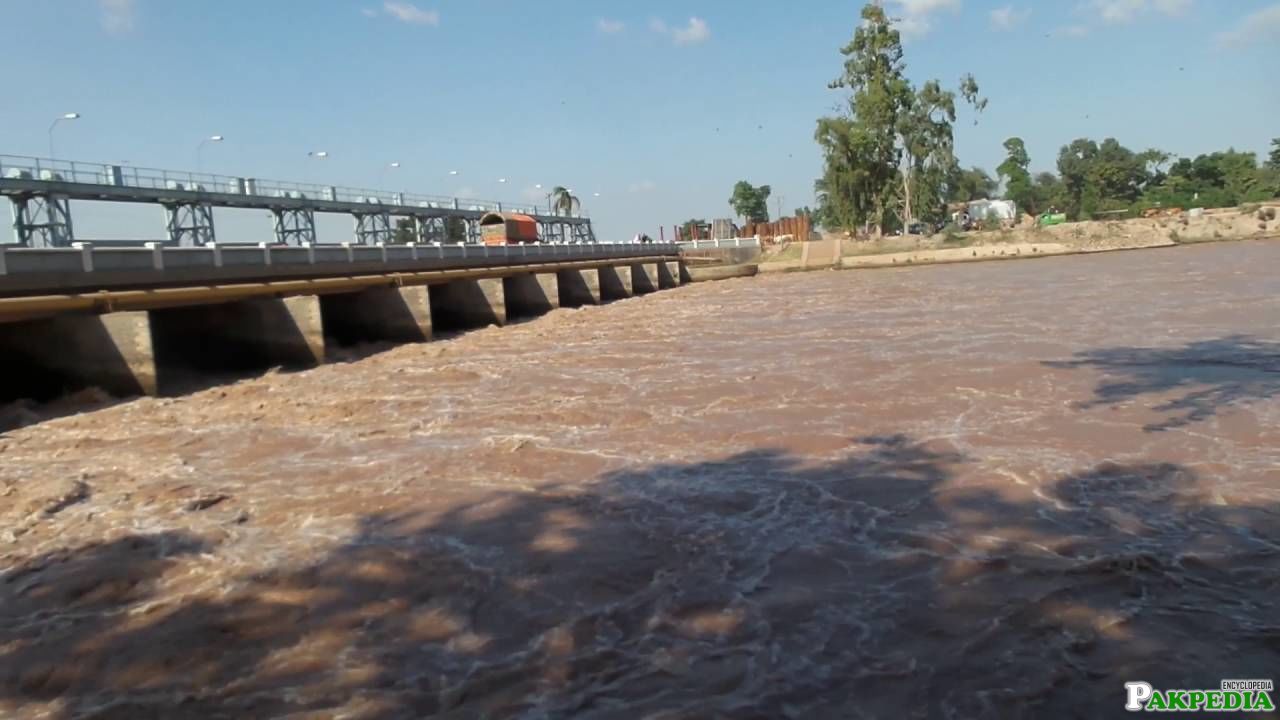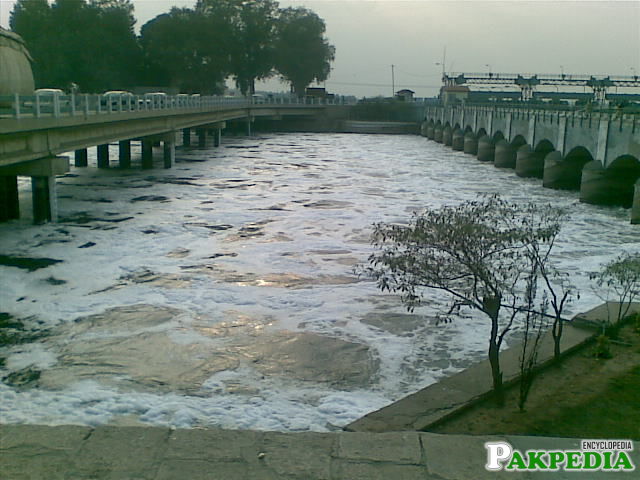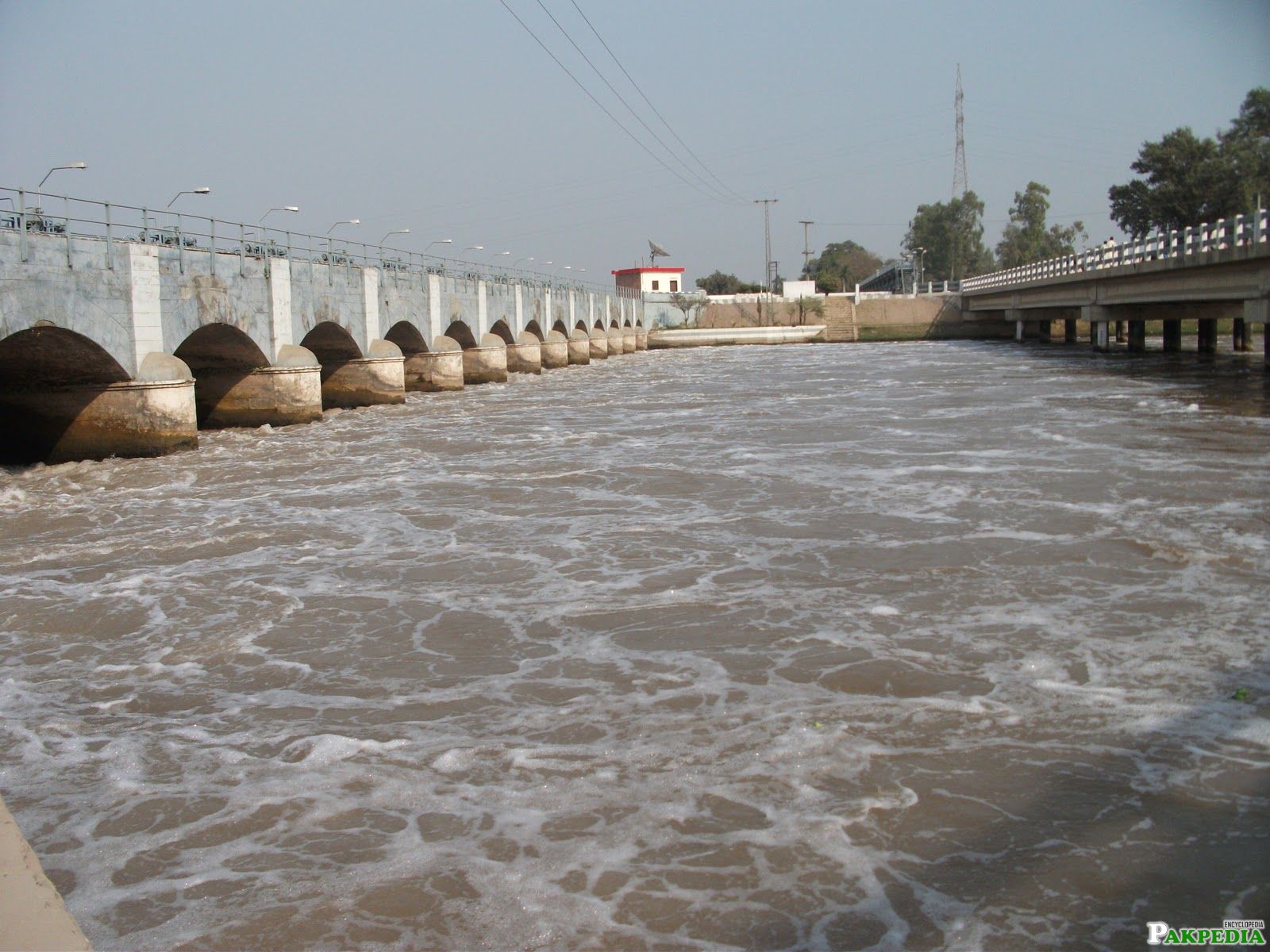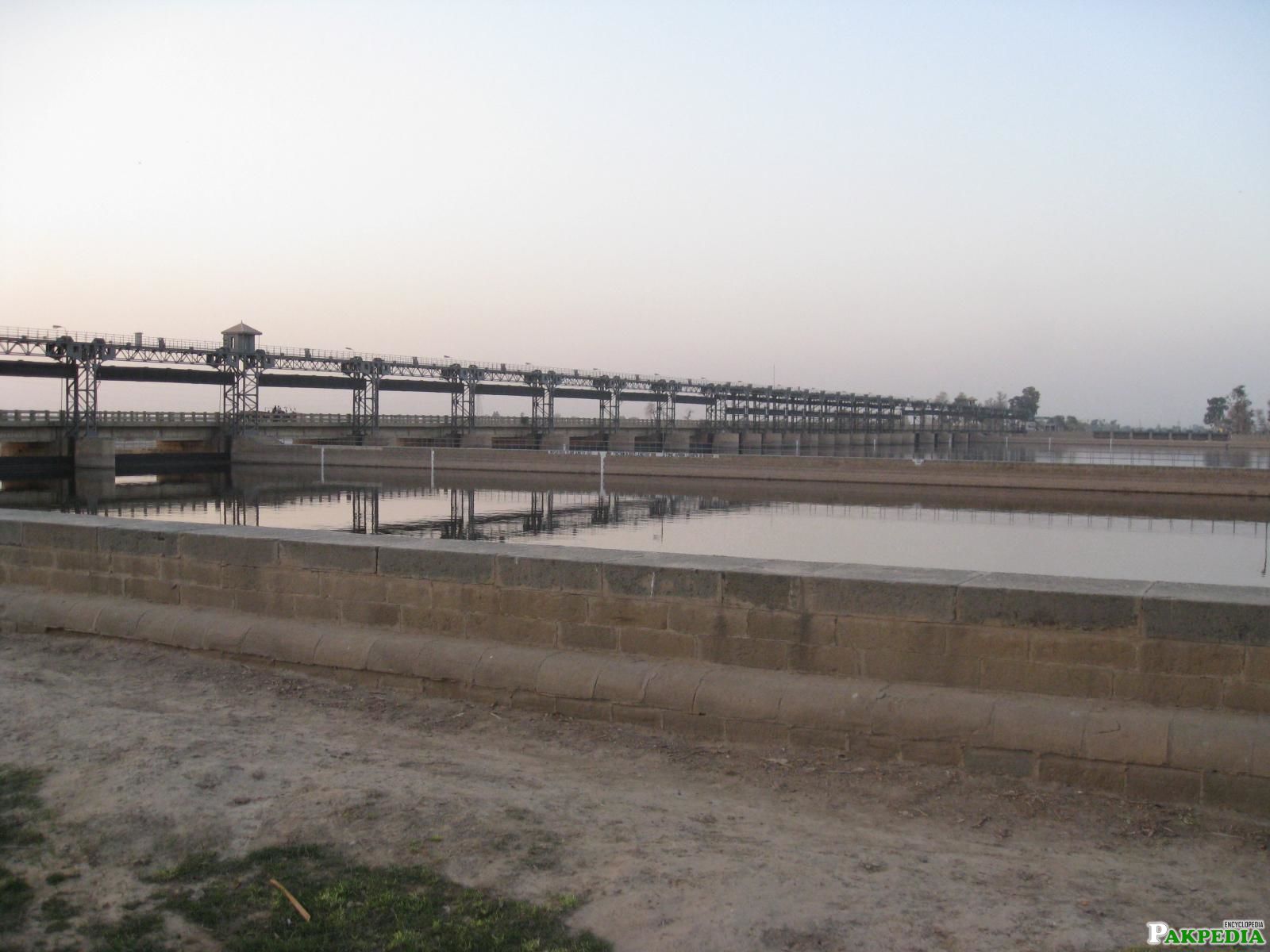 About
Construction
Balloki headworks was constructed by British Govt. Construction was started in 1906 and completed in 1913, but it was operational in 1917 when off-taking canals network could be put on the ground. Upper Jhelum, Lower Chenab, and Lower Bari Doab Canals are a major part of this project. The main purpose to construct Balloki Headwork's was to provide 6900 cusecs water in the Lower Bari Doab canal having a gross command area of 1.822 million acres and cultivable command area of 1.47 million acres. Initially, Lower Bari Doab Canal on the left bank of Balloki Headworks was constructed to irrigate the agricultural land of Kasur,  Okara, Sahiwal, Pakpattan, Vehari and Khanewal districts. Later on 1954, Balloki Sulemanki Link canal was constructed on the left bank of the Balloki Headwork's, the purpose was to fulfill the water need in Sulemanki Headworks. After 1947, India has blocked the Sutlej water at Ferozepur Headwork's then it was felt to construct a link canal from Balloki Headworks to Sulemanki Headworks.
Irrigation Canal
A canal which serves as the main conduit for irrigation water.
Lower Bari Doab Canal (1km)
Niaz Beg (5.4km)
Thattiutar Minor (6.5km)
Jaja Minor (7.2km)
Jalleki Minor (7.7km)
Katar Mal Minor (8.2km)
Dolu Guruki Minor (8.3km)
Ghuman Kalan Minor (9.6km)
Balloki Power Plant
The Balloki Power Plant is a 1,223 MW natural gas power plant currently under construction near Pattoki, Punjab. A groundbreaking ceremony was commenced by former Prime Minister Nawaz Sharif on November 11, 2015. Construction is scheduled for completion by December 2017. But due to some technical issues it was delayed and will be complete in end of 2018. The project will utilize regasified liquefied natural gas (RLNG) for fuel, and diesel as an alternate backup. A transmission line with a capacity of 500 (kV) kilovolts will be constructed between the new power plant and a grid station in southern Lahore. This transmission line will be 40 kilometers long.
Bidding and Cost of Project
Bidding was open to international firms for the 82 billion rupee project. China's Harbin Electric Company was announced as the lowest evaluated bidder for the project on October 2, 2015, having offered a levellised electricity cost of 7.973 cents per unit, outbidding the Turkish company (Enka İnşaat ve Sanayi A.Ş). and German company (GE)  which both stood in second with 8.185 cents per unit tariff, followed by China Machinery Eng Co (CMEC) & SEFC at 8.304 cents, and Hyundai Engineering at 8.332 cents per unit.
Tourism
Safari Park Hunting Luxury Resort at Balloki Headworks
In the near past, a beautiful park was constructed here by TOURISM DEVELOPMENT CORPORATION OF PUNJAB (TDCP). Rana safari park hunting and luxury resort at Balloki Headwork's is a full family resort where hunting, camping, night stays, fishing, tent village, bonfire parties, safari restaurant, safari resort and celebrations can be enjoyed. Park is located on right bank of the river Ravi by crossing the Headwork's bridge from Lahore side. Rana resort is really beautiful place have a 100% natural touch. That's why park becoming famous day by day.
Boating at Balloki Headworks
Boating enjoyment facility is also available at Balloki Headworks. Boating in the open water area of river Ravi is very charming and crazy. Rana Resort is a well managed constructed luxury resort with greenery and forest-like look. There are various activities as fishing, paragliding, jet skiing, boating etc. It's a place for all those who love water sports.
Project Financing
It can say it is a private sector investment to construct the plant, with the private company then selling electricity to the government of  Pakistan at pre-negotiated rates. It is not under CPEC projects. As the project is to be constructed largely by the private sector. But it will still qualify for subsidized loans with an interest rate of 5% which are to be dispersed by the Exim Bank of China. For comparison of the loans for previous Pakistani infrastructure projects financed by the World Bank carried an interest rate between 5% and 8.5%, while interest rates on market loans approach almost 12%.