Abida Parveen is a Pakistani musician, composer, entrepreneur, a singer who is considered one of the greatest Sufi singers in the world and is one of the prominent figures in Sufi music. There is no name bigger than Abida in the entire subcontinent for spreading Sufism through singing. The multi-talented singer mainly sings ghazal and possesses the talent to sing in many dialects, including Punjabi, Sindhi, Urdu, and Seraiki. This article has all the information about Parveen, including Abida Parveen Biography and Abida Parveen Songs.
| Title | Description |
| --- | --- |
| Personal | |
| Name: | Abida Parveen |
| In Urdu: | عابدہ پروین |
| Famous As: | Sufi Singer |
| Nationality: | Pakistani |
| Residence: | Larkana |
| Education: | Masters |
| Religion: | Islam |
| Profession: | Singer, Musician and Entrepreneur |
| Years Active: | 1973-present |
| Labels: | Coke Studio, PTV etc |
| Instruments: | Vocals, Harmonium and Percussions |
| Website: | https://www.facebook.com/abidaparveen11/ |
| Awards : | She bagged various awards |
| Born | |
| Date: | 20th February 1954 |
| Place: | Larkana |
| Family | |
| Spouse: | Ghulam Hussain Sheikh |
| Children: | Pereha Ikram, Saranj Hussain and Marium Hussain |
| Parents: | Ustad Ghulam Haider |
| Siblings : | Not Known |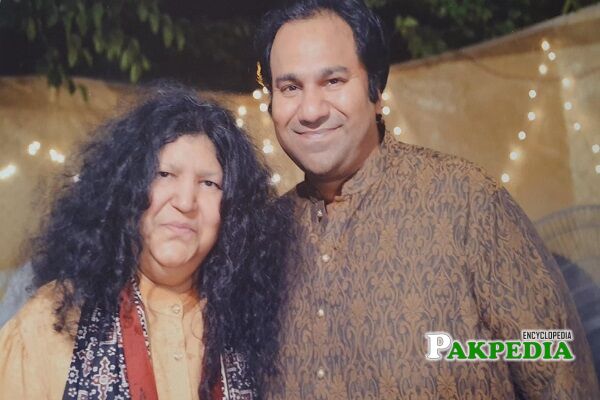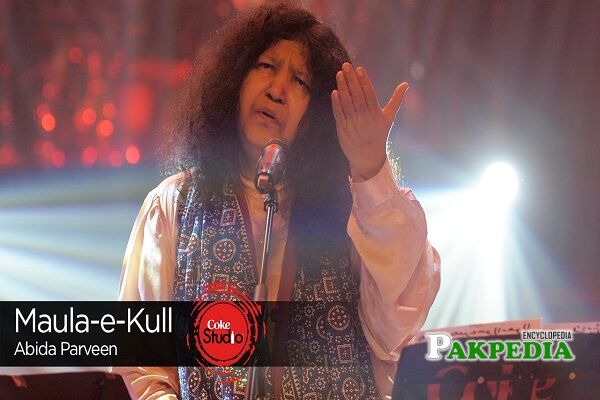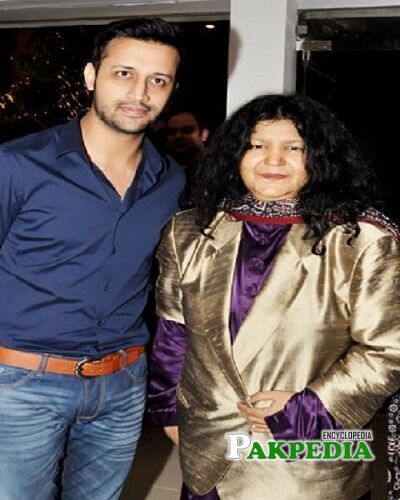 Abida Parveen Biography
By taking mystic music to a novel level, she got fame not only in Pakistan but also around the globe. She won the title of indisputable Queen of Sufi music. She has been credited with bringing Sufi music to popularity on the international stage. Abida's dressing style is peculiar, with round neck shirts and Ajrak around shoulders. She never ties her frizzy hair. Her mega-hit songs include "Yar Koo Humne" from the collection 'Yar Ko Humne' and 'Teri Ishq Nachaya,' which are a sample of Bulhay Shah's poetry.
In 2007 SAARC appointed her 'Peace Ambassador.' She was awarded the 'Pride of Performance' by the President of Pakistan in 1984. In the same year, she received the 'Gold Laal Shahbaaz Qalandar Medal.' In addition to these, she is a recipient of many laurels.
Abida date of birth
This Sufi Queen opened her eyes on 20th February 1954 in Muhalla Goharabad of Larkana.
Education of Parveen
At the age of three, she expressed her fondness for music and began singing at such an early age. Ustaad Ghulam Haider selected her daughter as his musical successor instead of two sons after realizing her devotion and passion for music. For initial music training, she joined her father's music school, and Ustaad Salamat Ali of the Sham Chaurasia family tutored her. Besides music education, she also secured a Master's degree.
Abida Parveen Family
Abida belongs to a family that is rich in musical heritage.  Ustaad Ghulam Haider, her father, is a well-known mystic singer who established a music school. Perveen's father acquainted her with music and Sufism at an early age. When she grew up, she regularly performed with her father at the shrines of Sufi saints. Abida married Radio Pakistan's senior producer Ghulam Hussain Sheikh in 1975. The couple has three children. Her husband died of a heart attack in the early 2000s.
Music Career
Initial Career
In 1970 she began to perform on death anniversaries of saints, and in 1973 she joined Hyderabad's Radio station for singing. Through this platform, her voice was introduced to a vast audience. She sang a Sindhi song 'Tamhanje Zulfaan Jaay Band Kamaand Wadha,' which turned out to be her 1st mega-hit song. In 1977 she was recognized as the official vocalist of -Pakistani Radio.
Career Peak
As a ghazal and Sufi music singer, Parveen helped revive the genre and make it popular with audiences beyond Pakistan. Her international prominence grew exponentially during the 1980s. During this time, she started performing at the international level. Her trips to France and the United States turned out to be a great success. After the success of these trips, she toured many states to spread the message of mysticism, harmony, and God via her music.
Live Performance
In 1988 she performed in a live music show in Chicago. Hazrat Ameer Khosrow's society of Art & Culture recorded this performance. The following year, her show was recorded by the British Broadcasting Corporation at Wembley Conference Hall in London and aired for one hour.
Collaboration With Shehzad Roy
She collaborated with Shehzad Rai on a children's song, Zindagi, about social issues, and performed in 2008 at the Sufi Festival in New York to further Pakistani heritage and mutual harmony.
TV Shows
In recent years, Perveen has appeared in many shows on television, including 'Shehr-e-Zaat,' 'Jhalak Dakhla Ja,' 'Pakistan Idol,' 'Samaa E Ishq.' She was also appointed as a judge in the music competition 'Sur kshetra' of Pakistan and India.
Arts Gallery By Abida
She takes a keen interest in arts and has made her gallery with the name Abida Parveen Gallery. This gallery features paintings, music CDs, garments, awards zone, and jewelry. Her daughters run this gallery.
Abida Parveen Sons
In Movies
Sajjaan Day Haath
Ishaq Khudaa Title Song
Sufiyay Baa Safaa Manam
Mola Mola
Phool Khill Jaein
List of Qawwalis
Yar Ko Ham Ne Jaa Ba Jaa Dekha
Arey Logon Tumhaara Kiya
Jb Sey Tunay Mjhe Deewaana Banaa Rakhaaa Hai
Narayee Mastaana
Terey Ishq Nachaaya
Alif Allah Chambaay Di Bootii
Dhondo Gay Agar
Chaap Tilakk Sub Cheeni
Aik Nuktay Wichh Gal Mukdii
Dil Lag Gaya Bey Parwaah Dey Naal
Kithay Mehar Ali
Tu Ney Deewaana Banaaya Tu
Ye Arzu Thii Tujhe Gul Kay Rubaru
O Des Say Aanay Walay Bata
Chaap Tilakk Sb Cheeni
Daman Lagyaan Molaan Tu
Mein Sufi Hun
Noor-e-Ilaahi
Mast Qalandar
Main Hosh Mein Hun
Yun Sajjaa Chaand
List of Ghazals
Kal Chaudhavein Ke Raat
Aey Dil Nasheen
Haq Mola
Sufiaana and Arfaana Kalaam
Joo Rang Rangeyaa
Meraa Sohnaa Sajann
Preetam Matt Pardais
Sham E Firaaq
Sheher Sunsan Hei
Terey Gham Koo
Wo Jo Ham Mein
Ye Jafa E Gham Kaa Charaa
Aadmii Aadmii Say Miltaa Hey
Ajab Naiin Terey
Gul Hui Jaatii Hain
Ham Ne Sb Sheher Main
Hum Koo Pasand Yar Kii
Soz E Ishq
Bedaam Shah Warsi's 'Khudaa Jaany kahaan se
Muje Bekhudii
Ji Chaahe To Sheeshaa Banja
Ishq Main Terey
Hm ko Yan Dar Dar Phirayaa Yaar ne
Hairaan Huaa
Aik Tonrain Chambraa Gawaan
Har Taranum Mein Milii Hai
Andar Hun Tey Baahar Hun
Chalo Rii Saiyaan Charcha
Ho Hi Mauula
Medaa Raanjhan Rawal Mangay
Mere Bukall De Vicch
Rabba Merey Haal Daa
Rajiye Nal Dey Sajan Rahiye
Sanon Ishq Lagaa Hai
 Aa Was Mandraay Koll
Baar Saudaagar Ladd Gaye Nii
Jhok ladaae Veen Yaar Deewaney
Ab Lagaan Lagi Kii Kariye
Mann Kuntoo Maulaa
Ranjhaa Shah Hazaar
Aik Nukte Wich
Bulleh Nuu Samjhaavan
Mose Boloo Na
Chashm-e-Mastii
Torii Surat Key Balhaari
Ishq Dey Pichche Banay Faqeer Ashiq
La Makaan Main Ghar
Medaa dil Ranjhaan
Assaan Ishq Namaz Jadon Neeti Aey
Ali Maulaa
Medhaa Ishq
Ho Jamaloo
Naina Milaii Key
List of Albums
Laal Ki Chaddar
Khazzanaa
Mahi Yar De Gharolii Bhar De
Kaafiaan Bulleh Shah
Jeeway Saiyaan
Meraa Ruthraa Yar Nae Mandaa
Golden Collection
Rohanii Kaifiyatt
Social Media Handles
Her social media accounts include