In the changing dynamics of global architecture, the sea politics is getting complex with more focus on commercial activities and economic prosperity. Gwadar port is the warm water and deep sea port of Pakistan. It is situated at the mouth of Persian Gulf, Strait of Hormuz and holds 2/3 world oil reserves.
| Title | Description |
| --- | --- |
| Information | |
| Location: | Gwadar Balochistan Pakistan |
| In Urdu: | گوادربندرگاہ بلوچستان پاکستان |
| Owned By: | Government-Owned Gwadar Port Authority |
| Away From Oman: | 380 km |
| From the Iranian Border: | 120 km |
| From Pakistan's Largest City, Karachi: | 533 km |
| Facility: | Floating Liquefied Natural Gas |
| Cost : | $1.62 Billion (2015) |
| GPA Cell Ministry of Port Shipping Address: | 3rd Floor Shaheed-e- Millat Secretariat Islamabad |
| Head Office E-Mail: | info@gwadarport.gov.pk |
| Head Office Fax: | +92 86 9200405 |
| Head Office Phone: | +92 86 9200408 |
| Situated On: | the Arabian Sea at Gwadar in Balochistan province of Pakistan |
| Type of Ships: | Phase II: 200,000 DWT Vessels |
| Type of Ships: | Phase I: Bulk Carriers of 30,000 Deadweight Tonnage (DWT), Container Vessels of 25,000 DWT |
| Shipping information: | No. of Berths:Phase I: 4, Phase II: 9, Total: 13 |
| Operator: | China Overseas Port Holding Company |
| Constructed: | Phase I: 2002-2006, Phase II: 2007–present |
| Port Area : | 64,000 sq-m |
| Chairman : | Dostain Khan Jamaldini |
| Pakistan has Two Main Operating International Deep-Sea Ports: | Karachi Port and Port Qasim |
| Container Stacking Area : | 48,278 sq-m |
| Website: | http://www.gwadarport.gov.pk/ |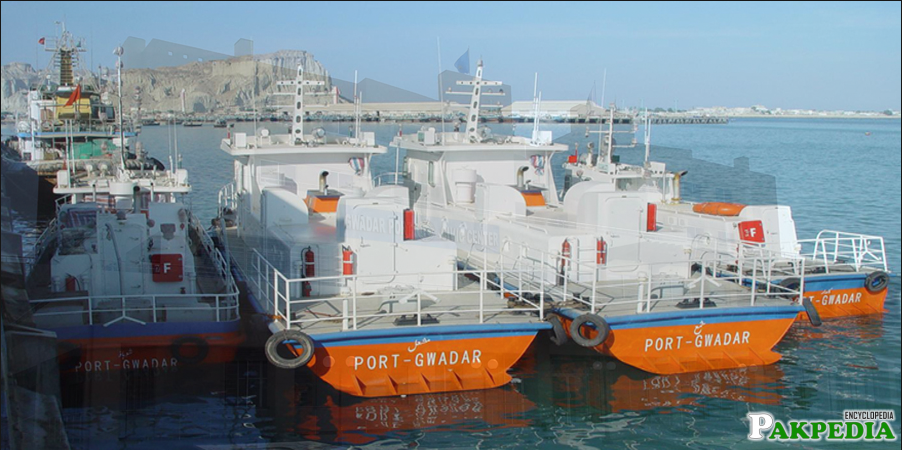 Gwadar Port

Currently, Pakistan has two main operating international deep-sea ports: Karachi Port and Port Qasim. During the coming years, their capacity expansion programs are unlikely to keep pace with the expected growth in demand, resulting in a need for a third port to fill the gap.[1] Gwadar Port
Karachi Port
In particular, Karachi Port has significant physical limitations and will not be able to grow at the same speed as the national growth in demand over the coming decades. These limitations result mainly from its location, which is within the city of Karachi itself, which has seen very rapid growth over the past years.
Port Qasim
In the case of Port Qasim, although having a large physical space for expansion, its possible speed of development is hampered by its up-stream location, which is more than 40 km from the open sea, resulting in long turnaround times for visiting ships. This is not a problem for cargoes that are linked to industries located near the port, but it carries cost-disadvantages for cargoes that have origins and destinations elsewhere.
Against this background, it was deemed timely to construct and inaugurate a third deep-sea port for Pakistan so as to ensure that national development is not hampered by a lack of national port capacity in the future. Given the expected rapid growth in demand for port capacity, it is likewise important to continue expanding the capacity of Gwadar port over the coming decades.
History of Gwadar
Pakistan purchased Gwadar from Oman for 3 million dollars on 8september 1958 I and Gwadar officially become part of Pakistan that time Gwadar was a small and under developing village with a population of few thousand .Before his Gwadar was a part of Oman   In I july 1977 Pakistani government integrated Gwadar in to Baluchistan as District headquarters of the newly formed Gwadar District. The Pakistani government in 2002 make Gwadar port project by this project main aim was to built industrial complexes and connect the town via modern high way to the rest of Pakistan so by this way the Pakistan government developed Gwadar in 1993, into a major port city with a deep sea port and connected with Pakistan's highway and rail networks. The first phase had been completed by the end of 2004.[2]  History of Gwadar 
Introducing Gwadar
Location
Gwadar is located on the shores of the Arabian Sea in the western province of Balochistan. It is about 533 km from Karachi and 120 km from the Iranian border. Gwadar Port is located at the mouth of the Persian Gulf, just outside the Straits of Hormuz, near the key shipping routes in and out of the Persian Gulf.
Gwadar District Demography
Gwadar district covers a coastal zone. Main towns within this zone are Pasni, Gwadar and Jiwani (near the border with Iran)
Estimated population in 2004: 215,000 (Gwadar district)
Geographic area – 12.637 sq. km.
Population density – 14.7 person per sq.km
Coast line – approximately 300 km
Population of Gwadar city – estimated 80,000
Land distances from Gwadar
Quetta 970 Km
Turbat 165 Km
Gabd 120 Km
Karachi 630 Km
Ratodero 892 Km
Gwadar Port Authority
Background
From Gwadar Port cell under the DG (Ports & Shipping), the Gwadar Port Authority (GPA) was established as a separate organization, after promulgation of the GPA ordinance No. LXXVII of 2002 dated 17 October2002, for construction, operations, management, and maintenance of Gwadar Deep Water Port. Skeleton staff of the authority was sanctioned by the then Chief Executive of Pakistan by according approval to the summary of the Ministry of Ports & Shipping.
Gwadar Port Authority GPA as Landlord
The Government of Pakistan has adopted the landlord concept for new port development. In practice, this means that GPA will drive the overall development of the port and will raise the funds for development of general port infrastructure (primarily dredging of access channels and construction of breakwaters), while private sector investors will be the primary source for the development of terminals and cargo handling capacity. Reputable private investor-operators will be sought on a BOT (Build-Own-Transfer) basis for the design, construction and operations of the various terminals that are foreseen. BOT-agreements will be strictly on a concession-basis only, with no allowance for cross-share-holdings between the landlord-regulator and the terminal operators. In the longer term, as much as possible, different cargo types will be handled by dedicated terminals. This will allow for terminals to be developed and operated by dedicated operators who are specialized in these particular operations.[3] Gwadar Port Authority
Vision and Mission

"Gwadar deep sea port is the second great monument of Pakistan -China friendship after the Karakorma Highway linking Pakistan and China. The foundation stone of the port was laid by the Chinese vice-premier Wu Bangguo in March 2002.With the completion of the first phase of the port, Gwadar, a small fishing village has become one of the most important towns of region and is poised to become one of the most important and modern cities of the Middle East, West Asia and the South Asia.Gwadar port will become gateway port for Pakistan and the region and a world –class maritime hub. Gwadar Port is to Complement Karachi Port and Port Qasim in order to stimulate economic growth of Pakistan and in particular Balochistan utilizing the available resources of the country and also providing an outlet for land locked Central Asian Countries western China and Afghanistan through transit trade and offering transshipment facilities .[4]  Vision and Mission 
The new mission for Gwadar Port is
In doing so, the development of both Gwadar City and Gwadar Port will provide important contributions to the socio-economic development of Gwadar district and the province of Balochistan.
To cater for General cargo, Bulk cargo, container, RORO ships./li>
To facilitate trade and industrial and economic development, nationally, locally and regionally.
To remain aligned with expectations of local and international customers and stakeholders
In doing so, the development of both Gwadar City and Gwadar Port will provide important contributions to the socio-economic development of Gwadar district and the province of Balochistan.
Organization Chart
GPA Board Members
Chairman GPA
Ministry of Port & Shipping
KARACHI 
Ph: +92 21 99204196
Fax: +92 21 9201100 & 9206407
Ministry of Defence
RAWALPINDI 
Ph: +92 51 56132093
Fax: +92 51 9271119
Chairman, National Highway Authority 
Sector G-9/1
ISLAMABAD
Ph: +92 51 9260214
Fax: +92 51 9261074
Ministry of Port & Shipping
ISLAMABAD
Ph: +92 51 9205418
Fax: +92 51 9209305
Addl. Chief Secretary (Development)
Government of Balochistan
QUETTA
Ph: +92 81 9201058
Fax: +92 81 9202419
Balochistan Coastal Development Authority 
QUETTA
Ph: +92 81 2863002-3
Fax: +92 81 2863005
Joint Secretary /FA (P&S)
Ministry of Finance 
ISLAMABAD
Ph: +92 51 9205262
Fax: +92 51 9208097
Ministry of Finance
ISLAMABAD
Ph: +92 51 9205262
Fax: +92 51 9208097
General Manager (Operations)
Pakistan Railways, Railway Headquarters
Lahore.
Ph: +92 42 9201700
Fax: +92 42 9201787
President, Quetta Chamber of Commerce & Industry, Zarghon Road 
QUETTA
Ph: +92 81 2821943
Fax: +92 81 2821948
Chairman Message
Dostain Khan Jamaldini
Gwadar Port is emerging as the third port of Pakistan – Karachi and Port Qasim being the other two. Gwadar borders on Arabian Sea and lies in the Balochistan Province. Gwadar Port is located at the mouth of Persian Gulf and outside the Straits of Hormuz. It is near to the key shipping routes used by the mainline vessels in the region with connections to Africa, Asia and Europe and enjoys high commercial and strategic significance.
The development of Gwadar could bring economic gains to Balochistan and potentially capable to act as industrial power house, a suitable transit and transshipment hub. Currently, it is becoming almost a proverbal to narrate Gwadar Deep Sea Port as a "Game Changer" in trade and economic development.
Economic benefits of Gwadar port, are: capitalizing the opportunities for trade with landlocked Central Asian Republics and Afghanistan; promotion of trade and transport with Western China; trans-shipment, essentially of containerized cargo; unlocking the development potential of the hinterland; socio-economic uplift of the province of Balochistan; establishment of shipping-related industries, oil storage, refinery and petro-chemicals, export processing industrial zones and many more avenues. Gwadar Port is also the gateway of China Pakistan Economic Corridor (CPEC).
Gwadar could emerge as a key shipping point, bringing Pakistan a much-needed income, and when combined with the surrounding areas could become a trade hub, once road and rail links connect it to the rest of Pakistan, Afghanistan, Central Asia and China. A road from Gwadar to Saindak, said to be the shortest route between Central Asia and the sea, is under consideration. Gwadar provides landlocked Afghanistan, the Central Asian Republics and Western China access to the sea. Goods, oil and gas reserves from these countries could be shipped to global markets through Gwadar Port. Pakistan's business community is awaiting to contribute in Gwadar Port having a free trade zone. We in Gwadar Port Authority working together with China Overseas Port Holding Ltd (COPHL) are confident that the year 2014 shall witness enhanced Port throughput and development of Gwadar Port Free Zone.[5] Chairman Message
Port Profile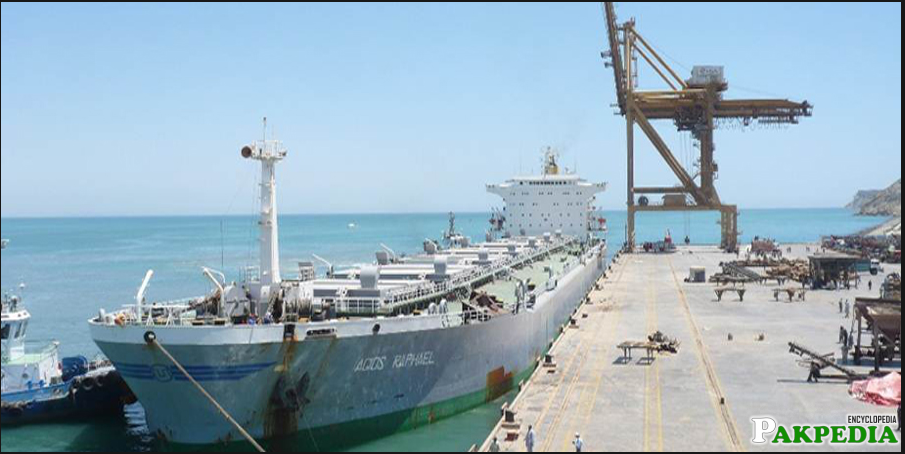 Current Port Infrastructure
3 -multipurpose berths – each 200 meters long.
1 -RO-RO facility
1-100 meter service berth
4.7 km long approach channel dredged to 14.4 m at outer channel, 13.8 m at inner channel /turning basin and 14.5 m depth alongside berth.
Outer channel is-206 m and inner channel width in 155m
Turning Basin 595 m diameter
The port, currently, has the capacity to handle 50,000 DWT bulk carriers @ 12.5 meter maximum depth.
Current Port Facilities
Port Area 64,000 sq-m
Container stacking area 48,278 sq-m
Reefer Cargo space (400 points):367sq-m
Empty container stacking area 6,875 sq-m
Storage yard 28,669 sq-m
Transit shed 3,750 sq-m
Hazardous cargo storage yard 1,800 sq-m
Control tower (foot print only):1,536 sq-m
Buoy yard 1,500 sq-m
Generator building:593 sq-m
Maintenance workshop (general) :1,440 sq-m
Vehicles Servicing Garage: 450 sq-m
Security building: 65 sq-m
Common offices for GPA, Customs,               
Immigration Several floors, per floor: 4 ,144 sq-m
Mosque   324 sq-m
Operations office and canteen. Per floor:1,742 sq-m
Lorry car park: 1,125 sq-m
Future development area 118,575 sq-m
Oil recovery system 1 complete set
Communication 
VHF/DSC including INMARSAT-B Complete system
Gawadar Fish Harbour
Gwadar Fish Harbour is located in Gwadar, Balochistan, Pakistan.[6]  Gawadar Fish Harbour 
Port Map
Projects
China Pakistan Economic Corridor CPEC
During 2013-14, GPA has been part of all planning and appraisal processes of CPEC programme.[7]  China Pakistan Economic Corridor (CPEC)  For the early harvest / prioritized phase, following projects related to Gwadar Port & Port City of Gwadar have been agreed. These are in different stages of project preparation:
S.No.
Project Title
Executing Agency
a
 
Construction of East-Bay Expressway, Gwadar Port
GPA
b
Construction of Breakwaters, Gwadar Port
GPA
c
Dredging of Berthing Areas & Channels, Gwadar Port
GPA
d
Pak-China Technical & Vocational Institute
GPA
e
Infrastructure Development for Free Zone & EPZs, Gwadar
EPZA & GIEDA
f
Necessary Facilities of Fresh Water Treatment, Water Supply
GDA
g
China-Pakistan Friendship Hospital (Up-gradation of existing 50 bedded hospital
GDA
h
Coal-based Power Plant at Gwadar
Min of Water & Power
i
Construction  of Gwadar International Airport 
CAA
Tenders
Description
Closing Date
Opening Date
Division
Department
CONSULTANCY SERVICE FOR FEASIBILITY STUDY OF PERTROLEUM/PETROCHEMICAL TERMINAL & DIRTY DRY BULK TERMINAL AT GWADAR PORT
30/10/2017
11:00 AM
30/10/2017
11:30 AM
Operation
Operation
REHABILITATION OF AUCTION HALL OF GWADAR MINI PORT (Ex Gwadar Fish Harbour Cum Mini Port)
25/10/2017
11:00 AM
25/10/2017
11:30 AM
Operation
Operation
Contacts Information
Head Office
Gwadar Port Authority Pak-China Friendship Avenue Gwadar Balochistan
Phone: +92 86) 9200408
Fax: +92 86 9200405
E-mail: info@gwadarport.gov.pk
GPA Cell Ministry of Port Shipping
3rd Floor Shaheed-e- Millat Secretariat Islamabad     
Phone:+92 51 9209993 
Fax: +92 51 9244226
Email: gpacellibd@gmail.com
GPA Nucleus office
6 sunny side, civil lines, Karachi 
Phone:+92 21 99332802 & +92 21 99332801
Fax: +92 21 36450400
E-mail: khigpa@gmail.com