The Karachi Port is one of the busiest and largest seaports of Southern-Asia, handling almost sixty percent of its cargo situated in Karachi. It is located in Karachi Harbor between Kakapir, Manora, and Kiamari and is in proximity to several industrial regions and Serai Quarter.
The port's geographical location finds it in proximity to main shipping routes like 'Strait of Hormuz.' The KPT (Karachi Port Trust), founded in 1857, carries out the port's administration. This article has all the information about the port, including Karachi Port History.
| Title | Description |
| --- | --- |
| Information | |
| Location: | Karachi, Sindh on the Arabian Sea |
| In Urdu: | کراچی بندرگاہ |
| Karachi Fishing Harbour: | 8 Kilometres Away at Korangi |
| Pakistan's Import and Export Trade: | 70% |
| Phone: | +92 345 2619168 |
| Facilitation of Trade: | Ship handling, Discharging / Loading of cargo,Storage of cargo, Clearance of cargo,Security / Safety |
| Chairman: | Mr.Mumtaz Ali Shah |
| Opened : | 1857 |
| Operated By : | Karachi Port Trust |
| Owned By: | Ministry of Ports and Shipping and Government of Pakistan |
| Size of Harbor: | 32 km (20 mi) |
| Available berths: | 30 |
| Wharfs: | 8 |
| Annual Cargo Tonnage: | 65.25 Million Metric Tons |
| Annual Container Volume: | 1.563 Million TEUs |
| Secretary: | Cdr(R) Syed Taj Tirmizi |
| General Manager (Civil Works/Engg.): | Imam Buksh Baloch |
| General Manager (Administration): | Niaz Ali Jesser |
| General Manager (Engineering): | R/Admiral Habib-ur-Rehman |
| General Manager (Planning & Development): | Raghib-ul-Khair |
| General Manager (Finance): | Nazeer Ahmed Seher |
| General Manager (Operations): | R/Admiral Asif Hameed |
| Website: | http://kpt.gov.pk/ |

Karachi Port History
The port's history intertwines with the history of Karachi. A reference is found that indicates the early existence of Karachi port in 'Umdah' by Suleman al-Mahri, an Arab navigator; he mentions 'Ras Karashi' and 'Ras al-Karazi' while narrating the route along the coast from fishing port 'Pasni' to 'Ras Karashi.'
Ottoman captain Ali Reis has mentioned Karachi in the 16th-century Turkish dissertation 'Mirat-ul-Memalik,' Ali has warned sailors about the whirlpools and suggests they should seek protection in 'Kaurashi' harbor.
Establishment of Kolachi
The heavy rains happening in 1728 filled up the port at Kharak, compelling traders to move to modern Karachi. They constructed a new town named 'Kolachi' in 1729 on the north side of Karachi bay. The gate towards 'Lyari River' was named 'Mithadar' and the entrance towards the sea was named Khardar.
From 1729-1783 many town changes happened in Kolachi between Sind rulers and Sind's Talpur Mirs; after two extended sieges in 1783, the Kolachi zone fell to Sind's Talpur dynasty who constructed Debal Fort reinforced with weapons on Manoro island at the harbor entrance.
British Authorities inhabited Karachi
The British authorities were conscious about expansion by Russia towards the 'Arabian Sea.' So, they inhabited Karachi and the whole area of Sindh. The harbor served as the landing point for soldiers during the 1st Afghan battle.
Several British organizations/firms opened warehouses and offices in Karachi, leading to an increase in population; Karachi emerged as an established and progressed city by 1952, advancing overseas trade and fourteen-thousand inhabitants.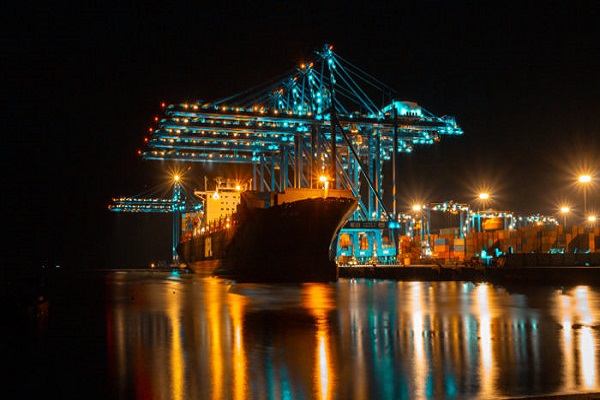 The shaping of Modern Harbor
In 1854 modern harbor started to assume shape when dredging of principal navigation channel was carried out and causeway or mole was built to connect the city's main port. After it, Jetty Bridge, Napier Mole Bridge, Keamari Groyne, and Manora breakwater's construction took place.
Karachi became a Cotton & Wheat Exporter
By 1899 the city of Karachi became the largest cotton and wheat exporting port in South-Asia. From 1856-1872 there was a grand increase in trading activities, particularly during the USA's civil war when cotton crops from the province of Sindh started utilizing raw material instead of American cotton in British textile industries and the Suez Canal opening in 1869.
During the 1st world war, Karachi had the prime military base's status because it was 1st British Empire harbor of call for the ships coming via the Suez Canal. During the 2nd world war, Karachi again had a military base and haven for materials to the Russian front.
Karachi Port Facilities
The port consists of a deep-natural harbor with an eleven km long channel that gives safe wayfinding for vessels more than seventy-five tons of deadweight tonnage (DTW). The two wharves are the central zones of port activity, one is West-Wharf comprising 13-vessel berths, and the other is East Wharf comprising 17-vessel berths.
Both these wharves have the container terminal:
KICT (Karachi International Container Terminal) launched in 1996 at West-Wharf berths twenty-eight to thirty. KICT possesses a handling potential of thirty-thousand TEUs (twenty-foot equivalent units) per annum and manages container ships more than the eleven-meter draught. The total length of the wharf is six-hundred meters fractionating into two berths. There are three Panamax & one post-Panamax cranes in the terminal.
PIBT (Pakistan International Bulk Terminal) launched in 2002 at East-Wharf berths six to nine. The terminal's handling capacity is three lac and fifty-thousand TEUs/annum and manages container ships more than 11.5-meter draught. The total length of the quay is six-hundred meters and is fractionated into two berths. The terminal has 2-Panamax cranes.
PICT & KICT have a competitor in privately run AICT (Al-Hamd International Container Terminal) that started functioning in 2001 at West of Layari river.
Three oil piers, an engineering facility, two ship repairing jetties, and one shipyard are also present. The facilities here include three foundries, two dry docks, and a grand ship-building hall.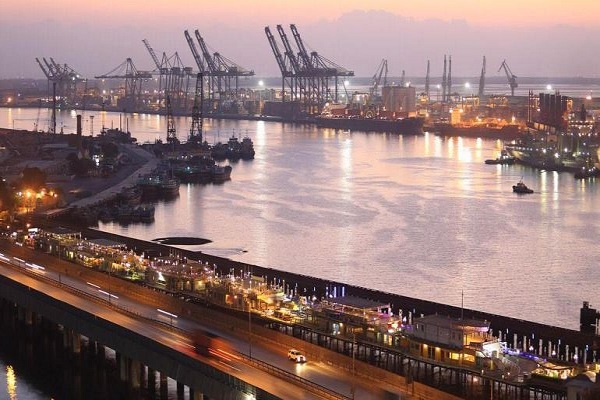 Expansion Strategies
The cargo flow to & from the port is hindered by extreme overcrowding in the harbor with many other marine facilities situated near the port. The fishing harbor of Karachi is situated close to West Wharf that is administered from the port. It also hosts a shipyard, naval dockyard, ship repairing facility at wharf tip, and the port's South are Kiamari Boat-Club and Karachi Naval-Base.
Karachi Port Competitor
A newly constructed private terminal situated five km to the West gives competition to Karachi port. The government of Pakistan has tried to reduce overcrowding by building a 2nd port in Karachi 30-km to the East at Qasim Port authority and a 3rd big Gwadar port about six-hundred and fifty km west of the city of Karachi.
Fishing Harbors
Karachi's fishing harbor has been improved, and the 2nd fishing harbor is built eighteen kilometers away at Korangi. The Trust of Karachi Port has planned port deepening to increase facilities. Initially, the channel was dredged to 13.5 meters deep to serve twelve-meter draught vessels. The other projects launched for port expansion are:
A new Container port at East-Wharf
Provision of up to date amenities at PICT
Increase in handling potential of KICT from three lac TEUs to four lac TEUs/annum
The new plant for desalination to address water shortage issues of the city
Two berths are having a depth of fourteen meters built at KICT and a 100,000 m2 stacking area.
Reconstruction of old oil pier allowing tankers of ninety-thousand tons DWT to berth
A 150 m (500-foot) high-port tower for recreational and commercial usage, including a rotating restaurant
The establishment of five-hundred-acre Port Town with thirteen-thousand houses for port employees at Hawkes Bay
On 9th Nov 2007, Karachi Port's Trust signed a one billion US Dollar agreement with HWL (Hutchison Port Holdings) to build a terminal named 'Pakistan Deep Water Shipping Container start functioning by 2010.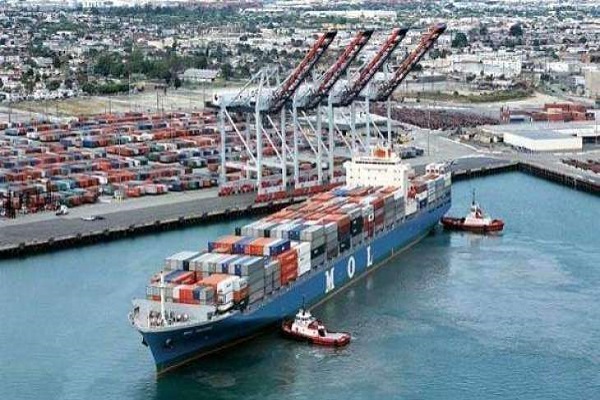 The threat to Natural Forests
Human activities are always posing a threat to the mangrove forests in the harbor area. Chinna Creek is located towards the East of port and covers almost six km2, and is filled with mangrove islands. Towards the South-West of the port is a more extensive mangrove forest formed by many islands.
KDLB Closure
The KDLB (Karachi Dock Labor Board) manages labor relationships between Karachi Port Trust and workers. In Oct 2006, Pakistan's government under the NTC (National Trade Corridor) program and port strategy announced the Karachi Dock Labor Board's closure.
Social Media Handle