Gwadar is a port city on the southwestern coast of Balochistan, Pakistan. The city is located on the shores of the Arabian Sea, approximately 700 kilometres to the west of Pakistan's largest city, Karachi. Gwadar is near the border with Iran, and is located to the east of the Persian Gulf and opposite Oman.Gwadar and its surrounding region were overseas possessions of the Sultanate of Muscat and Oman from 1783 until Pakistan purchased the territory September 8, 1958. Pakistan assumed control of the territory on December 8, 1958, and the territory was later integrated into Balochistan province on July 1, 1977, as Gwadar District.For most of its history, Gwadar was a small to medium-sized settlement with an economy largely based on artisanal fishing. The strategic value of its location was first recognized in 1954 when it was identified as a suitable site for a deep water port by the United States Geological Survey at the request of Pakistan while the territory was still under Omani rule.[1] Gwadar port: – DAWN The first phase 2007 was inaugurated by General Parvez Musharraf at a total cost of $248 million.The port remained underutilized after construction for a variety of reasons, including lack of investment, security concerns, and the Government of Pakistan's failure to transfer land as promised to the port operator, Port of Singapore Authority. The city will also be the site of a floating liquefied natural gas facility that will be built as part of the larger $2.5 billion Gwadar-Nawabshah segment of the IranPakistan gas pipeline project.
| Title | Description |
| --- | --- |
| Information | |
| Location: | Pakistan |
| In Urdu: | گوادر |
| Type: | A Port City on the Southwestern Coast of Balochistan |
| Local Language Name: | Balochi |
| Province: | Balochistan Pakistan |
| Coordinates : | 25°07′35″N 62°19′21″E |
| District: | Gwadar District |
| Region: | Balochistan |
| Website: | www.gda.gov.pk |
| Autonomous towns: | 1 |
| Union councils: | 5 |
| Language | |
| Official Language: | Urdu |
| Native Language: | Balochi |
| Other Languages: | Urdu,Balochi,English |
| Government | |
| Government Type: | Government Of Balochistan |
| Area | |
| Total Area: | 12,637 km2 (4,879 sq mi) |
| Population | |
| Total Population: | 85,000 (2006) |
| Time zone | |
| Time zone: | PST (UTC+5) |
| Codes | |
| Postal code: | 91200 |
| Dialing code: | 086 |
| Vehicle registration: | Three letters beginning with G and random four numbers |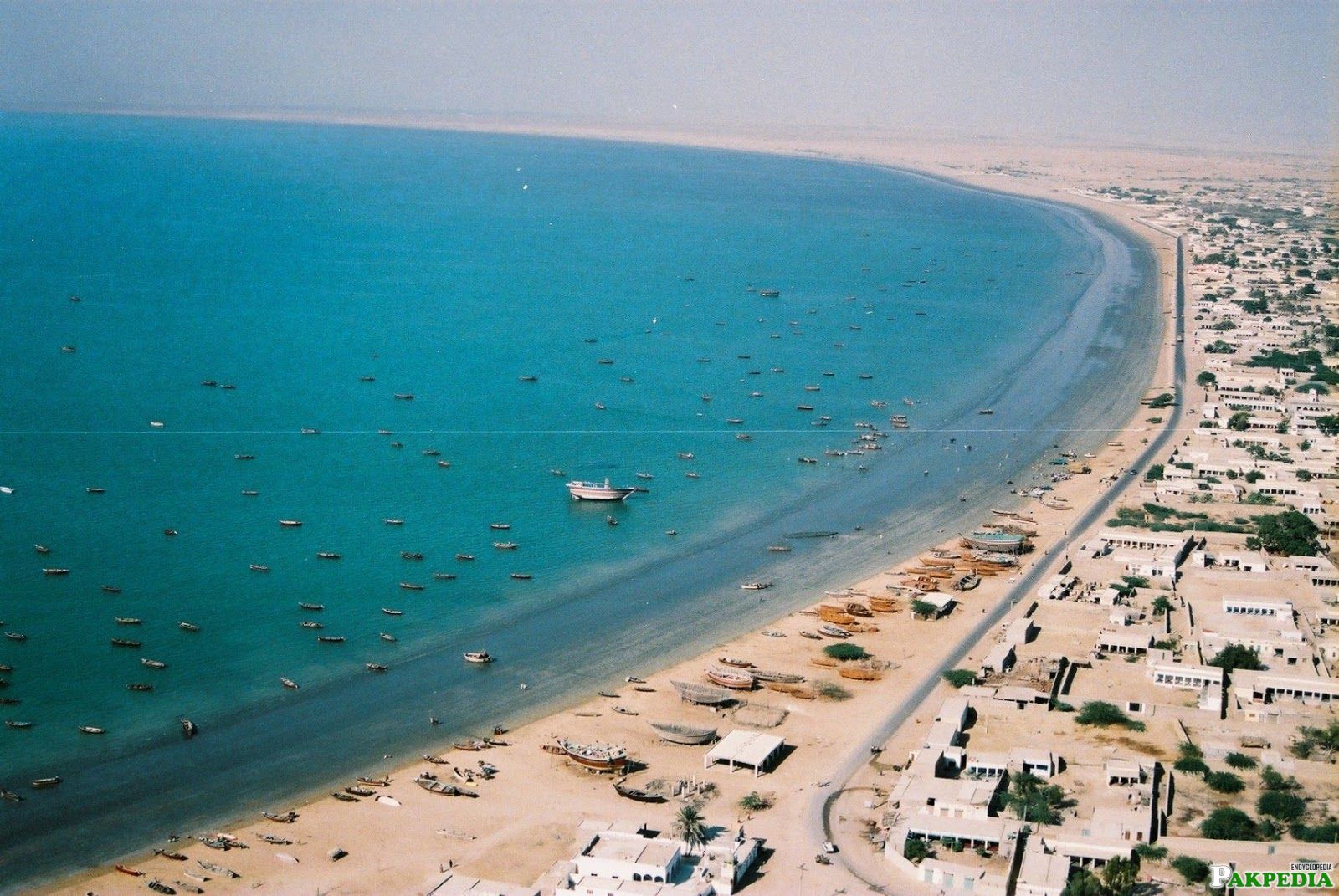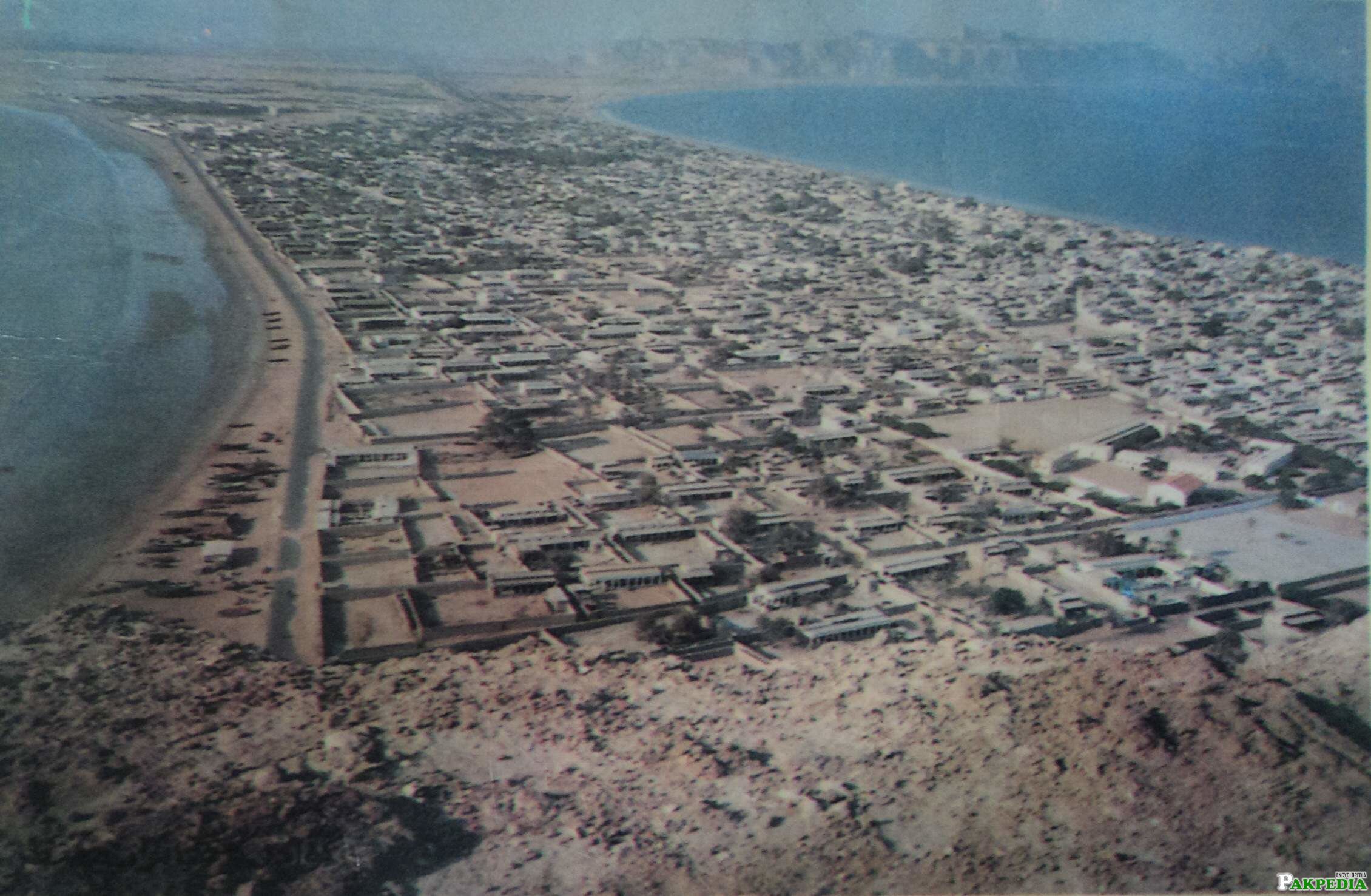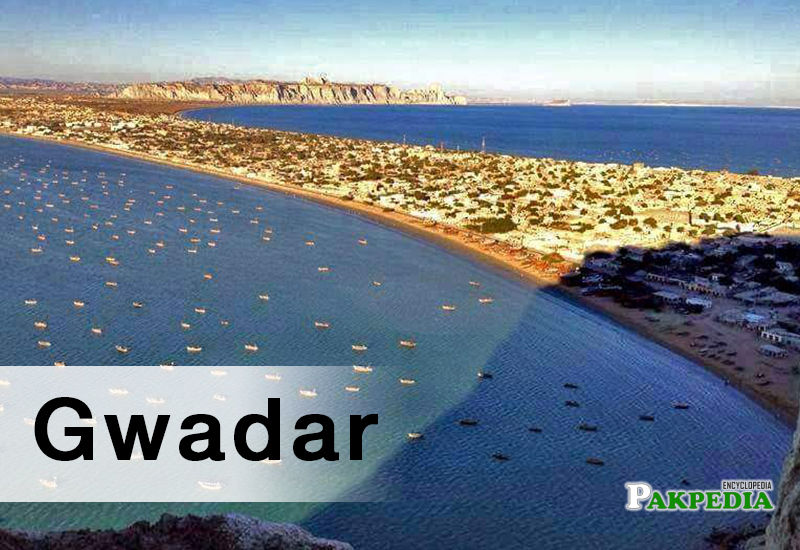 History
Gwadar Early History
Inhabitation of Gwadar, like most areas of Balochistan, appears to be ancient. The area shows inhabitation as early as the Bronze age with settlements around some of the area's oases. It is from this settlement pattern that word Makran, the original name of Balochistan, is derived. For a period, it was a region of the Achaemenid Persian Empire. It is believed to have been conquered by the founder of the Persian Empire, Cyrus the Great. The capital of the satrapy of Gedrosia was Pura, which is thought to have been located near the modern Bamp, in Iranian Balochistan. During the homeward march of Alexander the Great, his admiral, Nearchus, led a fleet along the modern-day Makran coast and recorded that the area was dry, mountainous, and inhabited by the "Ichthyophagoi" (or "fish eaters"), an ancient Greek rendering of the ancient Persian phrase "Mahi khoran," which has itself become the modern word "Makran"[2] "Gedrosia"- Archived After the collapse of Alexander's empire the area was ruled by Seleucus Nicator, one of Alexander's generals. The region then reverted to Indian rule around about 303 BC after Seleucus made peace with Emperor Chandragupta and ceded the territory to the Indian Empire.
Part of Pakistan
In 1956, Makran acceded to Pakistan and was made a district – Gwadar then, was not included in Makran. In 1958, Gwadar and its surrounding areas were reverted by Maskat to Pakistan. It was given the status of a Tahsil of Makran district. On July 1, 1977, Makran District was upgraded into a division and was divided into three districts of Turbat (Kech since 1994-95), Panjgur and Gwadar. On 8 September 1958, Pakistan purchased the Gwadar enclave from Oman for 5.5 billion Rupees (equivalent to US$1.1 billion in 2015 dollars). The Agreement had two important clauses: (1) All Balochistan would form a military recruitment source for Oman; as a result Balochis constitute a major part of Omani forces, and (2) the resources of Gwadar would be further developed. Most of the money for the purchase came from donations, with Prince Karim Agha Khan, the reigning Aga Khan, being the greatest contributor, while the remainder was paid through tax revenue. At the time, Gwadar was a small and underdeveloped fishing village with a population of a few thousand. The Pakistani government integrated Gwadar into Balochistan province on 1 July 1977 as the district headquarters of the newly formed Gwadar District. In 1993, the Government of Pakistan formally conceived the plan to develop Gwadar into a major port city with a deep-sea port and to connect it with Pakistan's highway and rail networks. On 22 March 2002, the Government of Pakistan began construction of Gwadar Port, a modern deep-sea port, Phase I of which was completed in March 2007. Gwadar Port was inaugurated on 20 March 2007.[3] "Gwadar Port – inaugurated Gwadar underwent major development from 2002 to 2007. In 2002, Pakistan's National Highway Authority (NHA) began construction of the 653 km-long Makran Coastal Highway linking Gwadar with Karachi via Pasni and Ormara and onwards with the rest of the National Highways of Pakistan, which was completed in 2004. In 2003, the Gwadar Development Authority was established to oversee the planning and development of Gwadar and Gwadar Industrial Estate Development Authority was established to promote industrial activities in mega port city of Gwadar.
Gwadar History in Islam
Then in 711 CE Muhammad bin Qasim captured Gwadar and then the interval of time the area come under various powers  ,including the Mughals from east and safavid from the west .Until  the Arab Muslim Armay  of Muhmmad bin Qasim captured he town of Gwadar in 1711 CE and over the intervening  and the amount of time the area as contested by various powers ,including Mughls (from the east) and the sfavids (from the west).so this era was considered as Islamic era of Islamic rule in the history of Gwadar .In 1581 the Portuguese  captured ,sacked and burnt Gwadar .,
Gwadar In this era was called the Centuries of local rule in by various Baloch tribes and followed by almost two centuries .In 15150s according to Ottoman Admiral Sayed Ali Reas in the inhibition of Gwadar were Bloch and their chief was Malik Dinar. In  1783 the khan of kalat  defeated the ruler of Muscat nd continue his rule in Gwadar by appointing a wali (governor) and the wali was ordered to subjugate the nearby coastal town .The Gwadar fort was built during Omani rule.[4]  Gwadar History in Islam 
Gwadar Port
Gwadar Port is a strategic warm-water deep-sea port developed jointly by the Government of Pakistan and the Government of China at a cost of USD $248 million. Before its development as a port city, the town was a fishing village.In 2013, Gwadar Port operations were officially handed over to China. Under the contract with China, the port will be further developed into a full-scale commercial port, with an initial construction investment of $750 million. The port is said to be strategically important to China because it will enable China to more safely and reliably import oil. Currently, sixty percent of China's oil must be transported by ship from the Persian Gulf to the only commercial port in China, Shanghai, a distance of more than 16,000 kilometres. The journey takes two to three months, during which time the ships are vulnerable to pirates, bad weather, political rivals, and other risks. Using Gwadar port instead will reduce the distance these ships must travel and will also enable oil transfers to be made year-round.In February 2013, Iran announced it would set up a $4 billion oil refinery in Gwadar with an estimated capacity of about 400,000 barrels per day. According to the plan, the Iranians will also construct an oil pipeline between its territory and Gwadar to transport crude oil for processing.[5] Gwadar Port is a strategic ——–   warm-water
Gwadar Port Construction
Gwadar Port was developed by the Government of Pakistan at a cost of USD $248 million. Phase I covered building of three multipurpose berths and related port infrastructure and port handling equipment. Phase I of the Port was completed in December 2006. Gwadar Port is being constructed in two phases:[6] Gwadar Port is being constructed – in two phases
Phase I 2002-2006 USD 248 million. Status Completed in December 2006
Berths: 3 Multipurpose Berths (capacity: bulk carriers of 30,000 deadweight tonnage (DWT)) and container vessels of 25,000 DWT)
Length of Berths: 602m
Approach Channel: 4.5 km long dredged to 12.5m depth
Turning basin: 450m diameter
Service Berth: One 100m Service Berth
Related port infrastructure and handling equipment, pilot boats, tugs, survey vessels, etc.
Phase II 2007present USD 932 million. Status Under Construction
4 Container Berths
1 Bulk Cargo Terminal (capacity: 100,000 DWT ships)
1 Grain Terminal
1 Ro-Ro Terminal
2 Oil Terminals (capacity: 200,000 DWT ships each)
Approach Channel: To be dredged to 14.5m depth
Port expansion under CPEC
China has been instrumental in design of the project. China is providing approximately 80% of the cost of the port in the shape of grants and soft loans. Over 500 Chinese workers have worked on the project on a 24-hour basis to complete the port setup. There are still a large number of Chinese workers and engineers working on the project. China is setting up a dry port at the Pakistan China border to take advantage of shorter route to sea through Gwadar. China paid US$360 million to Pakistan for expansion and an upgrade for all weather trafficability of Karakoram Highway linking Pakistan with China. The contract has been awarded to Frontier Works Organization, who has also started the project. Feasibility and engineering studies to connect China with Gwadar through a pipeline and railway track have already begun.China is heavily dependent on Persian Gulf oil which passes through the Strait of Malacca all the way through the Indian and Pacific Oceans. Once the oil reaches China's east coast ports, it is transported thousands of miles inland to western China. The Gwadar port-Karakoram Highway (KKH) route is safer, cheaper and shorter than transporting the oil by ocean tanker. Chinese goods flowing in the opposite direction will find an easier, shorter and secure route to the Middle East, increasing trade. The Government of Pakistan has committed to providing a naval base to China in Gwadar. This will not only help secure Gwadar but also take Pakistan-China relations to new heights.[7] "China acquires – Pakistan
Geography
Climate
Gwadar has a hot desert climate (Kppen BWh), characterised by little precipitation and high variation between summer and winter temperatures. The oceanic influence keeps the temperature lower in summer and higher in winter as compared to the inland. The mean temperature in the hottest month (June) remains between 31 C and 32 C. The mean temperature in the coolest month (January) varies from 18 C to 19 C. The uniformity of temperature is a unique characteristic of the Makran Coastal region. Occasionally, winds moving down the Balochistan plateau bring brief cold spells, otherwise the winter is pleasant. In Gwadar, winters are shorter than summers. Although Gwadar is situated outside the monsoon belt, it receives light monsoon showers in summer (June August). However, in winter, Western Disturbance can cause heavy rainfall. Annual rainfall is only 100 mm (3 inches). In June 2010, Gwadar was lashed by Cyclone Phet with record-breaking rains of 372 mm and winds up to 75 mph.
Culture
Gwadar's location and history have given it a unique blend of cultures. The Arabic influence upon Gwadar is strong as a consequence of the Omani era and its close proximity to the Arabian peninsula. The legacy of the Omanis is observed in the local Makrani population who can trace their lineage to Afro-Arabs and Zanj slaves, who settled in the town during Omani rule. They have an Arab dance and music called Liwa, which is also performed in the Arabian Peninsula.
Economy
Gwadar's economy has, in the past, been dependent mostly on fishing. It's economy, however, is undergoing rapid transformation as a small fishing village is being transformed into a major port city of Pakistan with improved communication links with the rest of Pakistan. In 1993, the Government of Pakistan commenced a feasibility study for the construction of a deep-sea port at Gwadar. On 22 March 2002, the Government of Pakistan began construction of Gwadar Port, a modern deep-sea port, the first phase of which was completed in December 2005 and the second in March 2007. Gwadar Port became fully operational in December 2009. The 1400 km Trans-Afghan Gas Pipeline (TAP) from Turkmenistan to Gwadar (Pakistan), a long-dormant project that would pump Turkmen natural gas to markets in South Asia, may finally be poised to begin at a cost of $3 billion.[8] Gwadar City – Archived
Transportation
RAILWAYS
Railway Minister Sheikh Rashid Ahmad has said The government is focusing on laying the Havelian-Kashghar (China) andQuetta Qandhar (Afghanistan) railway tracks. In 2006, Ministry of railways announced that Gwadar will be connected to Pakistan railways network at an expected cost of $ 1.25 billion (Rs. 75-billion).
Gwadar Deep Sea Port
The first phase was completed by public sector with the Chinese assistance at a revised cost of $298 million. It included three multipurpose berths (602m quay length), one service berth (100m length), 4.35km navigable channel (11.6/12.5m deep), roads, plinths and transit shed, operational craft and equipment including navigational aids and shore-based port buildings and allied facilities. The phase-2 would be executed by private sector to accommodate 50,000 DWT container ships, 100,000 DWT dry bulk carriers and up to 200,000 DWT oil tankers, three container terminals (2010m quay length), one bulk cargo terminal (305m length), one grain handling terminal (305m length), one twin pier oil terminal (688m length), breakwater (600m length), approach channel (16./20m deep), back up areas, craft and equipment and building etc.[9] Gwadar – international.com
Airport
The Civil Aviation Authority of Pakistan has earmarked 3000 acres (12 km) of land for Gwadar International Airport, whichwill be built 26 km away to the northeast of the existing airport towards Pasni and is likely to cost between $200-250 million. In the meantime there are plans to improve facilities at the existing airport.Pakistan anticipates Gwadar becoming a regional economic hub and, in preparation for this, has issued a directive for the development of New Gwadar International Airport. For this purpose, the CAA has earmarked 3000 acres (12 km) of land 26 km northeast of the existing airport. The new airport is expected to cost $250 million. It will be given international status and operate under the open skies policy. In the meantime, there are plans at the existing airport to further facilitate the movement of wide-bodied aircraft.
Roads
The M-8 is an east-west motorway in Pakistan, connecting Sukkur Larkana to Gwadar. The motorway partly currently under-construction, while the 193 kilometer stretch between Gwadar and Hoshab was inaugurated in February 2016.The Ratodero Gwadar Motorway (M-8) will start from Ratodero in Sindh Province and enter Balochistan Province passing near the towns of Khuzdar, Awaran, Hoshab, Turbat before joining the Makran Coastal Highway just east of the port city of Gwadar. The M8 will cross the Dasht River and pass near the Mirani Dam in Balochistan Province. The M8 will have 4-lanes and a total length of 892 km. Initially, 2-lanes will be constructed after the completion of which another 2-lanes will be added, thus making a total of 4-lanes.The M8 is being constructed by Pakistan's National Highway Authority. Construction of the M8 commenced on 15 October 2004. According to a newspaper report of July 23, 2015 the construction arm of Pakistan army, Frontier Works Organization (FWO) has completed 502 of 870 kilometer of this road.
Expo in Gwadar
Prime Minister Shahid Khaqan Abbasi inaugurated expo on monday 29/01/2018 the two-day event was being attended by foreign dignitaries, ambassadors and people from business community across the world.
The expo aims at highlighting the significance of Gwadar Port and Gwadar Free Zone as emerging business hub and create maximum awareness about the full scope of Gwadar Projects.
It will also provide a platform for interaction between local and foreign business entrepreneurs, financiers, investors and government officials to utilize the benefits of this mega project for enhanced investment, business and employment opportunities.
The expo is being jointly organized by Gwadar Development Authority and China Overseas Ports Holding Company. A business centre has also been set up by the China Overseas Ports Holding Company which will provide a one-window operation for matters including immigration, customs, visa operations and port clearance facilities.[10] Gwadar Expo