Hassan Rana is a film producer, writer, and director from Pakistan and the originator of Mindworks Media. Rana holds the credit to provide the Pakistani film industry with the highest-earning movies. Many people thought it impossible to make Waar and Yalghaar level movies in Pakistan. Still, Rana didn't back up and put all his efforts in making of Pakistan's highest budget and star-studded films. His films depict his sense of honesty, sincerity, patriotism, and responsibility towards Pakistan. This article has all the information about Rana, including Hassan Rana Biography and Hassan Rana Movies.
| Title | Description |
| --- | --- |
| Personal | |
| Name: | Hassan Rana |
| In Urdu: | حسن رانا |
| Famous As: | Director |
| Nationality: | Pakistani |
| Residence: | Karachi |
| Religion: | Islam |
| Profession: | Actor, Director, Producer and Screenwriter. |
| Years Active: | 2013-present |
| Debut Movie: | Waar |
| Height: | 5 Ft 9 Inch |
| Website: | https://twitter.com/TheDocHRana |
| Awards : | He Bagged 3 Awards for his Film Waar |
| Family | |
| Spouse: | Married |
| Children: | Not Known |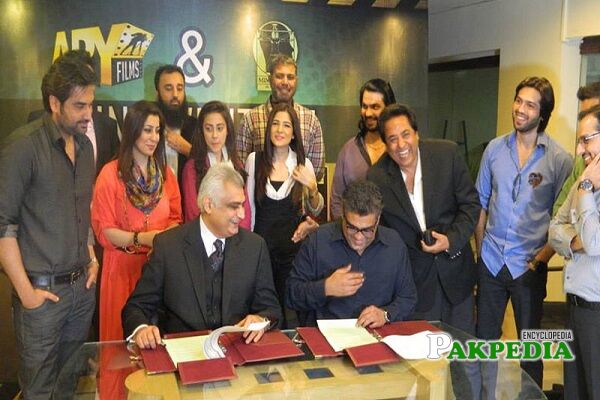 Hassan Rana Biography
Hassan showed his patriotism by investing his earnings in the Pakistani film industry. He used the cinema and film industry to show the world a peaceful and outstanding image of Pakistan. He knows the power of cinema in spreading information and messages. According to him, cinema is a place where people spend money to sit in a peaceful and undisturbed environment, willing to watch and listen, so he carefully has chosen the topics, script, and cast for his films. Pakistani people and media realized his efforts for Pakistan and awarded him three A.R.Y. Film Awards.
Business Career
Besides showbiz person, he is a businessman and a political economist whose status raised from a bicycle to Ferrari 355 F1 owner, which was the 1st car he purchased with his earning. In his student life, he did his 1st job as a janitor to pay the fee of his business school. After completion of his education, he got a chance to work at global 500 corporations, where he learned a lot. 
Then he tried his fate in different fields, including oil exploration and trading in L.E.D. light manufacturing and heavy metals. These ventures provided him with a significant financial amount, which motivated him to invest this amount in some high grossing fields.
Showbiz Career
Initial Career
His first-ever production, film Waar, made him a highly acclaimed and well-recognized director and producer in the showbiz industry. This movie earned him three awards at first A.F.A.s (Ary Film Awards). After experiencing successful outcomes from 1st direction, production, and acting experience, he got the motivation to sign a Memorandum of Understanding with the A.R.Y.'s president and founder Salman Iqbal for making two thriller films Waar 2 and Yalghar. These two thrillers decided to be released in 2017-2019. On 28th June 2017, Yalghaar released and received massive applause from viewers.  
Waar and Waar 2
Hassan is producer and writer of Waar, an action movie directed by Brigadier Syed, Mujtaba Tirmizi, and Bilal Lashari. In terms of revenue, it ranked sixth among Pakistani films. The cast includes Suhaib Rana, Meesha Shafi, Kamran Lashari, Shaan Shahid, Shamoon Abbasi,  Ali Azmat,  Ayesha Khan, and Kamran Lashari.  Film's shooting held in Karachi, Swat, Islamabad, Lahore, Italy, and Turkey. The film depicted Pakistan's struggles against terrorism.   
After a massive success of his movie 'Movie,' he thought of making a sequel of his film. Though it hasn't released yet but the cast of the movie has been finalized. It includes Shaan, Ayesha Umer, Bilal Ashraf, and Aleeze Naseer. The shooting of film held at International venues including the U.K., Russia, Turkey, and Yugoslavia. 
Yalghaar
In this era of technology, Rana tried to make Yalghaar a cinematic adventure for his viewers. He is aware that the audience doesn't accept any low-quality projects, so he struggled a lot along with his team to make a quality film. Film's shooting held in Chitral, Swat, and Gilgit. Urdu meaning of Yalghaar is 'attack,' and its storyline is based on Pak. Army's Swat Operation. The purpose of this film was to show the world what the militants and face because of such operations. 
Through this film, Rana paid tribute to martyrs of Peshawar A.P.S. (Army Public School) attack 2014. Besides being a high budget movie of Pakistani history, it is also a studded star film starring the veteran and pioneer artists Shaan, handsome Adnan Siddiqui, ever young Hamayun Saeed, sizzling Ayesha Umer, talented anchor Sana Bucha, and the younger talent of Pakistani Showbiz dimple boy Bilal Ashraf, Uzma Khan, Dubai-based actress Aleeze Naseer, Sikander Rizvi, Ahmed Taha, Umair Jaswal and Gohar Rasheed. 
All the cast worked in collaboration with each other and stunned the audience. The film did record business of 1.75 crores on the 1st day of Eid, 2.4 crores on 2nd day, 2.2 crores on 3rd day, and total marketing of 6.35 crore. 
F.I.R. Against Hassan Rana
Waar's director Bilal Lashari filed a F.I.R. against Hassan, the capitalist of film. He claimed Rana had not followed the agreement, according to which Hassan has to pay profit's  25%  to the director. But Lashari reported that Rana hasn't paid a single penny from profit.
Hassan Rana Movies
As an Actor
Waar
Yalghaar
As a Director
Yalghaar
Waar 2 
As a Producer
Waar
Yalghaar
Waar 2
As a Writer
Waar
Waar 2
Social Media Handles
His social media accounts include