Chanel Brand
The French fashion house 'Chanel' was founded in 1910 by couturier Coco Chanel. It focuses primarily on ready-to-wear clothing, accessories, and luxury items for women. Chanel is popularly known for its perfumes 'Chanel Suit' and 'Chanel Mo.5.' Chanel makeup is popular across the globe.
The brand featured leather trimmings and quilted fabric in clothes manufacturing. This quilting process reinforces the pattern, finish, and fabric, preparing the outfits that maintain function and form when these are worn. The brand used navy blue and grey colors that were typically linked with masculinity, to represent the bold character of women.
Chanel Brand History
As the elite class in France used to gather at Balson's flat, Chanel had a chance to interact with their demimondaine lovers/mistresses who were fashionable women and they used to wear prestigious jewelry, and clothes by the wealth of rich men.
Thus Coco was able to sell them the headwear she had made and designed, earning her own living without the help of Balsan. She became mistress to Polo player Boy Capel. In 1910 Boy provided funding for her 1st independent hat-making company named 'Chanel Modes.'
Launch of Chanel Couture Stores
The business contract restricted Chanel to just selling millinery items because that location already contained a garment boutique. Two years later, in 1913, Coco Chanel's couture stores in Deauville and Biarritz began selling prêt-à-porter sportswear for ladies, whose practical designs allowed the wearer to participate in sports.
Impact of 1st World War
During the 1st World War, European fashion was impacted by the material shortage and women's mobilization. At that point, the brand had established a big dress shop in Paris, next to the Hôtel Ritz, at 31 Rue Cambon. Flannel blazers, linen straight skirts, long sweaters manufactured from jersey fabric, sailor blouses, and jacket suits were some of the clothing items offered for sale.
Jersey fabric was chosen by Coco due to its physical qualities as a fabric for clothing, such as how it falls on and off a woman's body. Several of Chanel's creations were inspired by the army uniforms that the War had made so popular.
By 1915, the House of Chanel's clothes and designs were well-known throughout France. Chanel established her 1st couture store in Biarritz, France, in 1915. She even created her 1st collection of Haute Couture and employed 300 employees.
Perfume Launch by Chanel
In 1921, Chanel hired Ernest Beaux (French Perfumer) to make a scent for La Maison Chanel to go with the suit of garments. One of his perfumes is No. 5 de Chanel. It was first given as a present to Chanel's clients. La Maison Chanel decided to start selling the perfume at retail in 1922 due to its success.
Chanel Brand Products
1- Fashion Articles
The shoe collection by Chanel consists of Sandals, loafers, pumps, boots, ballerinas, slingbacks, sneakers, mules, and espadrilles.
Evening bags, shopping bags, vanity cases, flap bags, and hobo bags are available in different designs.
Swimwear, skirts, outerwear, pants and shorts, jackets, dresses, pullovers, cardigans, tops, and blouses are available in this category.
2- Fragrances
In 1924 Parfums Chanel was founded by Pierre Wertheimer, the co-founder of Chanel. And fortunately this business section of Chanel generated huge profit. Since its creation Parfums Chanel has hired four perfumers. Some of the Chanel perfumes are:
Allure EDT
Cristalle Eu Verte
Chance
Cristalle
5
Coco
Coco Noir
Allure Eau Sensuelle EDP
Allure EDP
Misia
Jersey
Beige
Boy
Sycomore
Allure Eau Sensuelle EDT
Cologne Collection by Chanel
Pour Monsieur
Allure Pour Homme Sport
Egoiste
Antaeus
Allure Pour Homme
Allure Pour Homme Eau Extreme
Bleu De Chanel
Platinum Egoiste
Bleu De Chanel Eau Toilette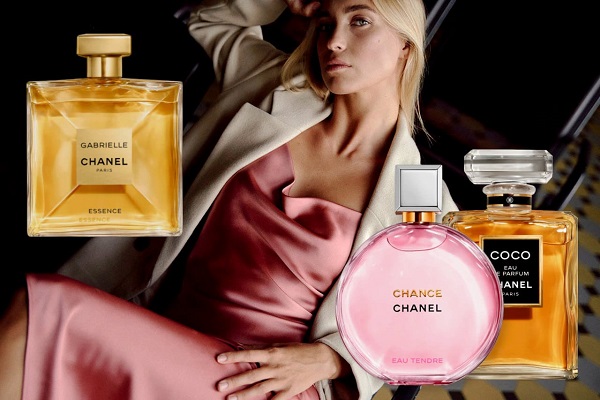 3- Chanel Makeup & Skincare Products
The most widely available Chanel product is cosmetics, which are sold at counters in department stores worldwide, including Galeries Lafayette, Harrods, Hudson's Bay, Bergdorf Goodman, and Boots. You can never go wrong with Chanel Makeup products.
Chanel Makeup Products
Concealer
Primer
Blush
Highlighter
Foundation
Primer
Bronzer
Eyeliner
Eyeshadow
Brow
Mascara
Nail Paints
Lip Gloss
Liquid Lipsticks
Lip Care
Chanel Makeup Mirror
Lip Liner
Makeup Brushes (Eye, Lips, Face)
Chanel Skincare Products
Mists
Body Care
Serums
Oils
Moisturizers
Sun Screens
Lip and Eye Care
Masks
Exfoliators
Hydra Beauty
CC Cream
Le Blanc
Blue Serum
Le Lift
Makeup Remover
4- Jewelry
In November 1932, the brand established 'High Jewelry.' At her Parisian residence in the Faubourg Saint-Honoré, Chanel launched "Bijoux de Diamants." In order to commemorate Diamants' 80th anniversary, the company introduced a special jewelry collection in 2012.
High Jewelry, Comete, Camelia, Baroque, Coco Crush, 1932, Bridal, Jewelry Watches, and Ultra are some of the current collections. A few jewelry items include:
Engagement Rings
Bracelets
Wedding Rings
Earrings
Necklaces
Chanel Brand Owner
Coco Chanel opened her eyes in 1883 in Saumur. Her mother Jeanne was a laundrywoman. Her father Albert Channel was a street vendor and used to sell undergarments and clothes. When Coco was only eleven her mother passed away. Her father sent Coco and her siblings to the orphanage and during her stay there she learned sewing. And this learning skill helped her to get employed as a dressmaker.
She purchased a building in 1918 at 31 rue Cambon, a highly fashionable district of Paris. She 1st started a fashion boutique, preparing hats, accessories, and clothing, and later expanded to manufacture fragrances and jewelry. By 1927 she owned five buildings on rue Cambon.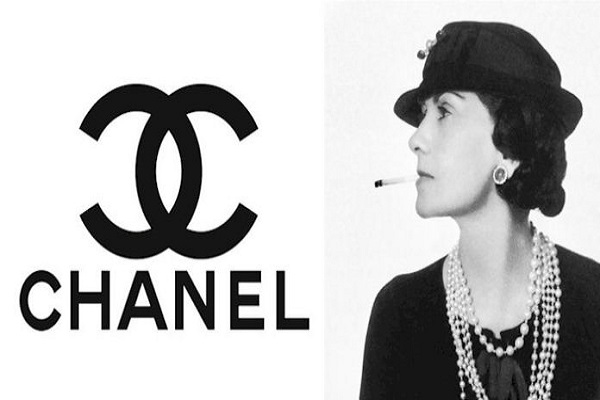 Brand Branches
Around 310 Chanel stores are run by Chanel S.A. globally, with ninety-four in Asia, seventy in Europe, ten in the Middle East, one-hundred and twenty-eight in North America, one in Central America, two in South America, and six in Oceania.
The boutiques are situated in wealthy areas, typically in stores like Bergdorf Goodman, Harrods, and Selfridges, Saks Fifth Avenue, and Neiman Marcus, high streets, shopping centers, and airports. In the UK a wide range of Chanel makeup could be found at Boots. In Oct 2020, the brand purchased its flagship boutique in London at a cost of £310 million.
Chanel Makeup Pakistan
Chanel has not opened its outlet in Pakistan yet. However different big stores offer Chanel products in Pakistan including makeup, bags, and perfumes. Women belonging to the elite class are fond of Chanel makeup articles and handbags.
Best makeup from the brand includes Chanel makeup brushes, Chanel makeup Bronzer, Chanel makeup foundation, Chanel makeup remover, Chanel Les Beiges Bronzing Cream, and Chanel makeup bag. And these makeup products are mostly used in Chanel makeup tutorials available on YouTube.
Some authentic sellers offering Chanel products online include Amazon, Sephora, and John Lewis. Customers are not encouraged to place online orders for Chanel products on unauthentic websites. As these websites may offer fake Chanel articles.
Chanel Makeup Price
Chanel makeup and its other articles are quite expensive. But vibrant lipstick colors, shiny bronzers, and foundations with smooth effects and flawless finish justify high prices. Though Chanel makeup sale is most desired among its lovers but the brand doesn't offer any sales. Customers having a great desire to use Chanel articles could purchase the pre-loved handbags and shoes from re-seller websites.
Frequently Asked Questions
Which is the best makeup brand?
Chanel's makeup and skincare products are amazing. Chanel beauty products are recognized for their outstanding quality and creative compositions.
Where is Chanel makeup made?
Chanel makeup and other articles are made in France.
Is Chanel makeup worth it?
Although Chanel's makeup products are costly, they are really worthwhile. Using Chanel's products for your skin means you are investing in yourself.
Hw to work for Chanel Makeup?
The applicants have to fill out and submit a job application form. But even for the entry-level positions in Chanel, the candidate has to appear in at least two interviews. During the interview process, candidates have a meeting with regional representatives, cosmetics managers, and store managers. As screening takes place in multiple rounds, the hiring process takes almost 1-2 weeks.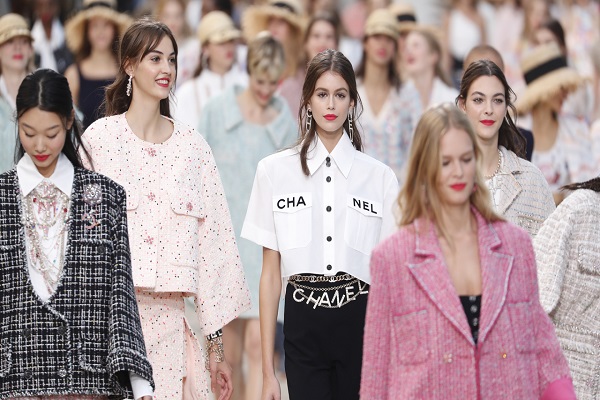 Also, Check
Social Media Handles
https://www.chanel.com/gb/makeup/