Bilal Travels, also known as Bilal Daewoo, is a Pakistan-based transport service that provides transportation facilities to the people of Pakistan. Efficiency, innovation, and customer satisfaction are the primary principles that have led them to heights of success. The administration is continuously striving to improve its services further.
For a long time, they are facilitating people by providing them with comfortable and quality-based travel facilities all over Pakistan. They are considered one of the worth using transportation service for the right reason. This article carries every detail including Bilal Travels History.
| Title | Description |
| --- | --- |
| Details | |
| Type: | Transport Company |
| Famous As: | Bilal Daewoo |
| Traded As: | Private Limited |
| Founded: | 1992 |
| Headquarter: | Lahore, Punjab, Pakistan |
| Product: | Transport Services |
| | |
| Information | |
| Bilal Travels Lahore: | Bakar Mandi Band Road near Abdullah Travels Lahore, Pakistan |
| Phone: | (042) 111-287-444 |
| Email: | [email protected] |
| website: | http://bilaltravel.pk |
| Bilal Travels Multan : | Hassan a bad, gate num 1, Khanewal Road, Multan |
| Phone : | (061) 111 287 444 |
| Bilal Travels Sahiwal : | Main GT Road, opposite Quaid e Azam college, near Pak Pattan chowk, Sahiwal |
| Phone : | 0345 4034444 |
| Bilal Travels Sialkot : | Opposite general bus stand, jail road, Sialkot |
| Phone : | (052) 111 287 444 |
| Bilal Travels Sargodha : | 47 Adda, university road, Sargodha |
| Phone : | (048) 3216847 |
| Bilal Travels Faisalabad: | Near railway station, Faisalabad |
| Phone : | (041) 1112 87444 |
| Bilal Travels Peshawar : | Warisabad, near PSO pump, GT Road, Peshawar |
| Phone : | (091) 111 287 666 |
| Bilal Travels Murree: | General Bus Stand, Murree |
| Phone : | (051) 3412173 |
| | |

Bilal Travels History
Bilal Travels is providing its services since 1992, and in the transport sector, they were serving private organizations via rent a car program. In 2011 the founders decided to use passenger buses to diversify their services. They started bus service for eight Pakistani cities, including Bahawalpur, Sadiqabad, Rawalpindi, Peshawar, Multan, Sahiwal, and Faisalabad to provide quality transport services to individuals.
Principles and Standards
With a long experience in transportation and inspiration from eminent service providers, Bilal Travels always considers its customers its 1st preference. They know the value of customer satisfaction in the success of any business.
These principles made it the leading transportation service and 1st choice of people. Their standards to adopt dependability, convenience, and professionalism zoom made them a leading business, and founders then decided to increase their services by starting inter-city public transport. So, in 2011 they inaugurated their 1st inter-city bus service from Lhr to Faisalabad.
Main Goal
The main goal of Bilal Travels is luxury, comfort, and safety at affordable rates for the Pakistani population. They own more than seventy buses in the country. All these buses are incredibly comfortable and air-conditioned. The WIFI service is available in the waiting lounge, making it easier for people to wait for buses.
Terminals in Different Pakistani Cities
Vehari
Lahore
Sahiwal
Rawalpindi
Multan
Peshawar
Murree
Faisalabad
Sadiqabad
Mirpur Azad Kashmir
Bahawalpur
Mardan
Bur-e-Wala
Arif Wala
Swat
Chishtian
Cheecha Watney
Bahawalnagar
Terminal Locations
Band Road, Dholanwal Nagra Town, Lhr Punjab-54000
Station Road Faisalabad, Punjab
Warisabad Albadar-Town Peshawar KPK
Ismail Colony in Multan, Punjab
Multan Terminal Block-T, Khanewal Road, New Multan Colony in Multan-60000
Cart Road, Motor Agency, Murree Cantt, Murree, RWP, KPK-47150
Daska Gujranwala Road, Reham Colony, Daska, Punjab
Sialkot Jail Road, Sialkot, Punjab
Customer-Oriented Services
The customer-oriented services at Bilal Travel include:
Passenger insurance
Online booking
Free refreshment
Pick and drop shuttle facility.
Air-Conditioned waiting lounges
Cargo service
Verification of telephonic/online seat reservation via SMS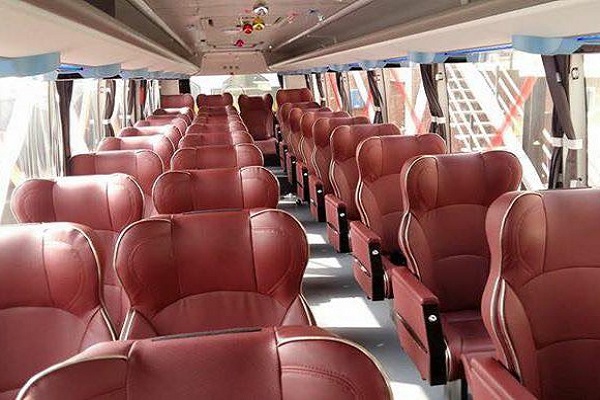 Services in All Areas
The travel company provides their services in areas where bus transportation isn't available like KPK and Punjab. The buses of A category are not providing services in Bur-e-Wala, Chistian, and Vehari. Similarly, in Khyber Pakhtunkhwa cities Swat and Mardan, no leading bus service is available. But in these areas, Bilal Travels provides its customers with comfortable seats and refreshments like sandwiches, and cold drinks.
Buses Categories
It has two categories of passenger buses that is executive class and business class. Both types are comfortable, luxurious having all the facilities like on-board catering and on-demand movies. Business-class has thirty seats providing passengers with a comfortable journey, and executive class has forty seats.
Bilal Travels Destination
Types of Buses
Ultra-Deluxe
Garuda
Amaravathi
Super Luxury
Garuda Plus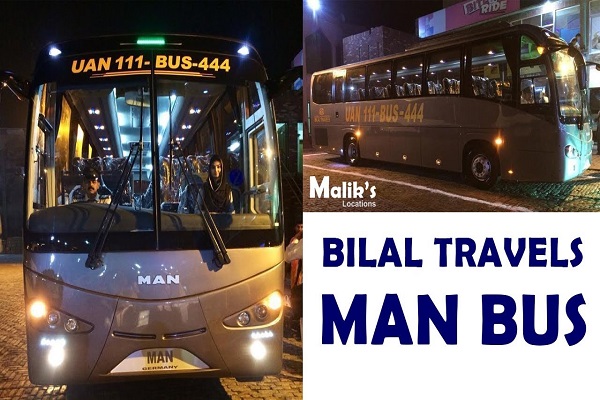 Cargo Services
The company also provides inter-city cargo services that enable people to send or receive their luggage from one city to another. All terminals offer this service.
HelpLine Number
Tickets could be booked by calling this number 111 287 444.
Social Media Handle
https://www.facebook.com/BilalTravel/