Shahid Masood is a Pakistan-based political analyst and columnist who hosted a talk show named 'Live with Dr. Shahid Masood' on Gourmet News Network (GNN). He gained popularity with his series 'End of Time' on ARY. He previously served as Geo TV's Group Executive-Director and ARY Digital Network's senior Executive-Director.
Shahid Masood Khan was briefly designated chairperson and managing director of PTV (Pakistan Television Corporation) and worked as a special assistant to then PM Yousaf Raza Gillani with State Minister in Gillani Ministry. This article has all the details about him, including Shahid Masood Biography.
| Title | Description |
| --- | --- |
| Personal | |
| Name: | Dr. Shahid Masood Khan |
| In Urdu: | ڈاکٹر شاہد مسعود خان |
| Native Name: | Shahid Masood |
| Famous As: | Journalist |
| Nationality: | Pakistan |
| Residence: | Karachi, Sindh, Pakistan |
| Education: | Dow University of Health Sciences, Jinnah Sindh Medical University |
| Religion: | Islam |
| Profession: | Medical doctor |
| Height: | 5 ft 10 in (1.78 m) |
| Weight: | 84 kg |
| Website: | http://www.drshahidmasood.com |
| Twitter Account: | https://twitter.com/Shahidmasooddr |
| Marital Status: | Married |
| Zodiac: | Pisces |
| Home Town: | Karachi |
| Occupation: | Doctor, Journalist, Political Analyst, columnist |
| Other Role: | Chairman Pakistan Television Corporation |
| In-office: | 21 June 2008 – 4 November 2008 |
| Preceded by : | Yousuf Baig Mirza |
| Succeeded by : | Ashfaq Gondal |
| In 2005: | Received a scholarship with CNN |
| In 2001: | Senior Executive Director of ARY Digital Network |
| In 2008: | Appointed as the Chairman of Pakistan Television Corporation (PTV) |
| Born | |
| Date: | 6 March 1967 |
| Age : | 50 |
| Place: | Karachi, Sindh, Pakistan |
| Family | |
| Children: | Marriam Masood, Faizah Masood |

Shahid Masood Biography
Dr. Shahid is a senior and competent journalist who is working in the journalism field for many years. His career in journalism is full of controversies and allegations. He has faced a ban by PEMRA several times and wasn't allowed to participate in talk shows during the ban period.
Though he is a doctor, he was fond of journalism and marked his career in journalism. Since then, he has joined many TV channels and kept changing the channels. He also worked at PTV, but during his services, at PTV he faced corruption charges.
Besides journalism, he also had a career in politics as he was appointed as a special assistant to PM Yousuf Raza Gillani with a status of State Ministry. 
Shahid Date of Birth
He was born on 26th May 1967 in Karachi, Pakistan. 
Education of Shahid
During his stay in Saudi, he attended PISR (Pakistan International School) in Riyadh. Professionally he is a doctor and secured an MBBS degree from Sindh Medical College. He did his major in Defense Studies and International Relations from 'The Fletcher School of Law & Diplomacy.' 
Shahid Masood Family
He belongs to a Pashtun-Kakazai family. His mother was a teacher by profession, while his father did civil engineering and worked in Saudi Arabia for fifteen years. His childhood was spent in Riyadh and Taif.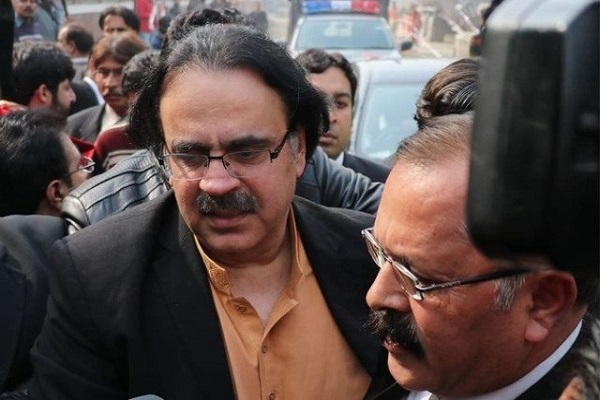 Career
Joined Media
In 2001 he became associated with media. Initially, he served as a senior executive director of a private channel ARY Digital Network. He worked as chief of 'ARY News' (ARY One World) and hosted a program, 'Views on News.' 
Coverage of Wars
He obtained a scholarship with Cable News Network (CNN). He did coverage of 3-wars in Lebanon, Iraq, and Afghanistan. 
Joined Geo TV 
He joined the most-watched private channel Geo Television in 2017 as its Executive Director and hosted a TV program named 'Mere Mutabiq.' 
Designation as Chairperson of PTV
He was designated as Chairperson of PTV in June 2008 with an additional charge of the Managing Director at 'Pakistan Television Corporation' on a 2-year contract. In Nov 2008, he resigned from the post of PTV's managing director and chairperson. After the resignation, he was designated as a special assistant to Pakistani PM Yousaf Raza, having the minister's status. 
Reports by Various Newspapers 
Daily Times reported that then-President Asif Ali Zardari asked Masood to resign from Pakistan Television. Dawn reports mentioned that this resignation resulted from rising tensions between then-Information Minister Sherry Rehman and Masood when Masood didn't agree to take back Shahid Nadeem, the managing director of PTV, and canceled Nadeem's reinstatement orders.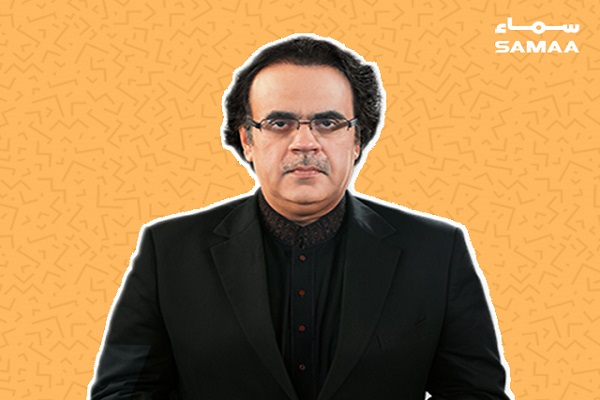 Controversial Decisions 
He also suspended the director and personnel of PTV and gave them a show-cause notice for following PM's orders and permitting Shahid to rejoin PTV as Deputy Managing-Director. Information Ministry was also unsatisfied by the PTV audit under his chairmanship. He decided to increase the pay of PTV employees during the financial crisis. 
Reports on Shahid's Pay and Appointment
He reported that he drew a pay of Rupees 85000 per month and was designated without any consultation with Information Ministry. According to the contract terms of PTV, he had to pay his salary of 6-months to PTV; however, PM waived it.
Worked on Different Channels 
He rejoined Geo News and hosted Mere Mutabiq in Nov 2008. In 2010 he shifted to 'Views on News' on ARY News. In 2011 he began hosting his show 'Shahid Nama' on current affairs. He joined 'The Royal News' before the 2013 general election for coverage of the election. In Dec 2013, he started working on Jaag TV and hosted his show named 'Live with Dr. Shahid Masood.'
He joined 'News-One' in 2014 and began a program, 'Live with Dr. Shahid Masood.' In Feb 2006, this show was moved to ARY News, and from late Feb 2016 to Feb 2017, the show moved to Bol News. On 14th Feb 2017, the show moved back to News One. 
Controversial Documentary 
In 2004 he presented a documentary on 'Islamic Eschatology' naming 'End of the Time; The Hidden Truth' from ARY News. In 2015 he represented and refreshed them as 'The Lost Chapters' from News One, in 2016 as 'Final Call' from the ARY News, and in 2017 as 'The-Moment' from News One.
Worked at GNN
He left working on News One in 2019 and joined Gourmet News Network as its President and hosts the show 'Live with Dr. Shahid Masood.'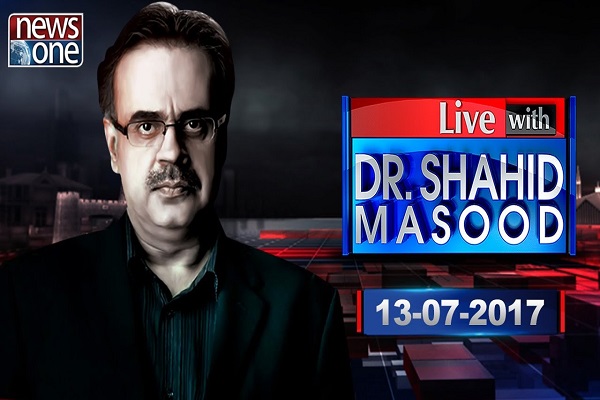 Petition against Shahid
Express Tribune, the English newspaper, reported in 2010 that a resident of Karachi submitted an application against Khan and appealed to the court to punish Khan for spreading cultural hate via his show.
Reports by Dawn
Dawn reported in 2013 that the Pakistani anti-terrorism court ordered Khan to apologize for broadcasting disrespectful comments on the judiciary. He then submitted a written apology before the court.
Legal Notice by Dar
In 2016 Pakistan's Finance Minister Ishaq Dar gave a legal notice to Khan for broadcasting baseless accusations in his program and demanded his apology and a compensation of Rupees one billion. PEMRA banned his show on ARY News in Aug 2016 for forty-five days.
In a show, he accused the Sindh High Court's Chief Justice received a bribe and didn't fulfill his claims. PEMRA imposed a ban on his participation in any other Television show during forty-five days. In Jan 2017, Ishaq resent a legal notification to 'Bol News' asking for an apology for defamatory and false statements broadcasted in Masood's program on 24th Jan. 
Banned by PEMRA
On 13th Feb, PEMRA banned his show for thirty days, and a fine of Rupees one million was charged on Bol News for on-airing baseless accusations against defense and finance ministers.  
Accused of False Reports
JIT declared in 2018 that Khan's report about the murder case of Zainab was baseless and false, and for this fake report Supreme Court banned him for three months from this show. On 21st June 2018, the ban on his hosting was uplifted. FIA arrested him in Nov 2018 for corruption in PTV.
Shahid Masood Books
End of Time

Views on News 
Social Media Handles
His social media account include
https://twitter.com/Shahidmasooddr