The Sedan cars have a closed body with a passenger seat, engine, and cargo in different and separate compartments. People suggest that sedans should have four doors to provide a more straightforward distinction between two-door coupes and sedans. For example, the Mercedes Benz CLS 2013 model is a fastback sedan; similarly, the new Tesla Model S is called a hatchback sedan.
Furthermore, a sedan car is not any different than a compact sedan. They are classified as compact size. For example, Toyota Corolla, Chevrolet Cruze, Mazda 3, Honda Civic, etc., the name of the sedan was first given in 1912, and the idea was taken from a 17th-century sedan chair. There are multiple variations of the sedan style, which include: club, convertible, close-coupled, hardtop, and notchback sedans.
Apart from that, sedans are specially designed to offer drivers a comfortable ride, more luggage space, a powerful and reliable engine, for example, Honda City.
| | |
| --- | --- |
|                       Title |                Description  |
| Name: | Sedan Cars |
| Type: | Public |
| Area Served: | World wide |
| Founded in: | 1919 |
| Founded By: | Budd for Dodge Bros |
| Products: | Cars |
| Car Features: | Comfortable rides, luggage space, and reliable engine |
| Popularity in Pakistan: | Since the 1990s |
| Social Media Handle: | https://www.jaguarusa.com/all-models/index.html |

Sedan Cars History
The first sedan ever made was the all-steel sedan created by Budd for Dodge Bros in 1919. In 1928 Ford Motors Company produced the second market success model called the Ford Model' A' Tudor sedan, an improved version of the Model T, which Ford produced for eighteen years.
Model 'B' took over the Model 'A' Tudor sedan in 1932, which offered an upgraded inline-four-cylinder engine that provided a horsepower of 40 hp. The car's top speed at that time was 105 km/h with an unsynchronized three-speed manual gearbox.
Sedan cars in Pakistan
Many companies have been testing their cars on the roads of Pakistan. The sedan has been popular since 1990 because it has been offering drivers more cargo space, excellent interior, great designs, a comfortable driving experience, along with a reliable and quality engine for many years. The first car of Honda rolled off the assembly lines in 1994, and Honda established six dealerships in the three prestige cities of Pakistan, i.e., Karachi, Islamabad, Lahore.
What makes sedan cars are their looks, size, comfortable interior with soft and luxurious designs along with a considerable amount of cargo to store in its trunk. Sedan cars are preferred by family drivers in bigger cities like Islamabad and Karachi.
The sedan-style vehicles are much more versatile and innovative with every releasing model. There are many examples of sedan cars sold in Pakistan, which will be discussed in this article.
Best Sedan Cars in Pakistan
Honda City 2018 model
Honda launched their 2018 model Honda City sedan cars 2018 in Pakistan. The vehicle has an in-line cylinder configuration and an engine that supports 1339cc. The fuel system of the car is EFI and runs on petrol with four cylinders. Moreover, the car delivers a mighty 600 RPM with 128 Nm torque at 4800 RPM. There are five gear shifts with manual transmission for the Honda City 2018 model.
The car gives an average of 12 km per liter with 42 Liters of tank capacity. Families can opt to buy the Honda City 2018 model because of its smooth driving experience and considerable fuel consumption within the city. Apart from that, female drivers can easily drive the car due to the power steering function that makes it easy to make turns and steer the wheel without putting in much effort.
The car includes a child lock feature for kids' safety inside the car, along with soft and comfortable seatbelts. The car's overall rating is four out of five stars based on style, comfort, fuel economy, performance, and value for money. The price of Honda City 2018 starts from 1.8 million Pakistani rupees. You can buy this car if you have a tight budget or family to travel with.
Honda City 7th Generation
Every driver in Pakistan has been eagerly waiting for the new generation of Honda City in Pakistan. It is stated that Honda company will launch their 7th generation Honda City in Pakistan in mid-2021. The 7th generation car is offered in two variants with aspirated 4-cylinder engines. The first variant is a 1.5-liter Dual Overhead Cam DOHC i-VTEC Petrol Engine.
This engine provides an incredible horsepower of 121 HP at 6600 RPM and 145 Nm of torque at 4300 RPM. The engine's incredible power is perfect for drivers who want to travel within cities at high speed. Another factor is its brilliant control and grip over the roads to assist in smooth and precision driving.
Moreover, the second variant of the 7th generation Honda City offers a 1.5 Liter i-DTEC Turbocharged diesel Engine, which, as the name suggests, runs on Diesel as its fuel source. The second variant has an engine that produces 100 horsepower at 3600 RPM and 200 Nm of torque at 1800 RPM.
Features
The similar features of both variants include a 6-speed manual transmission as standard. If you buy the first variant of the car that runs on petrol, you have the option to equip it with a 6-speed automatic transmission.
It will be a perfect car for families that have a sense of status and luxury along with comfort. The car's interior includes an 8-inch touchscreen Display Audio system, keyless entry and start, automatic engine start, four airbags, rear parking sensors, and many more! The minimum price to be expected of the 7th generation Honda City starts from 2.8 million Pakistani rupees.
Hyundai Elantra
Hyundai is a South Korean Automobile company that launched its first sedan in Pakistan. Elantra has been included in the executive sedan segment of local markets in Pakistan due to its distinctive and power pack features. Hyundai Elantra has an engine of 2000 cc and provides a tremendous horse of 154 HP at 6200 RPM. The maximum torque the car offers is 195 Nm at 4500 RPM.
The car is costly but a perfect traveling companion for drivers out there in Pakistan. Furthermore, the car offers a considerable amount of fuel consumption between 12-15km per liter. The Hyundai Elantra GLS comes with exclusive features and costs around 3.8 million Pakistani rupees. It runs on petrol with an automatic transmission and offers a comfortable 5-seating arrangement with ample boot space.
Features
The features include power steering and an anti-lock braking system along with a rear camera for comfortable parking. There is also a sunroof installed in the car with an excellent air conditioner. Drivers can choose from six colors: white, silver, grey, black, blue, and red. Toyota Corolla and Honda Civic are the two competitors of Hyundai Elantra. The car includes premium features and a powerful engine, but it is expensive compared to its competitors.
Toyota Corolla XLI
Toyota has also been producing and introducing its newer models of sedan vehicles in Pakistan. For example, the Toyota Corolla XLI model 2019 has a price between 1.7 and 2.5 million Pakistani rupees and is a sedan-style car. It has an 1800 CC engine with a maximum horsepower of 140 hp at 6400 RPM and a torque of 173 Nm at 4000 RPM.
Features
New features include LED Drill front and rear lights and new luxurious designs of its interior and exterior looks. In addition, it has the keyless start and keyless entry features with a top speed of 240 km/h. Furthermore, it is an automatic transmission car with a 5-speed gearbox. The car has an excellent city mileage of 12-15 km per liter; therefore, it is the perfect and affordable car for fuel-conscious drivers.
Not just that, but the car offers a luxurious interior design with comfortable leather seats and a fully functioning air conditioner. Moreover, it has a capacity of 5-persons seating along with power windows, front airbags, and an electronic stability program.
Toyota Corolla XLI offers its customers comfort, reliability, good quality, luxurious designs, along a great resale value to maintain customer loyalty. So, if you want to buy a car for family use or yourself, you should opt for Toyota Corolla XLI at a reasonable price.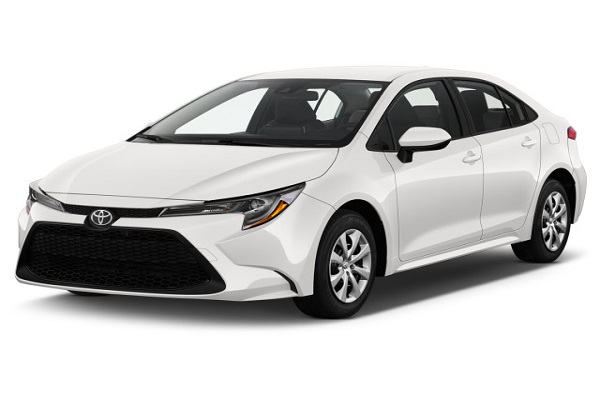 Frequently Asked Questions
Q: Why should I buy a sedan car?
A: A sedan car offers more engine power for a smooth ride, and it has a considerable amount of interior space than most hatchback cars. You can easily stretch your legs in a sedan rather than a hatchback, and last but not least, sedans make less noise.
Q: How much mileage can a Toyota Corolla XLI model give?
A: The Toyota Corolla XLI model can give an average of 13 km per liter average fuel consumption.
Q: What would be the best sedan car in Pakistan?
A: The best sedan car to buy in Pakistan would be the Honda Civic with a 1799 cc engine giving a maximum horsepower of 138 hp at 6500 RPM. The fuel economy of this car is an average of 15km per liter, and it costs around 3.8-4.1 million Pakistani Rupees.
Q: Can I buy a sedan for family use, and is it a family car?
A: Yes, you can buy a sedan for family purposes because it is mainly used as a family car. For example, the Honda City is a family sedan car available for purchase in Pakistan.
Social Media Handle
https://www.facebook.com/marketplace/fortworth/sedans/