Land Cruiser is a vehicle produced by Toyota, and its full name is Toyota Land Cruiser. It is a series of four-wheel drives with a front-engine. It is one of Toyota's longest-running series of models. Can you believe that in 2019, the sales of Toyota Land Cruiser skyrocketed to more than 10 million units globally? In Australia, it is the best-selling body-on-frame, four-wheel-drive car.
Extensive testing of the vehicles is being taken in the Australian outback. The Australian outback is one of the toughest environments for testing machines due to its temperature and terrain. Moreover, since 2018, it has been made available to almost every market except for a few, such as Canada, Malaysia, Brazil, etc.
Furthermore, farmers use land Cruisers, non-government organizations, United Nations, humanitarian organizations, and illegal armed groups of men who modify the cars by mounting weapons on the rear. As a result, the vehicle is a stronghold for durability, strength, and power.
| | |
| --- | --- |
|                       Title  |                           Description |
| Name: | Toyota Land Cruiser |
| Type: | Public |
| Founded in: | 1951 |
| Headquarter: | Japan |
| Class: | Off-road vehicle |
| Layout: | Four-wheel drive |
| Products: | Cars |
| Founded in Pakistan: | 1989 |
| Website: | https://www.toyota.com/landcruiser/ |

Land Cruiser History
During 1936, the Japanese Imperial Army used a four-wheel-drive vehicle, and when they occupied the Philippines in 1941, they found an American jeep and sent it to Japan. Toyota was ordered by the Japanese military to produce a similar vehicle by modifying its appearance as well. At the end of 1941, Toyota was instructed again to produce a lightweight truck for Japan's military.
A prototype was developed the year after, and it was named Land Cruiser with the half-ton features of a truck on the front grille and a folding windshield. Apart from that, in 1965, the global production had surpassed 50,000 vehicles, and thus, the vehicle became one of the best-selling Toyota vehicles in the United States. The car runs on Petrol and Diesel with 3/4/5-speed manual transmissions.
A completely new face-lift took place in 2002, where a five-year development plan was initiated on the successor to the 100-series platform. The final production of the Toyota Land Cruiser was completed in 2004, and the testing of prototypes was conducted for more than two years till the final production and selling of the vehicle started in 2007.
Land Cruisers in Pakistan
Toyota produced the first generation of Land Cruisers in 1951, and it has been manufactured in different styles and body shapes such as convertible, station wagon, hardtop, cab chassis body, etc. The Land Cruiser gained its popularity through its durability and reliability. Toyota entered Pakistan in 1989, where the company manufactured and marketed Toyota brand vehicles in Pakistan, and Toyota Land Cruiser is one of them.
Toyota Land Cruiser 2021
It is a USV's body style vehicle produced by Toyota Motors, and it consists of six seats, a manual 5-speed forward, and one reverse gear transmission. Moreover, the vehicle's engine is powered by eight-cylinder V8 32 valve DOHC with a common rail direct injection. The valve train of the car includes a 16-valve DOHC with Dual VVT-i.
The car's interior includes a spacious cockpit with an in-dash entertainment system, dual rear-seat entertainment and rear Air conditioner, and entertainment control. Moreover, there is an installation of a multi-information display and a cooler box to store drinks and juices. It has a graceful exterior with a chrome front grille and incredible projection headlamps, fog lamps, and rear lights.
Furthermore, it is the conqueror of all terrains and temperatures. The car has been and still is a symbol of quality, innovation, and extraordinary capability. The new and upgraded exterior looks of the car are designed to make your jaw drop.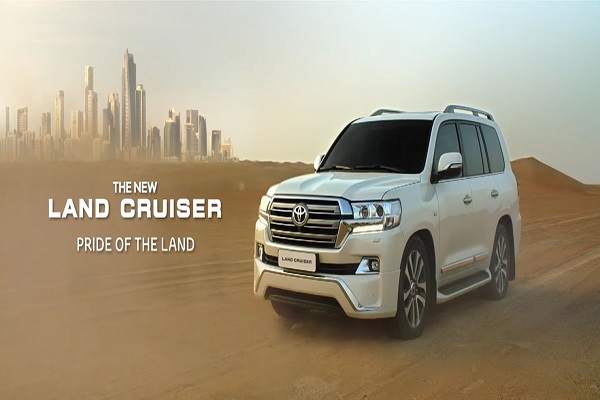 Features
Features of the car include five modes that have been briefly described below;
1- Multi-Terrain mode
By selecting this mode, you allow the vehicle to adapt to a wide range of road surfaces.
2- Crawl Control
This mode provides the drivers with additional help with balanced throttle and brake control. The mode maintains a constant low speed to support safe driving on surfaces such as sand, rock, snow, dirt, mud, and steep terrains that require professional accelerator control.
Five speeds are offered in Crawl Control mode that helps you concentrate on the road by focusing less on controlling the speed and brakes of the car. Moreover, the Turn Assist features help drivers execute smooth turns.
3- Hill-Start and Down-Hill Assist Control
This feature helps the car hold the vehicle in place to avoid rollback whenever a rollback is initiated during hill starts. In addition, downhill assist control helps stabilize the car when driving steep slopes and hills by keeping a constant and slow speed to avoid the wheels from slipping.
4- SRS Airbags
The SRS airbags provide top-class collision protection for the passengers inside the Land Cruiser. Knee airbags are also installed for the driver and front-seat passenger with side airbags for first and second-row passenger seats.
Toyota Land Cruiser is set for sale in Pakistan with a price starting from 41.7 million Pakistani Rupees.
Toyota Fortuner 2021
Toyota Fortuner model 2021 is powered by a 2AR-FE engine type with six-speed transmission gear with fuel injection – Diesel as its fuel type. It has a 16-valve DOHC, Chain Drive with a Dual VVT-I Valve mechanism, and EURO-2 exhaust emission standard. Moreover, the car's interior is fitted with Chamois Leather that brings back the original prestige of refined comfort along with spacious and proportioned seven -seats.
Fun fact: the driver and passenger seats are both installed with 8-way power-adjustable seats. Apart from that, the vehicle's interior has an 8n95 inch HD display audio with wired Apple CarPlay and Android auto-linked to six speakers. In addition, Fortuner has a push-to-start system and a smart entry along with steering controls and a premium Optitron combination meter with metallic blue dials.
Moreover, a door courtesy lamp is installed in the car with an electrochromic rear-view mirror that automatically dims the light during nighttime to reduce glare from the mirrors while driving. Apart from that, the exterior of the car includes a radiator grille, Led Fog Lamp, LED Line-guide Daytime running lamps, and a pair of auto Bi-beam LED PES Headlamps to ensure safe and secure late-night driving.
Fortuner offers advanced safety to its passengers with:
Enhanced braking performance
In case of a bumpy road or sudden hurdles, the ABS, Electronic brakeforce distribution, and brake assist of the car engages the wheels according to weight distribution for smooth control. Therefore, the iconic features of the Fortuner make it an excellent driving partner for drivers who wish to drive in power, elegance, and style on sturdy or smooth roads. Thus, driving past other drivers asserting power and dominance over the road.
Surprisingly, if you forget where you exactly parked your vehicle, the new Toyota security system will allow you to find your vehicle. Fortuner also has Dual Front and Knee Airbags on the driver's side to protect them against serious injuries. The price of the Toyota Fortuner 2021 model at which it will be sold as-is 8 million Pakistani Rupees.
Frequently Asked Questions
Q: What is the price of Land Cruisers in Pakistan?
A: You will find different variants with different prices of Land Cruiser in Pakistan. For example, the Toyota Land Cruiser GX-R costs around 42 million Pakistani rupees, while the Toyota Land Cruiser VX 4.5D and VX 4.6D cost between 50-53 million Pakistani rupees.
Q: Can Prado be considered a Land Cruiser?
Ans. Yes, Prado is a full-size four-wheel vehicle that definitely falls in the range of the Land Cruiser.
Q:  If I were to buy a Land Cruiser, what would be the best series to buy?
Ans. The Toyota Land Cruiser 80 series is one of the best series, and they all include a full coil suspension, strength, and long-lasting durability.
Q: Why is it that only the Toyota Land Cruiser is most expensive?
A: It is because these vehicles are built like tanks, and they last forever. Therefore, they have an extremely high resale value, and they are designed in a way to withstand and adapt to almost every type of terrain. Moreover, the Toyota Land Cruiser is classified as a high-end luxury car. Therefore, it is the most expensive car even in Pakistan.
Q: Is Toyota Land Cruiser better or Toyota Land Cruiser Prado in Pakistan?
A: In terms of engine capacity, the land cruiser holds a 4461 cc. In contrast, the land cruiser Prado only holds about 2982 CC. the power of the Land Cruiser is 262 bhp, whereas the Land Cruiser Prado is 171 bhp so, it can be said that the Toyota Land Cruiser is way better than the Land Cruiser Prado, while both the vehicles run on Diesel and have an automatic transmission.
Q: Which SUV is the Toughest in terms of power and durability in Pakistan?
A: Toyota Land Cruiser has been ranked highest as the toughest and most powerful SUV on the market.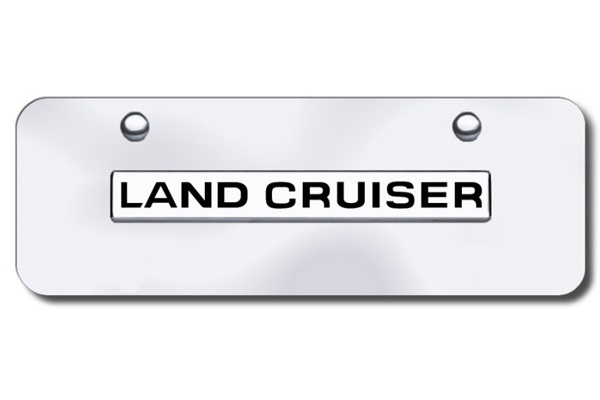 Social Media Handle
https://www.facebook.com/toyotalandcruiserrr/
https://global.toyota/en/newsroom/toyota/35758437.html