Raza Rabbani is a Pakistan-based political figure and served as the seventh chairperson of the Pakistan Senate from 2015 to 2018. Since 1993 he has served as a senator from Sindh six times. In 1997 Benazir Bhutto appointed him deputy secretary-general of her party and in 2005 he was appointed as opposition leader in Senate.
He has served at Federal Ministry for Inter-Provincial Coordination, and State Ministry for Law & Justice. This article summarizes every piece of information about him, including Raza Rabbani Biography.
| | |
| --- | --- |
|                 Title |                Description |
| Name: | Raza Rabbani |
| Religion: | Islam |
| Nationality: | Pakistani |
| Date of Birth: | 23rd July 1953 |
| Residence: | Lahore and Karachi |
| Profession: | Politician |
| Political Party: | PPP |
| Education: | Bachelor of Law |
| Alma Mater: | Karachi University |

Raza Rabbani Biography
Mian Raza Rabbani was among old guards of PPP who struggled to adjust with Zardari and his reconciliation politics following the murder of former PM Benazir Bhutto on 27th December 2007. He was quite active at core committee meetings of PPP, a platform that dominated the central executive committee of PPP, particularly after Zardari became president.
Furthermore, when he had opposing opinions with the party executives on some issues, including the issue of supporting the twenty-first Constitutional amendment, which allowed the formation of military courts. He wasn't just a yes-person, and as a result, he never had the same level of trust and confidence that Zardari had in Babar Awan or Rehman Malik.
Rabbani is usually recognized as a man of values and principles and a "Mr. Clean" of Pakistan's Political system, he also opposed some views of Ms. Bhutto on making a deal with then-President Pervaiz Musharraf and the contentious NRO (National Reconciliation Ordinance) in 2007, because he considered it violated the spirit of CoD (Charter of Democracy) signed between PML-N and PPP. His parliamentary work led him to win Nishan-e-Imtiaz.
Rabbani Date of Birth
He opened his eyes on 23rd July 1953 in Lahore, Pakistan.
Education of Raza
He completed his early studies at a Karachi-based school Habib Public School. He completed his graduation and Bachelor of Law from Karachi University in 1976 & 1981 respectively.
Raza Rabbani Family
His father Mian Atta Rabbani had the distinct honor of working as Governor-General Muhammad Ali Jinnah's 1st Aide-de-Camp. He was also 1st pilot who was transferred from RAF (Royal Air Force) India to RPAF (Royal Pakistan Air Force). On 7th Aug 1947, he accompanied Fatima Jinnah and Quaid-e-Azam from Palam Airport New Delhi to Karachi's Mauripur Airport.
He had been with Quaid-e-Azam for about six months. Later, he was designated as a Flying Instructor at the Royal Pakistan Air Force's Flying Training School in Risalpur to train cadets for the newly formed state's air force. He got retirement from the Pakistan Air Force as a Group Captain and wrote several books regarding his relationship with Jinnah and Pakistan's Ideology.
Career
Early Career
He actively participated in political activities during his stay at Karachi University and in 1974 he served as leader of the Liberal Students Federation. He got his LLB degree in 1981 when he was in prison during the regime of Zia-ul-Haque. After completing his studies, he began practicing law.
Joined PPP
In 1981 he started his career in politics through the platform of PPP (Pakistan People's Party). Later, in the general election of 1988, he got elected to Parliament and worked as an advisor to CM Sindh from 1988-1990. In 1993 he got elected to Pakistan Senate for the 1st time and served in Senate until 1999.
Designation as State Minister
In 1994 he was added to the federal cabinet and got appointed as State Minister for Law & Justice during Benazir Bhutto's 2nd government and served at this post until 1996.
Appointments in Senate
He was appointed Opposition's Deputy Leader in Senate in 1996. Benazir Bhutto appointed him PPP's deputy-secretary general in 1997. In 2003 he was again appointed to Senate for three years. From 2005-2008 he served as Opposition Leader in Senate.
After the victory of the PPP in the 2008 elections, he refused the membership of Yousaf Raza Gillani's federal cabinet over the issues of swearing oath from then-president Pervaiz Musharraf. In 2006 he got re-elected to Senate for six years. From 2008-2009 he served in Senate as Leader of House.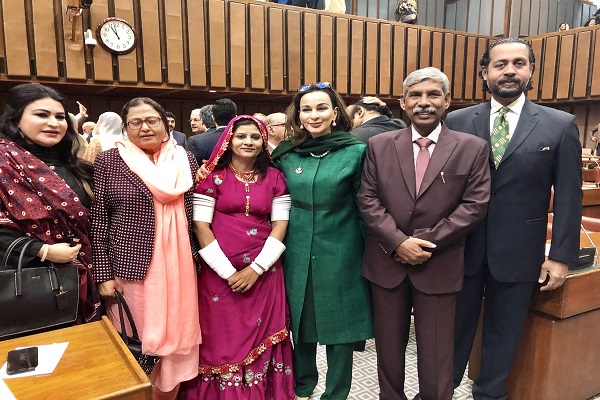 Designated as Advisor to PM
In 2008 after Musharraf ceased to hold the Presidential office Raza was added into the federal cabinet with the status of a federal minister and got designated as Advisor to PM on inter-Provincial Coordination and served at this post until 2009.
Designation as Federal Minister
He was added into the federal cabinet in 2011 with the status of a federal minister and got designated at Federal Ministry for Inter-Provincial Coordination & Human Rights and served briefly from Feb 2011 till May 2011. He later went on to work as chairperson of the Parliamentary Committee for constitutional reform & chairperson of the Parliamentary Committee on National Security.
Elected to Senate
He was added into the federal cabinet and worked as an Advisor to PM from 2010 until he resigned in Feb 2011 in a protest held against Asif Ali's decision to make an alliance with PML-Q. In 2011 he was again elected to Senate for six years. Following the defeat of PPP in the general election 2013, Zardari appointed him PPP's additional secretary-general. PPP nominated him as their nominee for the presidential post in July 2013.
Inter-Parliamentary Union
In Oct 2019 he got executive membership of Inter-Parliamentary Union as candidature of INC (Indian National Congress) leader Shashi was withdrawn by Bharatiya Janata Party (BJP) run Indian Government.
Opinions Regarding National Security
Despite his differences with the leadership of PPP, President nominated him in 2008 for the post of chairman of Parliamentary Committee on National Security & Chairman of Parliamentary Committee on the Constitutional Reforms. His credentials and services led him to an appointment as chairman of Starting of Rights of Baluchistan.
There he contributed his services by introducing a package to Parliament's joint sessions to redress issues of Baluchistan. Despite his suggestions, none of the clauses in the packages were implemented by PM Yousaf Raza, who later became involved in a legal battle with the Supreme Court regarding the missing person controversy. Rabbani expressed his objections to the Iraq war 2003, citing the country's nuclear program.
Opinion on Nuclear Proliferation
On the issue of nuclear proliferation, he criticized then-President Musharraf in news media and openly backed Dr. AQ Khan's case against Musharraf. Though urging moral accountability for nuclear arms and defense, he reportedly made his remarks on the topic as ' Misrepresentation of Pakistan in the Western press about nuclear weapons and terrorism, instilling reasonable doubts and fears in Pakistani people.'
In April 2011, he strongly criticized the United States regarding their drone strikes in KPK in Parliament stating that the US is violating human rights and international law.
Political Philosophy
He has authored in support of left-wing ideas, constitutional justice, communism, and socialism. He wrote a book entitled 'LFO: a fraud on Constitution' in 2013 in opposition to then-President Pervaiz Musharraf. Responding to the situation of terrorism in Pakistan he stated that right-wing political parties and politico-religious groups are conspiring with the establishment to weaken and damage left-wing political parties.
He later blamed international groups for assisting conservative parties in their opposition against left-wing parties.
Raza Rabbani Books
He has authored the following books:
A Fraud on the Constitution
A biography of Pakistani federalism: unity in diversity
Raza Rabbani: A National Hero
Invisible People
Social Media Handles
His social media account include
https://www.facebook.com/SenatorMianRazaRabani/
https://twitter.com/senatorrabbani