The province of Balochistan (Balochi, Pashto, Urdu : بلوچِستان‎, Balōčistān) (or Baluchistan) in Pakistan contains most of historical Balochistan and is named after the Baloch. Neighbouring regions are Iranian Balochistan to the west, Afghanistan and the Federally Administered Tribal Areas to the north and Punjab and Sindh to the east. To the south is the Arabian Sea. The principal languages in the province are Baluchi, Pashto, Brahui, and Persian. The capital and largest city is Quetta.[1] Karachi.china  Balochistan 
| Title | Description |
| --- | --- |
| Information | |
| Location: | Pakistan |
| Local Language Name: | Balochi |
| Basic Information | |
| Established: | 1 July 1972 |
| Capital: | Quetta |
| Largest city: | Quetta |
| Time zone: | PST (UTC+05:00) |
| Assembly seats: | 51 |
| Districts: | 32 |
| Government | |
| Government Type: | Sindh Government |
| Area | |
| Total Area: | 33،162،222 |
| Population | |
| Latest survey: | 347،190 کلومیٹر |
| Languages | |
| National: | Urdu.Etc |
| Details | |
| Location: | Balochistan,Pakistan |
| Union Councils : | 86 |
| Districts : | 32 |
| Provincial Assembly seats : | 65 |
| Notable sports teams : | Quetta Gladiators |
| Main Language(s) : | Urdu (Official), Balochi, Pashto, Brahui, Lasi (Sindhi) |
| ISO 3166 code: | PK-BA |
| Time zone: | PKT (UTC+5) |
| Demonym(s) : | Balochistani |
| Population (2014) Total: | 33,162,222 |
| Area Total : | 347,190 km2 (134,050 sq mi) |
| High Court : | High Court of Balochistan |
| Legislature: | Unicameral (65 seats) |
| Chief Minister : | Sanaullah Zehri (PML (N)) |
| Governor: | Muhammad Khan Achakzai (PkMAP) |
| Body : | Provincial Assembly |
| Type : | Province |
| Largest city: | Quetta, Turbat, Gwadar, Khuzdar, Loralai, Hub |
| Provincial Capital : | Quetta |
| Established : | 14 August 1947 |
| Website: | ww.balochistan.gov.pk |
| Region: | PK |
| UTM: | 41R 766259 3066888 |
| DMS: | 27° 42′ 0″ N, 65° 42′ 0″ E |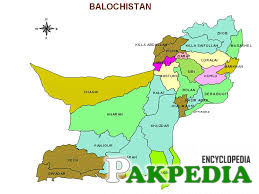 Geography
Balochistan is located at the eastern edge of the Iranian plateau and in the difficult to define border region between Southwest, Central, and South Asia. It is geographically the largest of the four provinces at 347,190 km² and composes 42% of the total land area of  Pakistan.  The population density is very low due to the mountainous terrain and scarcity of water. The southern region is known as Makran. A region in the centre of the province is known as Kalat.
The Sulaiman Mountains dominate the northeast corner and the Bolan Pass is a natural route into Afghanistan towards Kandahar. Much of the province south of the Quetta region is sparse desert terrain with pockets of inhabitable towns mostly near rivers and streams.
The capital city is  Quetta , located in the most densely populated district in the northeast of the province. Quetta is situated in a river valley near the border with Afghanistan, with a road to Kandahar in the northwest.
At Gwadar on the coast the Pakistani government is currently undertaking a large project with Chinese help to build a large port. This is being done partially to provide the Pakistan Navy with another base, and to reduce Pakistan's reliance on Karachi and Port Qasim, which are currently the only major ports.[2] Balochistan Geographic  
History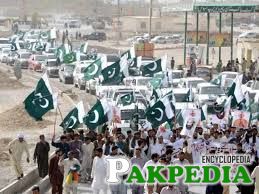 The earliest evidence of human occupation in what is now Balochistan is dated to the Paleolithic [3] Paleolithic era, represented by hunting camps and lithic scatters [4]Lithic flake , chipped and flaked stone tools. The earliest settled villages in the region date to the ceramic Neolithic (c. 7000-6000 BCE) and included the site of Mehrgarh [5] Mehrgarh wikipedia in the Kachi Plain. These villages expanded in size during the subsequent Chalcolithic, when interaction was amplified. This involved the movement of finished goods and raw materials, including chank shell, lapis lazuli, turquoise, and ceramics. By 2500 BCE (the Bronze Age), the region now known as Pakistani Balochistan [6] Balochistan Pakistan had become part of the Harappan cultural orbit,providing key resources to the expansive settlements of the Indus river basin to the east.
From the 1st century to the 3rd century CE, the region was ruled by the Pāratarājas (lit. "Pārata Kings"), a dynasty of Indo-Scythian or Indo-Parthian kings. The dynasty of the Pāratas is thought to be identical with the Pāradas of the Mahabharata, the Puranas and other vedic and Iranian sources. The Parata kings are essentially known through their coins, which typically exhibit the bust of the ruler (with long hair in a headband) on the obverse, and a swastika within a circular legend on the reverse, written in Brahmi (usually silver coins) or Kharoshthi (copper coins). These coins are mainly found in Loralai in today's western Pakistan.
Herodotus in 450 BCE described the Paraitakenoi as a tribe ruled by Deiokes, a Persian king, in northwestern Persia . Arrian describes how Alexander the Great encountered the Pareitakai in Bactria and Sogdiana, and had them conquered by Craterus (Anabasis Alexandrou IV). The Periplus of the Erythraean Sea (1st century CE) describes the territory of the Paradon beyond the Ommanitic region, on the coast of modern Balochistan.
The region was fully Islamized by the 9th century and became part of the territory of the Saffarids of Zaranj [7] Saffarids dynasty followed by the Ghaznavids [8] Ghaznavids wikipedia then the Ghorids. Ahmad Shah Durrani [9] Durrani empire made it part of the Afghan Empire in 1749. In 1758 the Khan of Kalat [10] Khan kalat Mir Noori Naseer Khan Baloch, revolted against Ahmed Shah Durrani [11] Ahmad shah durrani  defeated him, and freed Balochistan, winning complete independence.
Climate
The climate of the upper highlands is characterized by very cold winters and warm summers. Winters of the lower highlands vary from extremely cold in the northern districts to mild conditions closer to the Makran coast. Summers are hot and dry. The arid zones of Chaghi and Kharan districts are extremely hot in summer. The plain areas are also very hot in summer with temperatures rising as high as 120 degrees F (50 degrees C). Winters are mild on the plains with the temperature, never falling below the freezing point. The desert climate is characterized by hot and very arid conditions. Occasionally strong windstorms make these areas very inhospitable.
People
A number of tribes constitute to make people of Balochistan. Three major tribes are Baloch (Baloch & Brahvi) and Pashtoon. The Balochi speaking tribes include Rind, Lashar, Marri, Jamot, Ahmedzai, Bugti Domki, Magsi, Kenazai, Khosa, Rakhashani, Dashti, Umrani, Nosherwani, Gichki, Buledi, Notazai, Sanjarani, Meerwani, Zahrozai, langove, kenazai and Khidai. Each tribe is further sub-divided into various branches. The tribal chief is called Sardar while head of sub-tribe is known as Malik, Takari or Mir. Sardars and Maliks are members of district and other local Jirgas according to their status. The Baloch, believed to have originally come from Arabia or Asia minor, can be divided in to two branches: the Sulemani and Mekrani as distinct from the Brahvis who mostly concentrate in central Balochistan. Among the eighteen major Baloch tribes, Bugtis and Marris are the principal ones who are settled in the buttresses of the Sulemania. The Talpur of Sind aIso claim their Baloch origin.
Brahvi speaking tribe include Raisani, Shahwani, Sumulani, Sarparrah, Bangulzai, Mohammad Shahi, Lehri, Bezenjo, Mohammad Hasni, Zehri , Sarparrah, Mengal, Kurd,Sasoli, Satakzai, Lango, Rodeni, Kalmati, Jattak, Yagazehi and Qambarani , most of these tribes are bi-lingual and are quite fluent both in the Balochi and Brahvi Languages. The Pashtoon tribes include Kakar, Ghilzai Tareen, Mandokhel , Sherani, Luni, Kasi and Achakzai.
Languages
Balochistan, despite its scarce population, has an uncommon racial and tribal diversity. Most of the people in the cities and towns understand and speak more than two languages. In adddition to Balochi, Pashtoo and Brahvi, the majority of the population understand and speak Urdu, the national language. In Kachhi and Sibi districts, people speak Seraiki and Sindhi. Quetta city, the confluence point of all linguistic groups accommodates not only Urdu, Balochi, Pashtoo, Brahvi and Sindhi speaking people but Darri and Persian speaking ones as well. Dehwar tribe of Sarawan sub-division in Kalat, also speaks a language derived from Persian. [12]Languages  balochistan.gov.pk 
Culture
Cultural landscape of Balochistan portrays various ethnic groups. Though people speak different languages, there is a similarity in their literature, beliefs, moral order and customs. The cementing factor is religion which provides a base for unity and common social order.
Brahvi, Balochi and Pashtoon tribes are known for their hospitality. Guest is accorded is held in high esteem and considered a blessing from God. Better off people even slaughter sheep or goat for their guest. Sometimes, it so happens that where there are more houses, the guest is assumed to be the guest of the whole village. This open heartedness is the loving feature of the tribal people and is not as deep in the city or town dwellers.
Another adorable feature of Balochistan culture is faithfulness and sincerity in all relationships. There is no place or respect for unfaithful people in prevalent moral order. If fidelity is reciprocated with disloyalty or betrayal it is never forgotten.
Marriages
Marriages are solemnized in presence of Mullah (a religious teacher) and witnesses. Life partners are commonly selected within the family (constituting all close relatives) or tribe. Except a negligible fraction of love marriages, all marriages are arranged. Divorce rate is very low. [13] Marriages balochistan.gov.pk
A lot of marriage rituals are celebrated in different tribes. In some tribes, the takings of Valver, a sum of money paid by the groom to his to be wife family, also exist. But this custom is now gradually dying out since it has given rise to many social problems. The birth of a male child is taken as a source of p ride since he is though t to be the defender of this family and tribe.
Dress
The mode of dress among the Balochi, Pashtoon and Brahvi tribes is very similar having a few minor dissimilarities. Turban is the common headwear of the men. Wide loose shalwar (a bit similar to loose trouser) and knee-long shirts are worn by all. The dress of the woman consists of the typical shirt having a big pocket in front. The shirt normally has embroidery work with embedded small round mirror pieces. Big Dopatta or Chaddar, a long rectangular piece of cloth cascading down the shoulders and used to cover head, are used by the women.
Festivals
There are religious and social festivals celebrated by the people of Balochistan. Two major religious festivals are Eid-ul-Azha and Eid-ul-Fiter. On these festivals people adorn their houses, wear new dresses, cook special dishes and visit each other. Eid-Meladun-Nabi is another religious festival. It is a celebration of the Holy Prophet birthday. Numerous colorful social festivals are also source of jubilation. Sibi festival that traces its roots to Mehergar, an archeological site of ancient human civilization, attracts people from across the country. It is attended by common folks, ministers and other government officials. Folk music performance, cultural dances, handicrafts stalls, cattle shows and a number of other amusing activities present a perfect riot of color. Buzkashi is a peculiar festival showing valour of Balochistan people. It is celebrated on horse-back by two teams that use their skills to snatch a goat from the each other.[14] Festivals balochistan.gov.pk
Mineral Resources in Balochistan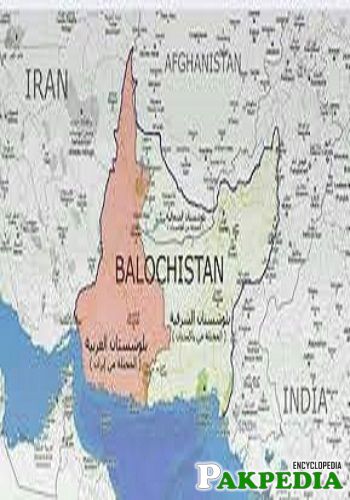 Balochistan possesses great unexplored potential of metallic and non-metallic minerals. Presently, the minerals being exploited are:
Coal
Chromite
Barytes
Sulphur
Marble
Iron Ore
Quartzite
Limestone
Sulphor
Coal
Balochistan coal can cater to the existing and future energy requirement of our country to a great extent. More than 90% of coal is dispatched to other provinces for use in brick kilns. Its reserves are found in
Chromite
Sizable deposits of this mineral are found at Muslimbagh, district Killa Saifullah. Lasbela, Khuzdar, Kharan and Chaghi districts have chromite reserves. Private sector has been engaged in mining this mineral.
Barytes
The biggest deposit of barytes is located near Khuzdar with a total reserve of over 2.00 million tones. Scientific mining as well as grinding of this mineral started in 1976. Almost the entire production of barites is consumed locally by OGDC and other oil drilling companies.
Sulphur
Sulphur deposits are available at Koh-e-Sultan in District Chaghi. Three main deposits are clustered around the Southern half of the extinct volcano, Koh-e-Sultan. The deposits are of fumaroles origin and native Sulphur is found in cracks and as impregnation in volcanic tuffs. The Chief use of Sulphur is the manufacturing of Sulphuric acid etc.
Marble
Large commercially exploitable deposits are found throughout district Chaghi, starting from Dalbandin and extending to the borders of Iran. Some deposits are located close to Pak-Afghan border areas namely Zardkan, Siah-Chang, Jhulli, Patkok, Maskichah, Zeh, Chilgazi and Buttak.
Onyx, a dark green marble, found in Chaghi is of superior quality. Onyx of good quality is found in Bolan, Lasbela and Khuzdar districts.
Iron Ore
Chaghi, a mineral rich area, possesses nearly 30 million tonnes of iron ore. Geological Survey of Pakistan, in a report, states that there are 1 to 7 meters( averaging about 2 meters) thick hematitic sedimentary ironstone bed of Jurassic age(150 million years old) at the contact of Chiltan Limestone, and Sember formation of Cretaceous age (150-65 million years old) near Johan in Dilband area of Mastung district. The reserves have been tentatively estimated at over 200 million tonnes.
Quartzite
This is a relatively newly discovered mineral. Its deposits are found in Lasbela district.
Economy
The economy of the province is largely based upon the production of natural gas, coal and minerals. The province's natural resources significantly help to meet the energy needs of Pakistan as a whole. Infrastructure outside of Quetta is still in development as is the province as a whole. Limited farming in the east as well as fishing along the Arabian Sea coastline are other forms of income and sustenance for the local populations.
Due to the tribal lifestyle of many Baluch and Brahui, animal husbandry is important as are trading bazaars found throughout the province.[15] Economy balochistan
bKhush Hal Balochistan KHBb
Chief of Army Staff (COAS)  General Qamar Javed Bajwa  Thursday visited Headquarters Southern Command,  Quetta  in connection with execution of 'Khush Hal Balochistan' (KHB) initiative.
The COAS and Chief Minister Balochistan  Nawab Sanaullah Khan  Zehri were briefed in detail about socio-economic and security environment and plan for execution of KHB, an Inter Services Public Relation press release said.
The provincial administration and military commanders were also present. Plan was discussed in detail. Few aspects required further deliberation at staff level which will be finalized accordingly in next few days. All aspects in security domain were approved by the COAS. Details of complete KHB initiative will be shared soon. COAS  has launched the 'Khush Hal Balochistan' project in  Quetta . The project aims to endure stability through social-economic development & security.  [16] Project KHB
CPEC
CPEC or   China Pakistan Economic Corridor  also known by the  CPEC is an ongoing development mega project which aims to connect  Gwadar Port  of Pakistan  to Chinas northwestern region of Xinjiang, via a network of highways, railways and pipelines. The economic corridor is considered central to China Pakistan relations and will run about 2700 km from Gwadar to  Kashghar .
The Corridor is an extension of China  proposed 21st century Silk Road initiative. This is the biggest overseas investment by China announced so far and the corridor is expected to be operational within three years. The corridor will be a strategic game changer in the region and would go a long way in making  Pakistan  a richer and stronger entity. [17] CPEC Project
Education
There are five main public universities in Balochistan, but there many private also in setting up to deliver the increasing demands for the province.[18] Education  balochistan 
        Balochistan University  of Engineering and Technology
        Balochistan University of Information Technology and Management Sciences
       Command and Staff College
        Sardar Bahadur Khan Women University
Administrative division
There are 26 districts in Balochistan.