Rehman Malik is a Pakistan-based political figure, a retired FIA (Federal Investigation Agency) officer, former Interior Minister. He served at the post of interior ministry from 25th March 2008 to 16th March 2013. Before his entry into politics successfully served as a special agent in FIA and later became Additional DG of FIA and served this post from 1993 to 1996.
During his tenure as DG, he successfully conducted anti-terrorist operations in Pakistan and abroad, including detention, and handed over Yousaf Ramzi to the USA in 1995. After being dismissed from the post of Director, he moved to the UK and started his political activities through a Pakistan People's Party platform.
He served as Benazir Bhutto's chief of security from 2004 to 2007 and later became senior-official of PPP's central committee. After successfully participating in the 2018 general elections, he was designated advisor.
PM Yousaf Raza Gillani appointed him Interior Minister; he lost this ministerial appointment in 2013 after a hearing of Pakistan Supreme Court against dual nationality. The decision of this case led him to resign from the Senate of Pakistan. This article has all the information, including Rehman Malik Biography.
| Title | Description |
| --- | --- |
| Personal | |
| Name: | Rehman Malik |
| In Urdu: | رحمان ملک |
| Famous As: | Pakistani Politician and Retired Bureaucrat |
| Nationality: | Pakistani |
| Residence: | Clifton, Karachi. |
| Education: | Ph.D. (Honorary), University of Karachi (2012), |
| Religion: | Islam |
| Profession: | Politician |
| Website: | https://twitter.com/SenRehmanMalik |
| Awards : | Nishan-e-Imtiaz (2012) |
| Born | |
| Date: | 12 December 1951 |
| Place: | Sialkot, Punjab |
| Family | |
| Spouse: | Saeeda Rehman |
| Children: | Ali Malik, Omar Malik |
| Career | |
| Political Party: | Pakistan Peoples Party (PPP) |
| In-Office | |
| Role: | Director-General of the Federal Investigation Agency |
| Dates: | 23 October 1993 – 10 November 1998 |
| Preceded By: | G. Moinuddin |
| Succeeded By: | Iftikhar Ahmad Khan |
| In-Office 2 | |
| Role: | Interior Minister of Pakistan |
| Dates: | 25 March 2008 – 16 March 2013 |
| President: | Asif Zardari Pervez Musharraf |
| Prime Minister: | Yousaf Gillani Pervez Ashraf |
| Preceded By: | Hamid Nawaz-Khan |
| Succeeded By: | Malik Habib |
| Vice PM : | Pervez Illahi |

Rehman Malik Biography
Malik is a seasoned and veteran politician who understands politics well. His political career saw many ups and downs, but he never left his political career and brilliantly managed these difficulties. He faced rape allegations by an American journalist, dual nationality cases, and criticism for managing terrorism during his tenure as an interior minister.
Before joining politics, he enjoyed a glorious career in FIA and courageously highlighted the Shareef family's corruption. During his exile period, he founded his security firm and made its head office in Manchester. He became famous in public for his efforts for Benazir assisting returning to his country.
He received Sitara-e-Shuja'at for his courageous performance in the Federal Investigation Agency and received Nishan-e-Imtiaz from the Pakistani President in 2012.
Rehman Date of Birth
He opened his eyes on 12th December 1951 in Sialkot, Punjab.
Education of Rehman
He did graduation and Masters in Statistics from the University of Karachi in 1973. His unparalleled services to Pakistan in a war against terrorism and bringing peace to Karachi citizens University of Karachi awardee him an honorary doctorate.
However, professors of University and media criticized this decision of awarding him a Ph.D. degree. The University's teacher's society passed a resolution Vice-Chancellor and Sindh Governor to cancel honorary Ph.D. degree.
Rehman Malik Family
He and his spouse are parents to two children Ali Malik and Umar Malik. 
Career
Career in FIA
He joined NARA (National Alien Registration Authority) in 1973 as an immigration agent and served in several services of the Pakistani Intelligence-Community, performing in different criminal cases. He joined FIA as the special agent in 1980 and investigated the cases against Khadmat-e Aetlaaat-e Dawlaati's terrorist-funded operations in Pakistan.
In 1993 he eventually got designated as an Additional DG of FIA. PM Benazir Bhutto personally approved his appointment. As FIA Director, he initiated a covert-war against Pakistan-based Islamist elements that amounted to an attack on ISI (Inter-Services Intelligence).
Under his leadership, the FIA also annoyed Taliban supporters/defenders within the establishment because FIA handed over Ramzi Yousaf to the USA for trial on World Trade-Center Bombing in 1993. 
Removed from Federal Investigation Agency
At the end of 1996, President Farooq Leghari practiced constitutional option to dissolve his party's Government. His 1st act after the dismissal of PM Benazir on 5th November 1996 was DG FIA Ghulam Asghar's imprisonment on non-specified charges of corruption.
The additional DG of FIA was also detained and imprisoned for 1-year. PM Nawaz Shareef terminated him in 1997. In Nov 1998, Malik called this step of Shareef revenge because of a report consisting of two-hundred pages that he sent to Rafique Tarar, then-president, revealing massive corruption of the Shareef family. He then moved to London and accused the Shareef brothers of corruption. 
Founded Security Firm in the UK
After the PPP government's dismissal, he settled in the UK and established his private security company named DM Digital Network. As President of the firm, he set up the head office of the firm in Manchester. He helped Benazir during her exile through this firm, and when she came back to Pakistan in 2007, he served as her Chief-of-Security. 
Gave up British Citizenship
He got British nationality during his 9-year extended stay/exile. However, he stated that he had given up his British citizenship before serving in public office in 2008. He served as founding President of the firm but resigned after getting an appointment as Minister/Advisor to PM for the interior.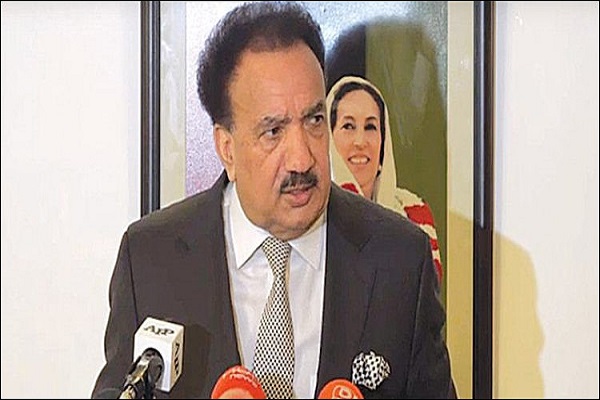 Malik Replaced Faheem
During his stay in the UK, he became closer to PPP's central committee. He replaced Ameen Faheem in 2007 and was designated as Bhutto's security chief in 2007. After breaking the political-deal between Pervaiz Musharraf and Benazir Bhutto, he gained public attention that allowed Benazir to return to Pakistan.
In 2002 Faheem had created a PPP extension and performed as a PPP leader in the absence of Asif Zardari and Benazir.
PIA incident
On 15th September 2014, annoyed passengers at a flight forced him from boarding the PIA (Pakistan International Airlines) plane. This angry reaction by passengers as a result of a two-hour wait for Malik. Plane passengers refused to take him on the plane, and an argument started resulting in Malik's boarding denial.
As Interior Minister
After the general elections of 2008 when PPP established Federal Government, he was designated as an advisor on narcotics control, intelligence, and interior by PM Yousaf Raza. On 27th April 2009, he was promoted to Interior Minister's rank in PM Yousaf's cabinet before becoming a senator.
Criticism Faced for Interior Ministry
During his tenure as Interior Minister, the country faced several terrorist attacks. The public and opposition started criticizing him for target killings in Karachi. According to a few sources, he offered a reward of one million dollars for abducting Ihsan-Ullah Ihsan, the Pakistani Taliban spokesperson.
They had attempted to justify and try the assassination of Malala Yousafzai, a fourteen-year-old blogger, a resident of Swat Valley. Malala raised her voice for the educational and human rights of Pakistani females. The Taliban stated that they had tried to assassinate Malala not for her educational campaigns but for her being a Western spy and breaking Sharia Laws.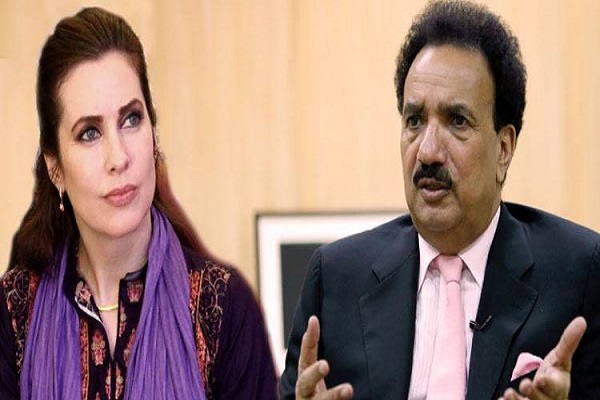 Case of Dual Nationality
The Constitution prevents a holder of dual nationality from holding any public post of the Pakistani Government. The Pakistan Supreme Court retroactively terminated and suspended Farahnaz Ispahani's electoral membership over the dual nationality issue on 25th May 2012.
The Supreme Court started hearings against Malik's case over his British citizenship. Then Chief Justice Iftikhar Chaudhary terminated his electoral membership. He didn't submit a declaration by the Border Agency of the UK to prove that Rehman had given up his British citizenship on 6th June 2012.
Despite the Supreme Court's verdict, PM Gillani reinstated him to the cabinet and appointed him advisor to PM on interior matters. On 5th October 2012, he informed the court about renouncing his British nationality on 25th March 2008. 
Rehman Malik Resignation
After the verdict, he sent his resignation to Chairperson of Senate on 10th July 2012. At the behest of PM Pervaiz Ashraf, he continued his activities with Interior Ministry. On 4th June Pakistan Supreme Court suspended his Senate membership for dual nationality.
This suspension resulted in his removal from Interior Ministry as according to Article 63-A of the Pakistani Constitution, each cabinet member should be a Parliament member. He resigned from Senate on 10th July 2012.
NRO
The corruption cases against him were dropped under the National Reconciliation Order's amnesty. However, in Dec 2009 Anti-Corruption court issued his arrest warrants. 
Rehman Malik Books
He has penned four books:
Modi's War Doctrine

Daesh-ISIS: Rising Monster

Bleeding Kashmir

Corona Virus Threat to National Security
Social Media Handles
His social media account include
https://twitter.com/SenRehmanMalik