Peshawar Cinema day time
Peshawar Cinema in City
Peshawar Cinema have so many night shows
Peshawar Cinema hall inside
Peshawar Cinema at Khyber Road
Imformation
Shama Cinema
shama cinema peshawar located at Saeedabad,
Peshawar
, Pakistan We will be happy to guide you through any of the above if you are having problems or do not understand. You can Call us at our business hour at +92 305 9437968
[2]
shama cinema peshawar - located at Saeedabad
Address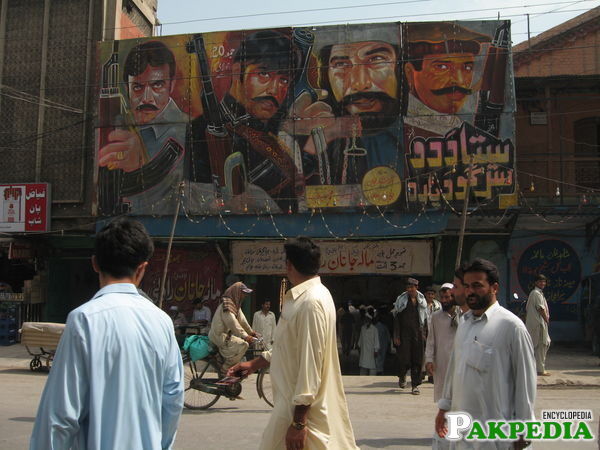 Peshawar
Phone: +92 305 9437968
Capital Cinema
Address: Arbab Rd, Peshawar
Phone: +92 347 0963681
Firdous cinema
Address: Grand Trunk Rd, Peshawar
The Down Fall of Cinema Culture in Peshawar
Cinemas in any society play a vital and important part in providing entertainment at less cost and that is easy to reach. But in Peshawar, the curtains has fallen to the cinema culture due to a number of reasons. These include changing of cinema houses into departmental stores, plaza's and other buildings, increasing militancy and law and order situation in the provincial metropolis, popularity of cable in almost every house, easy access of movies through CDs, revealimages1s a survey done by The Frontier Post. The number of cinegoers have dropped almost 50 percent and similarly the quality of the films produced by Pakistan in any of its language have been on constant decline from the past two decades. There was a time when the city had almost 14 cinema houses but now it has only 10 in number. The owners of the four other cinema houses have razed the buildings to construct commercial plazas. The few of cinema theatres which are showing films are deprived of visitors due to a number of reasons which mainly include security concerns, lack of support from the government, poor quality of Pakistani films, poor quality of cinema houses and unfavourable environment, have prevented people to come out to enjoy movies on the 70 mm screen. Palwasha Cinema, Novelty Cinema, Metro Cinema and Falak Sair Cinema, all are now part of history. The remaining cinemas housesare Sabrina Cinema, Arshad Cinema (Khyber Bazaar), Tasweer Mehal and Picture House (Cinema Road), Naz Cinema (Hospital Road), Firdaus Cinema (GT Road), Capital Cinema (Saddar), Shama Cinema (Pajjagi Road) and PAF Cinema (Cantonment Area). The facilities provided in these cinema houses are not even near to the standards.
[3]
The owners of the four other - cinema houses
Back to the future
Shinwari remembers the late 1970s as an amazing era for the emerging Pashto film industry. Eminent Pashto-language writers, producers, directors, actors and actresses had given Pashto films a prominent place in the world of cinema. These films were shown throughout the country before the industry crumbled due to terrorism and the lack of investment. As the situation deteriorated, so did the quality of the Pashto cinema. The journalist recalls that visitors from Afghanistan and other areas of Pakistan would never leave Peshawar without watching Pashto films. There was, he believes, a deliberate effort which aided the decline of the film industry while Ziaul Haq was in power. In the 1980s, he says, the standard of Pashto movies fell; soon obscenity became synonymous with Pashto cinema.
[4]
Eminent Pashto-language - writers, producers