Hafeez Sheikh also known as Abdul Hafeez Sheikh is a Pakistan-based political figure and economist who is serving at MoF (Ministry of Finance) since 11th Dec 2020. He previously worked as an advisor to PM on Finance & Revenue from 2019 to 2020.
From 2010 to 2013 he served at the Ministry of Finance and from 2000 to 2002 he served at Provincial Ministry for Finance & Planning in Sindh Government. He also remained a Senate member from 2003-2006, then from 2006-2012 and again from 2012-2018.
After reshuffling the cabinet by PM Imran Khan he was designated as an advisor to PM for finance from 18th April 2019 to 11th Dec 2020. This article serves every information about him, including Hafeez Sheikh Biography.
| | |
| --- | --- |
|              Title |              Description |
| Name: | Hafeez Sheikh |
| Nationality: | Pakistani |
| Religion: | Islam |
| Residence: | Islamabad |
| Profession: | Politician and Economist |
| Political Party: | Pakistan Tehreek e Insaf |
| Served As: | Minister of Finance |
| Education: | PhD degree in Economics |
| Social Media Handle: | https://twitter.com/a_hafeezshaikh |

Hafeez Sheikh Biography
Abdul Hafeez is a seasoned politician and leading member of PTI. Throughout his political career, he had served at important political posts. He got elected to Senate several times. His previous elections were remarkably easy and simple, as he hadn't met a daunting opposition.
Whether he was nominated by the PPP or PML-Q, he managed to win without any obstacles due to the remarkable power of its supporting parliamentary party. In Senate Elections 2021 governing coalition headed by PTI which named him as its, contestant had a clear majority in Pakistan National Assembly.
But former PM Gillani turned his expected success into a defeat. For various reasons, all the governments have viewed him as an ideal choice to heal all the sufferings of the economy and included him into the cabinet, giving him the finance ministry. He served both military and political governments.
Hafeez Date of Birth
He opened his eyes in Jacobabad, Sindh.
Education of Hafeez
He completed his Masters and a PhD degree in Economics from BU (Boston University). He is well-recognized for his book on the privatization program of Argentina. After completing higher studies, he joined Harvard University's faculty and supervised research work for his PhD students. And at Harvard, he guided many states on their financial policies and initiatives.
Career
In military government, he was designated Sindh's Provincial Minister for Finance & Planning in 2000.
Elected to Senate
He got elected to Pakistan Senate on the ticket of PML-Q (Pakistan Muslim League) from Sindh in 2003. He remained a Senate member from 2003 to 2006.
Designated as Privatization Minister
In 2003 he was designated at the Ministry of Privatization in the government of Musharraf. Under the motto of 'Privatization for People' assets in a number of companies were distributed to 0.8 million individuals, generating wide ownership.
Over this time, foreign investment grew from $1 billion to $5 billion. In 2004, he was awarded "Man of the Year" by the business community in honour of his services to the economy.
Re-Elected to Senate
In March 2006 he was re-elected to Pakistan Senate from Sindh on the ticket of PPP (Pakistan People's Party). From 2006-2012 he remained a Senate member and in 2010 he was designated Pakistan's Finance Minister in the ministry of Gillani.
He was re-elected from Sindh to Pakistan Senate on the ticket of PPP in 2012. From 2012-2016 he remained a Senate member.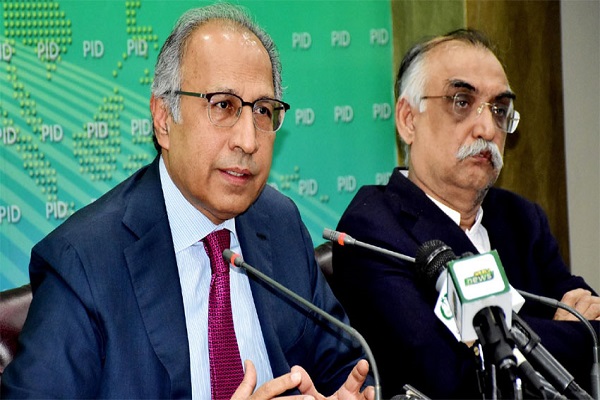 Hafeez Sheikh Resignation
In Feb 2013 he submitted his resignation from Finance Ministry. He was designated at the post of Advisor to PM for Finance following cabinet reshuffling by PM Imran Khan.
Appointment as Federal Ministry of Finance & Revenue
On 11th Dec 2020, he was designated at Federal Ministry of Finance & Revenue. As Minister of Finance at the beginning of 2011, he met with John Kerry U.S. Senator when John visited Pakistan.
He updated Kerry, chairman of the U.S. Senate Committee on International Relations, on economic progress, deferrals in receiving aid via the Kerry-Lugar Bill and increasing requirements for the rehabilitation of floods.
When in Washington for the World Bank spring meeting that took place later that year, he conveyed the same points about Kerry-Lugar-Berman funds, while also mentioning future financing in the energy market, likely by the US, the general economic policy of the government.
He also served as an Ex-officio member of the governors' board of IsDB (Islamic Development Bank) and the World Bank.
International Assignments
He served at Harvard University as a professor. His other experiences at the international level include assignments in Libya, Ghana, Tanzania, Botswana, Malta, Qatar, Jordan, Bangladesh, Argentina, Kuwait, Iran, Romania, Vietnam, Thailand, Philippines, Malaysia, Indonesia, Sri Lanka and Saudi Arabia.
Hopes of PTI from Sheikh
Interior Minister Sheikh Rasheed completely supported Hafeez and stated he would surely win the 2021 Senate election. Speaking at a press conference held in Islamabad, Rasheed stated 'Hafeez had turned the twenty billion dollars current-account deficit into the balanced budget by his endeavours and backed Pakistan's weakening economy.'
PTI nominated him for the general seat of Islamabad for the 2021 Senate election and ECP (Election Commission of Pakistan) approved his nomination.
Efforts by Sheikh
For the very 1st time in his career as a politician, he has used all his debating skills to convince voters to become a senator. Though he has won the Senate seat by indirect polls on multiple occasions, he never made such a personal struggle as he made this time.
Meanwhile, he travelled to contact the seemingly dissatisfied National Assembly (MNAs). His tour to Faisalabad accompanying Governor Punjab Chaudhry Sarwar and a few federal ministers were intended to persuade dissatisfied Members of Parliament to support him.
He appealed to the leadership of the MQM-P and the Grand Democratic Alliance for the same cause. Many of these parliamentary groups are supporters of the governing party. He was asked by PM Khan to directly meet the decision-makers of the associated groups so that no one would later claim that the candidate himself had not approached them.
2021 Senate Elections
Former Premier Yousaf Raza Gillani was nominated jointly by the PDM for the ISB seat against Abdul Hafeez Shaikh of PTI. The voting for the Senate election began at 9 a.m. and ended at 5 p.m. Gillani received one-hundred and sixty-four votes and got defeated by his competitor Yousaf Gillani who received one-hundred and sixty-nine votes.
Shock for Imran Khan
Analyzing the situation renowned Geo anchor Shahzaib Khanzada stated that Gillani's victory would hugely upset PM Imran as he campaigned personally for Sheikh. He further said that this victory could make Imran Khan angrier with Shehryar Afridi as his vote was wasted after he signed the vote. PTI was completely hopeful about the success of Sheikh.
Social Media Handles
His social media account include
https://twitter.com/a_hafeezshaikh