Civil hospital in Pakistan is located in Karachi and Faisalabad. It is tertiary care public hospital and serving the patient in a very low rate. It has 1900 bed and 34 departments. Provide health care facility under one roof to prevent unnecessary child and infant death this hospital in the pediatric department is providing notable work and prevent children from diarrhea, measles, pneumonia, malnutrition etc.Civil hospital has different departments and surgery departments such as international medicine Gynecology and obstetrics, an esthesiology, pediatrics, cardiology, oncology, General surgery neurosurgery. Pediatric surgery, orthopedic surgery, vascular surgery. Other specialties include cardiology, psychiatry, dermatology, neurology and nephrology.To benefit the poor people diagnostic laboratory is present where examination and investigations are totally free and has done by advanced technology.
Burns unit has also been established at the Jubilee Block, Civil hospital by "Friends of Burns centre" (Patient welfare society) in collaboration with the ministry of health, Government of Sindh. Here treatment, food, medicine and mineral water is provided under hygienic environment and it is 100% free.[1]Civil hospital internetpk.com
| Title | Description |
| --- | --- |
| Details | |
| Location: | Karachi |
| Name: | Civil Hospital Karachi |
| In Urdu: | سول ہسپتال کراچی |
| Website: | https://chk.gov.pk/developmental-projects |
| City: | Karachi |
| Place: | Hospital |
| Phone NO: | 99215740-59 |
| Address: | Opp:Allawala Market, M.A.Jinnah Road, Karachi/ Baba-e-Urdu Road, Nanakwara, Karachi |
| Organisation | |
| Care System: | Government |
| Dr FARIHA ASHRAF: | General Surgeon |
| Dr. Mati Ur Rahman: | Chest Specialist |
| Dr. Bader Faiyaz Zuberi: | Gastroenterologist |
| Dr. Arif Herekar: | Neurosurgeon |
| Doctors by Specialilty in Civil Hospital Karachi: | Chest Specialist (1) ENT Specialist (1) Gastroenterologist (1) General Surgeon (3) Gynecologist (2) Neurosurgeon (1) |
| Trauma Centre: | The state-art 500 bedded Benazir Bhutto Accident, Emergency and Trauma Centre is established in Civil hospital. |
| Hospital Type: | Genearal Hospital |
| Public Private Partnership: | Dow Alumni,NGOs |
| Events: | Photo Gallery |
| Trainings: | House Job,Nurses Training,Para Medical Training |
| Tenders: | Civil Tender,Trauma Tenders,Tender Notice |
| Services | |
| Beds: | 1900 |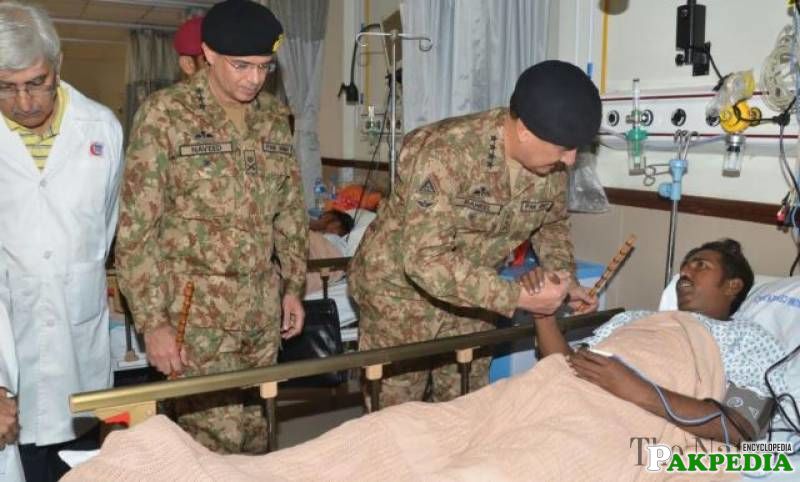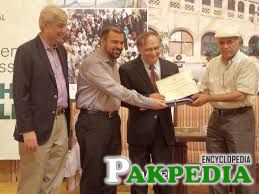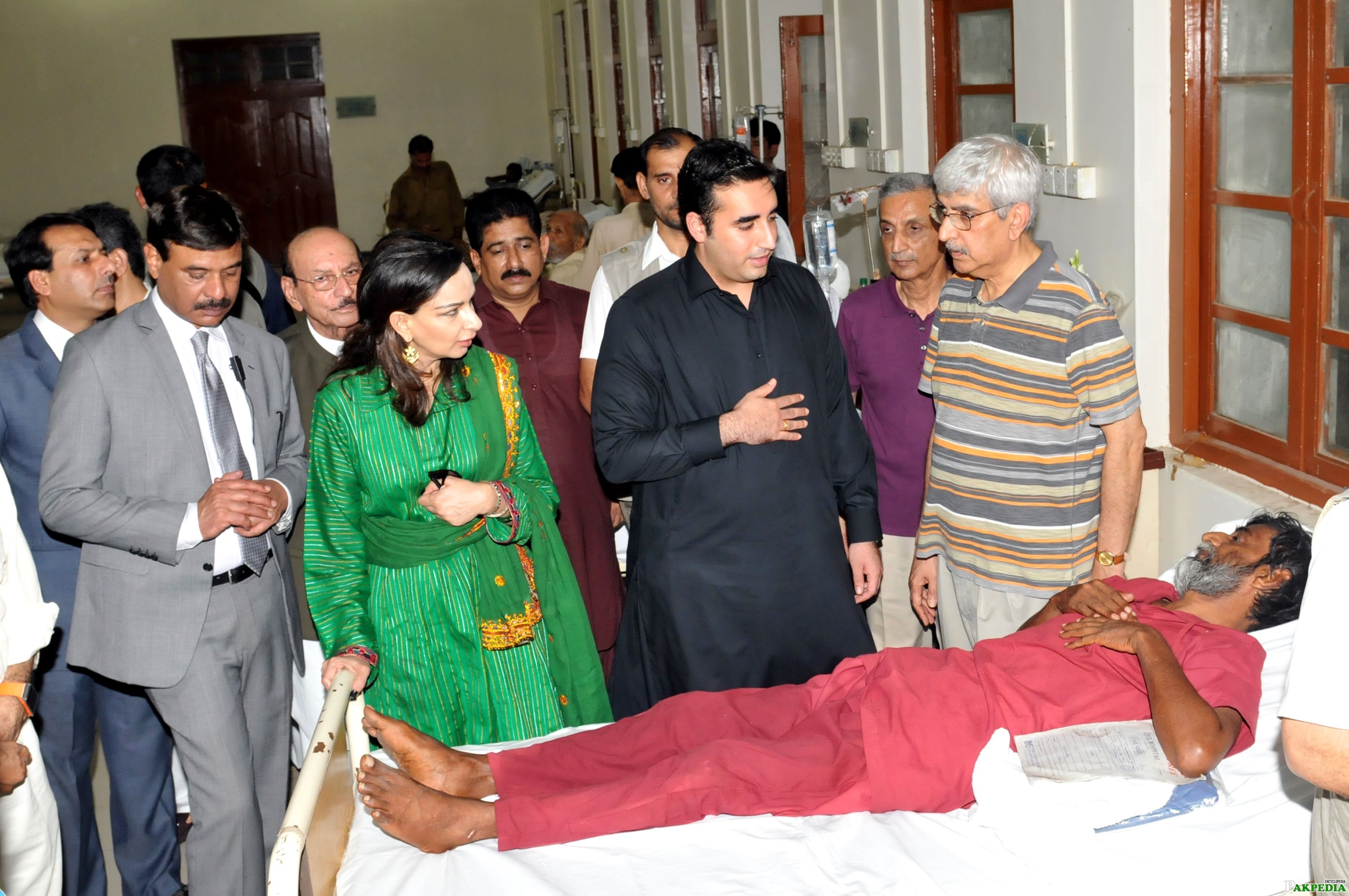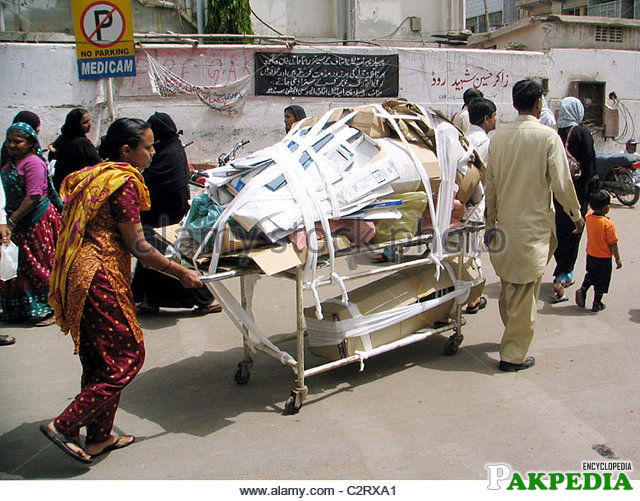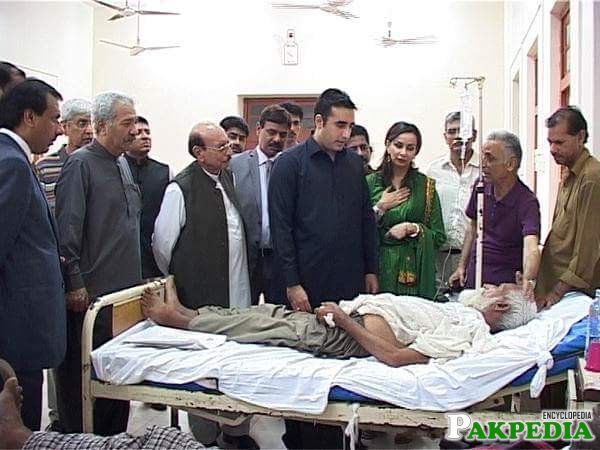 Historical background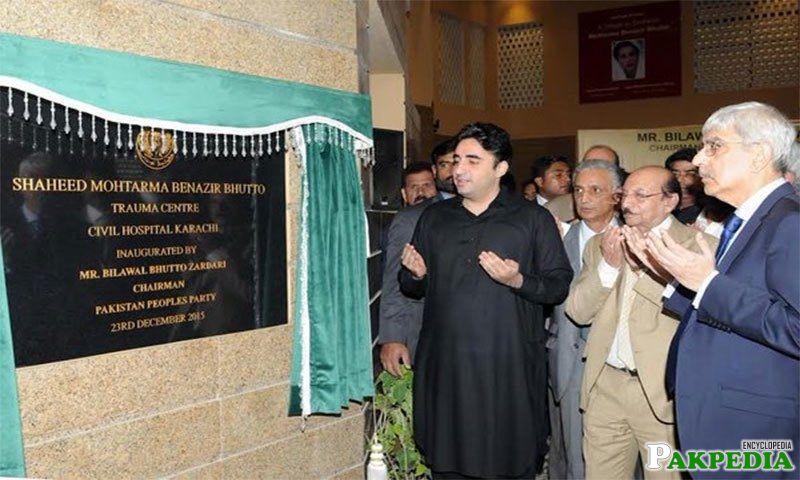 The Civil Hospital Karachi was founded in 1898 in the wake of a third pandemic of Bubonic Plague on the one hand, and the platinum jubilee of Queen Victoria on the other. The pandemic would kill at least an estimated 10 million people in India alone over a period of 20 years. It is important to mention the status of Karachi at that time. Being the port city, Karachi was the business, military and nerve center of Sindh right from the start. Towards the close of the nineteenth century, Karachi emerged as the cleanest city towards this side of the Suez Canal, with an estimated population of 105,000 which continued to grow in view of its strategic importance. Lord Curzon the Viceroy of India visited Civil Hospital Karachi in 1900 and unveiled a commemorative plaque to mark the platinum jubilee of Queen Victoria. The plaque is placed in the same spot, which was initially a nursing school and subsequently transformed into a state-of-the-art Burns Center in what is known till today as the Victoria Block or the Jubilee Block, while the entire building is heritage-protected by the provincial.
Department of Culture
Department of Culture allowing for repairs and renovation but eschewing any structural change in its original design. The Civil Hospital Karachi continued to function efficiently until independence as the principal hospital of Karachi and received tremendous impetus after 1945 when the then Governor of Sindh Sir Hugh Dow transferred the medical school provisionally recognized by the Bombay University from Hyderabad to Karachi and laid the foundation of the Dow Medical College in its present location on 10 December 1945, with the Civil Hospital Karachi attached to it as a teaching hospital. The creation of a new state of Pakistan brought with it the need for a massive relief and rehabilitation efforts for hundreds of thousands of refugees pouring in from India and addressing all their basic needs including health needs through a largely inadequate and unprepared system. A visitor's book maintained during the late fifties and early sixties indicates that the Civil Hospital Karachi was frequented by several dignitaries such as government ministers, ambassadors and eminent personalities visiting Pakistan. A 1961 entry by Lady Bird Johnson [2] Lady bird jhonson then spouse of the Vice President of the USA is particularly revealing: It reads: "This has been a visit both heart-breaking and rewarding. My hat is off to you women doctors!" This indicates that health care professionals have been up against tremendous odds over the last few decades.
Organization and management
After the creation of Pakistan in 1947, Karachi became the capital of the new state, both the medical college and its teaching hospital came under the jurisdiction of the provincial government of Sindh (or West Pakistan from 1955–1970). Initially after independence, Col Aziz K M Khan, Principal of Dow Medical College was made administrator of the Civil Hospital Karachi. However in 1949, the post was bifurcated in view of its growing workload, and Dr Ali Ahmed S Kazi was named as the first Medical Superintendent of the hospital. He established a system of good governance in the hospital and was assisted by a team of senior academicians and hospital administrators prior to his posting as Director Health Services Sindh a few years later. Over the years a few other administrators such as Prof Mahmud Ali Shah and Prof S H Rahimtoola were assigned both the positions of Principal Dow Medical College and Medical Superintendent Civil Hospital Karachi in an effort to better coordinate the functions on the campus. However after the up-gradation of the Dow Medical College into the Dow University of Health Sciences a few years ago, there is a clear cut demarcation between the hospital's academic and administrative responsibilities. Prof M Saeed Quraishy is the current Medical Superintendent of Civil Hospital Karachi.[3] Organizaitonn and management chk.gov.pk
Services
Initially established in 1898 with 250 beds to provide basic health facilities, the hospital has expanded considerably and has been totally transformed over the years. Its 1900 beds are located in 34 departments, with over a dozen major operation theaters and a huge out patient's attendance. Greater stress is being laid on public-private partnerships and preventive work notably in the Paediatrics department to avert unnecessary infant and child deaths due to pneumonia, malnutrition, diarrhea or vaccine-preventable illnesses. Measures are also in place to prevent and control major communicable diseases such as Tuberculosis, Malaria, viral Hepatitis B & C and HIV/AIDS, in addition to non-communicable diseases such as cardiovascular diseases, diabetes and cancers having a huge burden in Pakistan. Today as Karachi is a sprawling mega-city with a population estimated at 18 million divided into 18 major towns, the Civil Hospital Karachi lives on to tell two tales in the same city. The services of this tertiary care institution have kept in line with the latest technological advances as far as that is compatible with the situation in a low-income developing country. Sophisticated laboratory and radiographical procedures, investigations and examinations are performed totally free to benefit the poor patients attending the hospital. An average of two million out-patients report to the Hospital annually; 95% of which are non-affording patients entailing a huge cost on medicines, laboratory facilities and other logistics.[4] Services chk.gov.pk
Trauma Centre
The state-art 500 bedded Benazir Bhutto Accident, Emergency and Trauma Centre is established in Civil hospital. 
Departments
The clinical departments of the hospital include Internal Medicine
Gynaecology and Obstetrics
Anesthesiology, Pediatrics
Cardiac Surgery, Oncology
Radiology, General Surgery
Neuro Surgery and Laboratory Civil Hospital is proving all the services and facilities in one premise. The first state-of-the-art Burns unit has also been established in this hospital. The department of surgery comprises six general surgical units besides the specialties of neurosurgery, paediatric surgery, orthopedic surgery, urology, vascular surgery, maxillo-facial surgery and plastic surgery. The department of medicine comprises five general medicine units, 60 beds each. Other specialties includes Cardiology, Psychiatry, Dermatology, Neurology and Nephrology. The Department of Paediatrics has three units with a DTU (Diarrhea Treatment Unit). The Department of Gynaecology and Obstetrics is divided into three units, having facilities of labour room and Operation Theatre. The Emergency department has several sections including an Operation Theatre and Surgical Intensive Care Unit, which are functional around the clock for use in case of mass disasters. All the units function independently.
Planning Development Department
Planning is the first management function that defines goals for future organizational performance, it decides on the tasks and use of the resources needed to accomplish it. The aim of P&D department is to provide a high performing healthcare delivery structure that is safe, effective, patient centered, timely, efficient and equitable.
The operational activities of this department include data accumulation and analysis, need identification and prioritization, preparation of concept papers as well as PC form I or II and getting approval from competent authorities, and lastly the execution of the project. All these activities are carried out in a way to attain resource optimization, infrastructure improvement and value addition.
The P&D Department works in close collaboration with other departments that includes Health, P&D, Finance departments of Government of Sindh, K-Electric, Sui Southern Gas Co., Nespak(Pvt.) Ltd. and various monitoring agencies such as Sindh Public Procurement Regulations Authority, Monitoring and Evaluation Cell of Government of Sindh  and Commissioner Karachi.
SCHEMES ACCOMPLISHED COMPLETEDspan classtooltip-cn ref-link idref-link-5a hrefref-link-dt-5 sup5supaspan classtooltiptextACCOMPLISHED a hrefhttpchk.gov.pkdevelopmental-projects classexternal-link target_blank COMPLETEDaspanspan
Up gradation of Medical Unit I,II & III, Dental Department & Surgical Unit I, II, IV
Construction of General Kitchen
Establishment of Medical ICU
Up gradation of Existing Laboratory facilities
Establishment of Thalassemia Center
Modernization of Cardiology Services
Provision of Fibroscan and Elastography equipment at Radiology Department
Up gradation of Radiology department by providing digital X-ray Fluoroscopy with Digital Subtraction Angiography (DSA), digital color Doppler, Ultrasound machine with provision of 630 mA/ 150Kv, R/F with TV system
Matching provision from CHK for Public Private Partnership initiatives:
Up gradation of Burns Center
Up gradation of High Dependency Unit and Operation Theater in Cardiac Surgery Ward
Up gradation of Elective Gynae Operation Theater
ONGOING SCHEMES
New Equipment for Physiotherapy Department and Orthopedic Operation Theatres
Modernization/ Improvement of Electrification System
Expansion & Improvement of Oncology Department & Up gradation of Neurology Department, Surgical ICU and establishment of Colorectal unit in Surgical Unit-V
Revamping of the Hospital
NEW SCHEMES
To sustain the vibes of progress in the hospital, the department addresses futuristic demands and in the same purview, the following schemes and projects will be undertaken very shortly:
Improvement of Radiology and Ultrasound departments with latest facilities
Establishment of Outpatient & Ambulatory Care Services Complex
Renovation & Modernization of Stone Heritage Buildings (Medical Unit-V, Orthopedic Unit-II, Surgical Unit -VI , Pediatric Unit-III)
Improvement of Pavement and seating
External Electrification with solar LED and Provision of Security & Surveillance System
Repairs at Central Lab. and Diabetic OPD
New Equipment for ENT Department