Husaini Blood Bank is a non-profit, holistic healthcare organization that makes high-quality medical facilities accessible for Pakistan's people. The services here range from diagnostic laboratory, blood banking, blood transfusion to the clinical consultation.
This organization also has set up an educational institute entitled 'Institute of Hematology.' Husaini is serving with care and empathy in accidents, emergencies, and tragedies in the region.
This blood bank collects blood donations at several locations, screens it, stores the blood donations safely, verifies compatibility, and separates collected blood into its components utilizing the latest techniques and technology. The article carries every detail about the bank, including Husaini Blood Bank History.
| Title | Description |
| --- | --- |
| Details | |
| Type: | Blood Banks |
| Location: | Nishter Park Soldier Bazar No.2, Karachi, |
| FAX: | +92-21-32237735 |
| UAN: | +92-21-111111422 |
| TEL: | +92-21-32237734, 32237736, 32238405, 32238406, 32238407, 32238408 |
| Organisation | |
| Owned By: | Dr Hasan Ali Wajid |
| Y.O.E: | 1979 |
| Business Hours: | 7 Days a Week [24 Hours] |
| Business Type: | Services |
| Care System: | SUPER |
| Hospital Type: | BLOOD DONATE |
| support of Late: | Mr. Hamid D. Habib, chairman |
| units of blood: | Annually around 200,000 units |
| | |
| | |
| Services | |
| Beds: | Clean Bed Sheets |
| Standards: | Provides special services |

Husaini Blood Bank History
It was established in 1979 and strived to provide safe blood to patients who need blood due to any cause while advancing VNRBD (Voluntary Non-Remunerated Blood Donation). Since its inception, the bank is overgrowing with blood donations of 125,000 units and storage space of 5000 units.
The bank receives blood donations from donors at its branches and via educational institutes, corporate entities, and non-profit organizations.
Husaini Blood Bank Founder
Dr Hassan Ali Wajid founded this bank in 1979 in Soldier Bazar with Mr Hamid Habib's assistance the Chairperson of 'Habib Group of Companies Trust.' The pioneering efforts, dedication, and foresight of trustees paved the way to the foundation of 'Husaini Hematology & Oncology Trust, that has grown to a leading healthcare institute helping and facilitating individuals across over thirty locations. 
Vision
The vision of Husaini Blood Bank is to offer gentle care via pioneering and world-class healthcare services. 
Infrastructure
The head office of this blood bank is a multi-story building situated in North Nazimabad. It is equipped with an advanced diagnostic lab, a blood-transfusion centre having a capacity of treating a hundred patients, blood bank with the storage space of three-thousand blood bags, and eight rooms for the clinic.
The training and educational wing have an auditorium and 2-classrooms with space for sitting of eighty persons. The extended network is made up of more than thirty well-equipped branches in all over the Sindh for blood-banking divisions and laboratory. All diagnostic tests needed for Hemophilia and Thalassemia are conducted at the laboratory.
Qualified and Well-Trained Staff
The blood bank has a team of skilled and well-trained staff hired on proper criteria. Whether it is a lab technician or pathologist, doctors and nurses in transfusion clinics and wings, it is assured that they are trained and educated from renowned institutes.
The diploma courses at Husaini Hematology Institute are an additional platform to prepare and train competent, and valuable individuals to become part of this organization.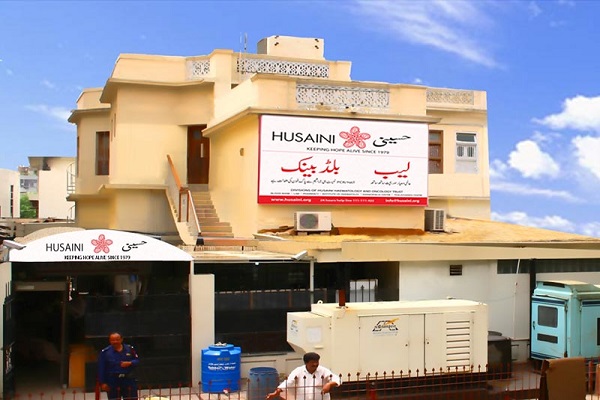 I.T. Infrastructure
Husaini utilizes an ERP system consisting of Financial Laboratory, Human Resources, Transfusion and Blood Banking related modules. The I.T. department assures the smooth and seamless performance of software while handling the local server.
All data of branches is stored centrally. The I.T. department supports all the branches 24/7 to provide efficient solutions. 
Tools & Equipment
Husaini has equipment approved by the FDA for the diagnostics department and blood screening. At laboratories, innovative diagnostic procedures are followed, and research is continuously conducted for developing new methods that can increase results accuracy. 
Benefits of Blood Donation
Blood donation has several benefits for the physical and emotional health of the individual, such as:
Stimulate the production of blood cells

Maintains healthy liver and heart

Create harmony among community members

Risk of hemochromatosis is reduced.
Eligibility Criteria for Blood Donation
Patients are having no long-term history of any transmissible disease.

The donor should be 8-50 years, and weight should be above 50 kg.

The donor should not be suffering from Respiratory Diseases.

The haemoglobin level of the donor should be above 12.5g/dL.

Blood Pressure, pulse, and temperature should be standard.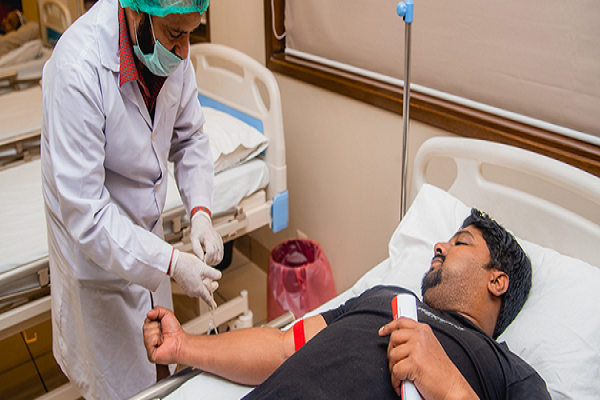 The procedure of Blood Transfusion
Registration
The donor has to fill a registration form to assess his/her donation history and eligibility.
Evaluation of Health
A medical checkup of the donor will be conducted to check his or her health status.
Blood Donation
The procedure of blood donation is completed in 8-10 minutes. 
Refreshment
After donation donor is provided with some refreshment to increase his/her energy level.
Transfusion Services
The blood transfusion department offers free treatment and supports 1,150 patients suffering from blood diseases, including Hemophilia, and Thalassemia. A panel of able doctors supervises the treatment plans given to patients and a highly trained and competent team of technicians and nurses implement the treatment plan. 
Husaini Thalassemia Center 
The Thalassemia centre is providing blood transfusion regularly and iron chelation-therapy to Thalassemic patients. The Thalassemia patients getting treatment at Husaini have a life expectancy of more than thirty years more than patients' life-expectancy at other centres.
Husaini Hemophilia Center 
The Hemophilia Center is providing plasma transfusions to its registered patients. A team of competent doctors support the patients and assure them that their life quality wouldn't be compromised.
Certifications and Affiliations
Well-reputed international and national healthcare and educational bodies have accredited Husaini. 
National Affiliations
Sindh Blood-Transfusion Authority 

Pakistan's Thalassemia Federation

National Blood-Transfusion Program

Sindh Medical-Faculty

NGO Network of AIDS at Sindh

Board of the Technical Education at Sindh

Affiliation with Pakistan's Medical and Research Council

The University of Karachi for Training

Pakistan's Hepatitis Advisory-Board 

Dow University of Health Sciences

Affiliation with Baqai University

Pharmacists Association of Pakistan

Sindh Health-Care Commission
International Affiliations
AABB-American Association of Blood Banking

CAP-College of American Pathologists

EQAS-External Quality Assurance 

WFH-World Federation of Hemophilia

ISBT-Intl Society of Blood-Transfusion

TIF-Thalassemia Intl Federation

FDA-Food & Drug Administration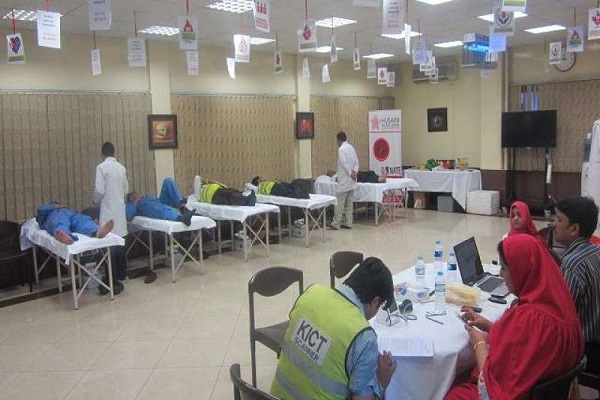 Husaini Institute of Hematology
This institute is an academic program providing Diploma courses in Lab Technology, Blood Banking and Transfusion Medicine. The institution has an affiliation with Sindh's Board of Technical-Education and Sindh's Medical Faculty.
The programs taught are designed to increase knowledge and understanding of diagnostics lab practices, blood banking, and recent research in the healthcare field. 
Program Details
The diploma focuses on these points:
Blood donor's management with practical knowledge

Collection of blood samples & processing theory.

Responsibilities and roles of Phlebotomy Technician.

Blood grouping, Du test theory, and cross match.

Process the blood samples for blood banks and laboratory.

Quality Control Procedures and Standards.

Maintenance of data and record of patients. 

Screening of donor's blood for TTI's (Transfusion Transmissible Infections).
Contact Information
Head Office: Plot Street Number 2, Qalandaria Chowk, North-Nazimabad, T Block, Karachi, Sindh, Pakistan. 
Telephone# +92-213-6798010-19
Social Media Handles
https://www.facebook.com/husaini.org
https://www.instagram.com/husainiorg/