Syed Murad Ali Shah is one of the prominent politicians in support of Pakistan People's Party PPP. He was born on 8th of November in 1962, Karachi. Additionally he is the Provincial Minister for Irrigation and Power (Sindh). His academic qualification includes: M.Sc. in (Engg: Economic System) -Stanford University California, USA in 1993, again M.Sc. in Civil / Structural Engg: Stanford University California, USA in 1987 as well as BE: Civil Technology – NED University of Engg: and Technology, Karachi in 1986.Professionally Syed Murad Ali Shah is an Engineer. His previous Official Positions Official Body Post Duration: Federal Government JUnior Engineer (WAPDA) 1986-89), Federal Government Executive Engineer (Port Qasim Authority) 1990, Govt. of Sindh Assistant Engineer – Hyderabad Development Authority 1986, Govt. of Sindh Project Director (Karachi Fish Harbour Authority) and Provincial Assembly of Sindh Member 2002-2007.[1] Syed Murad Ali Shah
| Title | Description |
| --- | --- |
| Personal | |
| Name: | Murad Ali Shah |
| Nationality: | Pakistani |
| Residence: | Karachi, Sindh |
| Education: | M.Sc. : ( Engg: Economic System) -Stanford University California, USA – 1993. M.Sc. : Civil / Structural Engg: Stanford University California, USA – 1987 BE : Civil Technology – NED University of Engg: and Technology, Karachi – 1986. |
| Religion: | Islam |
| Prime Minister: | Nawaz Sharif |
| Profession: | Engineer |
| 29th Chief Minister of Sindh Incumbent President: | Mamnoon Hussain |
| 29th Chief Minister of Sindh Incumbent Prime Minister: | Nawaz Sharif |
| 29th Chief Minister of Sindh Incumbent Governor: | Ishrat-ul-Ibad Khan |
| 29th Chief Minister of Sindh Incumbent Preceded by: | Qaim Ali Shah |
| 29th Chief Minister of Sindh Incumbent Assumed office: | 29 July 2016 |
| Visits to other countries: | Austria Bahrain Belgium Canada Denmark France Germany Kuwait Netherlands Qatar Saudi Arabia Singapore Sweden Switzerland Thailand Turkey United Arab Emirates United Kingdom United States |
| Marital Status: | Married |
| Email: | murad@wahur.com |
| Born | |
| Date: | 8 November 1962 |
| Place: | Karachi Pakistan |
| Family | |
| Children: | 2 |
| Present Contact: | 14-A, Street -7, Central Avenue, Phase II, DHA, Karachi. 021-35313514(R) 99266901-2(R) fm@fdsindh.gov.pk |
| Permanent Contact: | Village Wahur, Taluka Sewan District Jamshoro (M) 0300-8210080 |
| Parents: | Syed Abdullah Shah |
| Career | |
| Political Party: | Pakistan Peoples Party |
| Governor: | Ishrat-ul-Ibad Khan |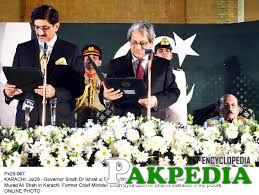 Murad Ali Shah will be new Sindh CM
He hails from Jamshoro. His family belongs to Lakyari Syed, the descendent of Shah Sadaruddin Lakyari (Lakhi Shah Sadar) near Sehwan Sharif. From 1986 till 1990 he served as an engineer at Wapda, Port Qasim Authority and the Hyderabad Development Authority before joining the Citi Bank.Shah was elected to the Sindh Assembly in the 2002 elections. He was again elected to the provincial assembly in the 2008 election, and assigned the portfolio of finance in the cabinet of Chief Minister Qaim Ali Shah.He was barred from contesting the 2013 elections because of his Canadian citizenship. However, he gave up his second nationality to run in the election. He was elected to the Sindh Assembly for a third consecutive time. He was subsequently assigned the finance ministry in the provincial cabinet.
There is a perception that Shah looks more a bureaucrat than a politician and is not social. However, people in his constituency think otherwise. "Like his father he knows most of the voters in his constituency," social activist Mustafa Meerani, who lives in Shah's constituency, said, adding Shah has established schools, dispensaries, constructed roads and provided jobs to poor people on merit.[2] Murad Ali Shah will be new Sindh CM
Political Career
He became member of the Provincial Assembly of Sindh in 2002 for the first time from PS-77 Jamshoro-cum-Dadu (Old Dadu III). He served as Minister for Irrigation (Sindh) and Finance Minister of Sindh before elevation to the Chief Minister of Sindh in 2016. Shah was barred from contesting the 2013 despite giving up his Canadian citizenship. After proving to the courts that he did not hold Canadian nationality, Shah was able to run in the election. He was elected to the Sindh Assembly for a third consecutive time. He was subsequently assigned the finance ministry in the provincial cabinet.
Chief Minister Sindh Vision
A just and balanced NFC award
A new Water Accord based on the rights of all riparian
A thorough, logical and rational, review of the Local Government Ordinance of 2001 and overhauled Local Bodies System
Tangible improvement in the Law & Order and delivery of justice
Provision of employment and employment opportunities to the people of Sindh, skills development of educated and unemployed youth of the province to make them compete in a market
Establishment of Sindh Bank to help the people of province to compete as entrepreneurs
Building of Low Cost houses for the poor of the province
Distribution of land to landless peasants, specially the down trodden lot of the women
Regularization of katchi abadies
Power generation through coal based fuel to overcome the shortage and boost the economy
Provision of quality health and education facilities to the people of the province by reformation of these sectors
Ensuring 100% enrolment of children up to primary level and improving the literacy rate of the province
Reforms and improvement in the agriculture sector by introducing new technologies which are sustainable
Building small dams to meet water scarcity and increase the command area.
Chief Minister Sindh Message
New Sindh Chief Minister Syed Murad Ali Shah delivering his his maiden speech as a chief minister has said that law & order, health services and education would be the top priorities of his government. " I'm focused and have clear targets to make Sindh safe, secure, healthy, wealthy and literate." This he said while giving policy statement just after his election as new leader of the house in Assembly today. Remembering his parents, Syed Murad Ali Shah wished that his parents had witnessed that special moment, " but I know that they are around in spirit. My mothers's blessings and my father's guidance have brought me to where I'm today," he said and added that he might not be able fill his father Syed Abdullah Shah's shoes but was committed to follow where they tread. The new chief minister said he was missing his leader Shaheed Benazir Bhutto. " Her constant presence in my life; her persistence guidance and her trust in me as she made me a member of the central Executive Committee of PPP. He said Shaheed Benazir Bhutto's contribution to put democracy on track and to strengthen democratic forces in a country where continuous undemocratic takeovers had weakened institutions, stand unmatched in history.[3] Chief Minister Sindh Message
Murad for free education in public sector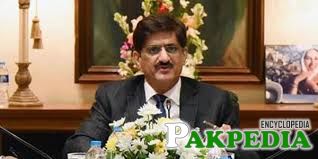 KARACHI: In a bid to provide quality education to the children of Sindh, Chief Minister Syed Murad Ali Shah has undertaken certain measures to make education free in the province.
He made the announcement during a meeting which was attended by Minister Education Jam Mehtab Dahar, Chief Secretary Rizwan Memon, Secretary Education Aziz Uqaili, Additional Secretary education Nawaz Sohu, Abdul Wahab Soomro to focus on the performance of the education department.The Chief Minister was briefed about the dismal situation of schools in Sindh, which were without basic necessities such as water, toilets and electricity. Secretary Education Aziz Uqaili brought it to the notice of the Chief Minister that there were 11474 schools functioning without toilets, 13016 without drinking water, 1116 without boundary walls and 13158 without electricity.He ordered Minister Education Jam Mehtab Dahar to personally overlook the task of construction of toilets and availability of water in schools. He also tasked the finance department to release funds for these projects.CM Sindh also asked the Minister Education to review the curriculum which was being taught in schools across the province and urged that necessary advice be taken to improve it from experts."I want to overhaul the entire curriculum for which leading educationists, literary figure and other people may be involved to invite suggestions," he said.During the meeting, the Chief Minister also announced his ambitions of opening up a state-of-the-art teachers training academy which would produce quality teachers who would impart education to the students."Let us develop a cycle to produce a lot of properly-trained teachers every year," he said.Syed Murad Ali Shah also said during the meeting that he wanted education to be free in the public sector. He stated that students have to pay examination fee and that should also be made free for them.Murad asked his ministers to support and help him in his quest to improve the literacy rate of Sindh and improve the quality of education in the province."I am ready to improve education system and improve literacy rate all over Sindh- but I need support of every individual to support me in this cause," he said.Syed Murad Ali Shah also announced scholarships for as many as 300,000 female students in Sindh for up to Rs 2,500-3,500 per month.[4] Murad for free education in Public sector
Murad Ali Shah sets precedent in Sindh by inheriting fathers mantle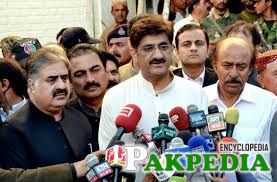 The chief minister-designate of Sindh Syed Murad Ali Shah will be the 24th individual since April 1937 to hold the top administrative post of Sindh and along with father, Abdullah Shah, the pair will make it the precedent of its kind where two generations ruled this southern province of Pakistan.He is considered among the young cadre of the ruling Pakistan Peoples Party (PPP) as compared to outgoing Chief Minister Syed Qaim Ali Shah, though the former will turn 54 this coming November.With his nomination to replace the veteran PPP leader at CM House, it is considered to be an end to the longstanding ambitions of many PPP leaders who had been in queue for the top job for almost three decades.
"It is a watershed moment. Now anyone who would get this position some time in future will be younger than Murad Shah," said a senior party leader.Most believe he was attached to Syed Qaim Ali Shah for so many years as an apprentice to ultimately assume the same job now. "He is an able apprentice of a man whom everyone in the party admires," says a PPP parliamentarian.His nomination is also considered to be a great 'change of heart' on the part of PPP co-chairman Asif Ali Zardari, who was considered to be an avowed foe of Murad's father Abdullah Shah when the latter was the chief minister and led a fierce operation in Karachi. Chief of the then Mohajir Qaumi Movement Altaf Hussain lost his elder brother and nephew during the operation. Mr Shah's government was wrapped up along with Prime Minister Benazir Bhutto's after her brother, Mir Murtaza, was also killed along with his companions in a mysterious police encounter. In case of Murad Shah, PPP chairman Bilawal Bhutto-Zardari has never concealed his admiration.Unlike Qaim Ali Shah, and his father Abdullah Shah whom he calls his ideal, Murad Shah was never a dedicated political worker in his youth. In fact, his decision to join active politics came after his father went abroad and gave him a go-ahead to further his legacy in the early 2000s.
Won the Constituency
He contested and won the constituency of his father from a small town of Jhanghara in 2002 general elections, now in Jamshoro district, and became an integral part of PPP's think tank to analyse and oppose the provincial government backed by the then military ruler Gen Pervez Musharraf.His increasing interest in financial matters and rules of business of the assembly won him key position in the party, which paid dividends in the latter years when the PPP formed its government in Sindh.After winning the same constituency in 2008 he was made the minister for irrigation in Syed Qaim Ali Shah's first stint as the chief minister. Later, he got the portfolio of the finance ministry that he has been overseeing till date. In between he was disqualified from the assembly seat for holding dual nationality. He surrendered his Canadian nationality and contested the elections again though he remained adviser to the chief minister for finance during this period. He finally assumed his ministry after winning the by-election.Murad Ali Shah was born on Nov 8, 1962, in Karachi. He was schooled in Karachi where he bagged his engineering degree from the NED University of Engineering and Technology.He got a job of junior engineer in the Water and Power Development Authority (Wapda), engineer at the Hyderabad Development Authority and later worked as executive engineer at the Port Qasim Authority. He was also a project director of the fish harbour authority.Then he left for the US where he assumed masters degrees of engineering-economic system and civil and structural engineering from Stanford University in the 1990s.He is said to be a reclusive person by his critics and admirers, which, most assert, he had to shun when he would go to run the province."You have to be in all the time to run a large province like Sindh and we are sure he must have learnt a bit or two in this respect from his predecessor," says a party leader.However, given the fact that Sindh is being run effectively by the party's self-exiled leadership and influenced by the security establishment everyone is curious how long Murad Ali Shah will be able to head a government that could never be fully enjoyed by his predecessor in all his three tenures.[5] Murad Ali Shah sets precedent in Sindh 
PTI to force CM Murad Ali Shah for the resignation
Pakistan Tehreek-e-Insaf is forcing the Chairman of Sindh Murad Ali Shah for his resignation after his name included in the Exit Control list as he has the strong allegation of corruption and is suspected in a money laundering case. Murad was one of the 172 individuals included to the no-fly list by the federal government. In this matter, Prime Minister Imran Kan has also instructed Information Minister Fawad Chaudhry to attain agreement among influential politicians of Sindh.