Audi Cars
Audi is a German-based famous manufacturer of luxury vehicles that are sold across the World. The Audi headquarters is in Bavaria, Ingolstadt, Germany, and there are a total of nine production facilities across the globe that produce Audi vehicles. Moreover, Audi cars were founded in 1909 and re-established in 1949.
Audi automobile company was founded by August Horch who was German engineer. August Horch started with a small automobile manufacturer in Germany. His first automobile was the Horch which was built in 1901. After that, he renamed his company Audi Automobile because of trademark issues in 1910.
| | |
| --- | --- |
|                      Title |                       Description |
| Name: | Audi Cars |
| Type: | Subsidiary |
| Founded: | 1902 |
| Founded By: | August Horch |
| In Pakistan: | 2006 |
| Industry: | Automotive |
| Headquarter: | Germany |
| Area Served: | Worldwide |
| Products: | Cars |

Audi Cars History
In 1899 August Horch introduced the company A. Horch & Cie, and in 1902 company A was carried forward to Reichenbach im Vogtland. Not before that, the company became a joint-stock company called August Horch & Cie. Motorwagenwerke AG in 1904. August Horch faced a few difficulties during this time in the joint-stock company and was forced to leave.
He started a new company by the name of August Horch Automobilwerke GmbH. Still, unfortunately, the company was sued by his former partners over the infringement of the trademark, and it was decided that the Horch brand belonged to his former company.
Therefore, Horch renamed the company to Audi Automobilwerke in 1910 and built his first Audi Automobile "Audi Type A" sport, Phaeton, in the same year. The first variants of the Audi started off with a 2600 cc inline-4 engine along with 3600 cc, 2600 cc, and 5700 cc models. Surprisingly, the cars were a huge hit! And the first 6-cylinder model with a minimum 4600 cc engine was introduced in 1924.
Net Income and Production
Audi Cars had a huge net income of 3.94 billion euros in 2019, and it produced over 1.8 million units. Moreover, there are a total of 92,000 employees working in the Audi Company. The Volkswagen Group is the parent of Audi automobile company with a total of 67 billion euros of Audi assets.
There are a total of nine divisions in nine different countries worldwide:
Germany
Mexico
China
Brazil
Slovakia
Russia
Spain
India
Brussels
Hungary
Introduction of Audi Cars to the World
Audi NSU Auto Union AG was established in 1969 after the merger of the Auto Union, where Audi was recognized as a separate brand for the first time. In addition to that, the Audi brand was first introduced in the United States of America in 1970 by Volkswagen. In the year 1970, several models of the Audi brand were introduced;
Audi 80 in 1972
Audi 50 in 1974
Audi 100 Coupe S 1974
Audi 200 1979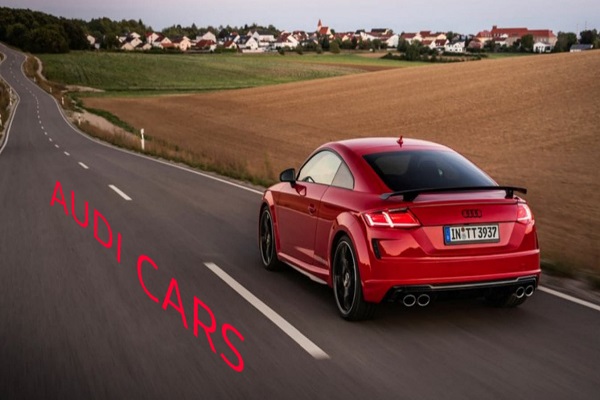 Furthermore,
The Auto Union and NSU brands became dead in 1985. Thus, the company's original name was shortened to Audi AG. Audi also shifted its headquarters back to Ingolstadt in the same year. Audi AG introduced new Audi models for the year 1980;
Audi 80 Quattro in 1980
Audi 5+5 in 1981
Audi 90 in 1984
Audi Coupe also in 1980
New Audi 80 and Audi 90 in 1986
Audi Model Cars
Various Audi cars model have been introduced to date among which a few other are as follows:
1- Audi Quattro (1980)
Audi Quattro is a rally car that was built in 1980 with the purpose of recreating a "grandfather's car" image. The Audi Quattro became successful in its sales and development with an original 2100 cc engine that produced 147 kW with 197 horsepower along with a torque of 285 Nm at 3500 RPM. The rally car could achieve 0 to 100 km/h in less than 7 seconds and had a top speed of over 220 km/h.
Moreover, the car was introduced with a four-wheel-drive system, and it was the first car to mate the four-wheel layout with a turbocharged engine.
2- Audi A3
It is one of the amazing models of Audi that is manufactured worldwide including in Pakistan. The base engine of this model is powerful while you can have a fun ride. Moreover, in order to experience a comfortable ride, it would be great to travel on it. All the driving dynamics of this car are well managed while you have various engine options to choose from.
3- Audi e-Tron 2021
Audi has introduced its new model Audi e-Tron 2021 in Pakistan. The car offers a maximum of 300 kW of power that can go up to 300 km on one single battery charge. The vehicle can reach a maximum speed of 200 km/h and can achieve 0-100 km/h in only 6 seconds. Moreover, the electric SUV can produce a horsepower of 355 hp and 545 Nm torque, and a fully charged Audi e-Tron can give a spectacular mileage of 387 kilometers.
The exterior of the car represents a sporty look and has front and rear LED lamps. Audi e-Tron is the perfect definition of luxury and power. It includes a 12.3-inch virtual digital HD display with a 10.3-inch-wide touch screen infotainment system. Moreover, it is a car made for a luxurious off-road experience with a capacity to hold five passengers.
The only downside of this vehicle in Pakistan is the poor charging infrastructure. Other than that, Audi e-Tron is a perfect luxurious fuel-efficient electric SUV car for the people. The price of Audi e-Tron in Pakistan is between 13.95-17.7 million Pakistani rupees.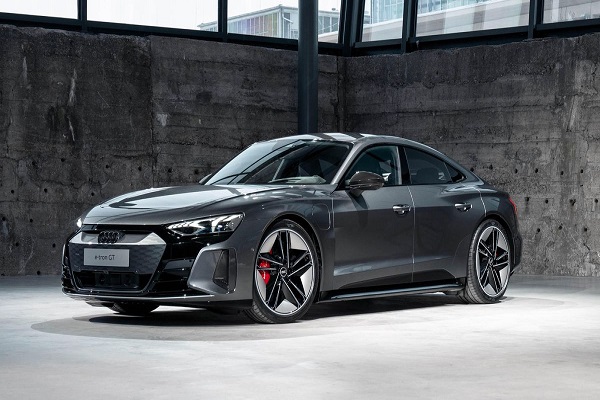 4- Audi A5 2019 model
Audi A5 was released in Pakistan in 2019. It is a luxurious car that has a 1400 cc engine capacity. It runs on petrol and has an automatic 7-speed transmission gear. The engine can produce a horsepower of 150 hp at 5000 RPM and offers 18-20 km/liter fuel economy. It is an all-wheel-drive car with 16-valves inline-4 cylinders. Furthermore,
The car features include:
Power steering
Cruise control
Sunroof
Power locks
Power mirrors
Remote Keyless entry
Navigation system
And for safety, the car includes airbags for the driver and passenger seats along with the sides. The luxurious car is installed with a 12.3-inch virtual cockpit digital gauge display and also includes an infotainment system along with other luxurious features;
19 speakers
Audi AI feature
Tilt and telescopic Steering Wheel
Climate control
Hands-free entry
Cargo Box
First Aid Kit
Heated steering wheel
Guard protection kit
Audi A5 includes everything in a modern sports sedan and is perfect for both family and sports mode. The car can easily take corner turns at high speed and is equipped with comfortable and luxurious leather seats. The price of the Audi A5 2019 model in Pakistan is between 10.5 million to 14 million Pakistani rupees.
Competition with Mercedes and BMW
Audi AG thought it should shift its focus to compete against the German automakers BMW and Mercedes-Benz through the early 1990s. Therefore, Audi released its Audi V8 model in 1990; this model had considerable changes to its bodywork and a newly introduced V8 engine.
Audi became successful in competing against the German automakers with its brand-new models of Audi fitted with both the four and five-engine cylinders for the two versions of Coupe, i.e., 80 and 90. Although it was still different for the target market, along with the introduction of the Audi 100, the company introduced a 2.8-liter V6 engine in 1992.
The 2.8-liter V6 engine was also fitted to the Audi Sport Quattro and the Audi Coupe S2. Thus, the S2 and S4 models became the first landmark for the mass-produced S-series of performance cars.
Technology
The luxurious Audi Cars feature the Audi AI, which is a driver assist feature. The company's objective is to offer its customers a fully autonomous driving experience in the near future. Thus, in 2017 they came up with a fully-self driving Audi A8 model that could take automatically drive itself for speeds up to 60 km/h.
In addition to that, owners of the Audi A8 can leave the steering wheel without running any safety measures using the Audi AI feature. Instead, they can switch their attention to something other than focusing on the road, such as using their cellphones for phone calls or text messages.
The technology for the Audi models includes:
Electric Drive
Audi AI
Hybrid Engine
Auto Parking
Audi Connect
Quattro all-wheel-drive system
Audi Exclusive
Audi Cars in Pakistan
Audi Cars were first introduced in Pakistan in 2006 through partnering with Premier Systems. In 2016 rumors for the availability of Audi vehicles in Pakistan spread very fast, and in 2020 the first Audi Showroom was built in Pakistan. Since then, three showrooms of Audi have been built in Pakistan:
Frequently asked questions
Q: Is the Audi A5 2019 model a good car to drive in Pakistan?
A: Yes, it is a good car. The Audi A5 is a perfectly used luxury small car, and it is available in three body styles; a two-door convertible, two-door coupe, and a four-door Sportback. Also, the Audi A5 is available in two models: the Audi RS5 and the Audi S5.
Q: Is BMW better or Audi in terms of looks and technology?
A: Audi is far better than BMW in terms of style and technology but, BMW offers its drivers a comfortable, smooth, and sporty driving experience. In addition, both the brands are ranked the highest in terms of safety features as well.
Q: What is the Mileage of Audi e-Tron?
A: Audi e-Tron offers a maximum of 300 kW of power that can go up to 300 km on one single battery charge. The Mileage of the car depends mostly on the weather conditions. Moreover, it can reach a maximum speed of 200 km/h and can achieve 0-100 km/h in only 6 seconds.
Q: What is the Audi cars price in Pakistan?
A: The price of the Audi A6 in Pakistan is between 10 to 12 million Pakistani rupees.
Q: What is the price of an Audi Sports Car?
A: It depends on the model that you are going to purchase. It starts from $143,000 and the price keeps increasing.
Social Media Handle
https://www.audi.com.pk/sea/web/pk.html