You are all familiar with this hand-sized delicious fruit, mango but do you know Mango benefits?. Mangoes are the top most eaten fruits in the world. They are famous for their sweetness and tender taste and are produced by a tropical tree called Mangifera Indica. They were first introduced in the north-western side of the World, Bangladesh. Not only is the fruit sweet and delicious, but it also has the benefits of clear and moisturized skin.
Moreover, the tropical tree is grown and cultivated in South and Southeast Asia, but more than a hundred different trees produce this fruit. It all depends on the size, sweetness, color, flesh color, and shape of the mango fruit. Countries such as Pakistan, the Philippines, and India consider mango as their national fruit.
However, the fruit production in India is around 25 million tonnes out of the three countries, while Indonesia is the second-largest producer of mango. They can be added to smoothies, milkshakes, summer, and quinoa salads. Although the fruit contains a lot of sugars, it is advised to enjoy them in moderation, i.e., only eating under 330 grams per day.
| | |
| --- | --- |
|                  Type |                       Description |
| Name: | Mango Benefits |
| Type: | Public |
| Product: | Fruit |
| Manufactured: | Worldwide |
| Originated From: | Region between northwestern Bangladesh, Myanmar and North eastern India |
| Types of Mangoes: | Langara, Chaunsa, Sindhri, Anwer Ratol and many more |
| Known As: | King of Fruits |
| | |

Mango cuisine 
Mangoes can go along with every food and are widely used in cuisine. For example, the unripe mangoes are used in pickles and chutney. Moreover, famous brands like Shezan International Limited produce flavored mango juice, squash juice, pickles, and jams. People of Pakistan and India are famous for making shake out of this fruit.
Furthermore, mango jams are used in almost every house, either for breakfast or lunch. Unripe mangoes are further cultivated to make pickles, and they are commonly eaten with vinegar, soy sauce, fish sauce, or just a tiny ounce of salt. The combination is known as "mango salad" in the English language. Apart from their use in shakes for refreshment, they make energy bars, snack bars, fruit bars, ice cream, smoothies, popsicles, and toppings.
Apart from that, if we talk about Mango benefits, it  is also used for the improvement of the skin. The fruit can be directly applied to the face using mango oil, mango butter, or by adding it to a face mask. However, there are not enough studies made on the claim that applying it directly to your skin is helpful. The fruity smell of the fruit can also help in keeping the skin moist and fair.
Mango Calories
Although they have low calories, they are packed with a lot of nutrients. One cup of this fruit includes;
99 calories
5 grams of protein
6 grams of dietary fiber
6 grams of carbohydrates
6% of vitamin B6
67% of Vitamin C
6 grams of fat
18% of folate
4% of magnesium
6% of potassium
6% of vitamin K
There is enough amount of vitamin C in one cup that can help boost the human body's immune system and promote repair and growth. Vitamin K, E, and B vitamins also help boost the immune system of the body. One of the shocking studies claims that Mango benefits a healthy heart. For example, it offers potassium and magnesium to help relax your blood vessels and maintain a healthy pulse, as well as preventing high blood pressure levels.
Moreover the antioxidant mangiferin can potentially help in protecting heart cells against oxidative stress and inflammation. In addition, the blood levels of triglycerides, fatty acids, and cholesterol are also balanced.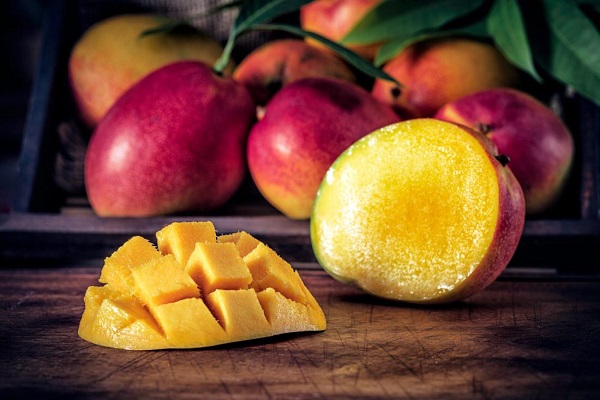 Benefits of Mango
If we start talking about its benefits, the list will go long and long. Let's figure out a few Health benefits of Mango.
Mango Health Benefits
There are a lot of mango benefits; from the improved digestive system to high immunity, they are beneficial for the human body. They may be low in calories, but they pack a lot of punch in high nutrients, especially vitamin C. Vitamin C helps boost immunity, repair, absorption of iron, and growth of the human body.
Moreover, mango benefits the promotion of healthy hair and fair skin. 67% of vitamin C is found in one cup and more than 10% of other necessary nutrients for your body intake. If you want to improve your skin health, you should add this fruit to your diet. The high vitamin C proportion in your body will help support your body in producing natural collagen.
Enough production of collagen will help improve elasticity and the strengthening of the skin. Moreover, do you want to get rid of wrinkles on your face? More production of collagen in your body will help prevent the formation of wrinkles on your face and dry skin. It is so high in antioxidants, is the best way to prevent premature aging.
Mango Fruit Benefits
Furthermore, a lack of vitamin C in your body can lead to a condition known as scurvy. The majority of the symptoms of scurvy, such as scaly skin and abysmal wound healing, are caused by the lower production of collagen in the body. Antioxidants that are found in mangoes are as follows;
Vitamin C
Vitamin A
Vitamin E
People that are prone to sun damage are most likely to recover if they add this fruit to their diet. Research suggests eating it once every three days can help reduce signs of skin damage. That burning sensation you get when you walk out in the sun? is called sun damage, and it can help prevent that!
Mango Benefits for Acne
Did you know that it help reduce acne? This is because the vitamin A found in this fruit helps in protecting human cells from damage and deterioration. As a result, vitamin A helps reduce acne by reducing cell damage, inflammation, and redness. But how would vitamin A be capable enough to deal with acne?
Well, vitamin A helps your body produce enough protein keratin to protect the skin from damage. But, an excess of keratin can cause dead cells to stick together, which makes them hard to remove from the body. In addition, the excess of dead skin on the surface of the skin can develop acne. So, it is necessary to keep a balanced amount of vitamin A in your body. Mango benefits also include a healthy digestive system.
Furthermore, many studies have shown that eating this fruit help prevent the risk of getting skin cancer and other sorts of cancers in the human body. Mangoes have an antioxidant called mangiferin, which can reduce the risk of several types of cancer, such as;
Colon cancer
Skin cancer
Cervical cancer
Breast cancer
Bone cancer
The antioxidant mangiferin can prevent skin cancer that is caused by exposure to ultraviolet radiation. An antioxidant called polyphenol is found in vitamin C, and research has claimed that it possesses anti-cancer properties. It reduces oxidative stress and stops the growth of cancerous cells, including leukemia.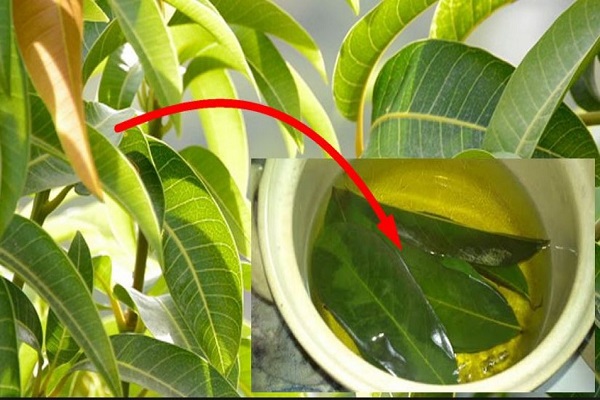 Mango Leaves Benefits
There are various benefits of Mango leaves that one should never take for granted. The oil is extracted from the leaves or skin of mangoes and is often used in cosmetics. Mango oil is rich in Selenium, Zinc, Copper, and antioxidants. Therefore, it is also used in sunscreen. The antioxidant mangiferin found in this fruit is known for its anti-aging and anti-cancerous benefits.
Fun fact: evidence suggests that mango oil may have the potential to repel mosquitoes.
Mango Butter Benefits
Producing an acceptable amount of mango butter and applying it to your skin can create a protective barrier around your skin that helps retain moisture. A moisturized skin means healthy, fair, and smooth skin. Mango butter can also be used as a cream to be applied on the feet to make them soft and healthy.
A lot of people complain about having rough feet with dead skin on the surface; our advice for you is that you try applying this butter on your feet and wait for positive results!
In addition to that, people have also claimed that mango butter is a perfect solution to prevent acne. However, the claim is not valid. Applying mango butter on your face will clog the pores found on the surface of your skin, and it will only worsen your acne. So, it is better to keep the butter away from your face!
Pakistani Mango
Although there are a lot of mango benefits, one should not eat them in bulk as an excess of nutrients can cause problems. One should keep a balanced intake of nutrients to avoid any other damage to the human body. In Pakistan, mangoes come in notable varieties;
Langra
Samar
Fajri
Saroli
Bahist
Maldah
Totaparo
Sindhri
Chaunsa
Dasher
But, out of all Pakistani Mango types, Chaunsa is one of the highest-ranked mangoes to be exported out of Pakistan, i.e., 60% accountability. They are widely grown in Sindh, Punjab, which is why it is popular in other countries. Furthermore, it is known as the king of fruits, and there is a sky-high demand for Pakistani mango worldwide.
Pakistan is producing 1.9 million tons of mangoes and is the fourth-largest producer with around 5-7% export of mango. The fruit is available in early May and reaches the end of September. Where does Pakistan export its mangoes, you ask? Here is the list of countries;
United Kingdom
China
Australia
United Arab Emirates
Afghanistan
Bahrain
Netherlands
Azerbaijan
China
France
Germany
Belgium
Chaunsa and anwal later, also known as white Chaunsa, are Pakistan's highest consumed and favorite type. Why? Because they are extraordinarily sweet and juicy. Not only that, they are perfect for diet balance and bowel movements.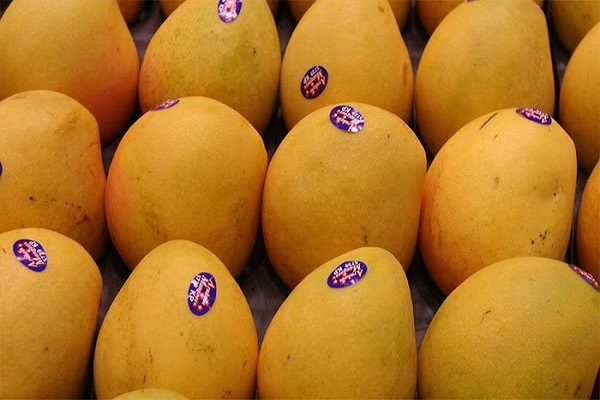 Mango benefits healthy digestion
Several qualities of mango also include a healthy digestive system. For instance, it contains a bundle of digestive enzymes that help in breaking down larger food molecules to be easily absorbed by the body. For example, digestive enzymes such as amylase can disintegrate complex carbohydrates into maltose and glucose.
The enzymes are found most active in ripe mangoes, which is why most mangoes are sweeter than unripe ones. In addition, large amounts of water and dietary fiber found in the fruit are able to help solve digestive problems such as diarrhea and constipation. There are different compounds found that aid the digestive tract of the human body.
Did you know that mangoes are also beneficial for your eye?
The fruit is so rich in nutrients that it can almost aid different aspects of the human body, even eye health! The two primary nutrients found in mangoes that help in a healthy eye include the antioxidants;
Other Benefits
These enzymes form up in the retina of the eye and help prevent the penetration of dangerous rays such as ultraviolet rays and blue light. You can say that they act as a natural sunblock by absorbing vast amounts of light. Vitamin A found in the fruit are also helpful in supporting eye health. A deficiency of vitamin A includes symptoms such as dry and itchy eyes. Thus, a lack of vitamin A can cause vision problems.
Mango benefits are still being researched, and therefore, not all of the mentioned benefits are 100% reliable.
The antioxidants found can also improve healthy and robust hair. Vitamin C helps in the production of collagen that helps fight against wrinkles. Furthermore, polyphenols found in vitamin C also act as antioxidants that are crucial for strong hair. These antioxidants also help aid against damage from oxidative stress.
Frequently asked questions
Q: How to make mango ice cream?
To make mango ice cream, you will need;
Two fresh mangoes
400 grams of condensed milk
2 cups of whipped cream
1/8 tablespoon of yellow food coloring
Steps to make mango ice cream:
Cut the mango into slices and blend them using a mixer or blender
Heat the blended mixture of mango on a non-stick skillet at low flames
Cool the mixture
Ice cream
Mix the cooled mixture of mango with condensed milk.
Mix the whipped cream with a hand-held beater until it is stiff
Pour the mixture of mango into the stiff cream and fold it nicely and smoothly.
Pour it into a container made of glass
Put it on a tray and into the freezer for more than 13 hours
Take the tray out of the freezer and give it a few minutes to soften
Q: How many calories in one glass of mango milkshake without sugar?
A: One glass of milkshake without sugar contains approximately 150 calories, but it can go up to 220 calories with sugar.
Q: How many calories are in a mango milkshake?
A: A mango milkshake contains around 200-250 calories with sugar included.
Q: When to eat mango to lose weight?
A: To lose weight, you can add this fruit to your breakfast or lunch. Use them as toppings for salad and avoid eating them in bulk and before going to bed. Although the fruit contains a lot of sugars, it is advised to enjoy them in moderation, i.e., only eating under 330 grams per day.
Q: How does mango help with hair?
The antioxidants found in this fruit can also improve strong and healthy hair. Mango benefits include Vitamin C that helps in the production of collagen that helps fight against wrinkles. Furthermore, polyphenols found in vitamin C also act as antioxidants that are crucial for strong hair. These antioxidants also help aid against damage from oxidative stress.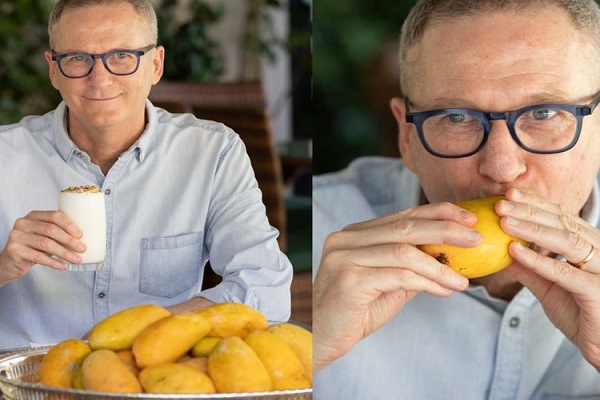 Social Media Handle
https://www.mango.org/about-mangos/