Audi A8 Specifications
It is a full-sized luxury car and is manufactured by Audi in Germany and has eight doors. It is the successor of the Audi V8 and was the first luxury vehicle ever to use a V8 engine, which is a mighty engine. The top speed of this luxury car is 250 km/h, and it can reach 0-100 km/h in just 5.7 seconds. Apart from that, it offers the customers both the permanent all-wheel drive and a front-wheel drive along with either short or long-wheelbase variants.
In addition, the car carries a 2995 cc fuel and performance V6 petrol engine that produces a tremendous horsepower of 335 hp at 5000 RPM. Also, it has six cylinders with four valves each and a TFSI fuel type supply.
The Audi A8 is a turbocharger with an automatic transmission type and an impressive 8-speed gearbox. Drivers would describe it as a mildly hybrid car with an ADW drive type. Moreover, the car runs on petrol and has an impressive mileage of 12 km/l. Are you wondering about the total fuel capacity of this car? It has a full fuel capacity of 72 litres with a BS-VI emission norm compliance.
On top of that, it is packed with all the safety features, including air suspension and air springs with continuous damping for the front and rear suspensions.
| | |
| --- | --- |
|                  Title |                             Description |
| Name: | Audi A8 |
| Manufacturer: | Audi AG |
| Type: | Vehicle |
| Class: | F-segment |
| Platform: | MLB |
| Body Style: | 4 door Sedan |
| Also Known As: | Audi A8L, Audi A8 W12 etc |
| Layout: | Longitudinal F4 Layout |

Audi A8 Features
The Audi A8 speaks nothing but luxury. Packed with ultra-comfort and convenient features, it has more luxury in store for its owners. For example, the car's front seats are 22-way power-adjustable, and they both are ventilated and constantly heated.
The interior climate control system, headlights both rear and front, a panoramic sunroof, power rear and side windows are all standard. However, for the 2021 model, the new top-view camera system that allows a 360-degree virtual view is now installed free of cost, making it an addition to driver aiding systems and sensors.
Furthermore, the car is fitted with nine airbags on almost all sides to provide the drivers with peace of mind yet still alert. Infotainment and other features include a hefty sound system, touch response, and navigation systems via touchscreens rather than physical buttons.
In addition, the interior of the car also has a 10.1-inch upper screen and an 8.6-inch screen at the bottom. The third screen is 12.3 inches long with a digital instrument cluster that displays multiple features. Standard features of the car include Apple CarPlay, Alexa compatibility, and a 23-speaker sound system.
Audi A8 Interior
The interior of this car is beautiful. They have removed some of the physical buttons found in the previous models of Audi and replaced them with dual touchscreens that support haptic feedback. Moreover, once you get inside the cabin, everything you feel will give off the smell of quality.
The seats of the car are fitted with one of the finest leathers in the world. The leather seats are thus highly comfortable, with still a lot of seating space to offer, especially at the back. Furthermore, the A8 models of Audi always feature standard four-zone climate control, power doors, and 22-way power front seats that are fully adjustable. In addition, it has installed a top-view camera system in its 2021 model.
There are five seats and the four main seats offer top-class comfort and support. In addition, the newly upgraded 2021 model provides a more convenient adjustment to their seats which is perfect for summers. The option is helpful for people that have long legs and find it hard to adjust in tight spots.
Every model's standard color is painted with Dark Brown Wood trim and dark mate inlays lower in the cabin. The A8 lacks behind a large spacious trunk. However, it can store minimum-sized objects and items.
Furthermore, the prices of every Audi A8 model are high due to the amount of comfort, luxury, and power the cars provide their owners. With that said, the base price is around 86,000 US dollars.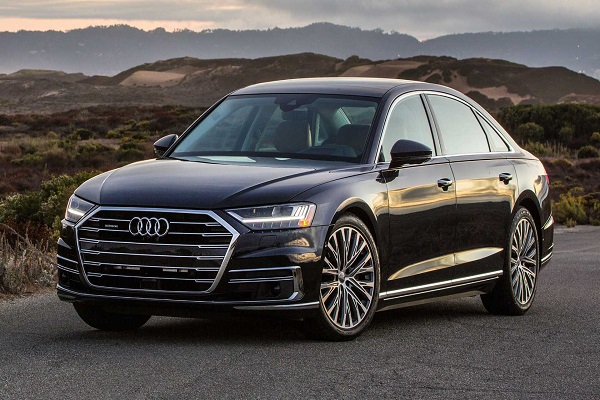 Audi A8 Model
The fourth generation was introduced and revealed in 2017 with many significant changes in terms of power, design, looks, and performance. Moreover, Audi has released different models that have a few standard features and more extra features. The model types have been briefly described below;
Audi A8 2021
The newest model is the 2021 Audi A8 that features extreme comfort, luxury, design, power, and performance. Moreover, it has a 4-litre TFSI engine that produces 460 horsepower. It has a turbocharged direct injection of fuel system with gasoline as its fuel type. The fuel mileage of the car is 21 and includes all the safety features. Some of them are mentioned below:
Stability control
Reverse gear camera
ABS brakes
Airbags on all sides
Fog lamps
Parking aid
Traction control and rollover protection bars
Moreover, it has three variants:
55 TFSI Quattro
60 TFSI e Quattro
60 TFSI Quattro
0 TFSI
The prices for the four variants are slightly different by a margin of a thousand dollars. But significant differences can be seen in horsepower, fuel consumption, engine, and other luxury features.
It is the largest and highly luxurious Sedan launched by Audi in 2021. It has earned a spot on the Editor's choice list. The price of the 2021 Audi A8 is 1.56 crore Pakistani rupee and around 85-90 thousand US dollars.
Audi A8 2020
The 2020 Audi A8 has a hybrid V8 cylinder engine that produces 453 horsepower at 5,500 RPM. Furthermore, it can reach up to 267 km/h, and in 4.7 seconds, it can achieve 0-100 km/h. The starting price of the 2020 Audi A8 is 96,800 US dollars.
Moreover, it is an all-wheel drive with 8-speed automatic transmission and offers five seats; two in the front and three at the back. Apart from that, the car has all the standard safety features offered in other models.
Audi A8 2019
The 2019 model Audi A8 has a V6 Turbo 3 Liter TFSI engine that produces a horsepower of 335 hp at 5,000 RPM. Moreover, it includes all the standard features available in all the A8 models.
Although the fuel type is an unleaded premium, the car has a Tiptronic 8-speed automatic mode transmission. It has a fuel consumption of 15.1 within cities. Audi A8 price in US dollars is around 80-90 thousand dollars and 46.6 million Pakistani rupees in Pakistan.
Audi A8 2018
2018 Audi A8 offers its owners both V6 and V8 engines that include a 3-liter supercharged V6 engine that produces a horsepower of 333 hp and a 4 Liter twin-turbo V8 engine that produces a horsepower of 450 hp. Moreover, the 4.0T engine variant of the car can be upgraded to produce an incredible horsepower of 605 hp.
The standard transmission type is an 8-speed automatic transmission that offers a manual mode. As a result, drivers can drive any A8 model with high performance, excellent handling, and ultimate comfort.
2018 Audi A8 has a base price of 86,000 US dollars and 33 million Pakistani Rupees. However, all the A8 models have different packages that can be purchased according to the owner's preference, so prices for every model vary.
Audi A8 2017
2017 Audi A8 was launched in 2017. The car runs on gas and has an 8-speed shiftable automatic transmission. The engine of the car V6 3.0-liter All-wheel drive produces a horsepower of 333hp at 5,300 RPM. Moreover, the four-seat car has 24 valves and includes all the standard safety features. Audi A8 2017 price in the US is around 86,000 US dollars.
Audi A8 2016
Audi A8 2016 price in the United States is around 82,000 US dollars. Furthermore, the car has a 3.0L V6 supercharged DOHC 24-valve engine that produces 333 horsepower at 5,500 RPM. The transmission of the car is an 8-speed automatic transmission with manual mode and has a fuel consumption of 12.6 km/h.
Audi A8 2015
The Audi A8 2015 model was introduced in 2015 with a lot of changes than the previous models. Although the price ranges were in the same figures, the cars had a lot to offer for a super luxury car. Audi A8 2015 model has an initial price of around 83,000 US dollars and compensates a lot in terms of power, resilience, resale price, and infotainment.
Audi A8 Review
It is a comfortable luxury car that offers more comfort, innovation in technology, and magnificence than any other car on the road. Yet, it is packed in a compact package that will go along with the driver's preferences. Moreover, it is more known for its simplicity rather than complicated designs and styles.
Along with the beautiful cabin of the car, a V8 engine that offers an incredible 453 horsepower, it barely has any issues with its performance. Although it has a relatively small trunk and a little fiddly touchscreen interface, the Audi A8 is a competent luxury vehicle.
On the contrary, to drive in an Audi A8 represents simplicity and perfection. It has a massively beautiful cabin and various standard comfort modes with competent handling.
Frequently Asked Questions
Q: When is the new Audi A8 coming out?
A: The new model is expected to be released in early 2022.
Q: How much is a 2016 Audi A8?
A: The retail price of the 2016 Audi A8 is 82,000 US dollars.
Q: How much is an Audi A8?
A: The average starting price of any model is 80,000 US dollars.
Q: How many horsepower does an Audi A8 have?
A: The 2021 Model has an incredible horsepower of 443 hp.
Q: Which Audi has the highest top speed?
A: The fastest Audi car is the Audi 8 V10 Bi-Turbo super luxury car. It can reach 0-100 km/h in 3.0 seconds. But, of course, with 777 horsepower, the vehicle can achieve great speed in less time.
Also, check
Social Media Handle
https://www.audiusa.com/us/web/en/models/a8/a8-sedan/2021/overview.html