Pantene Shampoo and Conditioner
Procter & Gamble produces and manufactures the Pantene brand. It is a brand for hair care products and was first introduced in 1945 in Switzerland. After a few years, Procter & Gamble bought Pantene in 1985 and made a Pantene Shampoo and Conditioner as a 2 in 1 product.
Pantene Shampoo and conditioner have both the benefits of shampoo and conditioner in one bottle. Moreover, it has great effects on both your hair and scalp as it restores the natural shine and silkiness of the hair. But unfortunately, many people start to experience hair fall, and the cause of hair fall is excessive combing and irregular use of different shampoo.
The Pantene Shampoo and Conditioner works as a combined hair fall solution to help aid against hair loss and excessive hair fall. It restores silky and shiny hair through its intensive nourishing Pantene Pro-V formula. The formula has the following purposes;
It can restore the damaged hair to its original shine and healthier state
Users can see a visible change of healthy hair from the tip to the roots.
Furthermore, it is far more effective than any other shampoo brand. And it also has the healing capacity to nourish and hydrate the hair.
| | |
| --- | --- |
|                  Title |                         Description |
| Name: | Pantene Shampoo |
| Type: | Haircare |
| Owner: | Procter & Gamble |
| Headquarter: | Switzerland |
| Founded: | 1945 |
| Markets: | Worldwide |
| Website: | https://pantene.com/en-us |

Pantene Shampoo Ingredients
Ingredients found in Pantene Shampoo work their way through the tips and into the roots. As a result, restoring all the lost nutrients that are essential for both healthy and shiny hair. It mainly comes in a 360 ml bottle and includes the following ingredients;
Aqua Water
Sodium Laureth Sulfate
Sodium Lauryl Sulfate
Sodium Citrate
Cocamide Mea
Cocamidopropyl Betaine
Sodium Xylene sulfonate
Glycol Distearate
Sodium Chloride
Panthenyl
Sodium Benzoate
Panthenol
Tetrasodium EDTA
Citric Acid
Fragrance
Dimethicone
Trisodium Ethylenediamine
Stearyl Alcohol Sodium
Guar Hydroxypropyltrimonium
Trihydroxy stearin
Methylisothiazolinone
Ethyl Ether
Trisodium ethylenediamine Di succinate
Methylchloroisothiazolinone
With the above ingredients, it works best to restore all hair's natural qualities. Thus, further repairing all the damages that have been introduced in the hair. Apart from that, customers who experience heavy hair fall and dry hair can gain many benefits by using Pantene's 2 in 1 formula.
Types of Pantene Shampoo
Many various types have been produced in Pantene Shampoo that works in different ways to tackle the common hair issues.
1- Pantene Silky Smooth Care Shampoo Pro-V
Let us first agree that hair fall is the most common issue that stresses all of us. Pantene Advanced Hair Fall Solution Shampoo is the perfect hair care partner to restore hair fall and produce silky smooth hair in one formula.
Furthermore, it includes an ingredient Keratin that is essential for keeping the hair strong. The ingredient strengthens your hair right from the roots and makes them healthy. The shampoo reduces hair fall by 98% within 14-days of use. The advantages of using Pantene Silky Smooth Care Shampoo Pro-V include;
Smooth and Silky hair
Hair nourishment
Reduced Hair fall
2 in 1 combo of both shampoo and conditioner qualities
The shampoo makes your scalp free of oil
2- Pantene Pro-V Anti-Dandruff Shampoo
Do you have dandruff on your hair? Pantene Pro-V Anti-Dandruff Shampoo is the perfect solution for dry and dandruff hair. It can cleanse your hair and remove dandruff and dryness from your scalp. Moreover, the formula contains a good amount of Keratin that moisturizes your hair and rectifies tangled hair.
Thus, making your hair smooth and shiny. With that said, dandruff in the hair can efficiently be removed with regular use of shampoo. The advantages of this shampoo include:
Dandruff free hair
Beautiful shiny hair
Moisturized hair
Smooth and silky hair
3- Pantene Pro-V Total Damage Control
This shampoo helps repair damaged hair. The formula that this shampoo contains can heal damaged hair to the extent that it can make hair look both shiny and detangled hair. Moreover, results can be seen if the shampoo is applied regularly. Therefore, it is also recommended for all hair types.
Apart from that, the shampoo restores your hair's natural shine and softness and leaves no residue on the scalp. It can also protect your hair from any future damages.
4- Pantene Pro-V Lively Clean Shampoo
Do you have a greasy scalp and want to eliminate all the unnecessary amounts of oil from your scalp? Pantene Pro-V Lively Clean Shampoo can reduce excessive oiling on your scalp and make your hair free of grime and dust. Moreover, regular use of the shampoo leaves your hair extra clean and significantly fresh from its damaged state. The key ingredients that help fight against oily and dirty hair include:
Water
SLS
Surfactants
Panthenol
Thus, these ingredients in the shampoo cleanse the scalp and give off a fresh fragrance along with a natural shine to your hair. Although excessive use of the shampoo will make your hair extra dry, it is better to apply the necessary shampoo to your hair.
5- Pantene Pro-V Silky Smooth Care Shampoo
This shampoo is particularly for those people that have curly and dry hair. Curly hair is a common issue found in many people; the formula present in Pantene Pro-V Silky Smooth Care Shampoo helps fight against dry and curly hair.
The ingredients make your hair three times softer than its present state. Moreover, the shampoo gently cleanses the scalp and removes the natural oils present in the scalp. Therefore, eliminating the natural frizz in your hair. All in all, the shampoo:
Eliminates dry hair
Frizz-free hair
Soft and shiny hair
It has a creamy consistency
Gently cleanse your hair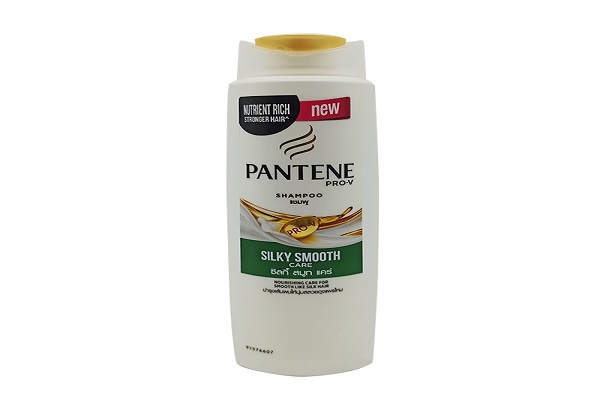 6- Pantene Long Black Shampoo
Everyone wants to make their hair look beautiful with a dab of jet-black. The Pantene Hair fall control prevents your hair from any future damages caused by hair styling products that contain harmful chemicals. It also retains the natural color of your hair and makes it even darker.
Furthermore, Pantene Long Black Shampoo prevents your hair from fading caused by excessive dust and pollutants in the environment. The key ingredients of this shampoo include:
Water
Sodium Chloride
Sodium Laureth Sulfate
Dimethicone
Sodium Lauryl Sulfate
These ingredients make sure that your hair is Paraben-free and shiny. It also prevents hair fall and restores the shiny black look of your hair.
7- Pantene Pro-V Original Fresh Dry Shampoo
People that find it hard to apply shampoos on their hair by washing can feel at ease with the new Pantene Pro-V Original Fresh Dry Shampoo that does not require wetting the hair. This Dry shampoo can be applied to the hair without washing the hair. Moreover, it removes excess oil from your scalp and leaves a fresh fragrance that lingers for hours.
The shampoo consists of natural extracts that control excessive production of the body's natural oil. Furthermore, the ingredients are tested for any allergies thus, making it a hypoallergenic product.
8- Pantene Pro-V Color Preserve Volume Shampoo
Are you worried about the low volume in your hair? Pantene Pro-V color preserves volume shampoo is the perfect option for having significant volume levels in your hair. You will notice an effective change in the volume of your hair after applying the shampoo frequently. Moreover, the ingredients in the shampoo counteract the agents found in your hair that prevent your hair from showing its natural state.
Apart from that, the Pantene volume shampoo gently cleanses your hair and adds volume by giving it a natural bounce. It further moisturizes the hair and creates a dull-free look by nourishing your hair.
9- Pantene Pro-V Moisture Renewal Shampoo
This shampoo contains the perfect solution for damaged and curly hair. It is one of the best shampoos for damaged hair as it moisturizes the hair with necessary nutrients that prevent split-ends and frizzy hair. It is also a Pantene Gold Series Shampoo that also helps moisturize the hair and scalp.
Moreover, applying shampoo regularly to your hair can keep your hair hydrated and moisturized for 24 hours. It also reduces damage caused to your hair and reduces split-ends.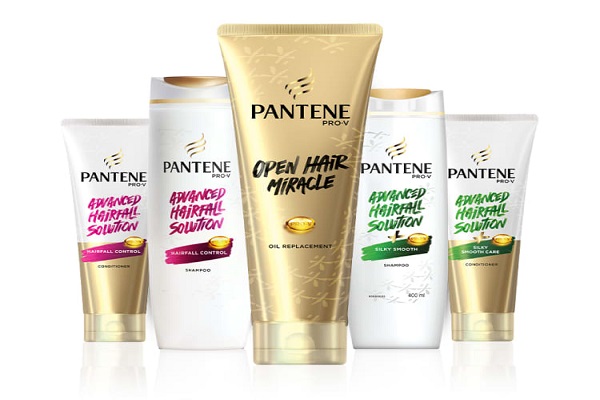 10- Pantene 5 in 1 Advanced Care Shampoo
Are you thinking of buying a 5 in 1 shampoo that can fix all your hair problems like hair fall, dry and frizzy hair, dandruff, dull hair, faded color, etc.?
Pantene 5 in 1 shampoo is an advanced hair care agent that can gently nourish your hair and retain all the good nutrients in your hair to make them look shiny, silky, dandruff-free, and healthy at the same time. Moreover, the shampoo has been formulated with five benefits in just one bottle.
The shampoo can moisturize, strengthen, and make your hair smooth again. It is free from parabens, dyes, mineral oils, and phthalates. The shampoo comes in a 1.13 Liter bottle and includes the following five benefits:
Moisturized hair
Smooth hair
Strengthened hair
The color vibrancy of hair
Lightweight hair
Pantene Shampoo for hair loss
The perfect Pantene Shampoo for hair loss is the Pantene Silky Smooth Care Shampoo Pro-V. Regular use of this shampoo can make your hair strong and silky smooth. Moreover, it contains Keratin, which helps make the hair stronger, starting from the tip and roots. As a result, it is 98% effective in reducing hair fall and making strong and healthy hair.
Pantene Shampoo review
Many users of the Pantene shampoo have dropped positive reviews. However, they have proved that the Pantene brand is perfect for all hair problems related to hair fall, weak, dry, dandruff, and oily hair. In addition, the formula and ingredients in the shampoo have had no negative effects so far.
And customers will find no drawbacks to using the shampoo if they have followed the required instructions. Other than that, the product line of Pantene is the perfect solution for all hair-related problems.
Pantene Shampoo in Pakistan
The Pantene brand is also available in Pakistan with all of its different types of shampoo and conditioner. Customers in Pakistan can easily buy any Pantene Shampoo related to their preferences from any super Marts and local retail shops. They are available in different types and bottle sizes depending upon the needs of the customers.
Frequently Asked Questions
Q: How much is Pantene Shampoo?
A: The cost of Pantene Shampoo is different for all types. A 400 ml bottle costs around 250 Pakistani Rupees, and a 200 ml bottle of Pantene costs around 200 Pakistani Rupees.
Q- Where can I buy Pantene silver expressions Shampoo?
A: Pantene Silver Expressions Shampoo can be brought from any nearest store or a super Mart. In the US, the same shampoo can be brought from Walmart.
Q: How much does Pantene Shampoo Cost?
A: The cost of Pantene Shampoo varies from bottle sizes and the types of shampoo. For example, the Pantene 5 in 1 advanced care shampoo 38.2 oz bottle costs 14.99 dollars on amazon.
Q- Who makes Pantene Shampoo?
A: Procter & Gamble produce and manufacture the Pantene brand.
Q- Where can I buy full and thick Pantene Shampoo?
A: The full and thick Pantene Shampoo can be ordered online from Amazon and eBay. You can visit Walmart to buy the shampoo as well. For Pakistan, you can visit any super mart to buy full and thick Pantene Shampoo.
Social Media Handle
https://pantene.com/en-us/shop/shampoo