Altaf Hussain was born in Karachi on 17 September 1953. His parents were immigrants from India. His father, Nazir Hussain, was a Station Master in Indian Railways who, after migrating to Karachi, worked as an office worker ai a local mill. Altaf Husaain's grandfather, the Late Mohammad Mufti Ramazan, was Grand Mufti of the town of Agra in UP, India, and his maternal grandfather. Haji Hafiz Raheem Bhux was a reputed religious scholar in India.[1] His parents were immigrants – from India Altaf Hussain completed his Bachelor of Science from Islamia Science College (Karachi) in 1974, and Bachelor of Pharmacy in 1979 from the University of Karachi. He began his career as a trainee at Karachi's Seventh Day Adventist Hospital. He also worked simultaneously for a multi-national pharmaceutical company. Between 1970 and 1971, Altaf Hussain joined the National Service Cadet Scheme. Soon afterwards, he was recruited in the Baloch Regiment of the Pakistan Army.
| Title | Description |
| --- | --- |
| Personal | |
| Name: | Altaf Hussain |
| Local Language Name: | الطاف حسین |
| Famous As: | Politician |
| Nationality: | British Overseas Pakistani |
| Residence: | London, United Kingdom |
| Education: | University of Karachi, Islamia Science College |
| Religion: | Islam |
| Profession: | Politician |
| Height: | 1.66 m |
| Website: | www.mqm.org |
| Sun Sign: | Virgo Virgo Men |
| Weight: | 120 kg |
| Maritial Status: | Seprated |
| Zodiac: | Libra |
| Net Worth: | Under Review |
| Founder/Co-Founder: | Muttahida Qaumi Movement, All Pakistan Muttahidda Students Organization, Khidmat-e-Khalq Foundation |
| Born | |
| Date: | 17 September 1953 |
| Place: | Karachi, Pakistan |
| Family | |
| Spouse: | Faiza Altaf |
| Children: | Afzaa Altaf |
| Parents: | Khurseed Begum, Nazir Hussain |
| Siblings : | Nasir Hussain |
| Career | |
| Political Party: | Muttahida Qaumi Movement ( MQM ) |
| Serve As: | Leader of the Muttahida Qaumi Movement |
| Proceeded by: | Office established |
| Assumed office: | 18 March 1984 |
| In Office | |
| Role: | Leader of the Muttahida Qaumi Movement |
| Preceded By: | Office established |
| Political Party: | Muttahida Qaumi Movement ( MQM ) |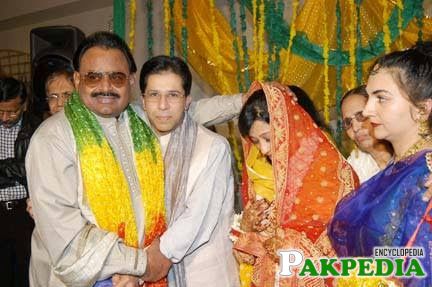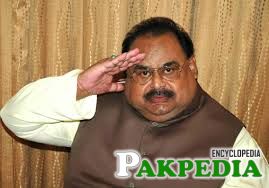 About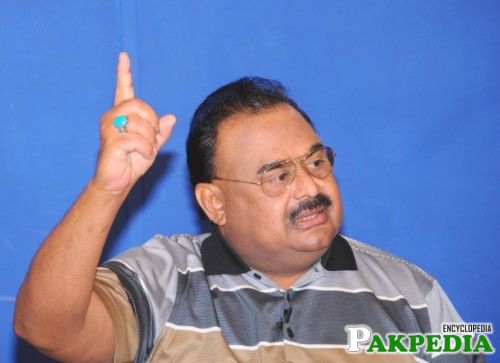 Early Life
Mr Hussain has been politically active from a very young age. While attending the University of Karachi, he served as General Secretary and, later, as President of the National Students' Action Committee. He founded the All-Pakistan Mohajir Students' Organization (APMSO) on the 11 June 1978. [2] President of the National – Students' Action The APMSO was formed as an activist group campaigning for the rights of Mohajir students at the University of Karachi. Later, in 1984, It gave birth to the Mohajir Quami Movement (MQM). On 19 June 1992, the Pakistan Government launched the first army operation against the MQM. A month before the operation, because of an attack on his life on 21 December 1991, Mr Hussain fled from Karachi to London where he sought political asylum which was granted to him by the British Government. While in exile, he transformed the Mohajir Quami Movement to Muttahida Quami Movement in 1997 in order to provide a nationwide platform to the oppressed of the country. 
Early Political Career
Hussain's political career began during his student years in KU when he and Azeem Ahmed Tariq founded the All-Pakistan Mohajir Students Organisation (APMSO). Formed in 1978, APMSO gained a massive following within a short period of time. And although it did not perform well in KU's 1980 student union election, APMSO managed to double the number of its votes with its inclusion in the anti-Zia United Students Movement (USM) during the 1981 union election. During the time, APMSO also faced stiff opposition from Islami Jamiat-i-Talaba (IJT), the student wing of Jamaat-i-Islami (JI). In 1984, key APMSO leaders launched the Mohajir Qaumi Movement – a political party that was to serve as student organisation's senior partner. The party was publicly launched by Hussain in Karachi's Nishtar Park in 1986. Ethnic strife and continual bouts of urban conflicts were nearing a climax at the time and MQM quickly gained recognition with a good number of supporters in Karachi and parts of lower Sindh.[3] Hussain's political career  – student years
Leadership Of MQM
Under Hussain's leadership, MQM swept the 1988 election in Sindh's urban areas, emerging as the third largest party. It entered into a cooperation agreement with Pakistan Peoples Party, enabling it to become part of the government. However, differences developed between the parties and in 1989 the alliance fell apart. In the 1990 election, MQM again emerged as the third largest party forming an alliance and a coalition government with Pakistan Muslim League – Nawaz ( PML-N), the leading party at the time. The coalition partners had a falling out in 1992.Both PPP- and PML-N-led coalition governments tottered on the edge of collapse, after Hussain and his party withdrew from the coalitions. Hussain's party boycotted the 1993 National Assembly election but won a considerable number of seats in the Sindh Assembly election, proving MQM to be a powerful political party in Karachi.[4] MQM swept the 1988 – election in Sindh's
MQM changed its name
In 1997, MQM changed its name from Mohajir Qaumi Movement to Muttahida Qaumi Movement in order to develop from a party representing a single community to one that could play a greater role in national politics. The party also saw the formation of a breakaway faction – MQM – Haqiqi. This particular faction continues to carry the original name of Hussain's party – Mohajir Qaumi Movement. And although it did not have much of an impact on capturing the original party's vote bank, the MQM – Haqiqi did feature in the increased levels of unrest in Karachi and the infamous 1992 operation.[5] In 1997, MQM changed  ——-   its name
Military Service
In 1970, General Yahya Khan introduced the National Service Cadet Scheme (NSCS) making it compulsory for higher secondary scholars to enlist with the army. According to the MQM, Altaf Hussain enlisted with the Pakistan Army through the NSCS and his services were assigned to the 57th Baloch Regiment as soldier number 2642671. Upon completion of his training, his regiment was assigned from Hyderabad to Karachi from where it was sent to East Pakistan via ships.Once the 1971 Indo-Pak war came to an end, Hussain returned to West Pakistan to join wilfully with the regular army. In the version of events told by the MQM, the selection officer rejected Hussain's selection because his parents were 'muhajirs' from India even when Hussain insisted he was born in Pakistan. This is quoted as one of the many instances that formulated Hussain's future political aspirations.[6] Altaf Hussain enlisted with – Pakistan Army
Muhajir Nationalism
Political strife of the APMSO bifurcated into the issue of stranded Pakistanis in Bangladesh an on 14 August 1979, Hussain participated in a demonstration at the Mazar-e-Quaid for the safe return of stranded Pakistanis, also called the Biharis. Following the demonstration, Hussain was arrested and sentenced on 2 October 1979 for 9 months imprisonment and flogging with five strokes. Hussain was later released on 28 April 1980 after he had served his sentence.
Sindhi-Muhajir accord: 1988
The urban centres of Karachi and Hyderabad had increasingly become ethnically diverse and riots along ethnic lines were commonplace. In May 1985, a Pathan minivan driver struck and killed a muhajir schoolgirl inciting the first Pathan-Muhajir ethnic riot. Later, following an unsuccessful raid on an Afghan heroine processing and distribution centre in Sohrab Goth by the army, Pathan and Afghan terrorist turned their ire on muhajir residents of Aligarh Colony.
Sindhi-Muhajir accord: 1988
Altaf Hussain issued MQM's Charter of Resolutions (Qarardad-i-Maqasid) which formed the basis for the party's ideology. The MQM charter was paramount in expressing many of the "long-standing grievances" of Sindhi nationalists, and a cooperative arrangement was worked out between the MQM and various Sindhi nationalist parties in early 1988. Apart from the points stipulated in the party's original resolution, Hussain also introduced the idea of Muhajir being a "fifth subnationality" alongside the Punjabis, Pathans, Baloch, Sindhis.[7] MQM charter was – paramount  expressing
Detail Imformation
In 1979, he graduated from the 'University of Karachi' with a Bachelor of Pharmacy degree. Following graduation, he worked as a trainee pharmacist for the 'Seventh Day Adventist Hospital' in Karachi.
In 1984, he formed the 'MohajirQaumi Movement' (MQM) political part in Pakistan. This was later renamed the 'MuttahidaQaumi Movement' in 1997.[8] later renamed – MuttahidaQaumi Movement
Hussain was arrested following a political demonstration but the charges were later dropped, in 1986.
In 1987, Hussain and other MQM members were arrested and he was not released until 1988.
In 1988, MQM and Hussain participated in the national elections and the party won enough seats to be included in the ruling coalition. After a series of negotiations, the MQM lost power.
In 1992, the government began 'Operation Clean-Up' and sent the military into Karachi, arresting or killing hundreds of members of the MQM. As a result, Hussain fled to Britain, where he was granted political asylum.
In 1995, politically-motivated fighting led to the death of his brother Nasir and his nephew Arif and their deaths were blamed on the government.
In 2002, he was granted British citizenship.[9] In 2002, he was granted – British citizenship
On July 3, 2013, he was arrested by British police and charged with money laundering and hate speech.
On June 3, 2014 Hussain was arrested by British police on a second charge of money laundering. He currently remains home on bail and has denied all the charges against him.[10] He currently remains ———-   home on bail