Alkaram Studio pk
Alkaram Studio is a notable clothing brand that has stores in different cities of Pakistan including Faisalabad, Karachi, Lahore, Gujranwala, Islamabad, Peshawar, etc. The vibrant colors and impeccable prints make this brand worth considering for your day-to-day events. Various celebrities have become the brand ambassador for this brand including Ayeza Khan, Iqra Aziz, and Maya Ali.
The offer stitched, unstitched, ready-to-go, Pret, Luxury Pret, and many more collections at an affordable price. The brand that came into being in 2010 is giving tough competition to its competitors. The effort team puts into designing extraordinary designs is clearly reflected in their clothes. The international clients can also get facilitated with their articles with online orders.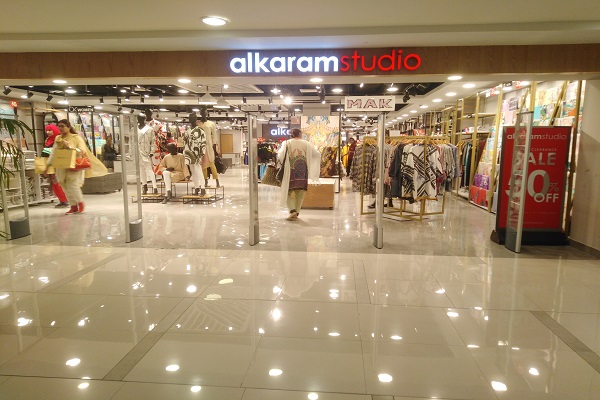 Alkaram Studio History
Alkaram Studio is the most significant name whenever we talk about the fashion industry in Pakistan. The Alkaram Textile Mill came into being in 1986 while Alkaram Studio was founded in 2011 in Karachi. Today, they have numerous stores all over Pakistan. They also facilitate international clients through online orders. The main motive of their parent company (Alkaram Textile Mill) was to provide different and creative textile solutions in the world.
They persistently strive to create new products and always come with something appealing. The collaboration of various notable designers in the luxury Pret including Faiza Samee and Umer Syed gave a new shape to this brand. Their out-of-the-box patterns and vibrant colors make them an outstanding brand among all.
Alkaram Studio Collection
Every year the team Alkaram brings new designs for their valuable customers. The designs and articles are always enchanting and likable because of the hard work put into them. Let's talk about the collection in which the brand deals.
1- New In
Alkaram Studio ensure to always bring something new to fulfill their client's requirements. From unstitched to activewear to Pret collection, they know what people want and how to come upon their expectations. Apart from clothing, they also offer various beautiful accessories.
2- Unstitched Collection
They have an unstitched collection for every season. You get what you want be it a 1-piece suit, 2-piece suit, or 3-piece suit. The Alkaram team ensures to make your special days delightful by offering appealing designs to their customers. Even if you reside abroad, you can wear Alkaram any day.
3- Stitched Collection
They not only deal in an unstitched collection but also have a huge variety of stitched designs. They have a hardworking team who beautifully stitch the clothes making them more elegant.
4- Pret Collection
In the Pret collection, they have printed, Formal, and Embroided ready-to-wear. In bottoms, they have trousers, Shalwars, and leggings. In Accessories, they have Tank tops, Dupattas, Shawl and Mufflers, etc. Moreover, in Western wear, they have beautiful Jackets and Sweaters to make your winters cozy.
5- Men Collection
Not only women, but they also have a huge variety of men's collections including Shalwar Kameez and 3-piece. You can also buy ready-to-wear from their huge collection including Waistcoat, Shalwar Kameez, Kurta, etc.
6- Eid Bundles
Every Eid, the brand comes with exciting offers to make your special event joyful. You have various bundle offers to choose from including a suit, earrings, and lipstick. You can choose any bundle from numerous options.
Alkaram Studio Brand Ambassador
Every year, Alkaram Studio reveals its new ambassador from the showbiz industry. However, Ayeza Khan is the only actress who got a chance to serve as the ambassador for the 2 consecutive years from 2018-2020. In 2020, Iqra Aziz replaced her and became the new face of the brand. Afterward, Maya Ali took that position and served as the ambassador. Syra Shehroze was also the ambassador before Ayeza Khan.
Alkaram Studio Privacy Policy
Alkaram studio takes proper care of your privacy and never reveals it to a third party. The personal information taken is used for different purposes. It is used to fill your online order and to keep you updated about the new collection. The personal information is the one that the clients provide while placing an order online including Name, contact number, email address, home address, etc.
Apart from personal information, the brand also collects automatic information or technical information that is taken whenever you visit the website including Ip address, web browser type, and web connection speed. In every case, your privacy is protected and won't be leaked.
Returns and Exchanges
The team's priority is to make their clients satisfied with their services. Hence, in case, you are not content with the selected article or there is something wrong, you have the option to return or exchange it. However, there are some terms and conditions applied for this purpose.
Terms and Conditions
If there is an issue with the seal or it is damaged, do not accept the parcel.
If there is an issue with the online parcel, notify the team within 7 days. After 7 days you will no longer be able to make a complaint.
Moreover, if you have purchased the item from sale, there is no return policy.
Before exchanging the article, ensure that it is in its original form.
The sale items can still be exchanged if the issue is on the brand's end.
International clients are not allowed to exchange the item in any case.
Hence, these are a few terms and conditions that are applicable and should be followed.
Shipping and Handling
The team is punctual in providing the orders to clients on time. However, the client should also be responsible enough to provide accurate information. Once the customer verifies the order, the team will process it further. Moreover, you should pay the price before unpackaging the order as it is a rule that every client should follow.
You will also be given a tracking Id once your order has proceeded and is all set to dispatch. You can also keep an eye on your order with that tracking Id. For further information, you can contact them on their email or contact number.
Local Orders Delivery Time
For Karachi clients, it takes 2 or 3 days to reach the orders. However, for other cities, you have to wait for 3 or 4 days.
Local Orders Delivery Charges
If you make an order above 2000, you won't be charged. However, if the order is less than 2000, it depends on the city and location.
International Orders Delivery Time
For international orders, it takes 10 to 12 working days.
International Orders Delivery Charges
If you have ordered above USD 149, you won't be charged any delivery fee. However, if it is below, you will get to know the charging fee once you check out after placing an order.
Contact Information
Phone Number: +923122552726
Email Address: [email protected]
Customer Care: Monday-Saturday from 9 Am-6 pm
Social Media Handle
https://www.facebook.com/alkaramstudio
https://www.instagram.com/alkaramstudio/