Khawaja Muhammad Asif is a Pakistani politician who has served in different ministries. He is associated with Pakistan Muslim League Nawaz since the start of his career. Apart from his political career, he has also served abroad in the Bank of Credit and Commerce. He is now the parliamentary leader of PMLN in the National Assembly. This article has all the information about Khawaja Asif, including Khawaja Muhammad Asif Biography.
| Title | Description |
| --- | --- |
| Personal | |
| Name: | Khawaja Muhammad Asif |
| In Urdu: | خواجہ محمد عاصف |
| Famous As: | Politician |
| Nationality: | Pakistani |
| Residence: | Sialkot |
| Education: | LLB |
| Alma Mater: | University of Punjab |
| Religion: | Islam |
| Profession: | Politician and Banker |
| Website: | https://twitter.com/KhawajaMAsif |
| Born | |
| Date: | 9th August 1949 |
| Place: | Sialkot |
| Family | |
| Spouse: | Mussarat Asif |
| Children: | 1 Son and 3 daughters |
| Parents: | Khawaja Muhammad Safdar |
| Career | |
| Political Party: | Pakistan Muslim League N |
| Serve As: | MNA |
| Time Period : | 2018 – present |
| Old Political Affiliations: | Pakistan Muslim League (N) |
| Member of the National Assembly | |
| Constituency: | NA-73 (Sialkot-II) |
| Assumed office: | 2018-present |
| Ministry : | Parliamentary Leader of PMLN |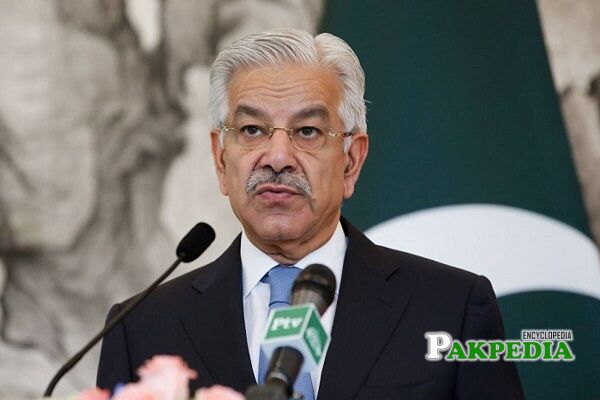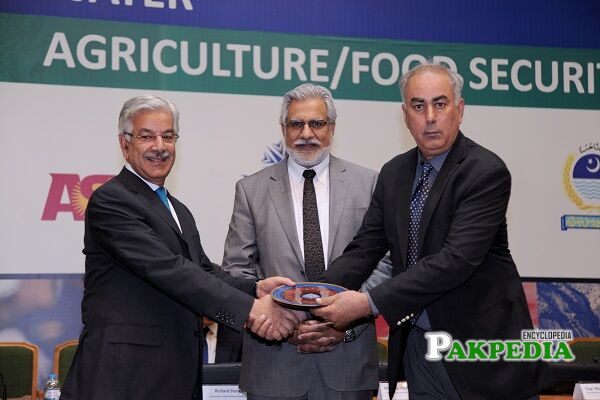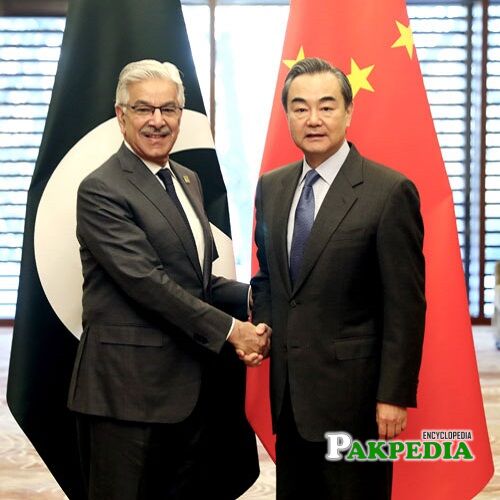 Khawaja Muhammad Asif Biography
Asif is one of those politicians who have never lost an election yet. Despite the military regime of Pervez Musharraf, he secured his seat in 2002. He has also served in various ministries like Minister of Water and Power, Minister of Foreign Affairs, Minister of sports, and Minister for Defense. In the political rise of Imran Khan, he was always found in the front seat defending his party and government. His political struggle has made him pay in the form of politically driven cases in the court. He was disqualified by Islamabad High court for holding UAE work permits Later, the decision was suspended by the Supreme Court of Pakistan.
Asif date of Birth
Asif was born on 9 August 1949 in Sialkot, Punjab. He is currently living in the same city.
Khawaja Muhammad Asif Family
He is the son of Khwaja Muhammad Safdar, who was a politician and part of the independence movement of Pakistan. Asif is married to Musarrat Asif. He has a son and three daughters. His son is Khwaja Muhammad Asad, while his daughters are Fatima, Atika, and Ameera Safdar Khwaja. 
Education of Khawaja Asif
He was educated in Cadet Collage Hasan Abdal. Later, he got his Bachelor's degree from Government College Lahore and then an LLB degree from University Law College. In 2017, Geneva School of Diplomacy and International Relations awarded him an honorary doctorate in International Relations  
Political Career
In 1991, after the death of a seasoned politician Khwaja Safdar, his son Khwaja Asif came back from Dubai and started his political career. Since then, he is considered one of the leaders at the national level. His career started as a senator in 1991 from PMLN. He served it for three years and earned a base for his political career. In 1993 general elections, he contested election from the ticket of PMLN and won a seat from NA-110 Sialkot. 
After he served as a member of the National Assembly for three years, he was re-elected for the second time in 1997 and became the chairman of the Privatization Commission of Pakistan. It was given the status of a ministry but the ministry soon ended after the military coup of Musharraf in 1999. He also had to pay his association with Nawaz Sharif in the form of politically driven cases by NAB when he was taken into custody.
He was soon released for the lack of evidence, and the case was proven to be baseless. It was also a time when the party needed him the most. As Nawaz Sharif was sent abroad into exile by Musharraf, Asif remained one of those leaders who took the responsibility of the party and kept it alive even in the tough regime of Musharraf. When the democracy was restored, the two main political parties, PMLN and PPP, came back to Pakistan. Asif was re-elected as a member of the assembly. His party made alliances in the center with PPP, and he was appointed as the Minister of Sports and Minister of Petroleum and Natural Resources. His ministries lasted till his party pulled out of the alliance with the government.
In 2013, he was re-elected for the 5th time. This time, his party came into power and he was given two ministries; Ministry of Water and Power and Minister of Defence. After the Panama Gate scandal, Nawaz Sharif was disqualified and the new Prime Minister, Khaqan Abbasi took the oath. This time he was appointed for a much important ministry, the Ministry of Foreign Affairs.
In 2018 general elections, he was re-elected for the 6th time from NA-73 and defeated his rival, Usman Dar. He is now the Parlimantary leader of PMLN in the National Assembly.
Challenges
His career so far seems to be s smooth one but is full of challenges. Not only the military regime made him pay but the democratic system as well. In 2012, he was challenged in the Supreme Court for having a dual Nationality that makes him ineligible for the public office. After the investigation of FIA and the Supreme Court, no evidence of his dual nationality was found. The petitioner had to withdraw his charges and sent an apology.
Again in 2017, his election in the 2013 general elections was challenged by PTI by obtaining fake votes but the petition was soon dismissed. He was also disqualified by Islamabad High court for lifetime for having a work permit. He was also unseated from National Assembly by Election Commission of Pakistan. His disqualification of a lifetime was suspended by Supreme Court in June 2018.
Defamation Notice
Recently, the special assistant to Prime Minister, Zulfi Bukhari sent a defamation notice to Asif. According to him, Zulfi Bukhari used his influence to allow the pilgrims from Iran to Pakistan. The notice said to withdraw from the statement or face the procedure of the court.
Social Media Accounts
His social media accounts include