Umerkot is situated in the Umerkot district, which is on the eastern side of Sindh, Pakistan. The city is the administrative headquarter of the district and lies near the Thar desert. Both Pakistan and India share the Thar desert as an intersection between the two countries, India and Pakistan.
Because of its proximity to India, which is about just 60 km, the region is strategically significant. The region is famous for its historical places and ethnic diversity. Umerkot fort, the birthplace of Mughal emperor Akbar and one of Hindus' most sacred sites, Shiv Mandir, is located here.
It was formerly known as Amarkot, which was the capital of the Greater Sindh province. This article comprises every detail about the city, including Umerkot History.
| Title | Description |
| --- | --- |
| Information | |
| Location: | Pakistan |
| City Council: | Municipal Committee |
| Type: | Town in Umerkot District |
| Local Language Name: | Sindhi,Dhatki , Balochi , Urdu and Punjabi |
| Province: | Sindh |
| Coordinates : | 25.3614°N 69.7436°E |
| District: | Umerkot District |
| Website: | www.umerkot.gos.pk |
| Region: | Sindh |
| Language | |
| Official Language: | Urdu |
| Native Language: | Sindhi |
| Other Languages: | Urdu,Sindhi,English |
| Government | |
| Government Type: | Municipal Committee |
| Population | |
| Total Population: | 2,065,590 (2015) |
| Time zone | |
| Time zone: | PKT (UTC+05:00) |
| Codes | |
| Postal code: | 33601 |
| Dialing code: | 238 |
| Vehicle registration: | Three letters beginning with U and random four numbers |

Umerkot History
Umerkot is a historic place. Its history goes back to early Buddhist and Hindu civilizations in the region.  There are two traditions as to the name of this town. Some historians attribute its name to the first ruler of the Soomro dynasty, Umer. Umerkot means Fortress of Umer. Some historians credit it to Amar Singh, who founded this city, as Amarkot.
Umerkot Fort
In 1020, Rana Amar Singh built the famous Umerkot Fort.  In 1538, the Mughal emperor, Humayun, lost the war to Sher Shah Suri. Rana Parshad gave asylum and shelter to Humayn in this fort. He was governor of the Sodara Rajput Umarot. The great Mughal emperor, Akbar, was born in Amarkot in 1542
Many rulers reigned this territory, such as Mughals, Rajputs, Sumras, and Rathores. In the 18th century, the region was made part of Jodhpur State, and later in 1847 British took it from Maharaja of Jodhpur. The legendary Marvi, of Umar Marvi's story, was imprisoned in Umerkot fort for several years for her refusal to marry Umar, the ruler, who abducted her.
Geography
The Geographical coordinates of the city are at 25°21' N (latitude), 69°44' E (longitude), and the town is 55.77 ft. (17 m) above sea level. Its total city area is 48.6 km2 (18.8 sq mi) in length.
The town can be classified into two distinct regions; land in the north and west is suitable for cultivation/irrigation, while the area on the south and east is mostly desert. There is no natural stream or river here.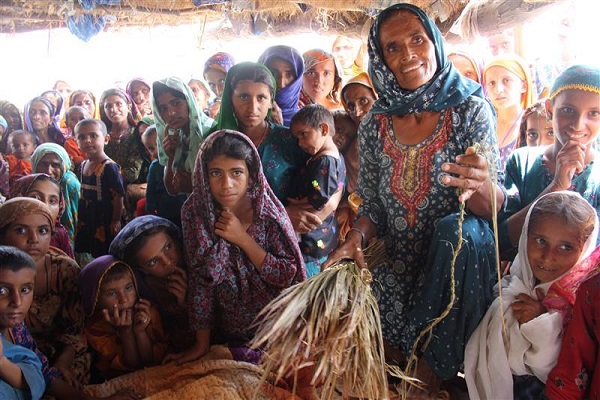 Umerkot Climate
Due to its geological formation and geographical location, the climate at its two boundaries differs. The temperature in the north-west part is mostly moderate. In contrast, the south-east is usually hot and dry.
During the hot season, which lasts for almost three months, the daily average temperature may reach as high as 41°C. The winters, which lasts for nearly 2.3 months, are cold and dry, with an average temperature of 12°C. The average annual rainfall is approximately 48.26 mm.
Population
The city is home to 134,052 people, according to the 2017 census, and it is the 68th heavily populated area in Pakistan with a population density of 2800/km2 (7100/sq. mi).
Umerkot Culture
Festivals
The city is rich in heritage and cultural diversity. Several ethnic groups live side by side for centuries. Several shrines of Sufis and Hindu temples are located in the city. People celebrate all the festivities and festivals of all the communities with respect.
Eid and Diwali are enthusiastically celebrated here. Dargah Hazrat Nimano Shah is located at one place, and then Shive Mandir is situated at another. People are peaceful and respectful of each other.
Dresses
All communities in the town wear the same type of attire. Men mostly wear Shalwar-kurta while women wear Shalwar-kurta with chadar or dupatta. Bangles and ornamental jewelry is famous among women.
Food
Natives enjoy eating hot and spicy food. Dum Biyani of Umerkot is renowned throughout the country. They are hospitable people and treat their guests with dignity and honor.
Heritage
The land of Sindh is also well-known for its literature, folk music, and folklore. Rich history and heritage are portrayed artistically here.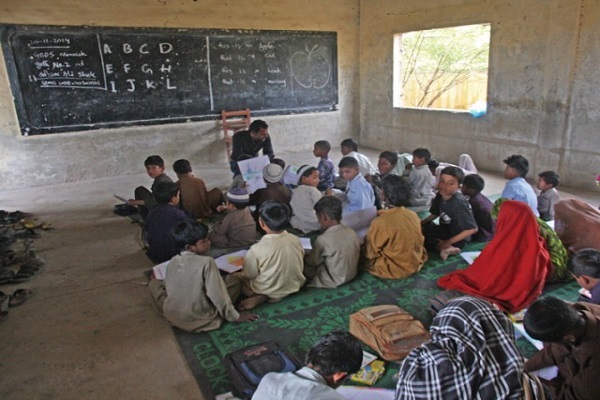 Umerkot Education
According to the Government of Sindh, there are more than 100 schools in the city for primary and secondary education.  The number of colleges in the city is 20 and one polytechnic college. Like other provinces, the private sector is also instrumental in running schools and colleges at primary and secondary levels.
Some schools and colleges in the city include:
Elementary College of Education
Boys College Umerkot
Girls College Umerkot
Girls College Kunri
D.Oriental College Muhammad Alim Palli
Morale Academy Umerkot
Royal Public School & College Umerkot
The Scholar Public School & College Umerkot
Umerkot Para Medical H,T Institute Umerkot
Sports
Historically the ruler Umer was fond of sports and promoted the spreading of Sindhi cultural sports. Traditional sports such as  Gulli-Danda and Hide-and-Seek are still played in this city. People also enjoy watching and playing sports such as:
Cricket
Football
Volleyball
Economy
The city is striving to catch up with the rest of the districts in the province. The town was a significant center of trade and economic activities in eastern Sindh. Lack of modern infrastructure, facilities, and network of routes inhibit the region from utilizing its potential and contributing handsomely to Pakistan's economic growth.
Industry
The city is primarily an agricultural district. In the past, the region's role was significant in the trade and economy of eastern Sindh. The area lacks industries and manufacturing units. However, some cottage industries provide a source of income for the residents.
Agriculture
The main occupation of the people is farming for livelihood. The land is conducive for the cultivation of crops such as wheat, cotton, maize, and sugarcane. Several kinds of fruits and vegetables are also grown here, such as onion, chili, and potatoes.
The district is self-sufficient in livestock breeding and animal-based food products such as meat, milk, and cheese. Cattle farming in the region is well-known for commercial purposes like selling during Eid-ul-Azha.
Tourism
The district and its rural life and some historic and culturally rich places make it worth visiting. Tourist attractions include:
Umerkot Fort (built by the king Umer of the Soomro dynasty in the 13th century)
Archeology Musem (established in 1968)
Birthplace of Mughal Emperor Akbar (October 14, 1542)
Dargah Hazrat Nimano Shah
Shiv Mandir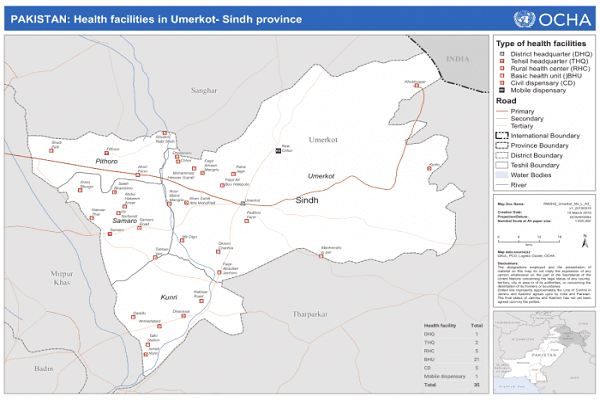 Languages
Natives can speak and understand languages such as:
Dhatki(Rajasthani dialect)
Sindhi
Urdu
Punjabi
Travel
National Highway N-120 and Mirpurkhas Road (75 km long) connect this city with the outside world. Karachi-Hyderabad motorway can also be used to reach the city. A network of railroad tracks and railway stations facilitates visitors to reach close to the city such as:
Talhi Railway Station (Talhi town in Umerkot district)
Khokhropar railway station (70 km from Umerkot)
Kurni Railway Station
There is neither domestic nor international airport in the city. Three nearest airports to the city are:
Shaheed Benazirabad Airport, Nawabashah (WNS), 164.54 km
Sehwan Sharif Airport, Sehwan Sharif (SYW), 236.19 km
Jinnah International Airport, Karachi (KHI), 263.95 km
Umerkot Postal Code
Postal Code: 33601
Area Code:  238