Sukkur is a city on the western bank of the Indus River in province Sindh, Pakistan. It is also known as Darya Dino; meaning the gift of a river and Gate of Sindh. The city is the administrative headquarter of the Sukkur district. 3 nearest neighbours of the city are Larkana (66 km), Rahim Yar Khan (162 km),  Nawabshah (167 km).
Famous historical and geographical landmarks such as Indus river, Tomb of Seven Sisters, and many more make Sukkur a fascinating city. British government built New Sukkur next to Sukkur village after they built famous Sukkur Barrage in 1932, on the Indus River.
It's proximity to the Indus river makes it habitable, and for this reason, the town is also known as Darya Dino; meaning the gift of a river. Together with the hill on the river island of Bukkur, its ridge forms what is often called the Gate of Sindh. This article contains every detail about the city, including Sukkur History.
| Title | Description |
| --- | --- |
| Information | |
| Location: | Pakistan |
| City Council: | Municipal Committee |
| Towns: | 4 |
| Type: | City of the province of Sindh |
| Local Language Name: | Sindhi,Urdu |
| Province: | Sindh |
| Coordinates : | 27°42'20 |
| District: | Sukkur District |
| Website: | www.sukkur.gov.pk |
| Region: | Sindh |
| Elevation: | 67 m (220 ft) |
| Union councils: | 1 |
| Language | |
| Official Language: | Urdu |
| Native Language: | Sindhi |
| Other Languages: | Urdu,Sindhi,English |
| Government | |
| Government Type: | Municipal Committee |
| Mayor: | Arsalan Shaikh |
| Deputy Mayor: | Tariq Chauhan |
| Area | |
| Total Area: | 5,165 km2 (1,994 sq mi) |
| Population | |
| Density: | 164.6/km2 |
| Total Population: | 905,114 (2014) |
| Time zone | |
| Time zone: | PST (UTC+5) |
| Codes | |
| Postal code: | 65200 |
| Dialing code: | 071 |
| Vehicle registration: | Three letters beginning with S and random four numbers |

Sukkur History
Sukkur is a historical place with a glorious past since ages. The archaeological relics, artefacts, and ruins found in this region link its history with the Lakhan-jo-Daro (2600 BCE – 1900 BCE), city of Indus valley civilization (3300 BCE – 1300BCE).  In 326 BCE, Alexander the Great invaded India.
Muhammad Bin Qasim
People can still witness archaeological ruins and artefacts of this invasion in this region. In 711 AD, Muhammad Bin Qasim invaded Sindh under his command. He subjugated Raja Dahir, last Hindu ruler of Sindh, and included Sindh under Umayyad Caliphate.
Other Dynasties
Several other dynasties ruled this part of Sindh since ancient time. Soomras reigned this region from  1024-1351. Arghuns dynasty remained in control from 1520 to 1650. The Kalhoras dynasty took over the reign from 1657 to1783.
Before the British rule, the last ruling family line was Talpurs' dynasty was who remained in power from 1783 to 1843 when the British Army, under the command of General Charles Napier, crushed the Talpur dynasty and conquered Sindh.
Historian attributes the name Sukkar with the Arabic word Shukr which means Thanks. They believe that  Mohammad Bin Qasim uttered this word when he reached Sindh after painstakingly travelling from Arabia. The term later transformed into Sukkur in the local dialect.
There are other legends as well regarding the name. Some historians attribute the name to early Hindu ruler of this region.
Geography
Geographically, the city is situated in the Sukkur District, next to the Indus River Region. On the geographic coordinate system, it is located at 27°42′22″N (latitude) and 68°50′54″E (longitude) and its elevation, high above sea level, is 220 ft ( 67 m).
Sukkur Climate
The overall climate is clear and dry. Summers are hot and humid and usually last for just a little over three months where the temperature may vary from 28°C to 44.44°C.
Winters are which typically last for nearly three months when the temperature may change form 6.11°C to 22.78°C.  The average total rainfall accumulation in the region is 20.32 mm.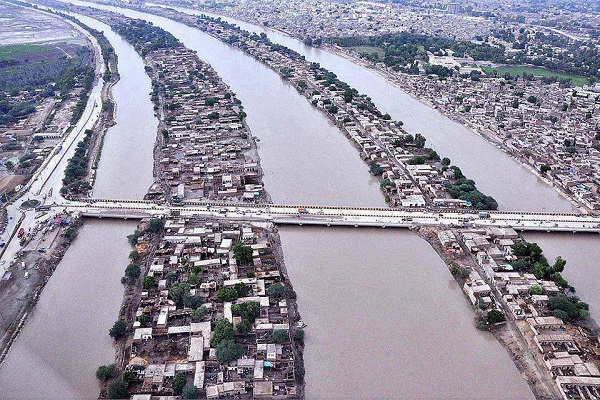 Population
The city is the 14th largest populous city in Pakistan and 3rd in Sindh province after Karachi and Hyderabad. According to the 2017 census, the city is home to some 499,900 people, and its population density is 1,700/km2 (4,300/sq mi).
Sukkur Culture
The city is a multicultural society. Several ethnic communities live side by side and cherish multicultural diversity. People celebrate all cultural and religious festivals enthusiastically. People are hospitable, and tourists & outside visitors are treated respectfully, and an extra concession is given on purchases.
The famous food street is near Ghanta Ghar, where people enjoy the taste of traditional cuisines such as haleem and chicken lacha are well-known. Traditional luddi dance with ho-jamalo music is famous throughout the country.
Education
Education here is improving with time. There are public and private sector institutions in the city, providing primary, secondary, and tertiary level education.  Following are some well-known educational institutions:
Air Foundation School System
Allama Iqbal Open University AIOU Sukkur
Apwa Excellent World School
Army Public School and College
Aror University of Art, Architecture, Design and Heritages
Beaconhouse School System
Bedil Bekas Model High School
Begum Nusrat Bhutto Women University
Cadet College Sangi
City School
Government Girls High School Barrage Colony
Dadabhoy Institute of Higher Education Sukkur
EdFort Sukkur
Ghulam Muhammad Mahar Medical College
Government Degree College
Government Polytechnic College
Holy City SADI (Skills & Arts Development Institute)
Islamia High School
Islamia Science College
Government High School Holy
M K High School
Railway Girls School
Sukkur IBA University
Sukkur Institute of Science & Technology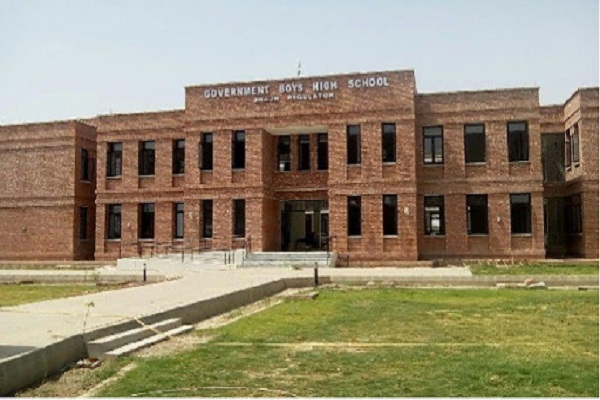 Sports
Following sports are most popular:
Kite Flying
Laatu
Pithu Garam
Cricket
Hockey
Economy
The significant chunk of its economy is dependent on agriculture. Industries located in the city also supplement its share in the overall economic growth and GDP of the country.
Industry
In 1950, the government of Pakistan constructed the Sindh Industrial Trading Estate and Ayub Bridge in 1962  to connect the city with other regions. Industries such as Cement, metalworking, and chemical are flourishing here, and new industrial units are also being established to provide work opportunities and source of livelihood for people.
Agriculture
The land is fertile and conducive for cultivating crops, millet, rice, cotton, peas, wheat, graham, tomatoes, and melons. The suburbs and outskirts of the city are abundant in dates and palm gardens. Many varieties of dates are grown here which are not only locally consumed but also exported abroad.
Tourism
Historical and legendary spots in the city have a lot to offer for tourists. The following are the worth visiting places:
Adam Shah's Tomb
Arore
Ayub Bridge
Bukkur Island
Ghanta Ghar
Icon by Ghouris Supermarket
Lab-e-Mehran
Lansdowne Bridge
Lloyd Barrage Museum
Masoom Shah Jo Minaro
Muhammad Bin Qasim Park
Sadhu Belo
Sukkur Barrage
Tomb Of Seven Sisters
Zuhab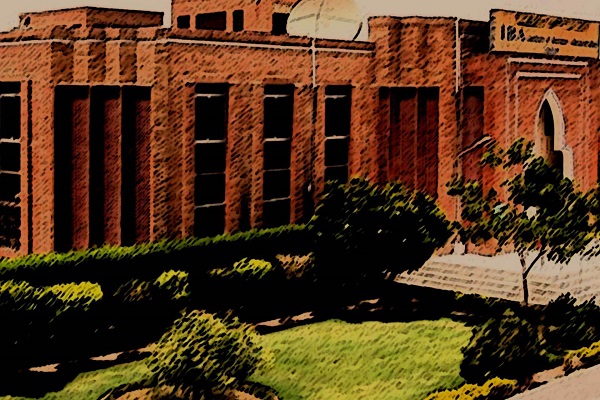 Sukkur Languages
People here can communicate through:
Sindi
Urdu
English
Punjabi
Pashto
Balochi
Seraiki
Travel
Motorway M-5 and a network of roads connect the city with the cities such as Multan, Lahore, Islamabad, and Peshawar. Motorways M-6 connect Hyderabad while M-9 Karachi. Several transport services from throughout Pakistan are operating to bring and forth by-road travellers.
Railway station and a network of railroads connect the city with the rest of the country. Pakistan railway is running three direct train services for and from Sukkur:
Sukkur Express – Karachi & Jacobabad
Akbar Express – Quetta & Peshawar
Jaffar Express – Rawalpindi & Quetta
Sukkur domestic airport (SKZ) is located approximately 8 km from the city centre. Airports near the city inclydes:
Moenjodaro Airport (MJD), 82.07 km
Shaikh Zaid Airport, Rahim Yar Khan (RYK), 158.14 km
Shaheed Benazirabad Airport, Nawabashah (WNS), 171.27 km
Sukkur Postal Code
Postal Code: 65200
Area Code:  071