Tando Adam Khan is a city in Sindh province, Pakistan. Administratively it is one of the cities in the Sanghar district and located the famous Kotri Barrage. The town is 208 km from the provincial capital, Karachi, and 1222.02 km from Islamabad, Pakistan's capital.
It is known as one of Pakistan's flourishing urban areas with large commercial businesses and flourishing industries. The city is known as City of Gates (Daran Jo Shehar), was also well-known as Paris of Sindh for its beauty and cleanliness.
The town is hometown to several famous local folk artists such as Ustad Manzoor Ali Khan, Shah Asad, Mustaque Jaskani, and Khadim Hussain Raja. This article contains all the detail about the city, including Tando Adam Khan History.
| Title | Description |
| --- | --- |
| Information | |
| Location: | Pakistan |
| City Council: | Municipal Committee |
| Nickname: | Tando |
| Towns: | 29 |
| Type: | City in Sindh, Pakistan |
| Local Language Name: | Balochi |
| Province: | Sindh |
| Coordinates : | 25°45″N 68°40″E |
| District: | Nawab Shah District |
| Region: | Sindh |
| Website: | https://www.sindhidunya.com |
| Founded by: | Mir Adam Khan Mari |
| Body: | Taluka Municipal Administration |
| Language | |
| Official Language: | Urdu |
| Native Language: | Sindhi, Balochi |
| Other Languages: | Sindhi, Balochi, English |
| Government | |
| Government Type: | Municipal Committee |
| | |
| Time zone | |
| Time zone: | PST (UTC+5) |
| Codes | |
| Postal code: | 68080 |
| Dialing code: | 221 |
| Vehicle registration: | Three letters beginning with T and random four numbers |

Tando Adam Khan History
Its history is as old as the history of Sindh that dates back earliest known civilizations such as Indus Valley and Moen jo Daro. Historians describe that this town was founded by Mir Adam Khan Mari, the son of Qaim Khan, in 1795. While traveling to Korti with his army, he stopped over here for a while.
He liked the hospitality of the locals and the beautiful atmosphere of the region. He decided to establish a cantonment and settle here and soon after this village transformed into a city. In the Balochi language, Tando means cantonment, and thus the city was known as cantonment (Tando) of Adam.
The town was also named Daran Jo Shehar which means the City of Gates due to the fact that eight gates were built at various places to enter or leave the city. Under 1955, it was administratively under Nawab Shah district. In 1977, it was designated as a district, and then on December 27th, 1990, upgraded to the subdivision.
Geography
On the geographical coordinates system, The city is situated at 25°45′49″N (latitude) and 68°39′39″E (longitude), and its elevation above sea level is 95ft. (29m). The total area of the city is 16 km2 (6.2 mi2) in length.
Tando Adam Khan Climate
The climate of Tando Adam is like other regions of the province of Sindh that observes all four seasons. The summers are hot and humid, and it usually lasts for 3 months. However, the average temperature goes to 43°C. The temperature may change from 8.88°C to 43.33°C throughout the year.
Winters typically last for almost 2.4 months, with an average temperature of 21°C. The rainy period roughly lasts for 2.7 months, producing a moderate annual rain of 35.55 mm.
Population
According to the 2017 census, the city is hometown to 152,617 people. It is the 57th largest city by population, with a population density of 9538/km2 (5926.63/mi2). The town is 2nd largest in Shaheed Benazir Abad (formerly known as Nawab Shah) division and 9th in Sindh.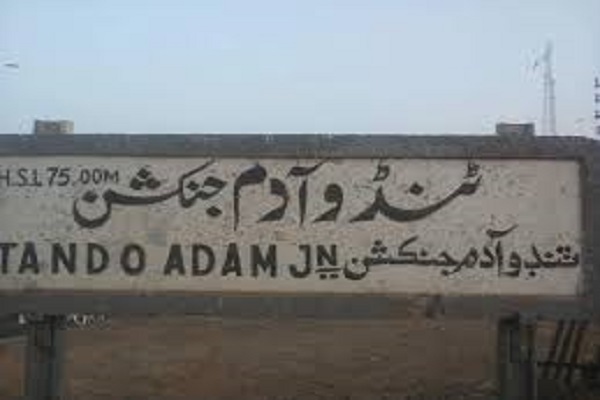 Tando Adam Khan Culture
Sindhi culture is dominant in Tando Adam. Sindhi heritage and cultural events are cherished and celebrated by the locals. Natives are hospitable and straightforward people and visitors with respect and honor. They are food-loving and prefer local cuisines.
However, some western food items are also available. Some desi items such as charcoal-grilled Saji, Lassi, Barfi, Dal Pakwan, and Dal Jo Seero are famous. To enjoy sweet delicacies, Lohar Galli is a popular spot. Traditional Sindhi music, dance, and dramas based on the Great Sindhi Sufi saint Shah Abdul Latif Bhitai highlight Sindhi culture and heritage.
Education
As compared to other neighboring cities, the pace of literacy is slow. The government has taken many initiatives to establish more educational institutes and improve education quality at various academic levels. Following is the list of some well-known private and public sector institutes:
Al-Saeed Islamic Public School
Bahria Foundation School
Government Fatimah Jinnah Girls High School
Government Girls Degree College
Haji Roshan Din High School Girls Campus
Hira Public School
Mai Mariam Marri Govt. Girls High School
New Ali Garh Government College
New Aligarh College
Progenitor high school
J Academy
Zindagi Foundation School
Sayara Khanum High School
Children Academy High School
Sir Syed Government High School
Smart School
Suleman Khan Medical College
The City Higher Secondary School
The Educators
Sports
Locals enjoy to play and watch:
Economy
A variety of industrial and manufacturing units in The city provide work opportunities to the locals and contribute to the national exchequer. Money earned from agriculture is also instrumental in the overall economic growth and GDP of Pakistan.
Industry
Tando Adam is a thriving industrial town and is the economic hub of the Sanghar District. The city is the home of the most significant power loom industry for cotton-weaving. Industrial units in outskirts and suburbs include:
Agro Industries
Cotton Ginning Mills
Flour Mills
Food Industries
Ice Factories
Juice Factories
Match Factories
Oil Mills
Paper Product Mills
Pharmaceutical industry (Ahsons Drug)
Power Mills
Telecommunication Industry
Various cottage industries in the area also supplement the overall economic activities.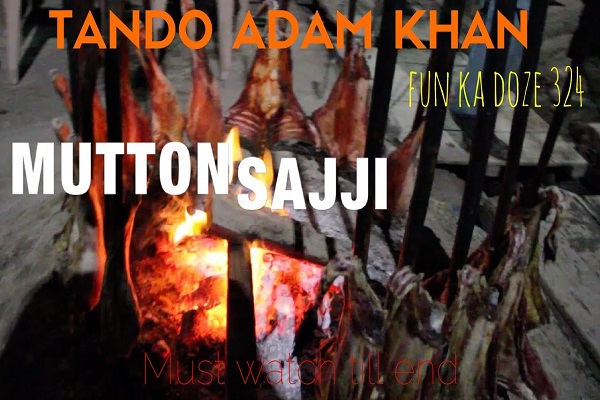 Agriculture
The town is well-known for its agricultural products. Agriculture is the primary source of income and livelihood for the natives. The city is near the famous Kotri Barrage, which regulates water flow from the Indus River. Well established canal and irrigation system support farming.
The town is fertile land and conducive to cultivating various crops, fruits, and vegetables such as cotton, wheat, sugarcane, bananas, mangos, and other tropical fruits.
Tourism
Tourist attractions include:
Green City Water Park.
Hundamal Mansion
Tando Adam Park
Tomb of Tando Adam Khan
The Temple of Sannth Theumalh (16th century)
There are many ancient Hindu temples and Mosques in the town. The shrine of famous Sindhi Sufi Saint & Poet Shah, Abdul Latif, is just 16km away. Bank of Kotri barrage is another favorite picnic spot.
UNESCO has included two places as world heritage sites; one is just 135 km (84 mi.) SouthWest of Tando Adam, the historical monuments of Makli (Thatta).
Tando Adam Khan Languages
People can communicate through: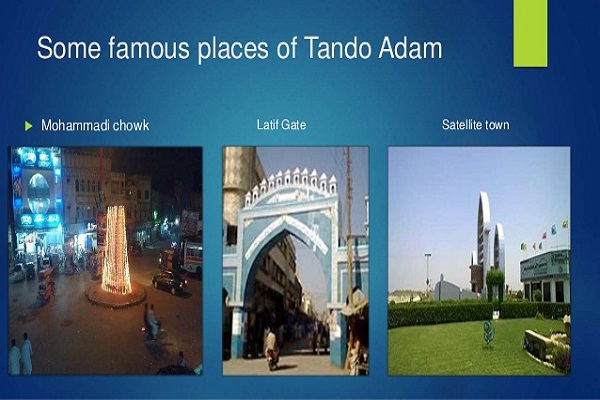 Travel
A network of motorways and national highways connect the town with the outer cities. Motorway (M-9) and national highway (N-5) is accessible for travel by road. Many transportation services such as buses and omnibuses are operational for this region.
Travelers and tourists from all over Pakistan can reach the city by picking one of these facilities. The city is connected with a railway network for incoming and outgoing travelers. The railway station junction is located in the central city, and the Pakistan railway runs Allama Iqbal Express that stopovers at Tando Adam Junction station.
There is no domestic or international airport in Tando Adam Khan. Available air routes to the nearby airports include:  
Shaheed Benazirabad Airport (WNS), Nawabashah, 57.43 km
Sehwan Sharif Airport (SYW), Lahore, 123.1 km
Jinnah International Airport, (KHI), Karachi, 02 km
Tando Adam Postal Code
Postal Code: 68050
Area Code:  0235