The Centaurus is a Real – Estate development located in Islamabad, the Capital of Pakistan. It includes a 5 – story shopping mall, twenty–three-floor office, and a residential tower as well as a 36-floor hotel. It also includes many places for entertainment including cinema and fun place.
Furthermore, it is also an attractive place for visitors and the locals. People all over the world visit here due to its attractive view and beauty. Visitors pay for their entrance except for a few officials including teachers and doctors who don't need to buy entrance coupons. This article comprises all the information including The Centaurus History.
| Title | Description |
| --- | --- |
| Information | |
| Location: | Islamabad, Pakistan |
| Type: | Hotel, Mall, Residential and Corporate |
| Local Language Name: | Urdu |
| Coordinates : | 33.7077°N 73.0499°E |
| Website: | http://www.thecentaurus.com/ |
| Basic Information | |
| Built At: | 2011 |
| Opening: | 17 February 2013 |
| Number of Rooms: | 500 |
| Floor Count: | 23 |
| Architectural: | 200 m (656 ft) |
| Owner: | Sardar Ali Nawaz |
| Completed: | 2011 |
| Construction Started: | 2005 |
| Type: | Hotel, Mall, Residential and Corporate |
| Status : | Complete |
| Open hours : | 10 AM–11 PM |
| Specification | |
| Floor: | 23 |
| Structural Engineer: | |
| Architect: | Atkins |
| Developer: | Pak Gulf Construction, Al Mahad Group of Companies (Saudi Arabia) and Sardar Builders |
| Height : | 200 m (656 ft) |
| Special Information | |
| Genre : | N/A |
| Cost: | USD $ 350 million |
| Current tenants: | Movenpick Hotels & Resorts |
| Address:: | Plot 1, Jinnah Avenue, Sector F-8, Islamabad, Pakistan.، Islamabad, Pakistan |
| Phone: : | +92 51 111 154 154 |

The Centaurus History
Centaurus is one of the latest and well-known developments of Pakistan which is designed by WS Atkins, a British architectural firm with a cost of 15 billion Pakistani rupees. It is categorized as three skyscrapers, residential housing, hotel, and corporate offices.
Area
The total area is 6.59 acres, 25 thousand feet comprising a mall, hotel, corporate, and many other commercial areas.
Location
Centaurus is located in Jinnah Revenue, F – 8, Islamabad, Pakistan.
Cost
Construction of the complex was completed in 2015 with a total cost of 100 million dollars.
Design
It was designed by WS Atkins, a British architectural firm. The firm is widely known throughout the world as it has constructed the popular Khalifa Tower (Burj –e – Khalifa) and took part in many other projects. It is the first flexible project in Pakistan that can easily absorb an earthquake up to magnitude 9. The design of the complex includes residential houses/apartments, corporate offices, skyscrapers, car parking, a shopping mall, and a hotel.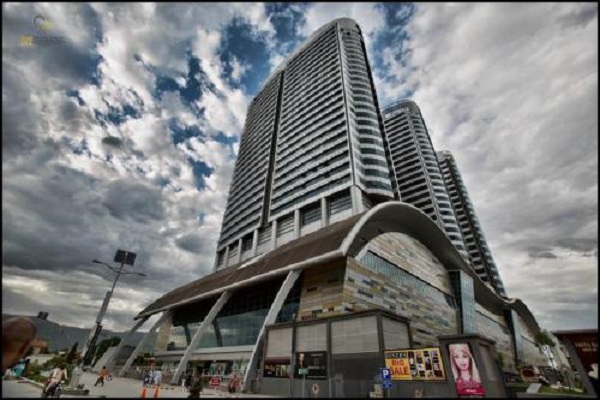 Construction
It was constructed by Sardar Builders, Saudi Arabian Al Mahad Group of Companies, and Pak Gulf Construction. The construction was started in 2005 and completed after 10 years in 2015.
Furthermore, some of the sections were completed in 2018. A total number of 500 rooms were constructed including hotel, shopping mall, cinema and many other types of facilities. The total height of the building of Centaurus is 361 feet (110 meters).
Entrance
The mall had made a policy of entrance fees in order to avoid crowding. The visitors need to buy an entry coupon of 100 rupees which is raised to Rs.300/visitor. The entrance coupon bought by the customers is applicable for one day Moreover, twenty-three types of government servant are free and do not need to buy entry coupon to visit Centaurus which is as follow.
Teachers
Doctors
Lawyers
Engineers
National Hockey team players
National Gulf Team Players
Women
Senior citizens
Cricket Team players
Children under the age of 12 years
Football Team players
Diplomats
Foreigners
Journalists
Law – Makers/ Executives
Country Club Members
Celebrities
Centaurus Corporate
The mall offers golden opportunities for trade and business in the premium corporate tower. An American survey stated that Centaurus is one of the highest business complexes of Pakistan, located in the Blue Area. It also offers a number of investment plans and ideas.
Shopping Mall
Besides cinema, a shopping mall is situated in the complex covering five floors where every type of shopping goods are available in the mall including Gold Souk, Family Entertainment, Consumer Electronics, Fashion, Home Furnishing, Accessories, Design and Wedding Lounges, etc.
The mall has now become a place of national and international peoples as its beauty and a number of brands have attracted people all over the world and now became a great source of revenue. Moreover, it provides a safe shopping environment to the customers.
Amusement
A place of entertainment is formed on the 4th floor of the building. A play – area is constructed for children's entertainment which is named Fun City. Furthermore, a cinema is also located on the 4th floor which is named The Centaurus Cinema and shows Hollywood and Lollywood movies.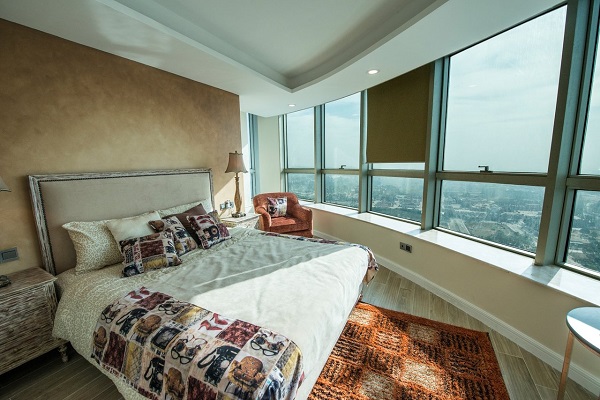 The Centaurus Hotel
The complex contains 5 – star hotel which facilitates people with national and international foods in air-conditioned rooms. It also offers the facilities a 5 –Star hotel needs to be including the best lighting system and a number of different varieties of tastes.
Furthermore, the hotel contains the facilities of the air-conditioned guest room, washroom, internet, many types of lightening and telephone for its national and international customers. It provides every type of fast food and comprises a coffee shop as well.
Parking
The complex has two places for car parking. One is located in the basement of the building which is only for cars while the other is next to it which is for both bikes and cars. Both of the places have the capability of more than one thousand cars parking each.
Grid Station
A separate grid station is installed near the mall in order to provide electric power to the mall and facilitate people.
The Centaurus Facilities
Other Facilities of the complex include the following.
Luxury Apartments
Un-interrupted power supply
High-Speed Internet
Cable / TV
Maid Rooms, Drying Areas, Storage
Central Air Conditioning System
Spa Facilities
Health Club
Shopping Mall
5 – Star Hotel
High-Speed Service Lifts and Elevators
Constant Water Supply
Dedicated Entrance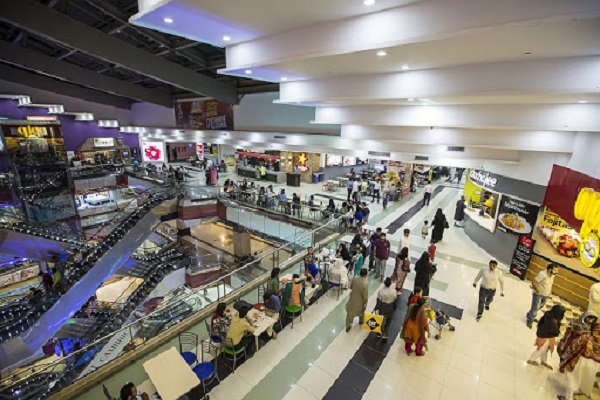 Social Media Handle
https://www.facebook.com/TheCentaurusLightYearsAhead/